Instagram:
@ilseweisfelt
Website:
www.ilseweisfelt.com
1. What's your story? Where are you from?
I grew up in a small village in the south/centre of The Netherlands. Called Rossum. Not much going on there but there was a lot of water and I still like going there. I moved to 's-Hertogenbosch, an old pictoresq small city, to go to artschool. I now enjoy living in Rotterdam for nearly a year already. (Where is also a lot of water which is bonuspoints).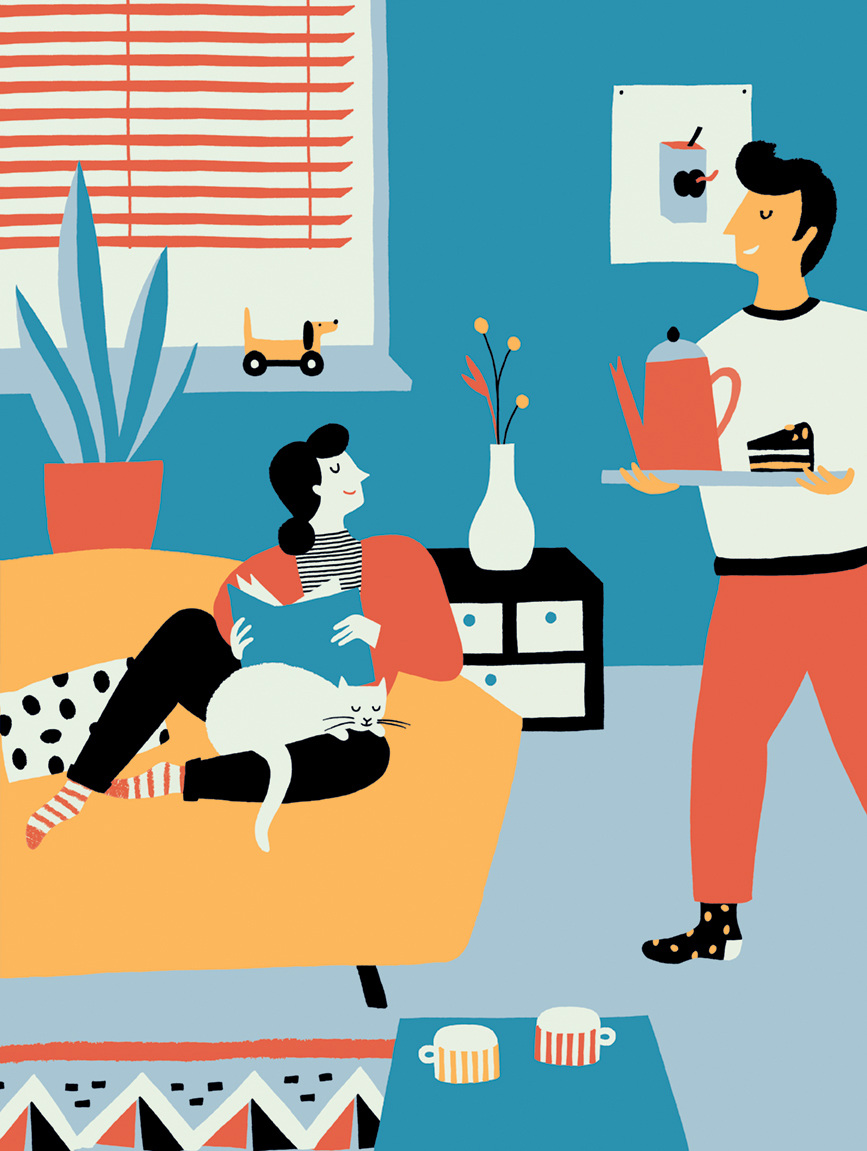 2. Tell us about your aesthetic.
Feelgood, graphicaly balanced. Simple. Fun.
3. What is your favourite medium and why?
Unipin fineliners 0.2 (I love working with these in my small sketchbooks (personal work), and I love tracing with these, for a crisp and thin line. Best tips I have had so far and never change a winning team! Client work usually starts with a mechanical pencil. To find the shapes and postures i;m looking for. I like working on murals with latex paint and rollers best. Because it's more handwork, and physical work, and it does not involve a lot of sitting.
4. What is your artistic process like?
Reading, writing, sketching, tracing, tracing again with fineliner for the final drawing, than scanning, finding the right colors, coloring in photoshop, sometimes redrawing things, changing a bit of colors, changing a little more, changing the composition slightly. And don't forget to save every now and than.
5. Who and/or what inspires your work?
Pretty much everything I see and hear can inspire me in a way, but i think that is what your mind does somehow... Some artists that inspire me to keep creating are Olle Eksell, Saul Bass and the Eames-es. What I like so much about their work is the heart-work that they put in their work. I see that they have had so much joy in creating things. I think that is the most inspiring, loving what you do and that your work shows the fun and love you put in it.
6. What role does art play in your life? How does it change the way you view the world?
My work plays a very big role in my life, it is almost every second in my head. It's very hard to just turn it off. My boyfriend is also an illustrator, so when we get back home, it's also pretty much work what we talk about. Also very much of what I see/hear will be stored somewhere in my head – for later, wheter I want it or not, like a big sponge. It changes my view to the world often in checking colorschemes while biking or while on holiday...
7. Where did you study?
I studied illustration at AKV St. Joost in 's-Hertogenbosch, NL.
8. Where do you see yourself in five years? Working in an agency?
Breastfeading my first baby while trying to run my illustration-studio maybe? I don't think I will be working in an agency, as I really enjoy working as a freelance and independent illustrator.
9. What about in ten?
Well. Hopefully still enjoying the illustrator-life. Would love to have a big studio next or near to my house, filled with (screen)printing supplies, a dog, kids, and if my boyfriend wants to share the studio space with me that would be really nice of him. Besides making illustations I would also once translate these to 3-d things / objects / toys / ...
10. What do you hope to achieve with your art?
Make people smile and enjoy my work, wheter it's a small piece in a magazine, or a big mural they pass. And hope that other people will see how much fun and love i put in my work.

11. Now, tell us a little more about you as a person: what is your favourite food?
Wow, that is a really hard question. I really like to cook, and we always say we eat our favorite food almost every day. Best feast meals are falafel, mexican veggie wraps, and Ottolenghi's Mejara rice.
12. Favourite book?
Dance, dance dance, (and many more by Haruki Murakami), La Superba – Ilja Leonard Pfeiffer. The unbearable lightness of being – Milan Kundera.
13. Favourite genre of music?
Things with a warm sound that make me wanna dance, from Motown soul to indie-surf-rock-sounds.
14. What are your hobbies?
Well, drawing, reading. Cooking+beers with friends. And being outside – note to self.
15. If you weren't an artist, what would you be?
I'd maybe run my own bakery or lemonade factory.