Instagram:
@instajam.jpg
1. What's your story? Where are you from?
I'm Jamie Martin, a 26-year-old freelance designer from Birmingham, UK. I have a background in music production and graphic design but discovered 3D design a couple of years ago and fell in love with it.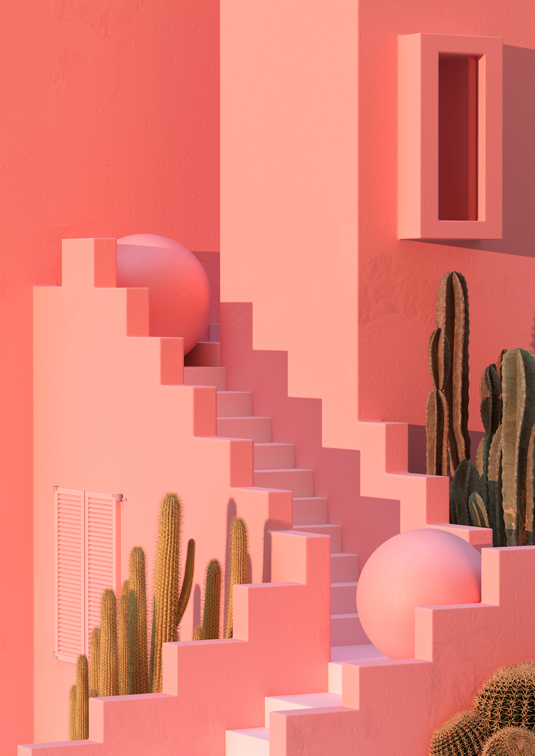 2. Tell us about your aesthetic.
I've only just recently started to pin down my aesthetic. Up until now it's all been experimentation while learning, but I began to feel the most content working on my Spanish series of artworks. I'd describe my work as heavily Mediterranean influenced; pastel rendered walls, arid plants and ocean backdrops. I suppose I tend to create idealistic scenes which suggest a sense of melancholy.
3. What is your favourite medium and why?
Digital, mainly because I'm useless at drawing and painting. It allows me to make mistakes and tweak things. There's also always a solution, and many different ways of reaching that solution, which I like. I can definitely see myself bringing more real-world aspects into my work in the future though.
4. What is your artistic process like?
I don't really have a set process. It's different from client work where the end goal is set by someone else and the requirements of the project. Often I'll begin by trying to achieve something completely different, then experimenting and finding myself with a welcome but unplanned result. If I set out to create a particular piece then I'll usually immerse myself in that world with reference images and an appropriate soundtrack for the style. It's hard to decide when a piece is finished and shouldn't be messed with any further - sometimes I won't allow myself to overthink an artwork and I'll finish and publish it within the same day. Other times, I'll force myself to step away and revisit with fresh eyes and makes notes on what now doesn't work.
5. Who and/or what inspires your work?
I'm constantly inspired by other artists and experiences, that classic mix of envy and awe on a daily basis. The quality of work put out by the likes of Roman Bratschi and Peter Tarka keeps me driven to learn more about the technical side of 3D. I'm also highly influenced by traditional illustrators such as Malika Favre and José Roda. David Bowie is a big influence on how he viewed art and music. A lot of my recent work is inspired by the architecture of La Muralla Roja in Spain and fits perfectly with my aesthetic. I think I'm generally inspired by nostalgia and the idea of a simpler time, particularly within Europe.
6. What role does art play in your life? How does it change the way you view the world?
For me, everything that gives life meaning stems from or inspires art. We can't take anything with us at the end of our lives but art is something you can pass on whether it's storytelling or even just inspiration.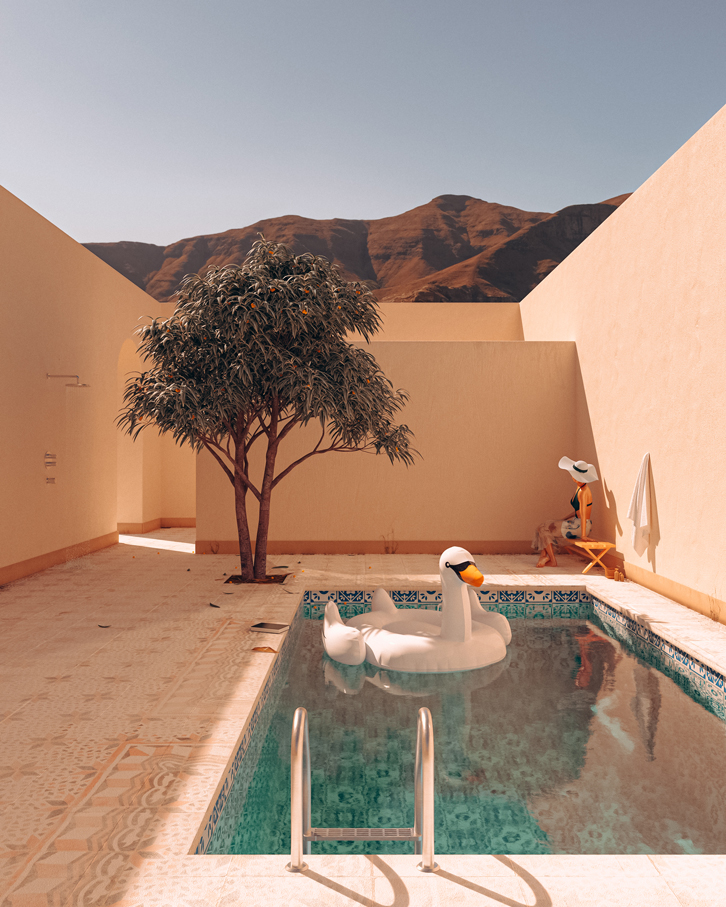 7. Where did you study?
I'm self-taught, mainly from online resources and playing around.
8. Where do you see yourself in five years?
Really tough to say, I've learnt not to define myself by what I'm doing currently because my wants and experiences change by the month let alone the year. I'm keen to live abroad for a while and I'd love to be involved with Film or Video Games, something with a narrative. I'd love to create a few tutorials for people just starting out in 3D.
9. What about in ten?
I think further down the line I'll gravitate towards a more simple way of creating, possibly in pottery or carpentry. Not to say I won't still be making digital art but I'd like to spend less time in front of a screen. I hope I'll be bringing more purpose to my work whether it's volunteering or getting involved with mental health schemes.
10. What do you hope to achieve with your art?
It's mainly just something I do for myself and trying to please an audience or control how it's interpreted has very little to do with my process. I'd be happy knowing other people got something from it in the same way I did in creating it.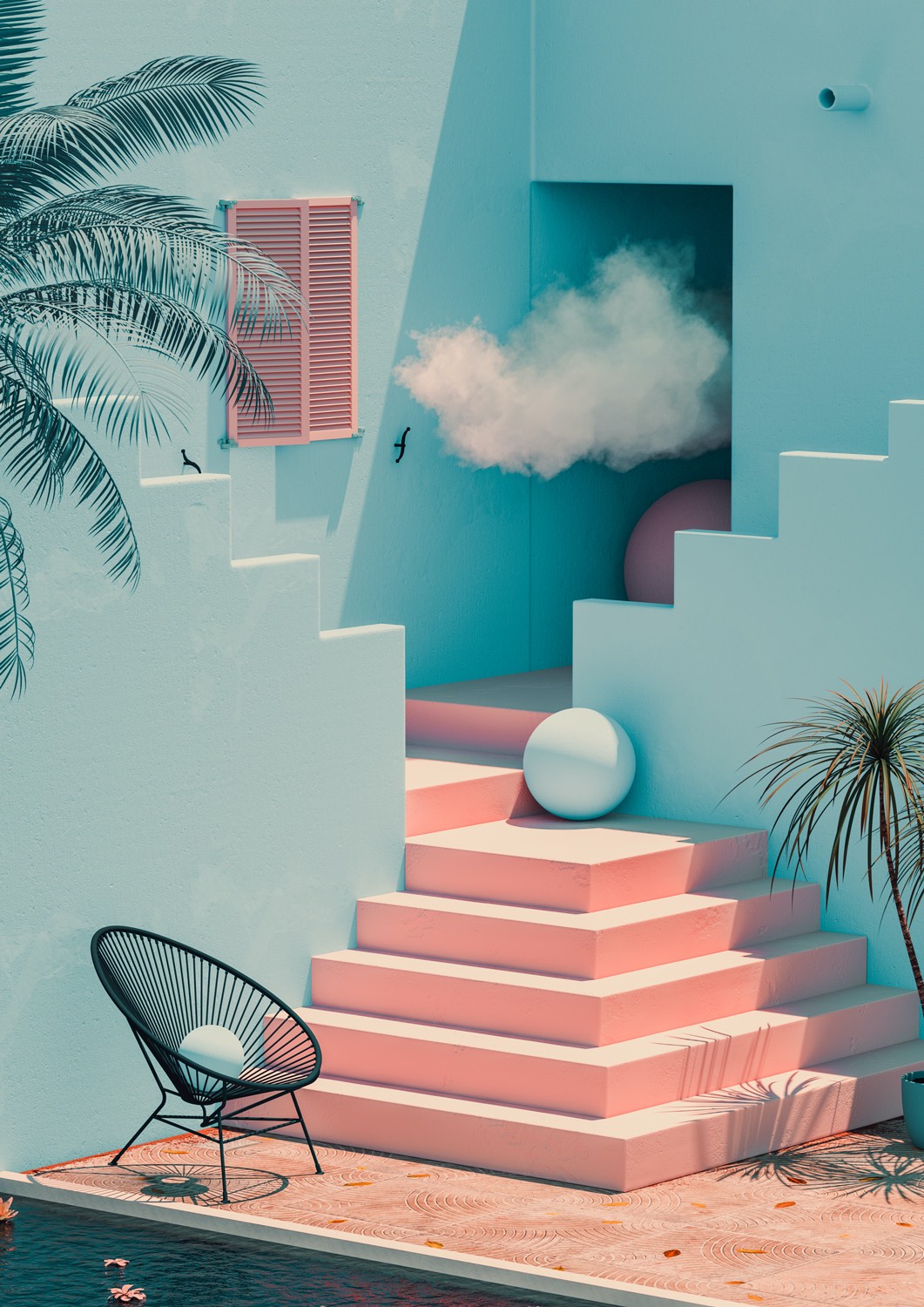 11. Now, tell us a little more about you as a person: what is your favourite food?
I eat way too much Italian food but nothing beats a roast dinner.
12. Favourite book?
I always go back to reading The Alchemist by Paulo Coelho. It has a really poetic way of viewing a life's meaning.
13. Favourite genre of music?
It all depends on my mood. Everything. Some days it's Jazz and others it's Drum and Bass.
14. What are your hobbies?
I enjoy creative hobbies such as cooking and kit modelling as well as gaming, cycling and walking. I'm learning Spanish in my spare time and I'm keen to learn pottery at some point this year.
15. If you weren't an artist, what would you be?
I wanted to be a geologist before I realised you had to be smart, so I'd probably just be a homeless guy who liked rocks.