Instagram:
@irenagajic
Website:
www.irenagajic.com
1. What's your story? Where are you from?
Hello, I am currently based in Belgrade, Serbia where I also grew up. I live in my hometown Belgrade with my sister and our Siamese cat. I'm an architect but I work as a freelance illustrator now. My illustrations are heavily influenced by architecture. If I wasn't an architect in the first place I wouldn't be an illustrator now since I express myself through architectural shapes and images. It's safe to say that without the architectural background, I wouldn't have the tools to express myself, but illustration gives me a sense of freedom to explore and to play and I love that.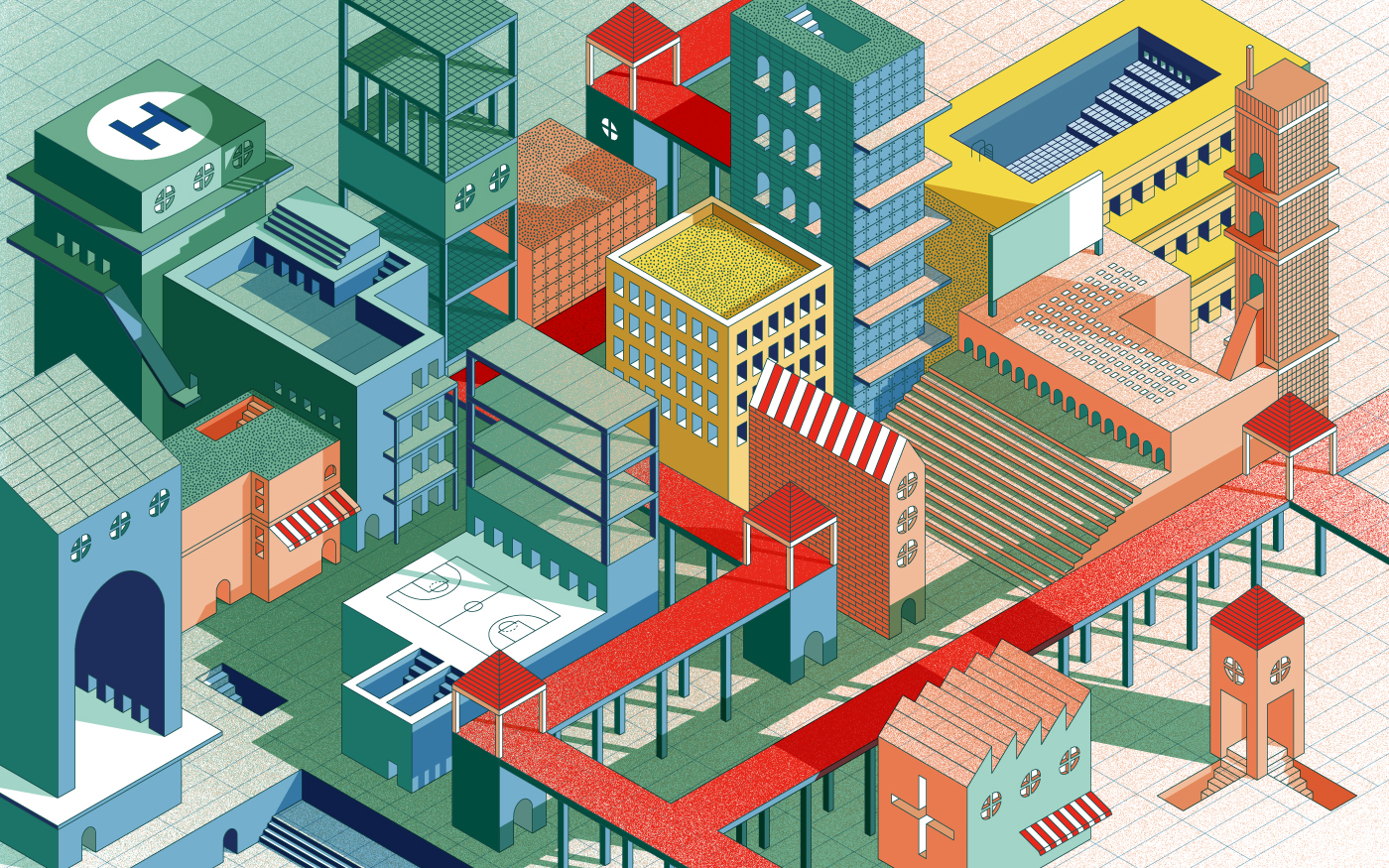 2. Tell us about your aesthetic.
My aesthetic is best described as architectural. Isometric view and usually strong colors.
3. What is your favorite medium and why?
All my works are digital. That is the most suitable way to make an architectural illustration -everything is accurate, in line, and on point. I like that.
4. What is your artistic process like?
In case I am working on an editorial illustration, the first step is to roughly reflect on and understand what I would like to express and then I move on to building an image in Illustrator. That part is the most interesting because is thought free, I just do it, I string lines until they become something I'm satisfied with. Those are the moments when you do something for hours and don't notice the time passing. At some point, it clicks and I say to myself ok- that's it. After that, I move on to the next phase which is coloring, also in Illustrator. That phase is a bit unpredictable in terms of how long it is going to last until I find the right color combination. Then depending on illustration size I pass onto adding details and texture to create more depth.
5. Who and/or what inspires your work?
I am very inspired by my hometown. Belgrade is a bit wild and chaotic, however full of architectural gems. I am also inspired by architects I love and admire such as Peter Zumthor, Aldo Rossi and my new favorite studio Pezo von Elrichshausen. Chile has amazing architecture. Of course I am inspired by other illustrators such as Vincent Mahé and his ligne claire style, Ryan Peltier's crazy characters and amazing architecture, Nicolas Menard and his animations and many, many others.
6. What role does art play in your life? How does it change the way you view the world?
For me, illustration is a way of expressing myself. Actually, to be honest it's more than that. Before I found myself in illustration I was in a kind of existential crisis. I didn't feel comfortable in the role of an architect. I was too impatient and too focused on the architecture's visual component. I was a frivolous architect and now I'm a passionate illustrator. Thanks to illustration I got my act together!

7. Where did you study?
I studied at Faculty of Architecture in Belgrade, Serbia. That's where I got my Bachelor's and Master's Degree.
8. Where do you see yourself in five years?
I would like to progress in illustration so I could work a lot and with ease, and of course to be able to make a living from doing what I love doing.
9. What about in ten?
It would be lovely to connect drawing with designing houses. I would love to design cottages and family houses someday. One for myself and my family to start with, and if everything goes well than for others too.
10. What do you hope to achieve with your art?
I don't have a specific goal. The process itself is helping me to relax and stay amused. That's good enough for me.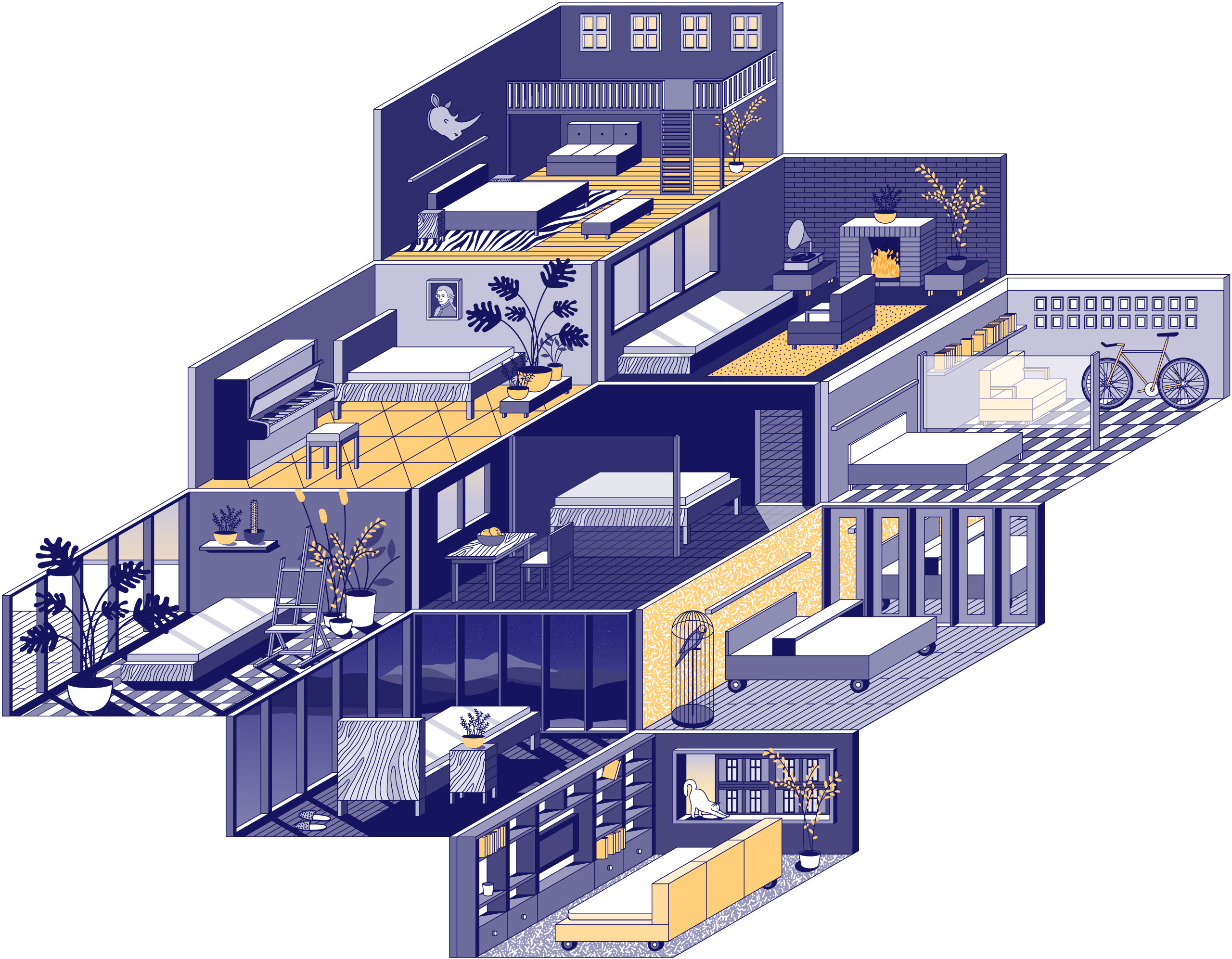 11. Now, tell us a little more about you as a person: what is your favourite food?
I am such a sleepyhead, not an early morning person at all. I am also a slim person with a large appetite. I love all food but potato has a special place in my heart. The only food that I don't like is very hot spicy food.
12. Favourite book?
The favorite book as an object is a yellow one by the name of "Legends and myths of ancient Greece". My mom read this book to my sister and me as bed time stories so I have special feelings for that book. The book I keep going back to is "The Master and Margarita" by Mikhail Bulgakov. Every time I get to the part with the vampires I get super scared and stop reading it until next time, in the hope that next time I will conquer fear and be able to read it. It didn't happen so far but I'm sure it will. At some point in my life I used to love self- help books (but they were all full of bs ☺)
13. Favourite genre of music?
Pop!
14. What are your hobbies?
Well, illustration used to be my hobby until recently, but since that's my work now, I suppose the rest is pretty regular: friends, beer, bicycle, pilates, movies. I have also been learning German for almost a year now. And ok I'll admit it I'm a horoscope freak.
15. If you weren't an artist, what would you be?
An architect ☺