Instagram:
@irene.caron
Website:
www.irenecaron.com
1. What's your story? Where are you from?
I'm Irène Caron, a french visual artist using painting, illustration, graphic design and animation. I live in Lille, in the North of France. I grew up in the countryside building cabins and observing the continually changing nature around me. Je suis Irène Caron, une créatrice visuelle utilisant la peinture, l'illustration, le design graphique et l'animation. Je vis à Lille, dans le nord de la France. J'ai grandi à la campagne où j'ai eu la chance de construire des cabanes et d'observer la nature changeante continuellement autour de moi.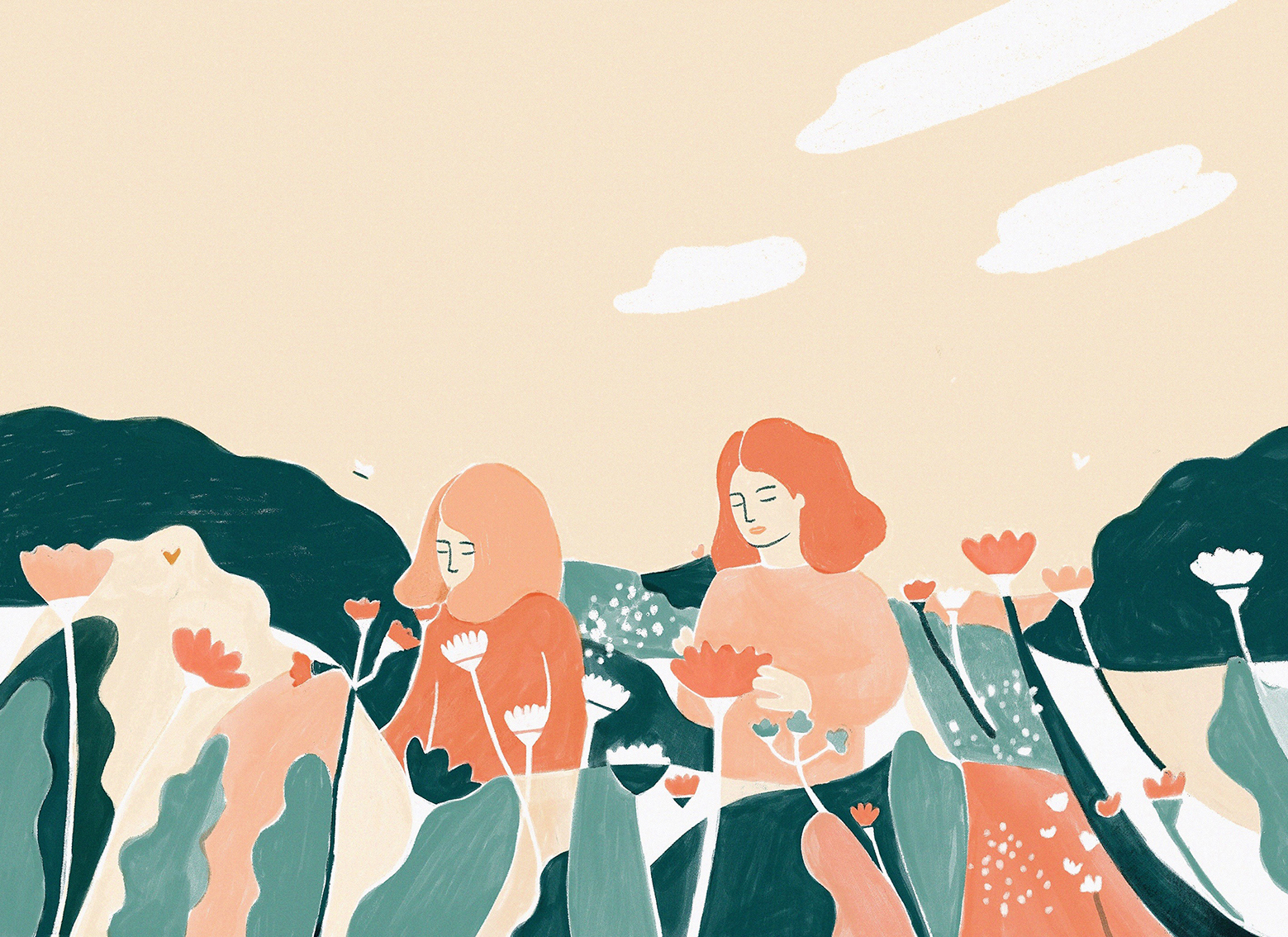 2. Tell us about your aesthetic.
I create poetic illustrations inspired by nature, emotions, wellness. I am looking for new ways to convey emotions using painting, illustration, and animation. Colors and compositions are very important to me. I then play with overlaps of colours and textures. Je crée des univers poétiques inspirés par la nature, les émotions, le bien-être. Je recherche de nouvelles façons de transmettre des émotions grâce à la peinture, l'illustration et l'animation. J'apporte beaucoup d'attention aux couleurs et aux compositions. Je joue ensuite avec les superpositions de couleurs et les textures.
3. What is your favourite medium and why?
On paper, I like to paint with gouache for its matt aspect. But my favorite medium is Photoshop with my graphic tablet. Both are essential tools in my creation, retouching and animation work. Sur le papier, j'aime peindre à la gouache pour son aspect mat. Mais mon outil préféré est Photoshop avec ma palette graphique. Ils sont les outils essentiels dans mes travaux de création, de retouche et d'animation.
4. What is your artistic process like?
I walk, I observe, I read, and I sketch the composition ideas that come to me. Then I paint, I try some color palettes and I perfect my illustration sometimes for days or even weeks. I need time to create. Je me promène, j'observe, je lis, et je crayonne les idées de compositions qui me viennent. Ensuite, je peins, j'essaie des palettes de couleurs et j'affine mon illustration parfois pendant des jours, voire des semaines. J'ai besoin de temps pour créer.
5. Who and/or what inspires your work?
My travels, my childhood memories, my reading, the sweetness of everyday life. Meeting new colors, shapes and landscapes that inspire me a lot. Mes voyages, mes souvenirs d'enfance, mes lectures, la douceur du quotidien. Rencontrer de nouvelles couleurs, formes et paysages m'inspirent beaucoup.
6. What role does art play in your life? How does it change the way you view the world?
My mother taught me to see art in nature, as in the detail of the leaf of a tree. I look closely at the colors and lights around me. For me, art, it'is looking at differently, with sensitivity and listening to our emotions in all the subtle moments of life. Ma mère m'a appris à voir l'art dans la nature, comme dans le détail de la feuille d'un arbre. Je regarde attentivement les couleurs et les lumières de mon environnement. Pour moi, l'art c'est regarder différemment, avec une sensibilité et une écoute de nos émotions dans tous les moments subtiles de la vie.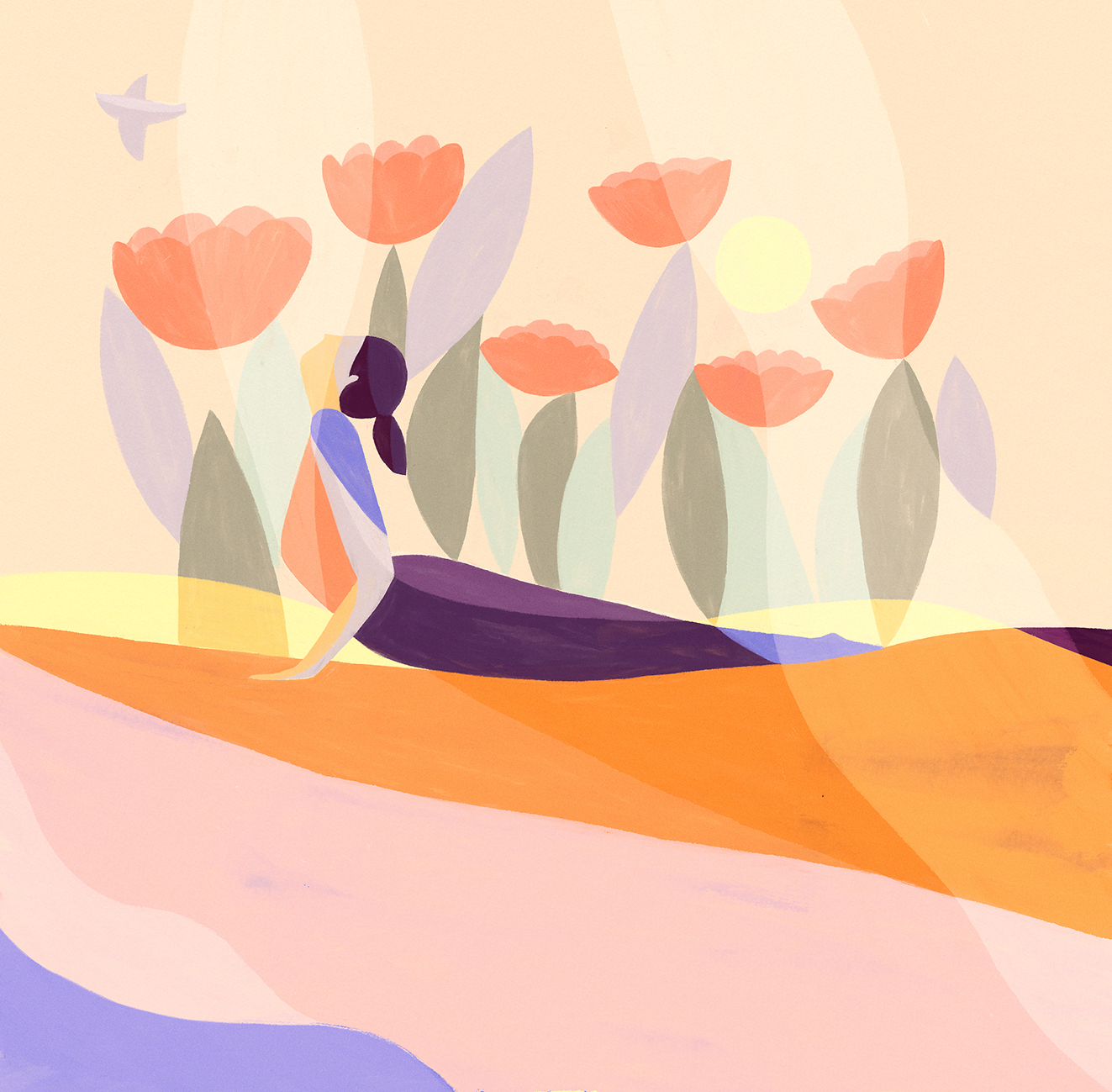 7. Where did you study?
I received my Master's Degree of Applied Arts (Graphic design) at l'ésaat in 2012. Then I went to Leeds College of Art and Design where I started a more personal artistic practice. J'ai obtenu mon Diplôme Supérieur d'Art Appliqué (Design Graphique) à l'ésaat en 2012. Ensuite, j'ai fait un passage au Leeds College of Art and Design où j'ai commencé une pratique artistique plus personnelle.
8. Where do you see yourself in five years?
I hope working as an illustrator on more projects about women, nature, emotion, psychology, slow living practices and other subjects that inspire me. I will still enjoy a slow life walking with my dog, cuddling my cat, reading, cooking, and taking care of my plants and my garden. J'espère travailler en tant qu'illustratrice sur plus de projets à propos de la femme, de la nature, de l'émotion, de la psycologie, de pratiques de slowliving et autres sujets qui m'animent. Je profiterais encore d'une vie lente à me promener avec mon chien, à câliner mon chat, à lire, à cuisiner, à m'occuper de mes plantes et de mon jardin.
9. What about in ten?
I imagine living in a natural and peaceful place. I would like to have a house surrounded by forest and close to a river. I hope to have a workshop next door with a large atrium opening on the trees or the landscape. Je m'imagine vivre dans un environnement naturel et paisible. J'aimerais avoir une maison entourée de forêt et proche d'une rivière. J'espère avoir à côté un atelier avec une grande verrière m'offrant une vue sur les arbres et le paysage.

10. What do you hope to achieve with your art?
In my work, I question our relationship to nature, to the earth and to the subtle links that connect us to it. I would like to bring feelings related to wellness, introspection and meditation. I hope to resonate emotionally, spiritually, with the idea of reconnecting to the living, to ourselves, to the present moment. Dans mon travail, j'interroge notre rapport à la nature, à la terre et aux liens subtiles qui nous y relient. Je voudrais apporter des sentiments liés au bien-être, à l'introspection et la méditation. J'espère faire résonner émotionnellement, spirituellement l'idée de reconnection au vivant, à nous-même, au moment présent.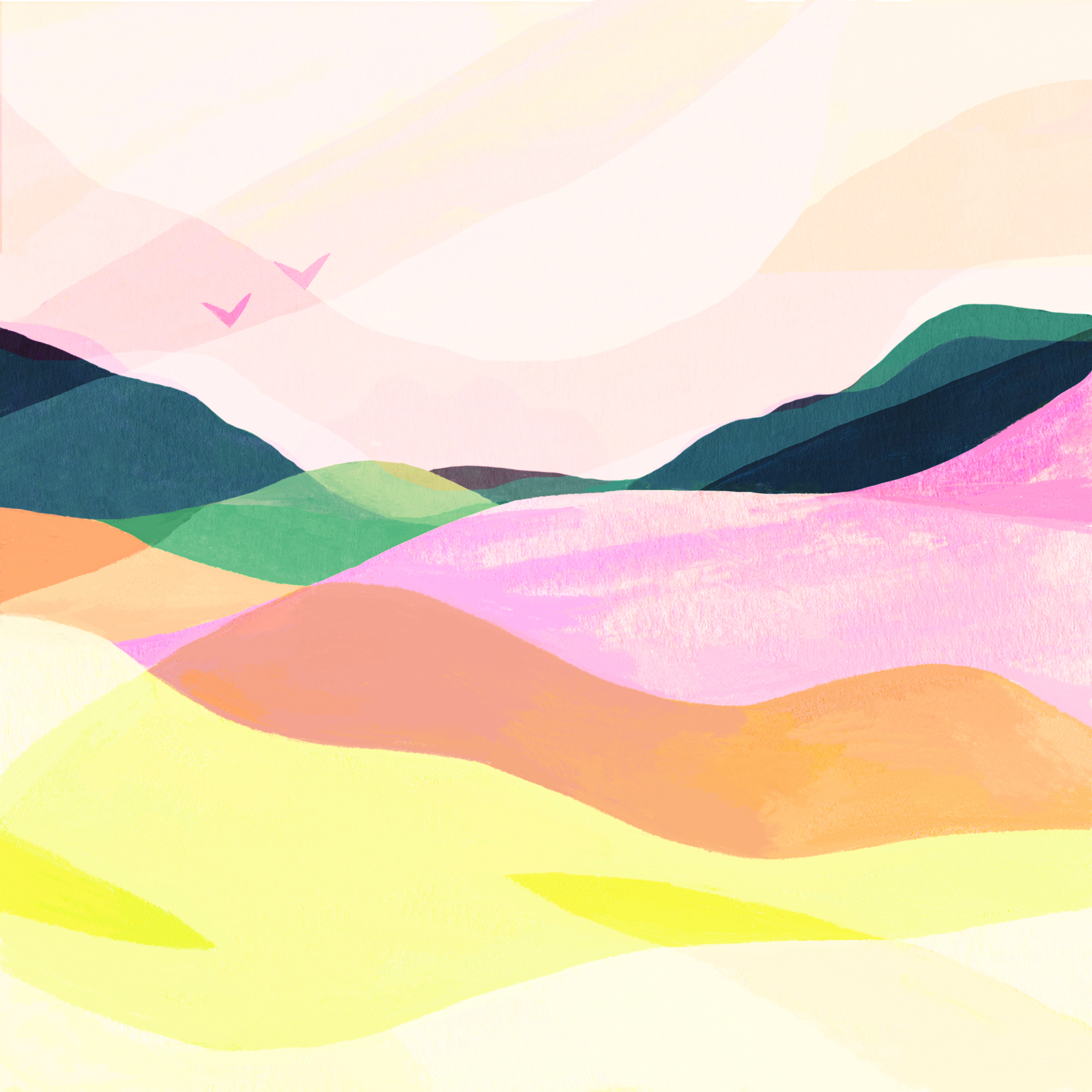 11. Now, tell us a little more about you as a person: what is your favourite food?
It's too complicated to choose one. I love cheese, vegetables and I like to taste new things. I love home cooking and I love to cook with fresh vegetables from the garden or from the market. C'est trop compliqué d'en choisir qu'un. J'adore le fromage, les légumes et j'aime goûter de nouvelles choses. J'adore la cuisine maison et j'aime cuisiner avec des légumes frais du jardin ou du marché.
12. Favourite book?
It's difficult to choose again! But the book that I devoured the fastest and that touched me deeply is «Into the Forest » by Jean Hegland. C'est difficile de choisir là aussi! Mais le livre que j'ai dévoré le plus rapidement et qui m'a profondément touché est « Dans la forêt » de Jean Hegland
13. Favourite genre of music?
It varies according to my moods and needs. I can listen to disco music as well as classical music. I really like French singers and also indie, pop music. Cela varie selon mes humeurs et mes besoins. Cela peut aller de la disco à de la musique classique. J'aime beaucoup les chanteurs français ou encore la musique indie, pop.
14. What are your hobbies? 

Painting and drawing ever! I also enjoy gardening, cooking, yoga, going hiking or finding a quiet place to read. Peindre et dessiner toujours! J'aime aussi jardiner, cuisiner, le yoga, faire de la randonnée ou lire dans un coin tranquille.
15. If you weren't an artist, what would you be?
I would love to work with wood: building furniture, cabins or small tools. It's the first idea that comes to me. The wood has always attracted me. Beyond the material, it is the idea of building, imagining and creating that has been part of me since childhood.
 J'adorerais travailler avec le bois : construire des meubles, des cabanes ou des petits outils. C'est la première idée qui me vient. Le bois m'a toujours attiré. Au-delà de la matière, c'est l'idée de construire, imaginer et créer qui m'habite depuis l'enfance.