Instagram:
@iriaprol_illustration
Pinterest:
@iriaprol
Facebook:
www.facebook.com/Iria-Prol-311470172211313
Tumblr:
iriaprol.tumblr.com
Website:
www.iriaprol.com
1. What's your story? Where are you from?
I was born in the Basque country and raised in Galicia, two places quite different to each other culturally; with very particular identities and languages of their own within Spain. When I was a teenager I left my hometown and since then I have never settled in a particular place for long. Maybe this particular background and being a child of the European Union made me feel not specially attached to one place in particular. Despite growing up in a small town and spending most of my childhood in rural areas where my grandparents lived, I was always very aware of globalization and had a view of the bigger picture. The books and magazines that my partents had in our house sparked my interest for the arts and gave me an intense yearning for traveling, learning and getting to know different cultures and people, which has done nothing but grow as I got older.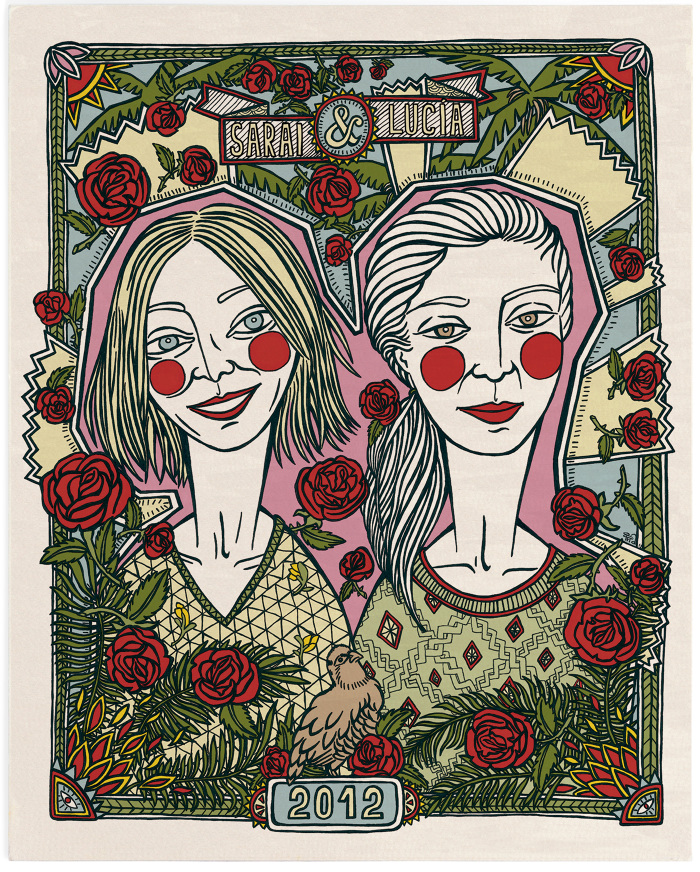 2. Tell us about your aesthetic.
I am obsessed with meticulous hand drawn lines, symmetry and details. My illustration style has connotations of archaic religious icons, XXth century galician arts & crafts movement, and vintage ephemera. I like to think that it is in the middle of modern and traditional. I love including repetitive patterns in my illustrations, an obsession that probably comes from the ceramic tiles present in Mediterranean and Portuguese architecture. A lot of my work has a mystical/mythological feeling, as I gather symbolic elements from ancient paintings or alchemy engravings. I do research a lot in meaning of graphic symbols through history and the different religions and cultures. A lot of the elements I use have a meaning, which gives depth to the illustrations and opens them up to new interpretations of the viewer. When it comes to commercial work, my personal style has to adapt to the client's needs, so there usually is less room for experimentation. This is challenging and interesting results usually come out of client collaborations.
3. What is your favourite medium and why?
I definitely rather be drawing with my own hand than using a computer. After working for really long hours in big corporations in front of a computer, I developed an instinct to walk away from it, as much as I can. It is obviously an essential tool, but for me the magic happens in the paper. I work in a lot of different supports but if I have to choose one it will be mural painting. Being an Illustrator or Designer can be a very isolating experience, not to mention the back and neck pain that you can get sitting in a chair. There is something liberating about painting a wall on the spot. You move from your usual workspace, you get to interact with people, move around the wall of the restaurant/shop/festival that you are painting in. The big dimensions are also a plus. There is a special flow going on when you are painting a big surface listening to your favourite music. The hours just go by and you don't realize.
4. What is your artistic process like?
Personal projects are much more chaotic and less planned, rely a lot in random inspiration and ideas; but for client work I am quite methodic. This comes from my education as an Industrial Designer, and it has been very valuable when presenting work to clients. I do a lot of research at first, which I think is absolutely necessary. I want to know as much as I can about the subject before I start creating something. I do get anxious in this first stage of a project,as I see the hours passing by and the work is not done. If I am working on a client project, I create moodboards and mindmaps of words and concepts to present to the client. If is a personal project I also write down a lot of ideas and go through my personal image library to gather inspiration. Then the sketching phase takes place, where I usually hate most of my first doodles, and start beating myself up, thinking that I am not going in the right direction or that the whole thing is going to look like shit. After this phase I probably should go for a walk or to do some yoga, clear my mind up a little from the project, and let my subconscious tide up my ideas before I start defining the concepts I will develop. Sometimes is good to have a good night of sleep and start fresh the morning after. Then I chose some ideas that I feel is worth to work on more and I do more detailed sketches to define de illustration in pencil. (I am usually happier with my sketches at this stage) At this stage is when I would send defined proposals for the client to choose a path to follow. Once the direction is defined, I work on the final artwork, using drawing tools or/and the computer.
5. Who and/or what inspires your work?
I am inspired mainly by the people I meet and the places I visit. This may sound cliched, but traveling is indeed the best inspiration for me. People I travel with use to tell me that I photograph very weird stuff instead of the typical tourist photos, but the thing is, I am collecting images that will inform my work in the future. I have used this library of images for inspiration for years. I may find one image from a trip ten years ago that will trigger an idea for a series of illustrations in 2018. I am a bit obsessive about this "collecting images" thing. Reading is also a good source of inspiration.
6. What role does art play in your life? How does it change the way you view the world?
Art has been part of my life since I can remember. Any form of creativity really. I don't know where it came from, as there is no artists or anything similar in my family, but it has always been part of myself. Maybe is just a way of resistance to growing up for me, is a place where I am comfortable, even when its processes turn out uncomfortable. The world can be a quite horrible place sometimes, and Art can be an scape from everyday routine or bad news. When you use your Art for a living, your whole life changes, as you accept you are not the kind of person that will be in a nine to five job for the rest of your life. Your life will be unpredictable, every assignment will be different, and one day you will be painting a mural in London and the next Art Directing a magazine. It will probably will be hard, it will be uncertain, and it is a brave decision, but for sure it will not be boring.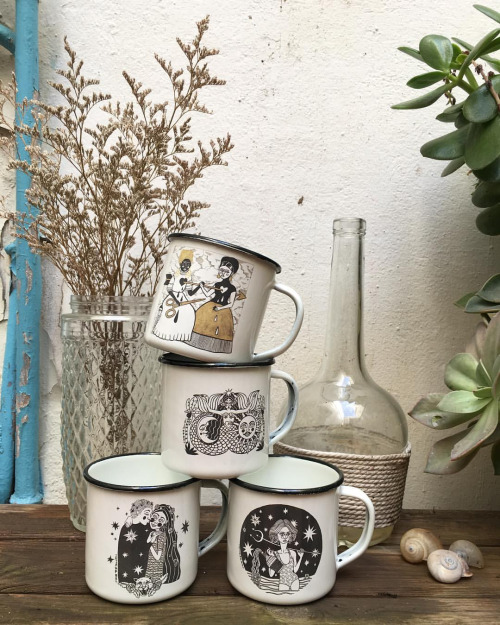 7. Where did you study?
I studied Product Design Engeneering in the Polytechnic University of Valencia (Spain) and at L'Ecole de Design de Nantes Atlantique (France), and a Master of Arts in Media Graphic Arts in the School of Creative Arts in Bristol, (UK).
8. Where do you see yourself in five years? Working in an agency?
I am currently working in my new online shop and hopefully in five years I will be running it and combining it with illustration assignments. Unless is an amazing project, I would rather be freelancing than working full time at an agency. Specially considering the crazy timetables and working calendars that won't allow me any freedom of movement for traveling or for my personal life. Design consultancy and Art direction are also on the table.
9. What about in ten?
I am interested in teaching, but I would like to give up my personal illustration project.
10. What do you hope to achieve with your art?
I would like to make people happy when they look at my work. Tell stories that can be personal but that can relate to many of us.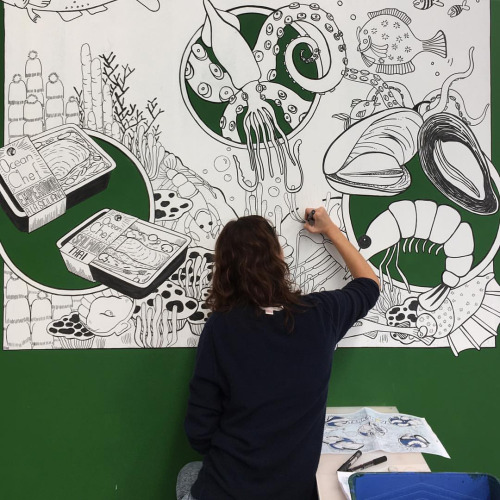 11. Now, tell us a little more about you as a person: what is your favourite food?
Can't decide between ceviche, pizza or mexican tacos
12. Favourite book?
One hundred years of solitude (Cien años de soledad) by Gabriel García Marquez.
13. Favourite genre of music?
Funk. Trip Hop. Reggae. Hip Hop. Rock. Electronic. Dancehall. ... the list goes on.
14. What are your hobbies?
Since drawing can't be considered a hobbie for me anymore, I would say wandering around the city, taking photos, hanging out with friends over a beer in a bar terrace, swimming, dancing and the big one: travel.
15. If you weren't an artist, what would you be?
A travel writer (I wish).