Instagram: @isadorayesha
1. What's your story? Where are you from?
Hello! I am Isadora, an illustrator and graphic designer from Montreal.
I grew up in Montreal with a Brazilian mother, a city planner, and a Canadian father, a doctor. My parents had different occupations but joined in their passions: the visual arts. Both painted and created a lot in their spare time. I have evolved in a very artistic environment; my mom even let me paint on the walls when I was a baby, haha! So I started drawing quite young, thanks to my parents who gave me a lot of freedom to experiment.
I've always wanted to make a living from my passion, to be able to create and have fun with art. However, I knew pretty quickly that the fate of visual artists can be difficult. So I started studying graphic design, so I could create in the hope of having more financial security than an artist.
During my academic career, I got to know illustration professors who inspired me a lot. It is, among other things, because of them that I discovered that illustration was the path that excited me the most, by the creative freedom that this field allowed me to achieve, unlike graphic design.
Hello! Je suis Isadora, une illustratrice et graphiste de Montréal.
J'ai grandi à Montréal d'une mère brésilienne urbaniste et d'un père canadien médecin. Mes parents avaient des occupations différentes, mais se rejoignaient dans leurs passions: les arts visuels. Les deux peignaient et créaient énormément dans leur temps libre. J'ai évolué dans un environnement très artistique; ma mère me laissait même peindre sur les murs quand j'étais un poupon, haha ! J'ai donc commencé à dessiner assez jeune, grâce à mes parents qui m'ont donné beaucoup de liberté pour expérimenter.
J'ai toujours voulu vivre de ma passion, pouvoir créer et m'amuser avec l'art. Par contre, j'ai su assez rapidement que le destin d'artistes visuels peut être difficile. Je me suis donc lancée dans des études en design graphique, pour pouvoir créer dans l'espoir d'avoir plus de sécurité financière qu'un artiste.
Lors de mon parcours académique, j'ai fait la connaissance de professeur-es en illustration qui m'ont beaucoup inspiré. C'est, entre autres, grâce à ceux-celles-ci que j'ai découvert que l'illustration était la voie qui m'enthousiasmait le plus, par la liberté de création que ce domaine me permettait d'atteindre, contrairement au design graphique.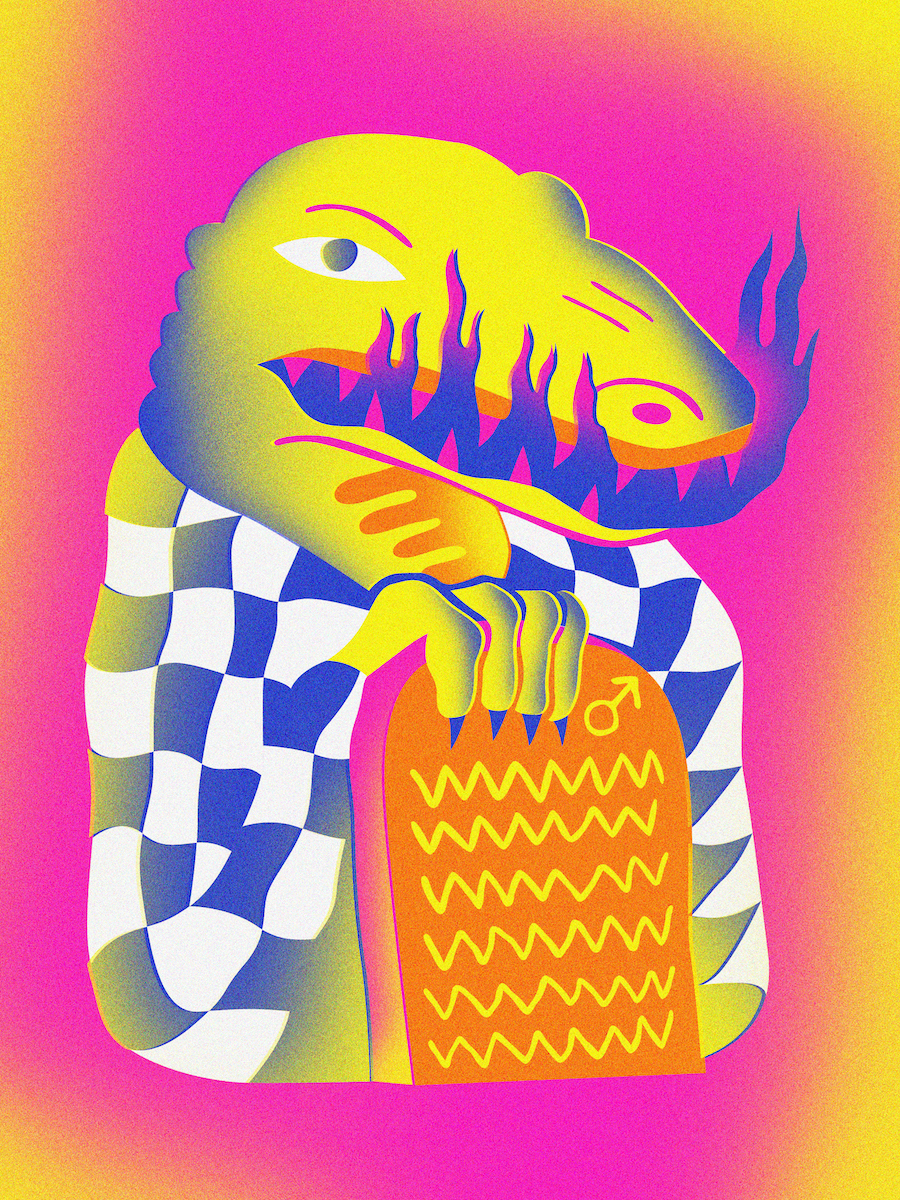 2. Tell us about your aesthetic.
My style is most recognizable by the colors I use. Color is what fascinates me and influences me the most, to see that changing the color can radically change the mood.
I am also inspired by playful forms, the whimsy of comics and popular culture themes. I use my artwork to tackle topics ranging from kitsch, religion, esotericism, desire/sexuality and, inevitably, partying. I want to take elements of popular culture and reinterpret them in my own way in my works to make people more comfortable and open to new visions.
Mon style est surtout reconnaissable par les couleurs que j'utilise. La couleur, c'est ça qui me fascine et m'influence le plus, de voir qu'en changeant la couleur, ça peut changer l'ambiance radicalement.
Je m'inspire aussi des formes ludiques, de la fantaisie des bandes dessinées et des thèmes de la culture populaire. J'utilise mes œuvres pour aborder des sujets passant par le kitsch, la religion, l'ésotérisme, le désir/la sexualité et, inévitablement, la fête. Je veux prendre des éléments de la culture populaire et les réinterpréter à ma façon dans mes œuvres pour rendre les gens plus confortables et ouverts à de nouvelles visions.
3. What is your favourite medium and why?
The illustration, definitely. When I started illustrating, it gave me more control over what I wanted to show. I can create my utopian universe and allow people to dive into it.
L'illustration, définitivement. Quand j'ai commencé à faire de l'illustration, ça m'a permis d'avoir plus le contrôle de ce que je voulais montrer. Je peux créer mon univers utopique et permettre aux gens de plonger dedans.
4. What is your artistic process like?
I work by hand, with a lot of tracing paper. I am often very spontaneous when I start to create. I make several small sketches and it is often the first ones I prefer. Then, I vectorize my drawing on illustrator to finally work the colors on Photoshop.
Je travaille à la main, avec beaucoup de papier calque. Je suis souvent très spontanée lorsque je commence à créer. Je fais plusieurs petites esquisses et c'est souvent la première que je préfère. Puis, je vectorise mon dessin sur illustrator pour finalement travailler les couleurs sur photoshop.
5. Who and/or what inspires your work?
I am inspired by the worlds of several photographers including | Je suis inspiré par les univers de plusieurs photographes dont: Conor Cunningham, Parker Day, Foxxatron...
And the aesthetics of these illustrators: | Et l'esthétique de ces illustrateurs: Jiayi Li, Anna Degnbol, Jo Minor, Camilo Medina, Maren Karlson, Inji Seo...
6. What role does art play in your life? How does it change the way you view the world?
Art is what is most important to me. It is a way out to a universe of infinite possibilities. It gives me a sense of power in a world where I feel powerless. I like to discover new works that give me chills, get into the minds of other artists who make me open my eyes and break conventions. Art can create revolutions.
L'art, c'est ce qu'il y a de plus important pour moi. C'est une issue vers un univers aux possibilités infinies. Ça me donne une impression de pouvoir dans un monde où je me sens powerless. J'aime découvrir des nouvelles œuvres qui me donnent des frissons, rentrer dans l'esprit d'autres artistes qui me font ouvrir les yeux et qui brise les conventions. L'art permet de créer des révolutions.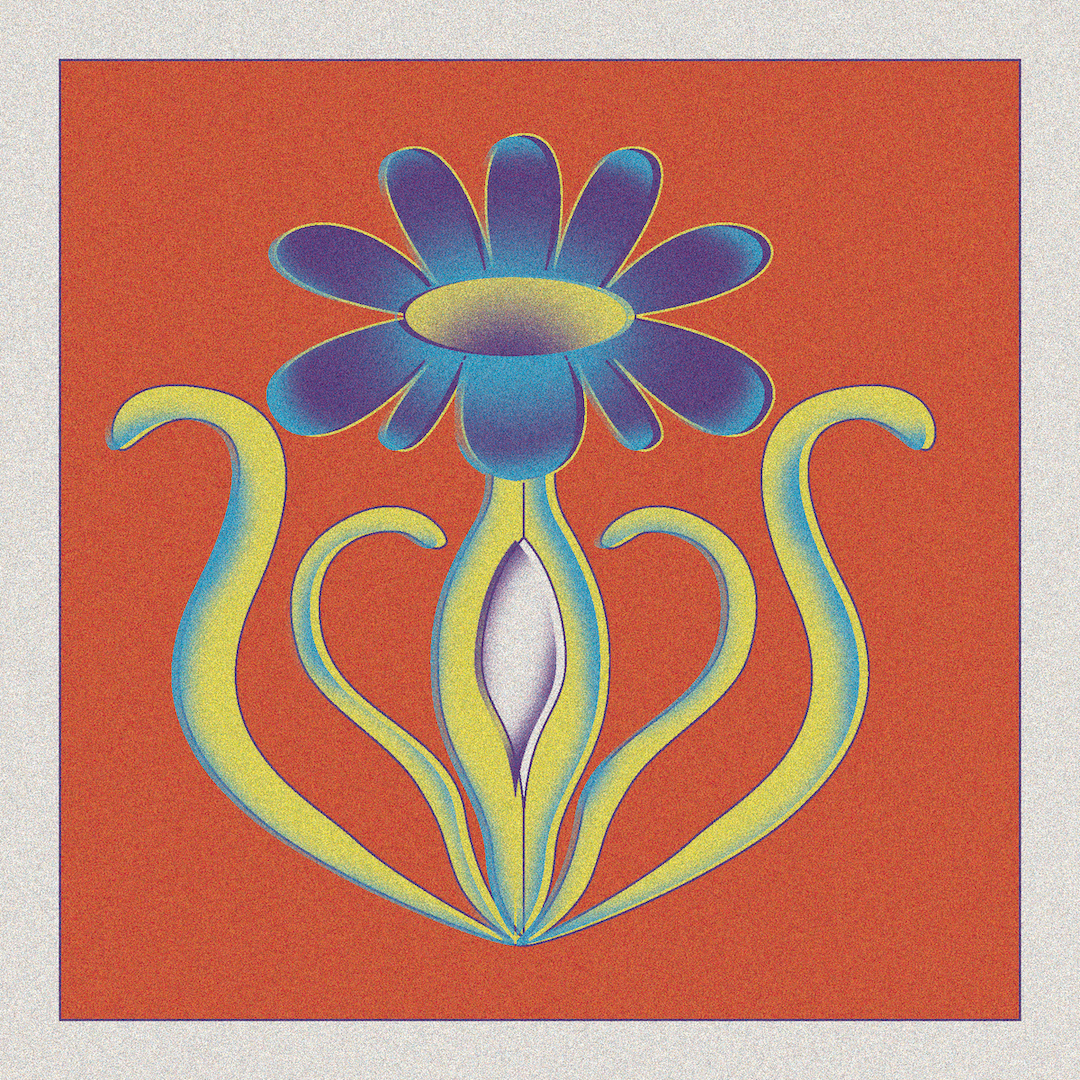 7. Where did you study?
I studied Art History, then Graphic Design at the University of Quebec in Montreal.
J'ai étudié l'Histoire de l'Art, puis le Design graphique à l'Université du Québec à Montréal.
8. Where do you see yourself in five years?
I see myself as a freelancer, with creative projects of different types. Having started tattooing, having no boss other than myself.
Je me vois freelance, avec des projets créatifs de différentes envergures. Avoir commencé à faire du tatouage, n'avoir aucun patron que moi même.
9. What about in ten?
I would like to have my own store with my brand of clothing, posters, accessories and, at the same time, create an artistic residency space for BIPOC artists in Montreal to allow other creatives to experiment and exhibit.
J'aimerais avoir ma propre boutique avec mon brand de vêtements, poster, accessoires et créer, en parallèle, un espace de résidence artistique pour les artistes BIPOC à Montréal pour permettre à d'autres créatifs-ves d'expérimenter et d'exposer.
10. What do you hope to achieve with your art?
I hope to bring happiness, reach and connect people and challenge political issues that are close to my heart. I hope to help causes and organizations. I think that Illustration can helps to get messages across, sometimes, much easier than texts, and I wish I could use my skills to help get important messages across.
J'espère apporter du bonheur, toucher les gens et remettre en question les enjeux politiques qui me tiennent à cœur. J'espère aussi venir en aide à des causes et des organismes. Je trouve que l'illustration aide à faire passer des messages, parfois beaucoup plus facilement que des textes et j'aimerais pouvoir utiliser mes skills pour aider à faire passer des messages importants.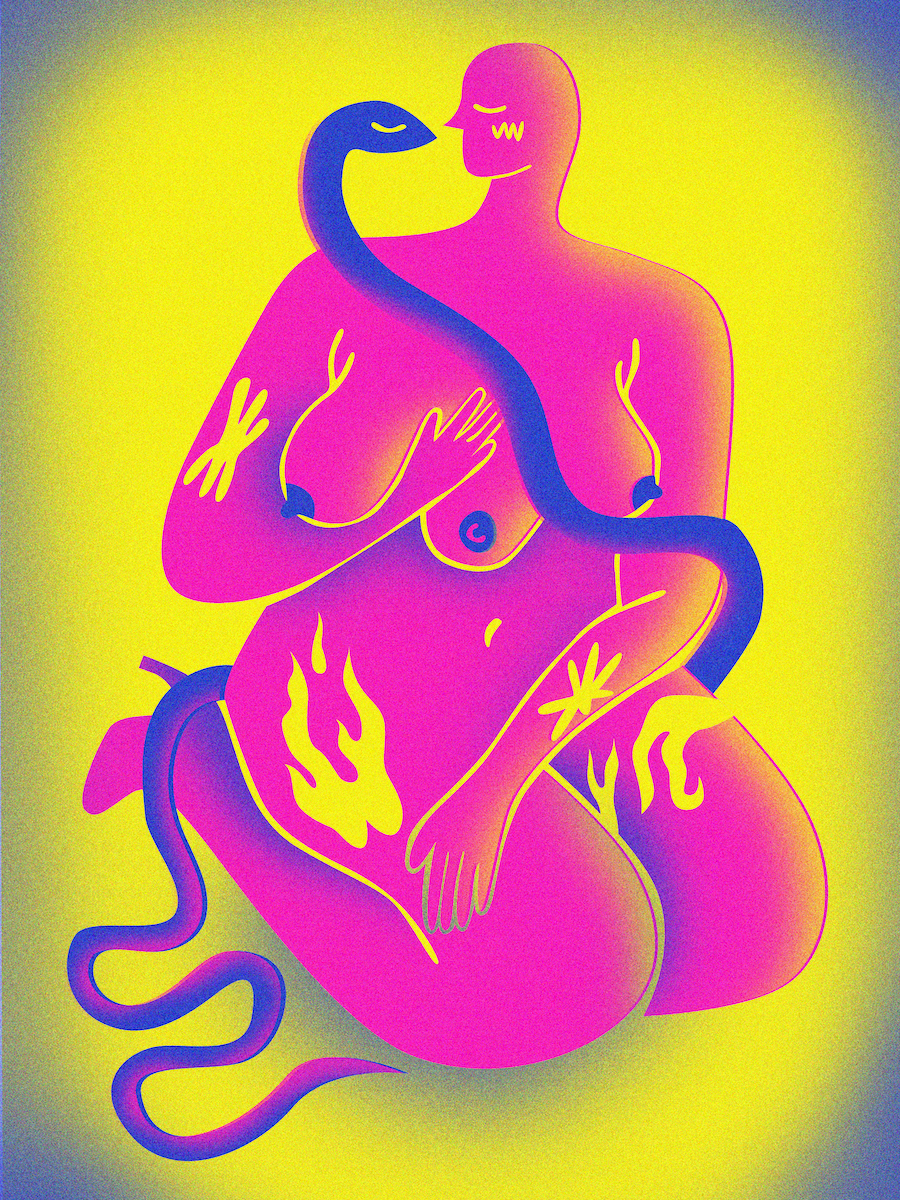 11. Now, tell us a little more about you as a person: what is your favourite food?
It's hard to say, but my favorite dish since forever are bagels with smoked salmon and cream cheese (so Montreal).
C'est difficile à dire, mais mon plat préféré depuis toujours sont les bagels au saumon fumé et au fromage à la crème (très montréalais).
12. Favourite book?
All about love, by Bell Hook et I Hope We Choose Love by Kai Cheng Thom. (Love is definitely my favorite theme haha)
All about love, de Bell Hook et I Hope We Choose Love de Kai Cheng Thom. (L'amour est définitivement mon thème préféré ahah)
13. Favourite genre of music?
Indie Soul, R&B et électronique.
14. What are your hobbies?
Gardening, video games (Sims <3) and especially partying ;-)
Le jardinage, les jeux vidéos (Sims <3) et surtout faire la fête ;-)
15. If you weren't an artist, what would you be?
Probably sex therapist, or elementary school teacher ...
Actually, I think I would have been an artist, but differently. Photographer, musician, potter… Many other mediums fascinate me.
Probablement sexologue, ou professeur au primaire…
À vrai dire, je pense que j'aurais été artiste, mais autrement. Photographe, musicienne, potière… Beaucoup d'autres médiums me fascinent.