Instagram:
@itsleillo
Twitter:
@itsleillo
1. What's your story? Where are you from?
I'm an illustrator and cartoonist. I grew up in North Wales and now live in Brighton with my wife, dog and twin daughters. In the day I work at a studio in town with other illustrators.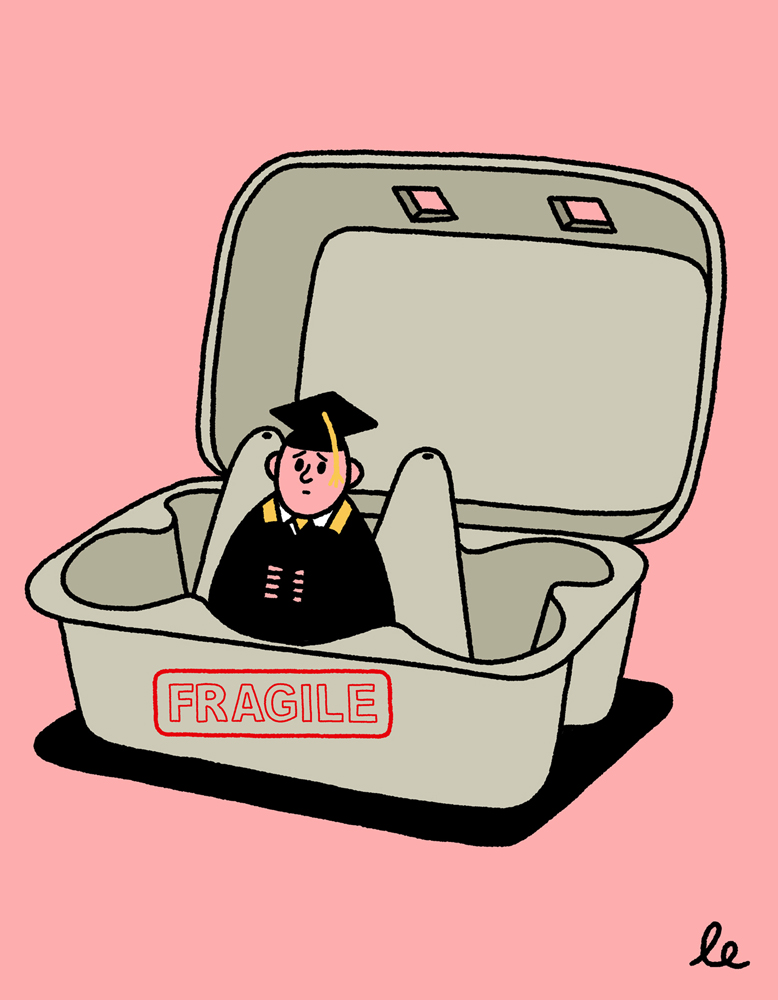 2. Tell us about your aesthetic.
Simple, bold and funny.
3. What is your favourite medium and why?
Pen and paper. It's immediate, indelible and lo fi.
4. What is your artistic process like?
I mostly do editorial, and I love the problem solving that's involved – taking the key points of an article and quickly working out a few ways to represent them in a simple, funny picture. First, l do lots of doodling until I find the best ideas. Then I try to make the image as nice as I can for the final. Sometimes that's just pen and paper, but mostly it's digital these days.
5. Who and/or what inspires your work?
Originally, I really just wanted to make people laugh. I'm a huge comedy fan so as a kid I was really inspired by Galton and Simpson, Gerard Hoffnung, Pink Panther Films, Steve Coogan, Ivor Cutler, John Landis films and, weirdly, Arnold Schwarzenegger. I drew a lot of wounded soldiers, but I thought they were funny. As a grown up I started just doing gag cartoons. I won a couple of awards so I started trying to do it professionally. But I also loved making the work, so I worked on my style and eventually became an illustrator. Obviously I'm influenced by a huge number of artists, but for immediate inspiration I often look at work by Charles Barsotti, Saul Steinberg, Jordan Awan and Andy Rementer, although I'm still mostly inspired by funny ideas or concepts. Also, it can be very demoralizing to just look at amazing work, so I also like to look at work that I think is awful, but which is successful.
6. What role does art play in your life? How does it change the way you view the world?
I think art, music and comedy are filters through which we put life and the world to make it bearable.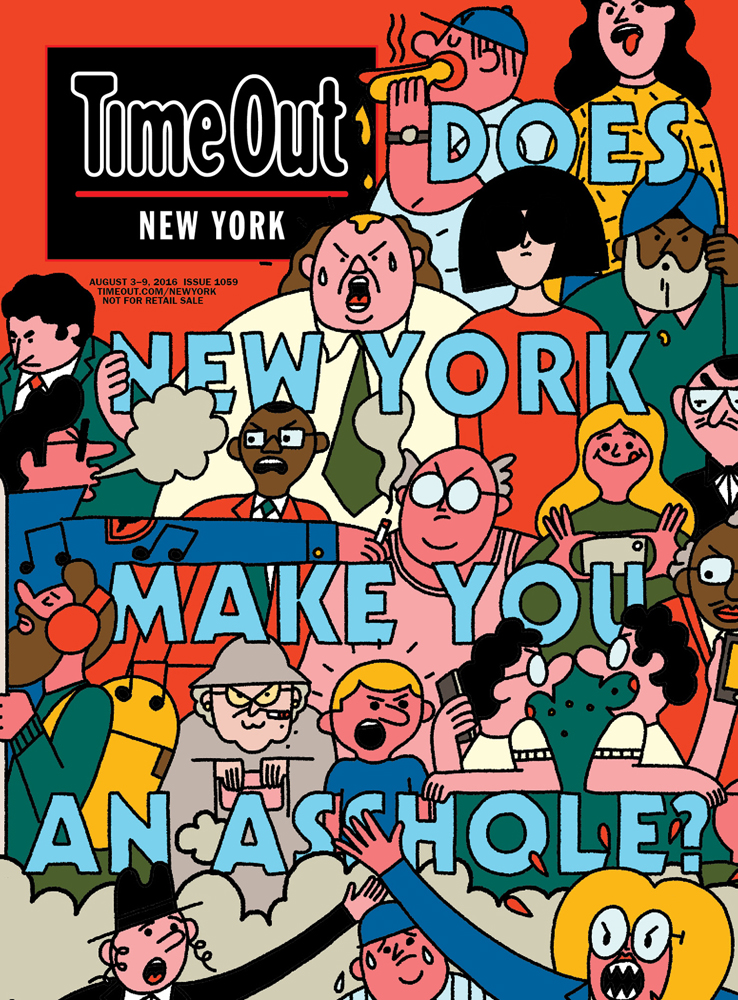 7. Where did you study?
I don't have any art training. I have a degree in Linguistics from King's College London.
8. Where do you see yourself in five years? Working in an agency?
I hope not. Part of the attraction of illustration is to be freelance. I've had proper jobs in the past, working in offices. It's really awful. I don't have a fixed plan. At the moment, I'm starting to play around a lot with animation, so I would love to do more with that. I just worked with an animator on something and it got me really interested in animating my own stuff. I'd also like to do more in publishing. I have 2 small children, so I'd like to write and illustrate a picture book for them. I'm pretty keen on the idea of doing loads of extremely well-paid ad work, too.
9. What about in ten?
In ten years I suppose I'd really like to have written something with a long narrative, like a graphic novel, or an animation or maybe even a sitcom. And more really well-paid ad work would be great, too. Just alive and content would do though, really.
10. What do you hope to achieve with your art?
I want my artwork to get better. At the moment I feel I wrestle with it; and I'd like to get to a point where I'm good enough to be at peace with what I can and can't do. I like the idea that my work makes people smile and laugh.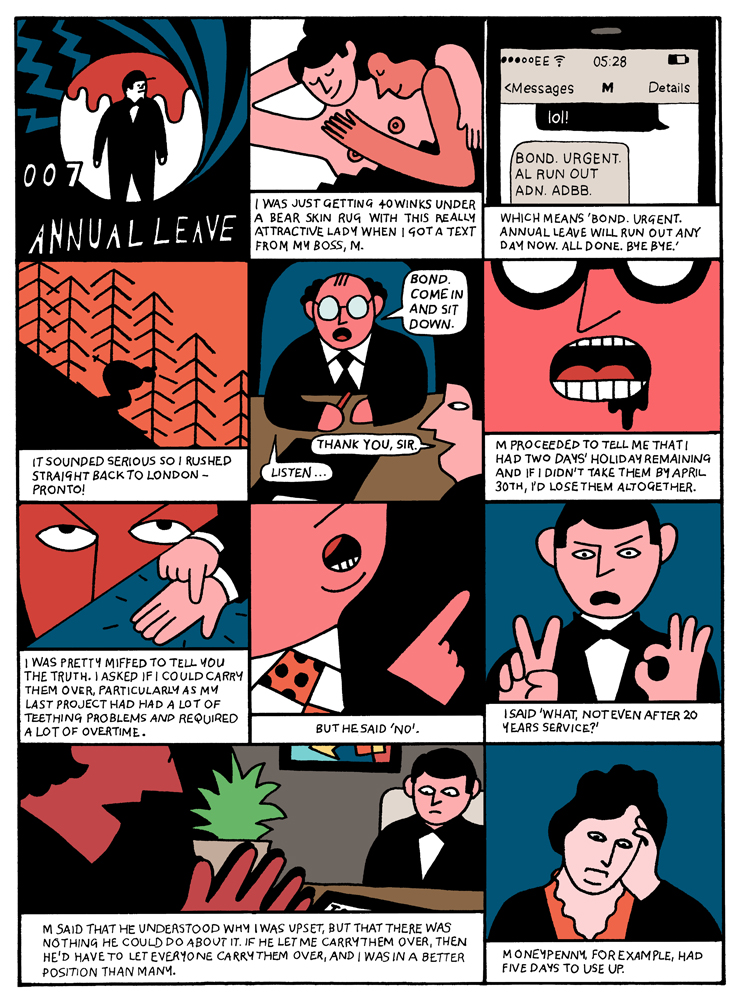 11. Now, tell us a little more about you as a person: what is your favourite food?
Bread and cheese.
12. Favourite book?
The Complete Cartoons of The New Yorker is the book I use most, but Evelyn Waugh books are the books I've enjoyed the most.
13. Favourite genre of music?
These – Talking Heads, The Clash, The Stone Roses, The Beatles, Pulp, AC/DC (Bon Scott Era), Stevie Wonder, Lou Reed, The Stranglers, Johnny Cash, Oasis, The Rolling Stones, The Smiths, Led Zeppelin, George Michael, Guns N Roses, The Doors, Elvis Presley, Radiohead, The Who, The Kinks, Nico, Paul Simon, Rod Stewart, Sam & Dave, Roxy Music, The Specials, Hot Chocolate, Queen, Prince, New Order, Madness, Happy Mondays and Clannad.
14. What are your hobbies?
I don't have any interesting hobbies. I like all the normal stuff. I become obsessed with things and do them so relentlessly that I bore myself of them forever.
15. If you weren't an artist, what would you be?
Primary school teacher/lorry driver