Instagram:
@jamesdaw_illustration
1. What's your story? Where are you from?
I'm James Daw, a London based illustrator who grew up in Fleckney, a country village on the outskirts of Leicester.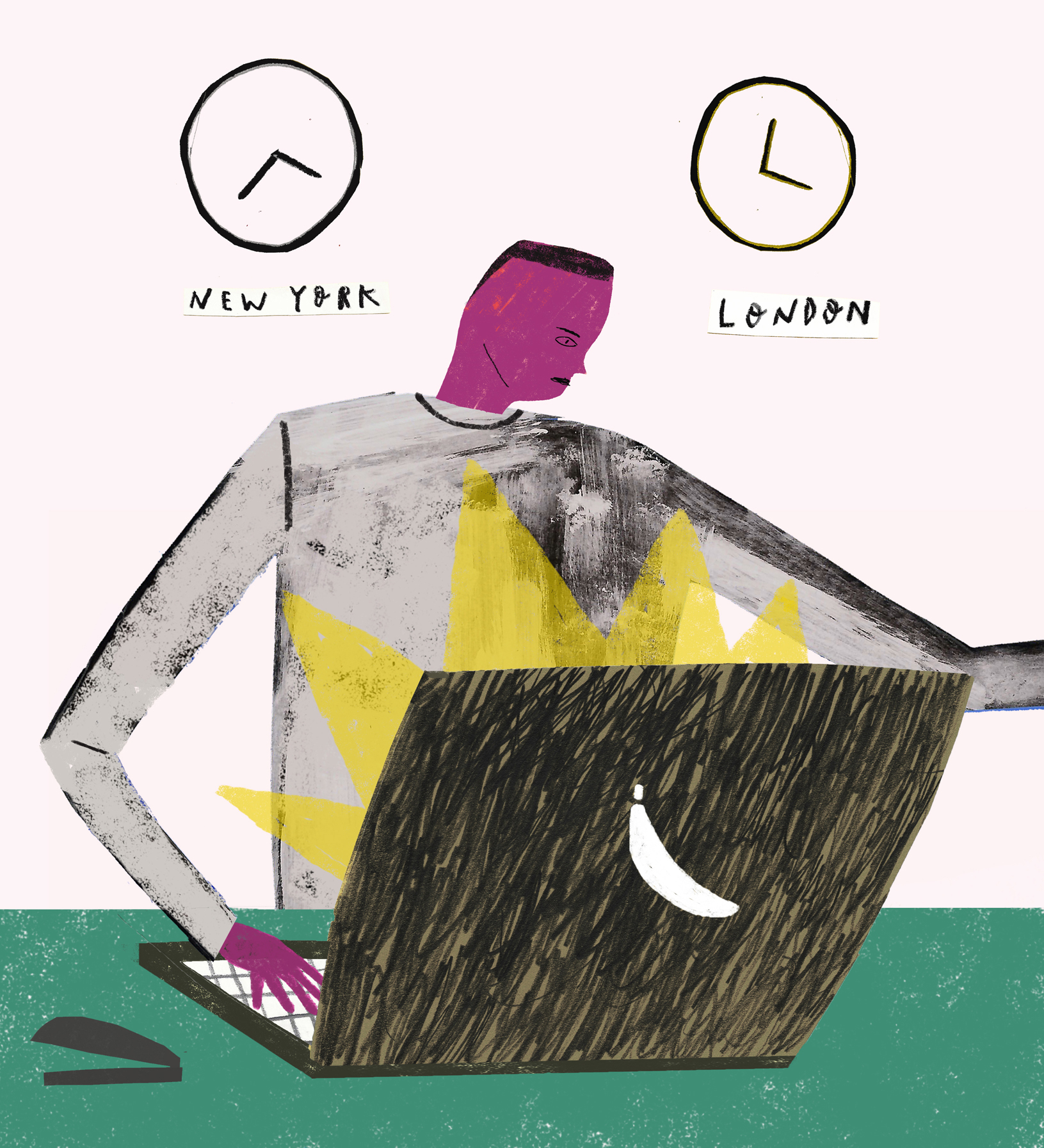 2. Tell us about your aesthetic.
I would say a mixture of various and experimental strokes and textures. A quirky naivety of narrative with a darker edge. Colour, colour, colour.
3. What is your favourite medium and why?
It has to be collage, although on those pieces I throw down all sorts of mixed media so really it would be everything, everything and anything, All of it.
4. What is your artistic process like?
Depending on the project I would probably start with some sort of research. Usually involving a google search or two. From there I would start creating textures on paper or card and then cut out shapes. Sometimes turning over the textured side before cutting to add to the experimental suprise element. These individual pieces are then scanned into Photoshop and manipulated to the desired effect.
5. Who and/or what inspires your work?
I find influence and inspiration absolutely everywhere. It could be a colour or the composition of a shape against another. Kids drawings are big one. Trying to get back to that freedom of line and composition is an ongoing battle. Such artists as Basquiat, Hockney and Ken Done as well as constant inspiration of fellow contemporary artists and illustrators.
6. What role does art play in your life? How does it change the way you view the world?
Oh wow, well I can't remember ever not creating, it's simply in the blood. My dad was always pretty creative so I guess he was the first to have an impact. I feel compelled to try to get something down every day, even if it's just a scribble or a shape and an idea written down.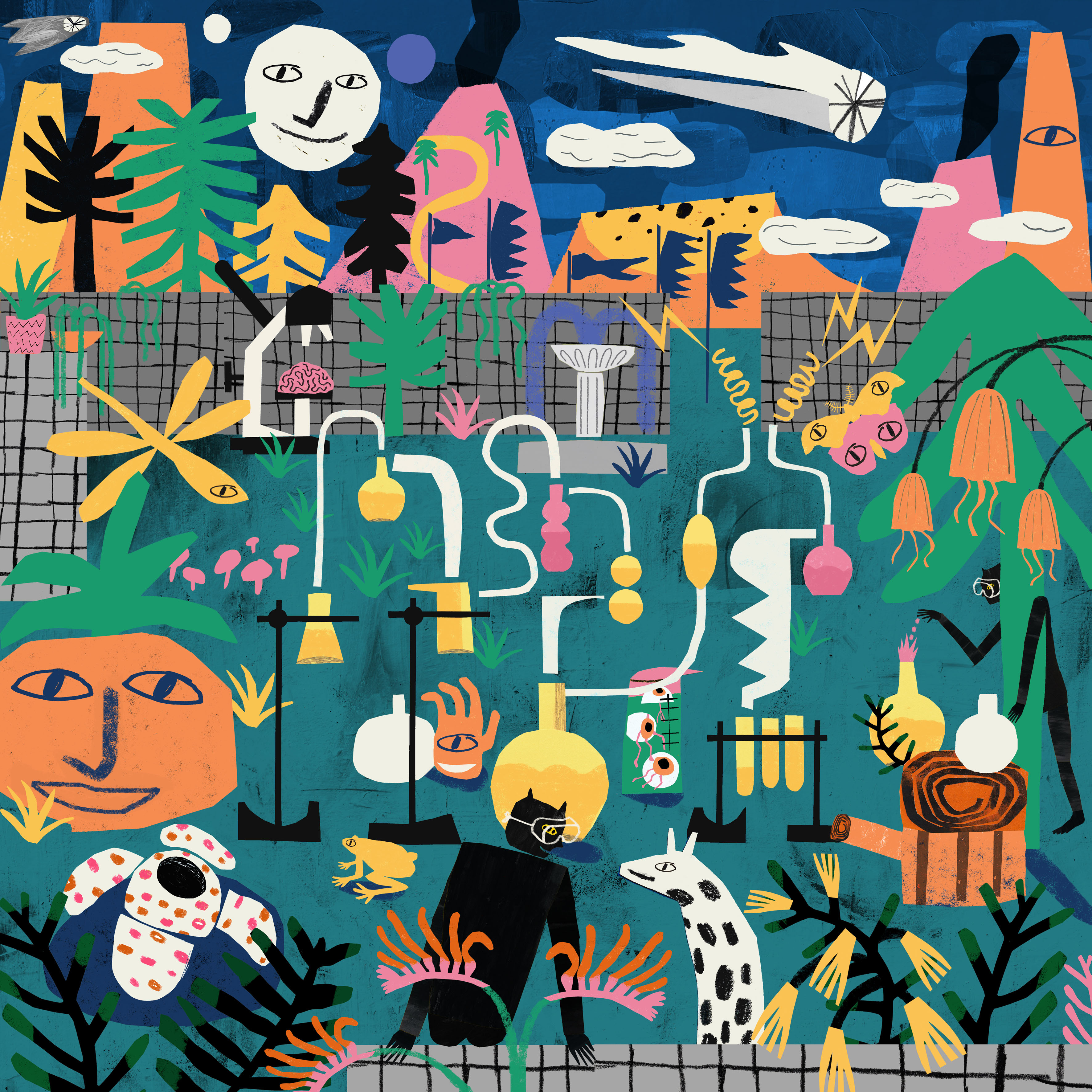 7. Where did you study?
More of a long way around than most starting with a two-year general art and design course at Loughborough followed by a further two years on an illustration course at Southampton and finally at BA Hons degree at Camberwell Collage of Art and Design.
8. Where do you see yourself in five years?
Well for many years I was painting and exhibiting and it has only really been a few years that I have solely concentrated on illustration. Building up my portfolio and client list so I would say making a comfortable living from a constant stream of work and hopefully skipping a long hand in hand with a fabulous Illustration Agency.
9. What about in ten?
Exciting collaborations and world domination of course.
10. What do you hope to achieve with your art?
Well I always hope to achieve a sense of fun and magic with my illustrations, a sense of a slightly distorted view that hopefully engages the audience and gives them pause for thought.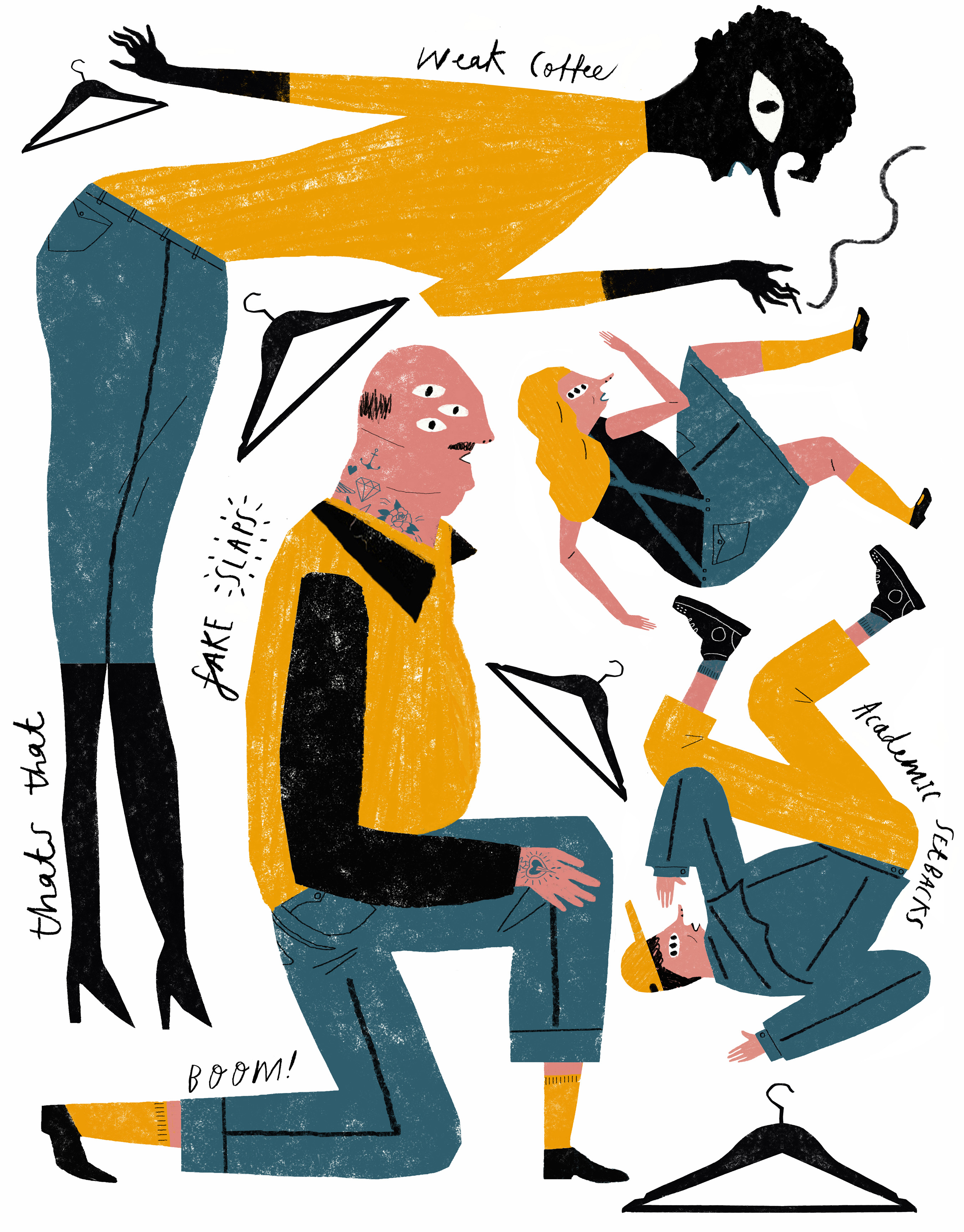 11. Now, tell us a little more about you as a person: what is your favourite food?
Cheese!.. Cheese, cheese, cheese, cheese, cheese!!...and avocado, which is basically the same texture as cheese. Oh and grapes, but in its liquid and fermented form. (insert wink)
12. Favourite book?
Gosh, probably Perfume. The Story of a Murderer by Patrick Suskind. It's an incredible mix of gothic grime and gorgeous colour and beauty. You can literally smell the story emanating from the pages. And anything by David Sedaris. Absolutely laugh out loud hilarious.
13. Favourite genre of music?
That's a tough one, much like my way of working I take from everywhere. Electronica to Punk, D.I.S.C.O to New Wave, but always in the mix would be Siouxsie and the Banshees, Michael Nyman, Planningtorock and Kate Bush
14. What are your hobbies?
Erm, I definitely not committed to any one thing. I guess film, film is a big passion.
15. If you weren't an artist, what would you be?
I wouldn't be.