Instagram:
@jamesgibbs
Website:
www.james-gibbs.co.uk
1. What's your story? Where are you from?
I'm an Illustrator based in London, but originally from Portsmouth on the south coast of England.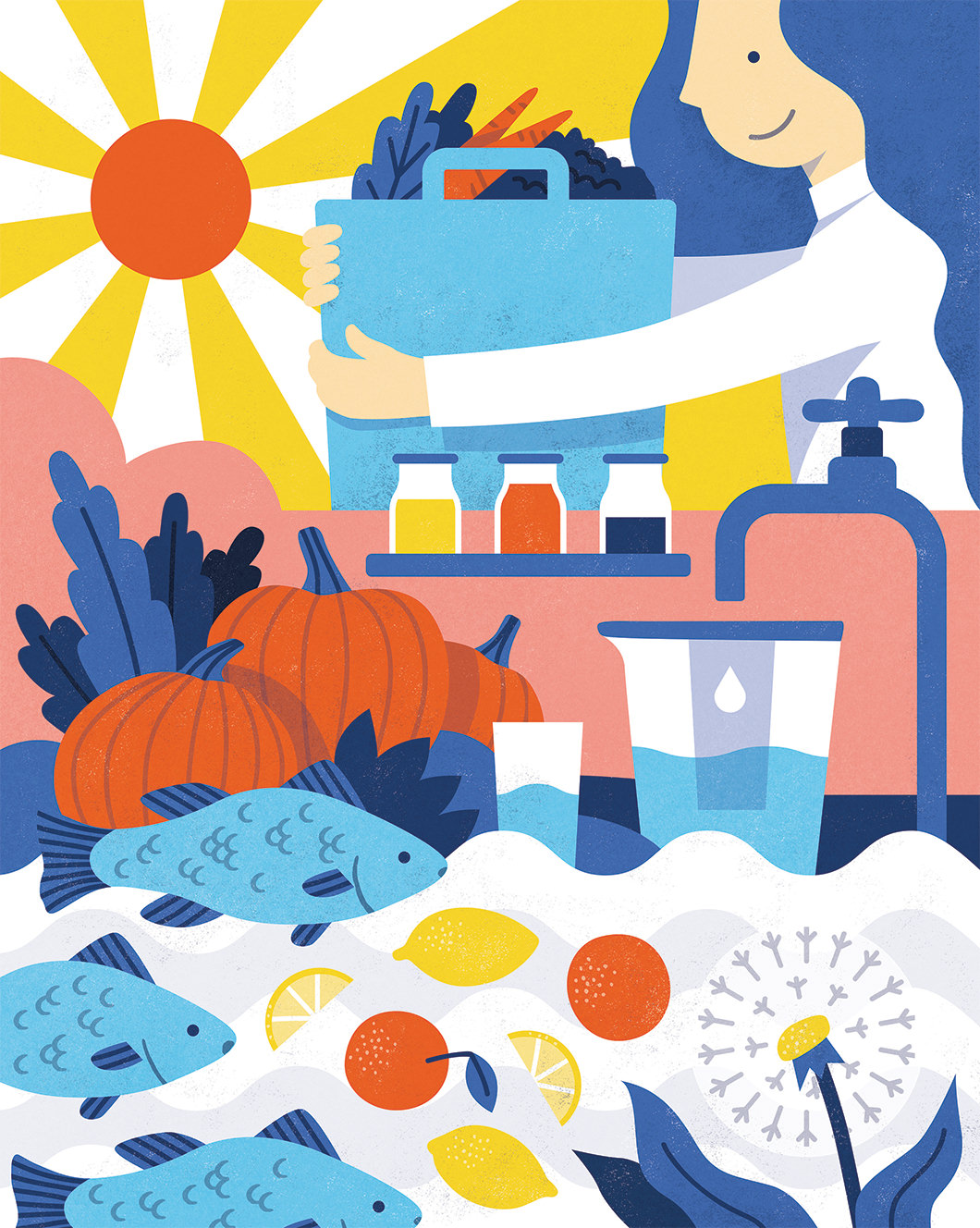 2. Tell us about your aesthetic.
I used to work as a graphic designer in an agency environment and that has really influenced the way I think about my work and style. I use a lot of bold graphic and simplified imagery, with grids and typography in my work, but overall it always has a humanistic feel to it.
3. What is your favourite medium and why?
While I mostly work on a computer, I absolutely love getting my fingers grubby. I often work with paint markers in a sketchbook when I'm trying new things out, I love the bright colours.
4. What is your artistic process like?
Typically I start with a bit of research, this varies depending on how familiar I am with the subject matter. My trusty pencil is up next, and I rough out some small thumbnails, exploring layout and composition. I tend to work less in sketchbooks when I have a commission and more on loose sheets of paper. Once I'm happy with the direction the piece is going in, I will work up a sketch in more detail before scanning it in. I'll tidy it up and send it off for feedback if I'm working on a commission. Then onto the computer, where most of the actual work happens. My set up is fairly typical, I use a Wacom Cintiq and Photoshop most of the time. I apply a combination of different textures and brushes to my work. I have created many over the years, and I have a few favourites that I tend to stick with.
5. Who and/or what inspires your work?
I'm a huge fan of Miroslav Šašek, Olle Eksell, Charley Harper, Seymour Chwast, and Hergé to name a few.
6. What role does art play in your life? How does it change the way you view the world?
Illustration is definitely a lifestyle rather than a job, and isn't something I can easily switch off when I'm not working.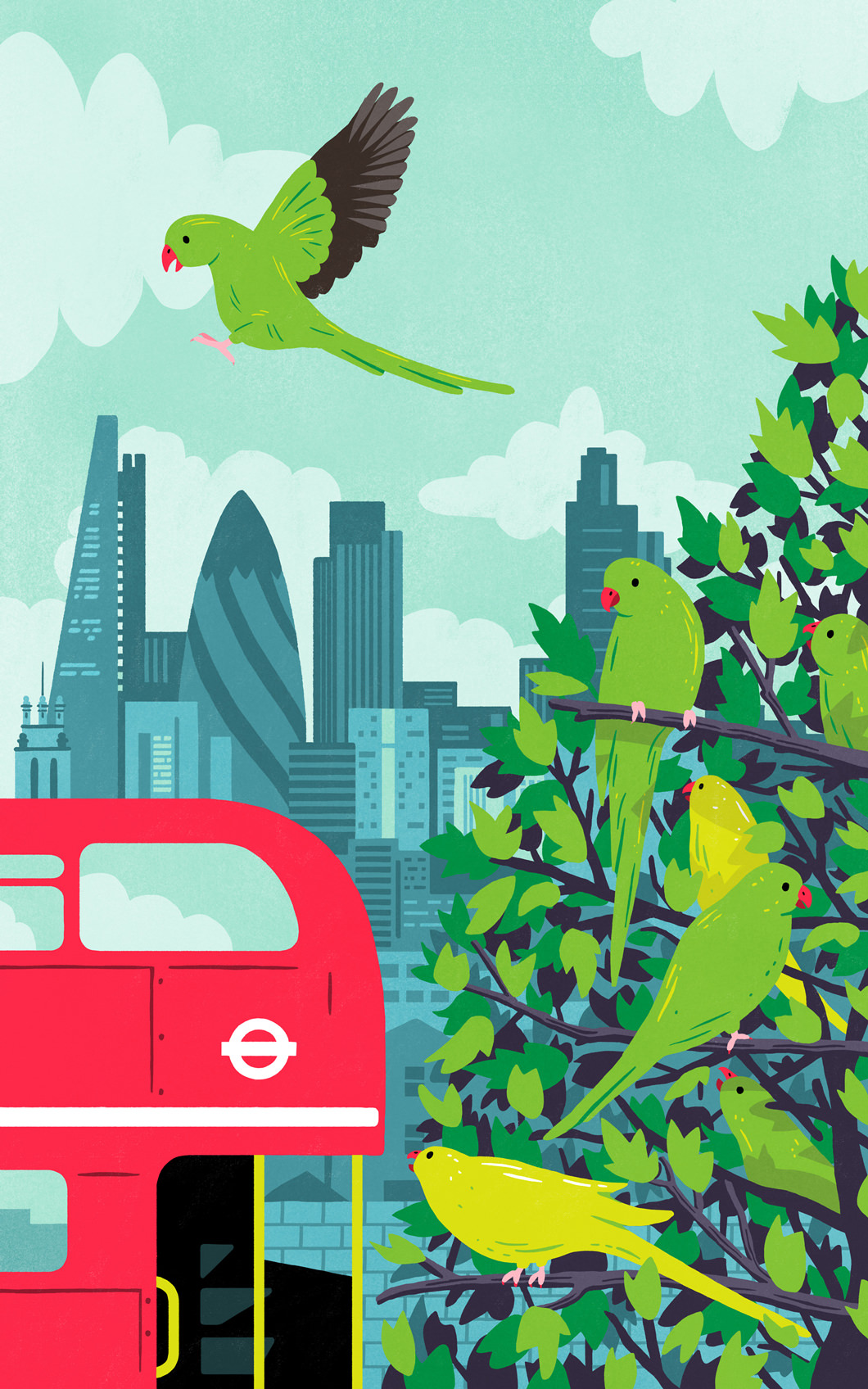 7. Where did you study?
I studied Illustration in Cardiff, Wales. Such a great creative and irreverent city that often doesn't get the press that it deserves.
8. Where do you see yourself in five years? Working in an agency?
Hopefully, I will continue to work as a freelance illustrator. I always feel so fortunate to have the freedom of being my own boss and enjoy all the challenges that come with it… not to mention all the opportunities to work on new exciting projects with great people.
9. What about in ten?
Wow, not sure if I have ever really thought that far into the future, but I guess it would be nice to be living somewhere warm where I can draw outside for most of the year, with a nice studio and lots of friends.
10. What do you hope to achieve with your art?
I hope that my work will inspire people to have fun, be a bit more silly and nonsensical and to not take dogmatic social aspects of life so seriously.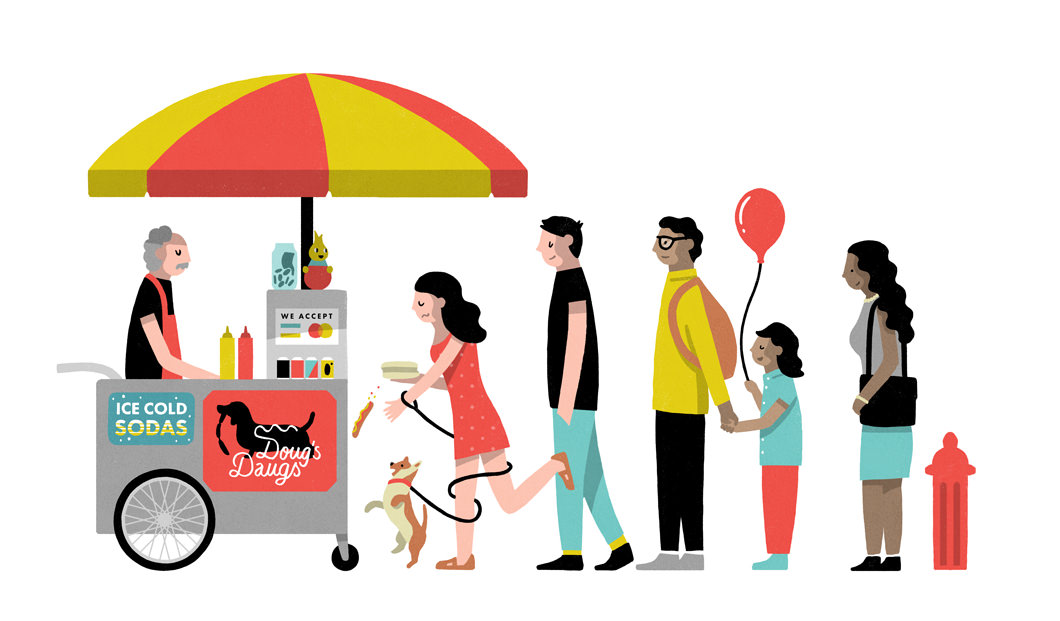 11. Now, tell us a little more about you as a person: what is your favourite food?
I love trying new foods! Living in London is great since there is always so many places to grab something different.
12. Favourite book?
I tend to read more non-fiction titles these days. I'm fascinated by anthropology, psychology and technology. Recent favourites include Noah Yuval Harari's "Homo Deus" and Kevin Kelly's "The Inevitable".
13. Favourite genre of music?
Hmm, that's tricky, I listen to such a varied range of stuff, but I guess I will always have a special place in my heart for 60s psychedelic rock.
14. What are your hobbies?
I love being outdoors with nature when I'm not working. Being away from the studio really helps me to recharge.
15. If you weren't an artist, what would you be?
Probably an industrial designer or architect, I have always been inspired by the work of Dieter Rams, Kenneth Grange, and Buckminster Fuller.