Instagram:
@jamesolsteinillustration
Twitter:
@jamesolstein
Website:
www.jamesolstein.com
Science Blog:
www.illustratedsci.com
1. What's your story? Where are you from?
Hello! My name is James Olstein and I am an illustrator in Philadelphia, PA. I'm originally from a very small town in Pennsylvania that only has one traffic light. I moved to Philly in 2006 and have been at home here ever since. I live in south Philly with my lovely wife Becky and our cat Nacho. I originally went to school for graphic design and was an art director at an ad agency for a few years. That's where I discovered my love of illustration. I worked as an illustrator in the evenings after my job at the agency for about two years until I was able to quit and start my own studio this year. I have one employee, it is Nacho.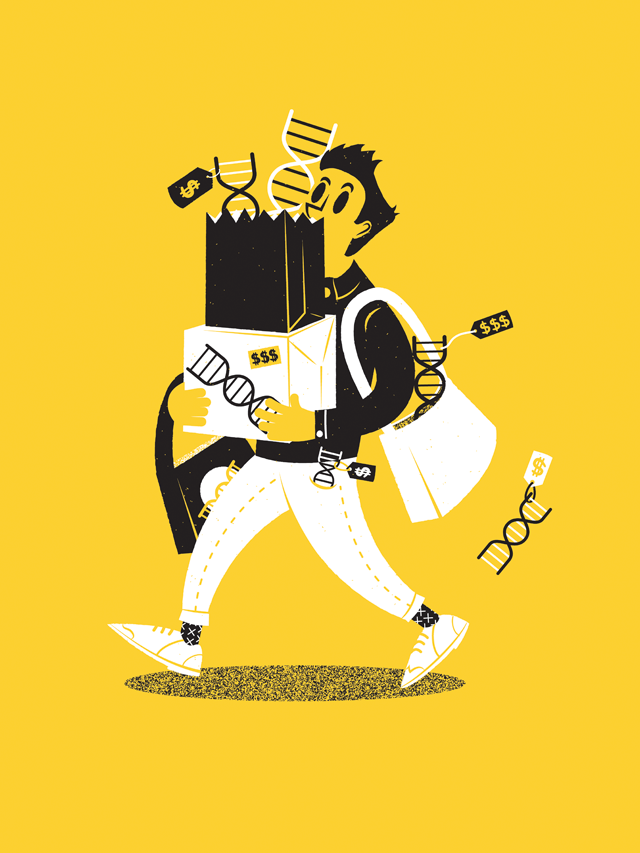 2. Tell us about your aesthetic.
I'm mostly two colors with light texture and patterns. I think that comes from a love of screen printing, spot printed books and old photocopied punk flyers. I try to go for an older feel with some of my work. I do work almost all digital, my illustrations are all vectors so they can be blown up easily.
3. What is your favourite medium and why?
I do love to do screen printing, although sometime I don't have the best attention span for it. I do enjoy getting dirty when I work though. I feel like I end up eating a lot of the paint because I like to snack in the studio and when I get home.
4. What is your artistic process like?
I normally start with a sketch or sketches. I try to work everything out on paper then take it over to the computer. When I'm doing client work I make sure they get a round of sketches to get an idea of my thoughts. With clients I try to give them two safe options and then a random funny one. On a recent assignment the theme to the illustration was "making friends while camping" so I sketched a person jumping out of the bushes at someone while they're hiking. It made me laugh a little, but I kind of knew it wasn't right for the story because it could be interpreted in a creepy way. What the Art Director went with was way better anyways.
5. Who and/or what inspires your work?
I'm a big fan of Saul Steinberg and his simple approach to telling a story in one drawing. My wife got me one of his books randomly for Christmas one year and it just blew my mind. He was such a great personality. I really like modern illustrators like Janne Iivonen, Mark Conlan, Chris DeLorenzo and Christoph Niemann. I love designer/illustrators like Lance Wyman, Sister Corita Kent and Saul Bass too. I get a lot of my ideas/inspiration when I travel or when I ride my bike. I try to make time during the week to ride to clear my head since my studio is actually behind our house. I love reading about science and listening to podcasts about innovations. I have a blog called Illustrated Science where I draw a different science fact each week. I would love to go back to doing it daily sometime.
6. What role does art play in your life? How does it change the way you view the world?
I feel like art has always been around, even when I first moved to Philly and worked at a grocery store to make money. Art was always a thing I did and would make friends doing. I really never thought I could do art as a full time job. Then I saw others doing it and I got help coming up with a business plan to make the move to doing it full time.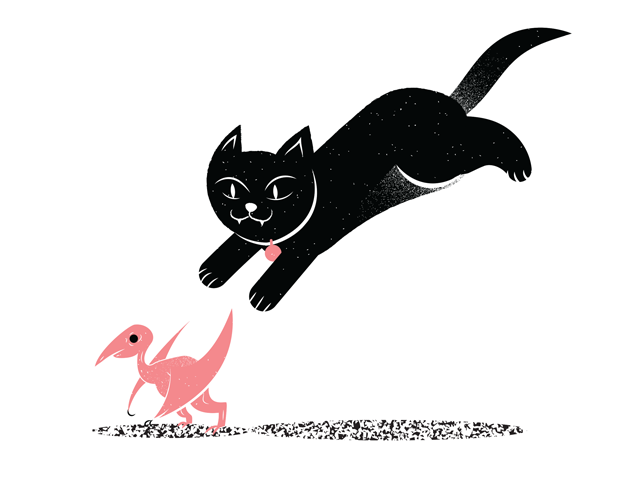 7. Where did you study?
I went to college in Indiana Pennsylvania for Graphic Design and I got a second degree in webdesign and programming in Philadelphia at the Art Institute. I never got higher than a "C" in drawing and now I do it for a living.
8. Where do you see yourself in five years?
Still with my own studio. I would like to have a few books out, I've never done a mural and to do more solo art shows.
9. What about in ten?
I'd like to have the studio grow to a size where I have a few studio mates in addition to Nacho. I'd love to do work for some sort of animation or a film. Maybe have a flavor of Oreo named after me.
10. What do you hope to achieve with your art?
Just day to day I'd love to produce more work, more quickly and still retain the quality. The main goal two years was to do it until I could make a living from it. Now the goal is to see how big I can make it.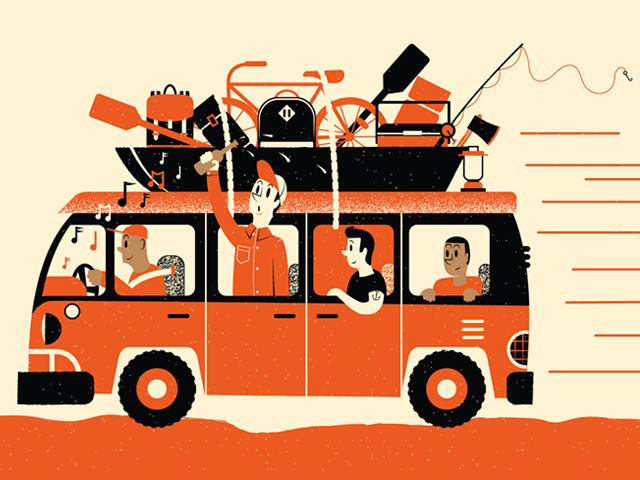 11. Now, tell us a little more about you as a person: what is your favourite food?
I'm a sucker for pizza, but to tell you the truth there isn't much I don't like. I eat a lot of Oreos, M&Ms and Reese's. I like seeking out different new beers/breweries when I travel. One thing I have daily is coffee and I feel like it's to the point where if I have a bad cup I complain about it for weeks.
12. Favourite book?
I have a couple, my wife and I love to read so I have a bunch of favorites. I loved the Flamethrowers, Financial Lives of Poets, The Art of Fielding, To Have and Have Not, A Visit From the Goon Squad, Mr. Penumbra's 24 Hour Bookstore, The Dogstars, The Long Goodbye, Blood Meridan, Inherent Vice, the Martian... there are so many I love.\ For people in the creative field I really recommend Steve Martin's book Born Standing Up: A Comic's Life, he shares his creative process and you really see all the thought he put into even the smallest joke in his set. Such a craftsman.
13. Favourite genre of music?
I love music and lots of different kinds, but I am a sucker for 70's and 80's punk. The first tape I ever bought was the Ramones Mania and I just never stopped listening to it.
14. What are your hobbies?
I enjoy video games, I read a lot, I like to ride my bike and travel. When my wife and I travel we always check out the coffee, beer and bicycle situation in each place. In the last two years I've gotten more into cooking as a hobby and I really love to make stuff along with the recipe. The process of cooking is super fun, especially when I don't mess it up and it tastes good.
15. If you weren't an artist, what would you be?
I would probably work in a library. I did it in college and kind of liked it. I was probably the worst employee though because I just walked around and asked people what they were reading. I'd like to think I'd be a good astronaut, but there's a real lack of snacks in space.