Instagram:
@jasmindreyer
1. What's your story? Where are you from?
Hi, my name is Jasmin. I am from a little town right outside Hamburg, Germany. I am currently in the illustration program at the HAW Hamburg and work as a freelance illustrator. Originally I studied music but I realized quickly it wasn't for me before switching to illustration.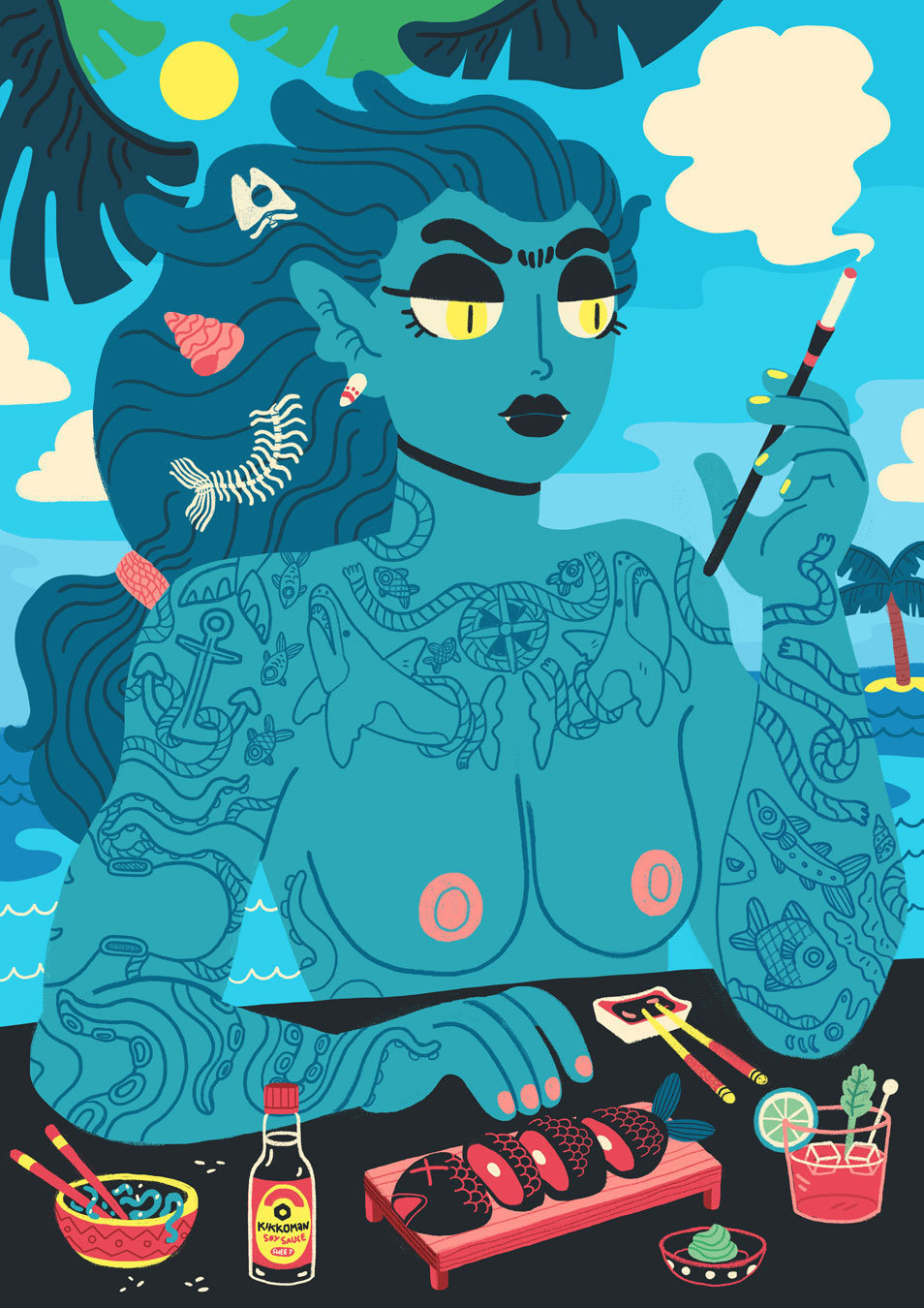 2. Tell us about your aesthetic.
Loud, colourful, bold. Joyful. Kind of silly and surreal sometimes. I love drawing characters and creatures that are wild and unruly but friendly and human at the same time.
3. What is your favourite medium and why?
For sketching, I use simple small sketchbooks and Muji pens or mechanical pencils. I like sketching with pretty inexpensive materials because I won't get too precious about my ideas. My finished illustrations are all done digitally, I use a Wacom Cintiq 13HD and Photoshop, sometimes I start out with Procreate on my iPad. I always loved the freedom of working digitally, being able to forever play with compositions and colour palettes without the anxiety of ruining anything. The flip side is that you can easily drive yourself insane with those endless possibilities. I feel like knowing where the balance is, that's where the magic happens. One of my goals has definitely been training myself to be more decisive and bold about my process and that has been a learning curve. Sometimes I fall back into bad habits (getting too fussy about details mostly) but it's very satisfying when I can stick with it.
4. What is your artistic process like?
I always start out with lots of rough thumbnails to quickly try out ideas and play around with compositions in my sketchbook. When I'm doing personal work I will also just noodle around in my sketchbook without any rhyme or reason. A lot of times I will use ideas from those pages in my finished illos too. Then I usually make a bunch of very loose colour thumbnails in Photoshop or Procreate to try out different colour palettes. This is one of my favourite steps. I will get carried away with throwing around different palettes sometimes, but it is always the most fun seeing the drawing come alive with adding colour. My process for the finished illo is pretty simple; I lay down the basic colours and then I move shapes around and refine details until I am happy with the result. I use a handful of simple brushes, usually one hard-edged brush and a few with textures. Although lately, I have been moving towards more completely flat colours without any textures at all.
5. Who and/or what inspires your work?
Pop culture, feminism, street fashion, comics, mythology, Jungian archetypes, renaissance portraits; a lot of different things. I love Retrofuturism and Space Age imagery. There is this strange adventurous and optimistic energy around the Space Age that is very intriguing to me.
6. What role does art play in your life? How does it change the way you view the world?
I've always been drawing as long as I can remember and it is pretty important to me. Drawing makes me very calm and focused, it's like meditation. It's not even important what I draw, just as long as I do it. It is also the amazing freedom of creating your own little happy worlds and weird characters that inhabit them and seeing it all come to life. And ultimately hoping other people can get as much joy out of them as I do.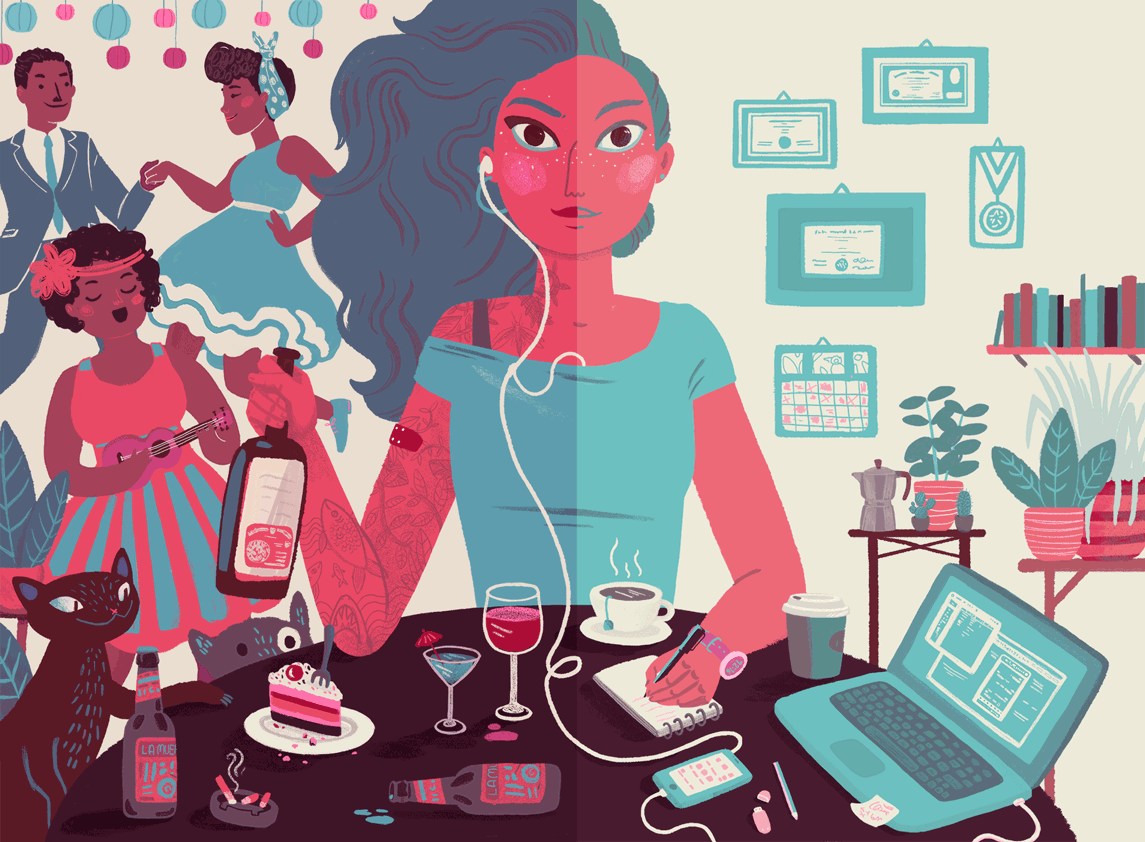 7. Where did you study?
I am currently in the illustration program at the HAW Hamburg, Germany.
8. Where do you see yourself in five years?
Working on lots of different exciting projects. I would love to do more editorial work and keep practising my hand lettering. Maybe animation, books. Translating my work into different mediums would be very neat, like clay or 3D printing. Making designer toys with my characters for example. In general trying different formats like murals, getting back into acrylic/gouache painting and doing exhibitions. There is a lot I can imagine trying!
9. What about in ten?
Ten years is a lot! Ideally trying to explore even more new projects that I haven't done before! I hope that I'll never stop learning and evolving.
10. What you hope to achieve with your art?
To make the world more colourful and inclusive.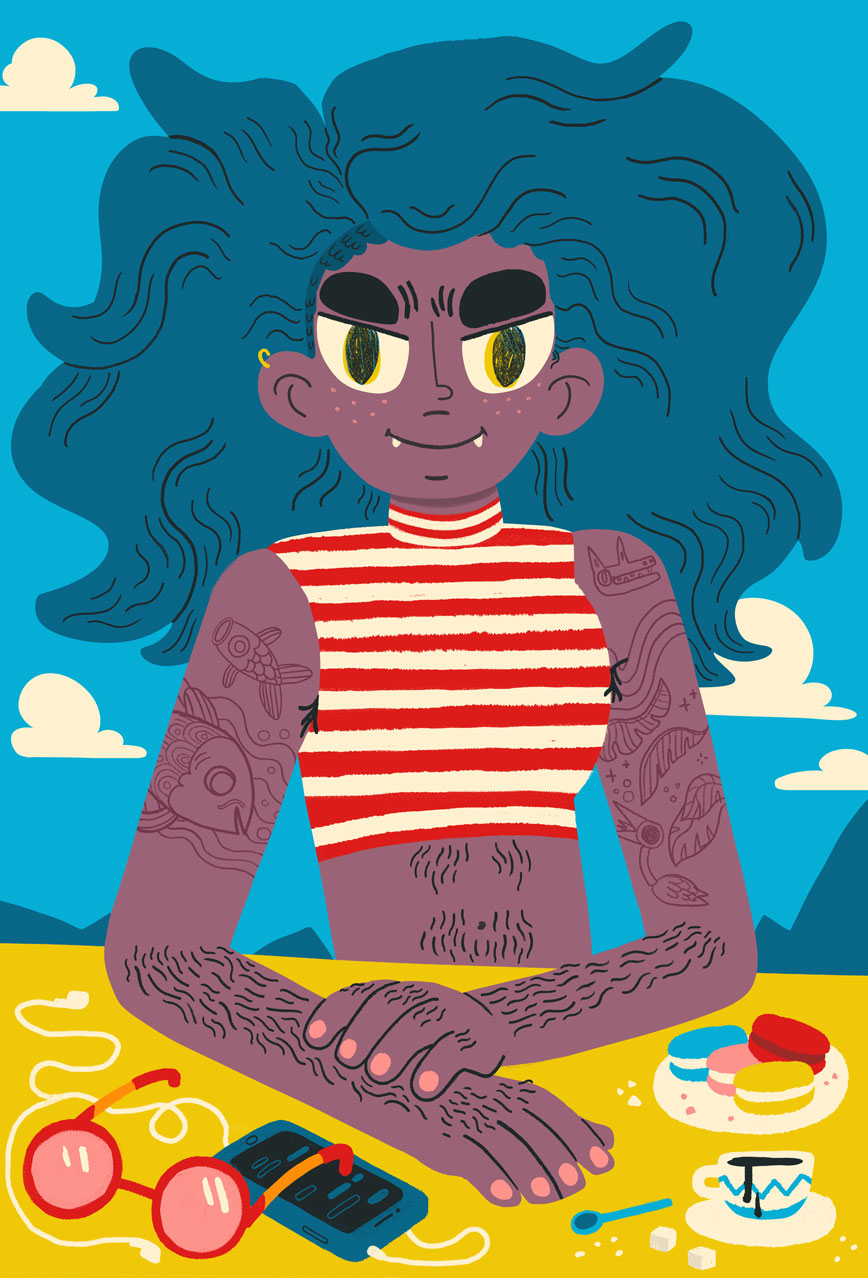 11. Now, tell us a little more about you as a person: what is your favourite food?
Sushi and Pizza.
12. Favourite book?
"Good Omens" by Terry Pratchett&Neil Gaiman and "The Ocean at the End of the Lane" by Neil Gaiman.
13. Favourite genre of music?
I have so many favourite genres. Studying music made me able to always find something to appreciate in literally every kind of music. Some things that I listen to a lot: riot girl punk (I am very into Sleater-Kinney and The Breeders right now), triphop, electro, old and modern jazz, all the great jazz ladies like Ella Fitzgerald and Anita O'Day. Also showtunes; I love cheesy Broadway musicals.
14. What are your hobbies?
Singing, listening to sci-fi audio dramas, going on hikes in nature with my dog. I used to do so much Arts&Crafts as a kid, I'd love to get back into doing something like that again.
15. If you weren't an artist, what would you be?
Probably a musician. Maybe a zookeeper. Yeah definitely something to do with animals.