Instagram: @jasonchuangart
Website: www.jasonchuangart.co.uk
1. What's your story? Where are you from?
I grew up in Taiwan, moved to the UK to study when I was 15. I have been drawing since I was a kid. In secondary school, I started doing comic parodies of well-known animes and movies to entertain myself and my friends during classes. However, it wasn't until I was 19 that I was properly introduced to the world of Illustration.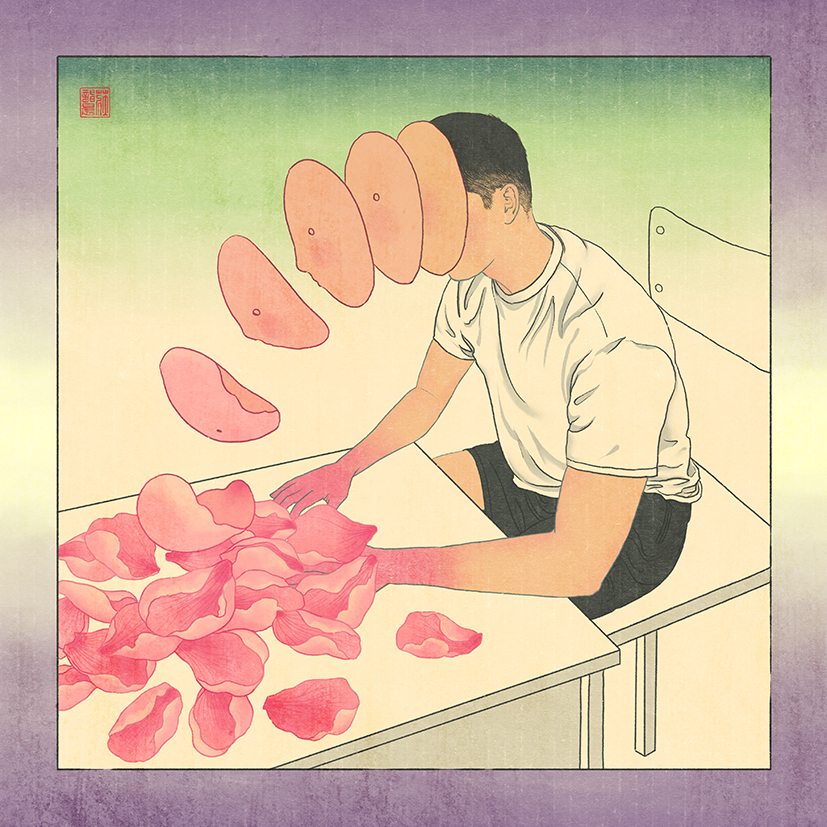 2. Tell us about your aesthetic.
I am naturally attracted to bizarre and beautiful things, the oddities that occur in everyday life, these interests are translated into the work that I produce. My practice focuses on the exploration of human emotions, through the creation of symbolic imageries coated with elements of the absurd. I am hugely inspired by the surrealist movement, as it resonates with the way I work, as my visuals are heavily reliant on the unconscious mind and my intuitions when reflecting on my experiences. The medieval oriental art also inspires me hugely, I especially love its spirit of capturing the essence of the subjects, and leaving blank spaces to breathe, achieving a harmonious and well composed scenes. I've been trying to bring in the elements from this period of time in Asian art as a nod to my own heritage.
3. What is your favourite medium and why?
I love working with oil pastel because of its richness in colours, its ability to blend and build up layers and the control I can have over it, but I mainly work in digital right now as what I am producing at the moment requires a lot of precisions, and working digitally enables me to be in full control of the lines and compositions, it is also very time saving. In the future, I plan to align my traditional skills more closely with the digital medium.
4. What is your artistic process like?
It's quite intuitive to start with, I keep a visual diary in which I scribble down how I feel at the end of every day, each of these doodle captures some part of me during the last 24 hours, and sometimes I take things forward into my iPad to develop the sketches into more fully realised pieces. So I often start with a core concept then I work out different alternatives based around it, experimenting with different compositions, then move onto colour testing, which I usually spend a long time on, as it don't come naturally to me, and I believe the choice of colour play an essential role in visual communication.
5. Who and/or what inspires your work?
I get inspired mostly by my lived experiences, memories and emotions, but I am also inspired by sci-fi films, song lyrics, an overheard conversation, posters on the side of the street etc… many things.
6. What role does art play in your life? How does it change the way you view the world?
The process of creating artwork calms me down. I am a very sentimental person. Through the creation of images, I am able to emancipate ideas and direct my emotions out of my body, which is both a meditative and healing condolence. It also teaches me to see things from different perspectives, as the process in painting is a process of constant problem solving, in every stage of the production, it forces me to think about different alternatives, trying to work out the best solution for the effect I want to capture, this aspect bleeds into real life in which I try to look at things more three-dimensionally, instead of always rushing to a straight forward initial conclusion. Through art I am able to pour that passion in a physical vessel, keeping a record of the existence of these ideas and moments in my life.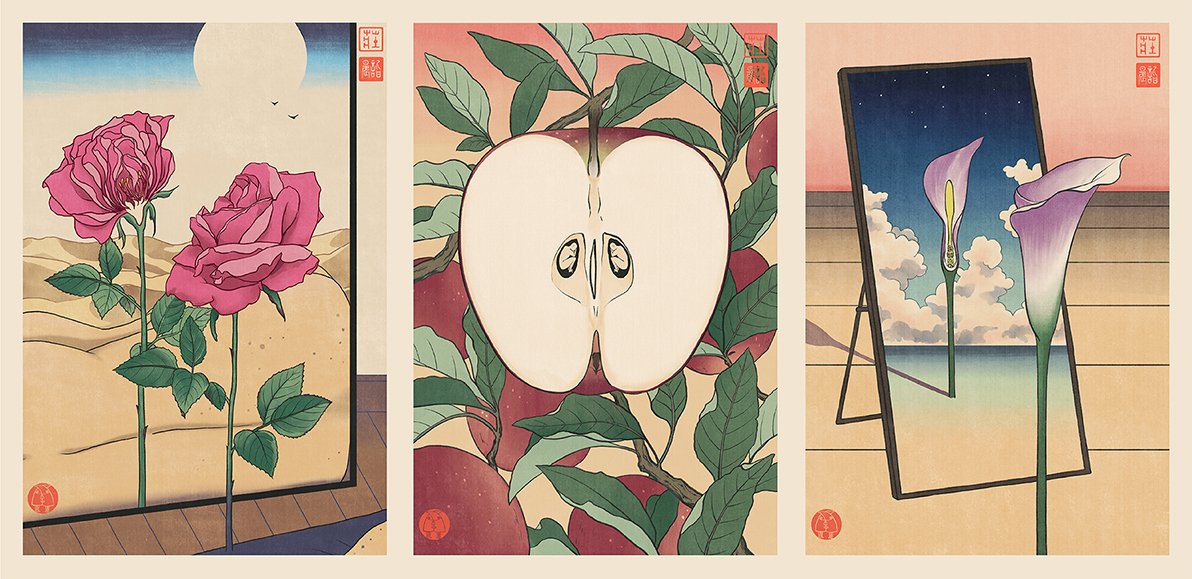 7. Where did you study?
I studied for a BA in Illustration in Falmouth University, and I'm currently finishing off my MA in Visual Communication at the RCA.
8. Where do you see yourself in five years?
My vision for the future is to be involved in a narrative-led production (short film/ music video/animation/ TV series/ moving image), with one of the stories I wrote. Seeing my ideas coming to life is the goal that I am working toward at the moment.
9. What about in ten?
Being commissioned for a film or TV production company, having worked with great storytellers, artists, directors, actors and musicians.
10. What do you hope to achieve with your art?
I create images to help me fathom my place in the world, to situate myself and my experiences within a particular time and space, and archiving them. Lots of my inspirations come quite introspectively through my own sentiments towards the stimuli from the surroundings, and I hope that through my work, I can offer my audience an alternative world that is distinctly different from 'reality', but somehow closer to the truth on a metaphorical level, I wish not to answer questions but proposing different perspectives where nothings is set and stone but rather opening up doors to encourage everyone to dream.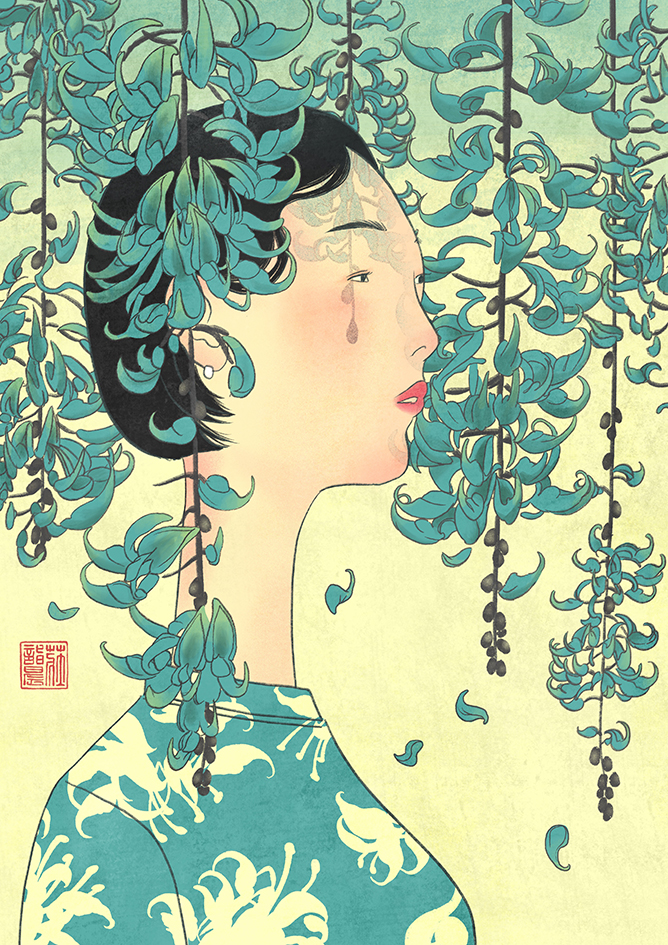 11. Now, tell us a little more about you as a person: what is your favourite food?
I am a big foodie, I love experiencing food from all different cultures, enjoying the different layers and simplicity/ complexity in food. For me, food can also be an expression of art, and it can really cheer me up. My favourite food include some Thai dishes and of course the Taiwanese classic street food, but ultimately my mum's cooking, because I know how much consideration she puts in to every meal she cooks for the family, and I can feel her thoughts and love behind each dish she prepares.
12. Favourite book?
Favourite movie: One of my favourite movies is 'Another Earth', I love its concept of contrasting the micro and the macro, it makes me think about myself and how I relate to the world outside of myself. The film was shot in low budget, but it is deeply poetic and packed with immense emotions that is delivered elegantly with stunning acting and visuals, it just shows how much you can achieve with a strong concept, a captivating storyline, and I love it for that.
13. Favourite genre of music?
I like listening to unconventional sounds, or music that break the boundary of genres, Bjork for example, is one of my all-time favourite artist/ musicians, for her ever evolving style, visionary sound experimentations and always being at the forefront of where art meets technology.
14. What are your hobbies?
I really enjoy exploring unfamiliar places, so travelling to foreign places, seeing original ideas that inspire me in film or music, I also spend way too much time on watching funny/cute animal videos. So stroll outdoors, galleries, films, and travel.
15. If you weren't an artist, what would you be?
Maybe a chief, a writer, a filmmaker, an animal caretaker, or an art teacher