Instagram:
@jayha.drawer
1. What's your story? Where are you from?
Hello, I'm Jeongha. I worked as a graphic & motion designer in Seoul. But I always wanted to be an illustrator. So now I quit the job and doing my work. 안녕하세요, 정하입니다. 서울에서 살며 그래픽, 모션디자이너로 일했습니다. 하지만 늘 일러스트레이터가 되고 싶은 생각이 있어 작업을 하고 있는 중입니다.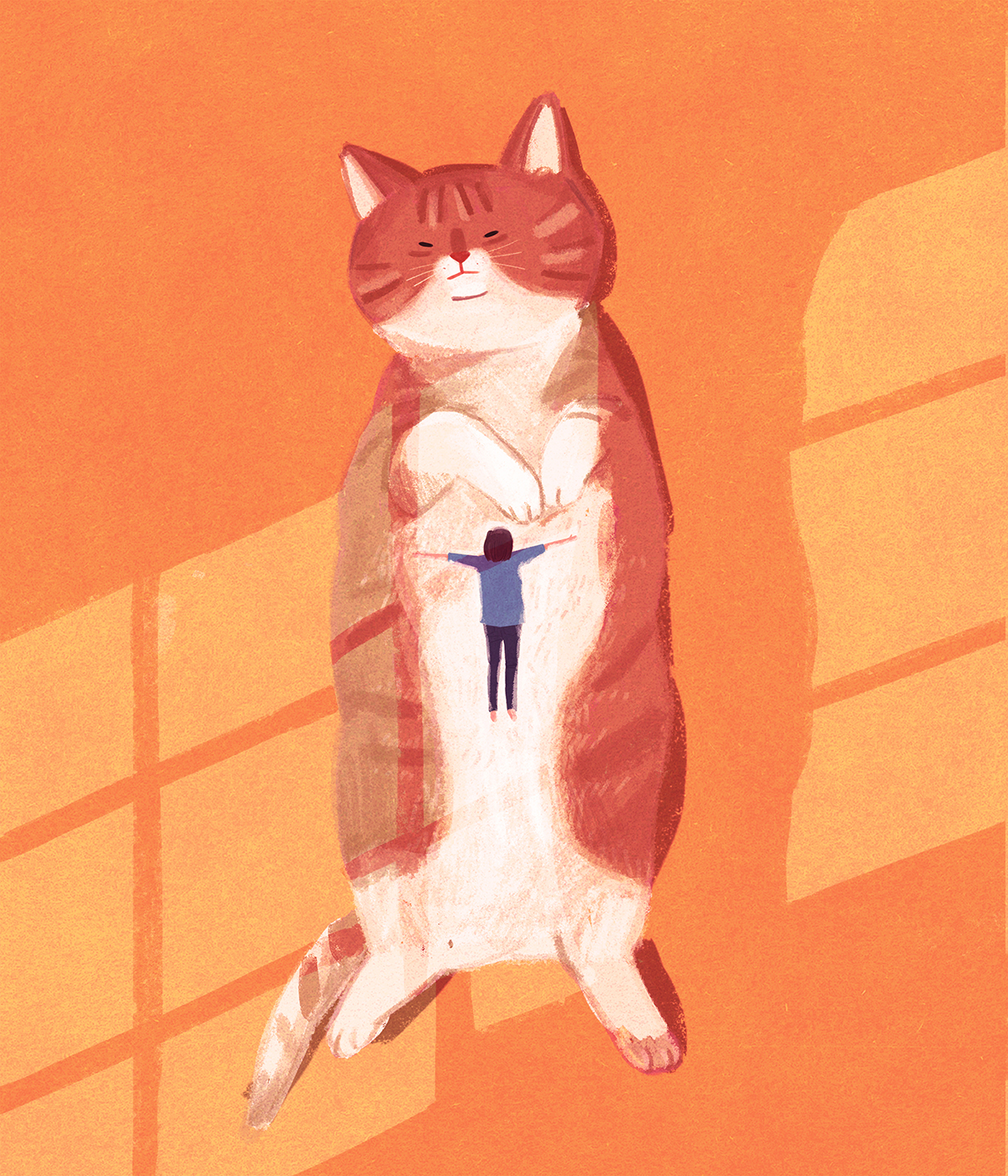 2. Tell us about your aesthetic.
I want to show warm and harmonious mood. And hope you read little story beyond the scene. 따듯하고 조화로운 분위기를 보여드리고 싶습니다. 그리고 그 장면 너머의 작은 이야기를 읽을 수 있다면 좋겠습니다.
3. What is your favourite medium and why?
I like digital medium. Because it makes me more drastic and flexible. 디지털 작업을 선호하는 편입니다. 좀 더 과감하고 유연하게 작업할 수 있는 것 같습니다.
4. What is your artistic process like?
When the idea comes up, simply sketch out and collect data. Then start painting and drawing all the elements in photoshop. After that do tone correction and use some textures on whole canvas. 아이디어가 떠오르면 간단히 스케치를 하고 자료를 모읍니다. 대부분 포토샵에서 요소들을 작업하고 전체적인 톤 보정과 텍스처로 마무리합니다.
5. Who and/or what inspires your work?
My cats, and many kind of artists around the world. And beautiful interior and fashion also motivates me. Travel gives me a lot of energy, too. 저의 고양이들과 다양한 분야의 아티스트들에게서 영감을 얻습니다. 그리고 아름다운 인테리어나 패션들도 저에게 자극을 줍니다. 여행 역시 많은 에너지가 됩니다.
6. What role does art play in your life? How does it change the way you view the world?
The thing that I want to try to get better and better. It is both my job and hobby. That makes me see the world more closely. 점점 더 잘하고 싶은 것, 그리고 직업이기도 취미이기도 합니다. 세상을 좀 더 가까이 바라보게 하는 매개체가 됩니다.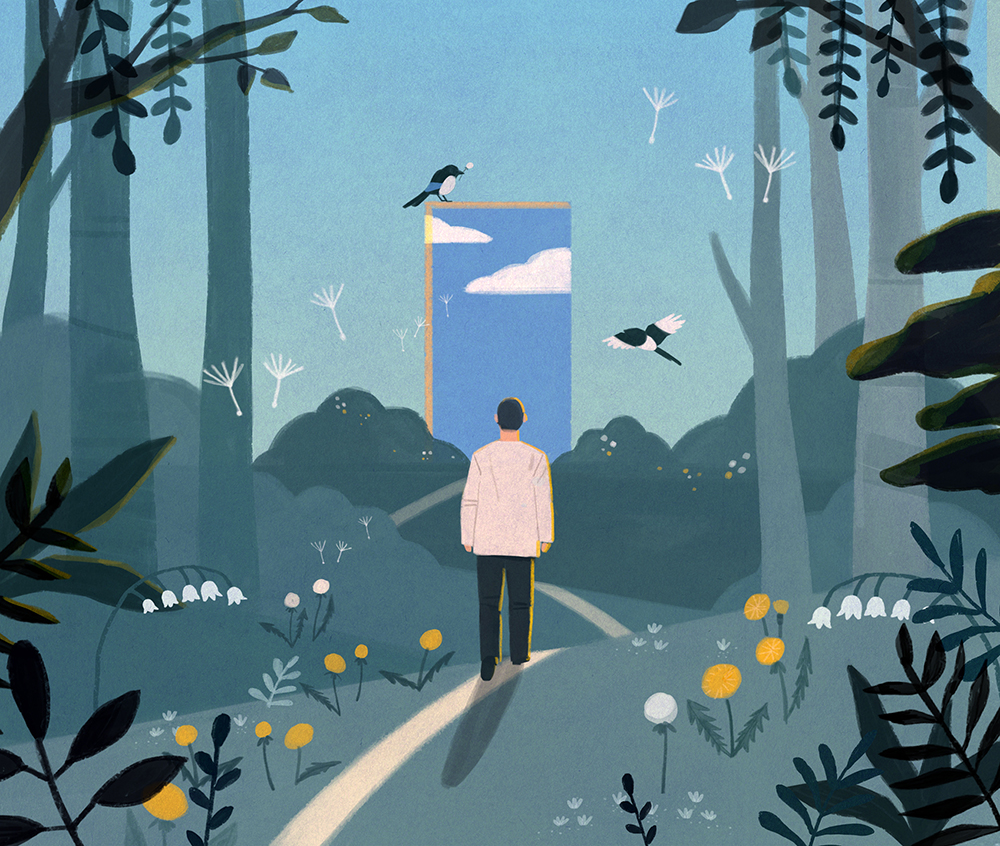 7. Where did you study?
I studied at Hong-ik University in Korea. In school, my major was Game graphic design. 저는 홍익대학교에서 공부했고, 전공은 게임 그래픽 디자인입니다.
8. Where do you see yourself in five years?
I'll have a lot of works as an illustrator and I want to have a lot of experience abroad. 일러스트레이터로서 많은 일을 하고 싶고, 해외에서도 많은 경험을 갖고 싶습니다.
9. What about in ten?
I just want to have a continuously making good career. It would be better if I become a person who knows better and has a good influence on good things. And I hope my two cats stay healthy. 꾸준히 좋은 커리어를 쌓고 싶습니다. 더 이름을 알려서 좋은 일에 바른 영향을 미치는 사람이 되면 더 좋겠네요. 그리고 저의 두 고양이들이 여전히 건강하길 바랍니다.
10. What do you hope to achieve with your art?
I hope that my work will have a good influence on many people. I wish my life and art would become one. 저의 작업으로 많은 사람들에게 좋은 영향을 주었으면 합니다. 저의 삶과 예술이 하나가 된다면 정말 좋을 것 같습니다.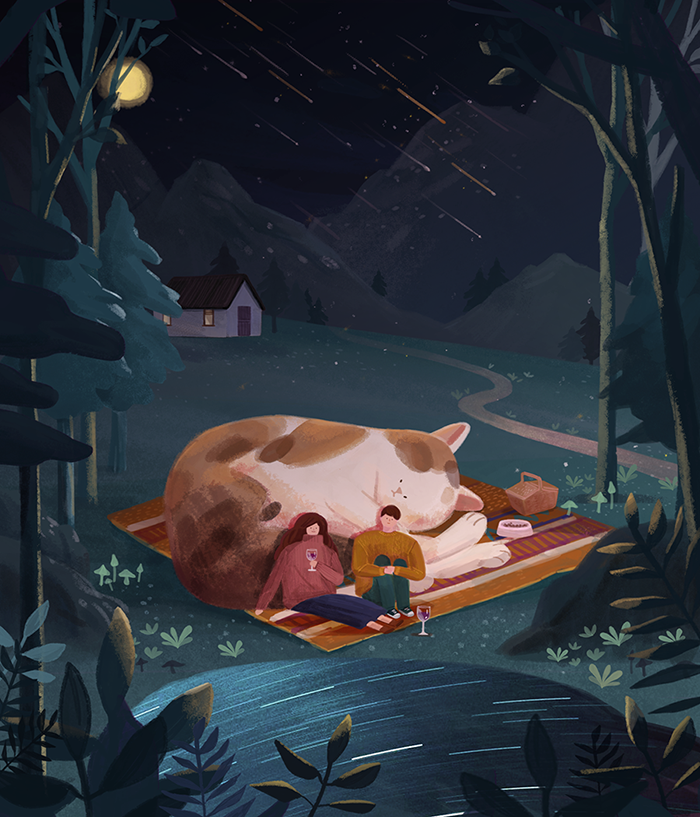 11. Now, tell us a little more about you as a person: what is your favourite food?
Tteok-bokki. And I can't live without coffee, beer and chocolate! 떡볶이. 그리고 커피와 맥주, 초콜릿을 정말 좋아합니다.
12. Favourite book?
Recently, I read Elena Ferrante's novel. Her story is amazing. I can't wait to read the last story of Napoli Series. 최근에 엘레나 페란테의 소설을 읽었는데 정말 놀라운 이야기였습니다. 곧 나올 나폴리 4부작의 마지막 이야기가 정말 기대됩니다.
13. Favourite genre of music?
Pop, Rock, Electronic.. I like every kind of music. But while I'm working, I listen to lo-fi hip hop. 팝,락, 일렉트로닉 등등, 모든 종류의 음악을 좋아하는 것 같습니다. 작업을 하는 동안에는 로파이 힙합을 주로 듣습니다.
14. What are your hobbies?
Exercise. Usually, I'm in front of my desk all day, so I need time to refresh myself. These days, I'm obsessed with Spinning. Also, I love to watch movies and reading books. 운동입니다. 보통 하루 종일 책상 앞에 앉아있기 때문에, 기분 전환할 시간이 필요합니다. 영화나 책을 보는 것도 좋아합니다.
15. If you weren't an artist, what would you be?
Currently, my English is not good, but when I was in high school, I liked studying English. These days, I'm very interested in Spanish. Maybe I'm working on something related to language. 사실 지금은 영어를 잘하지는 못하지만, 학생 때 영어공부 하는 것을 좋아했습니다. 요즘에는 스페인어에 관심이 많습니다. 아마도 언어에 관련된 일을 하고 있지 않았을까 생각합니다.