Instagram:
@jdpceramics
Facebook:
www.facebook.com/JDPCERAMICS
Website:
www.jdpceramics.com
1. What's your story? Where are you from?
I'm originally from The Lake District but have been living in London since 2005.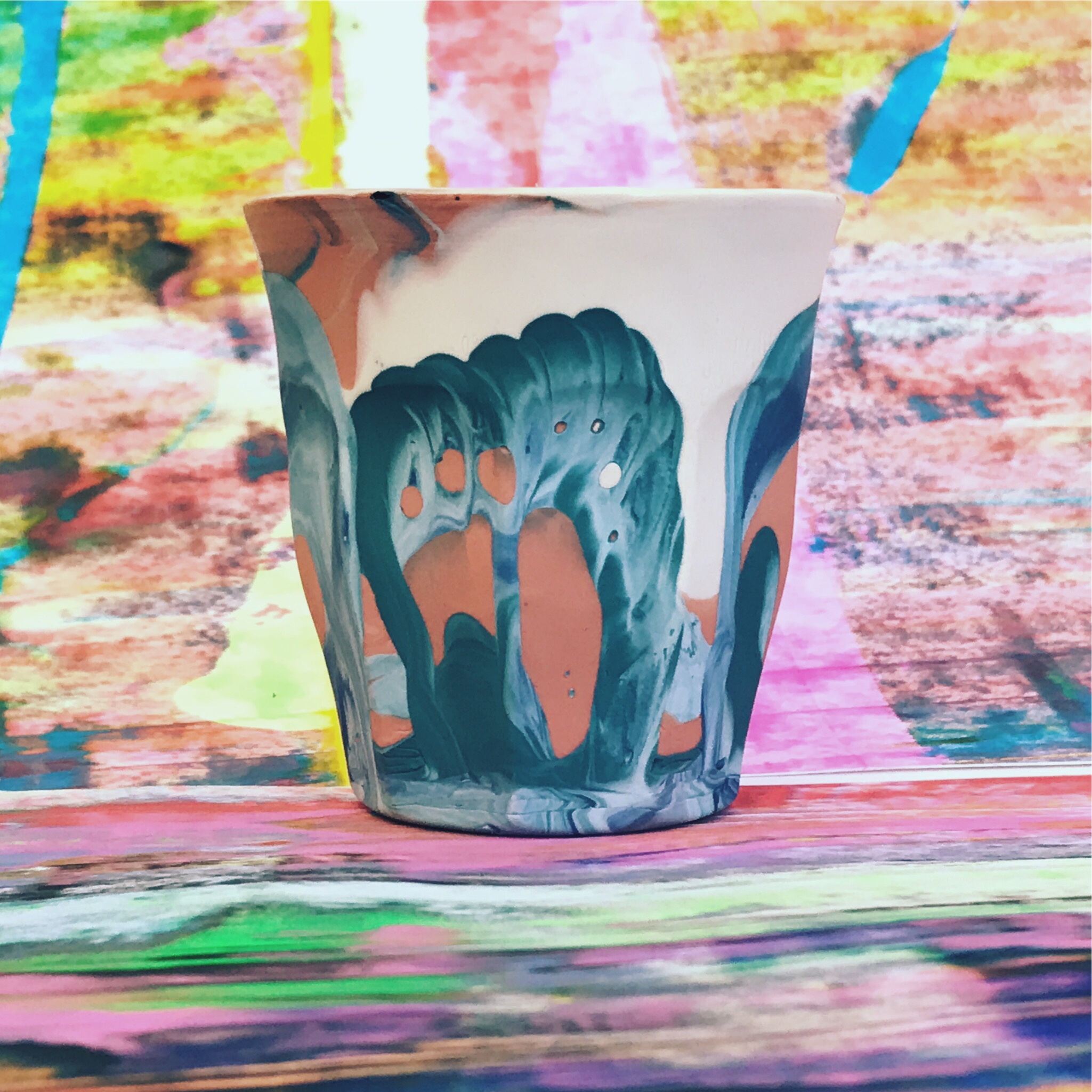 2. Tell us about your aesthetic.
Wow, that's a big one. At college, I only wanted to be Helmut Lang and fill my walls with Franz Kline paintings-however being a teacher you have to let go of a singular vision and be willing to embrace diverse creative approaches. So my aesthetic has adapted to this. I'm still obsessed with all things abstract expressionist and action painting has obviously inspired my ceramics. I think so much of my textiles education prepared me to not be scared of colour and this is fairly evident in my ceramics.
3. What is your favourite medium and why?
There may be a running theme of me being hard to pin down on an answer! I'm a believer in spanning disciplines and this also includes materials and mediums. However, the stained porcelain slip that I work with is the most incredible medium. Something initially liquid and insipid that ends up being glass-like and in the brightest colours!
4. What is your artistic process like?
I'm a great believer in simply letting things happen. The moulds I make for my products are all based on mass produced repetitive items-the sense of taking something cheap and making it luxury or one off has always struck a chord. Then when I apply the coloured slip into the moulds I have to let go-if I procrastinate or think too much about what i want I tend to dislike the outcomes. Being spontaneous and allowing the natural muscle memory do the work is what makes them what they are!
5. Who and/or what inspires your work?
My students 100%. The energy they come with. The drive to improve is inspiring. In terms of the the visuals of my work definitely abstract expressionism but more than that the greatest inspiration has to come from process-Gutai, Wabi-Sabi, action painting. They all have a sense of letting the movements or actions speak for the artist rather than always the work itself and I know it's a massive cliché but making mistakes is so much part of my inspiration.
6. What role does art play in your life? How does it change the way you view the world?
In every way! Art is about creating and critiquing and to have a critical eye takes constant training. You must always look for beauty in whatever form that takes on a daily basis. Taking notice of everything. My husband would probably say it's also a curse because nothing is ever right for me!
7. Where did you study?
From school I went to study my BA in Textiles at Glasgow School of Art before coming to London to continue on the MA Fashion at Central Saint Martins. Since 2008, I've been a Lecturer and now Course Leader in Fashion Design at London College of Fashion but my ceramics practice keeps me busy in any spare time I get. Without having contact with students it would be very easy to lose the excitement and experimentation in my work-that innocence and naivety they bring to the process is inspiring. It's important to remember life as a student in the real world - yes we have targets and expectations to fulfil - but just keeping a hint of something unplanned is so vital.
8. Where do you see yourself in five years?
Teaching is absolutely and always will be part of my life. I'm from a family of educators and have just married one. I would love to expand the ceramics into larger pieces, to perhaps strike a different balance between the artistic individuality of each piece and the function. Having a design background makes it hard to leave function behind sometimes. Maybe I don't need to?…
9. What about in ten?
Maybe have a ceramics studio on a Greek island! We can all dream right?!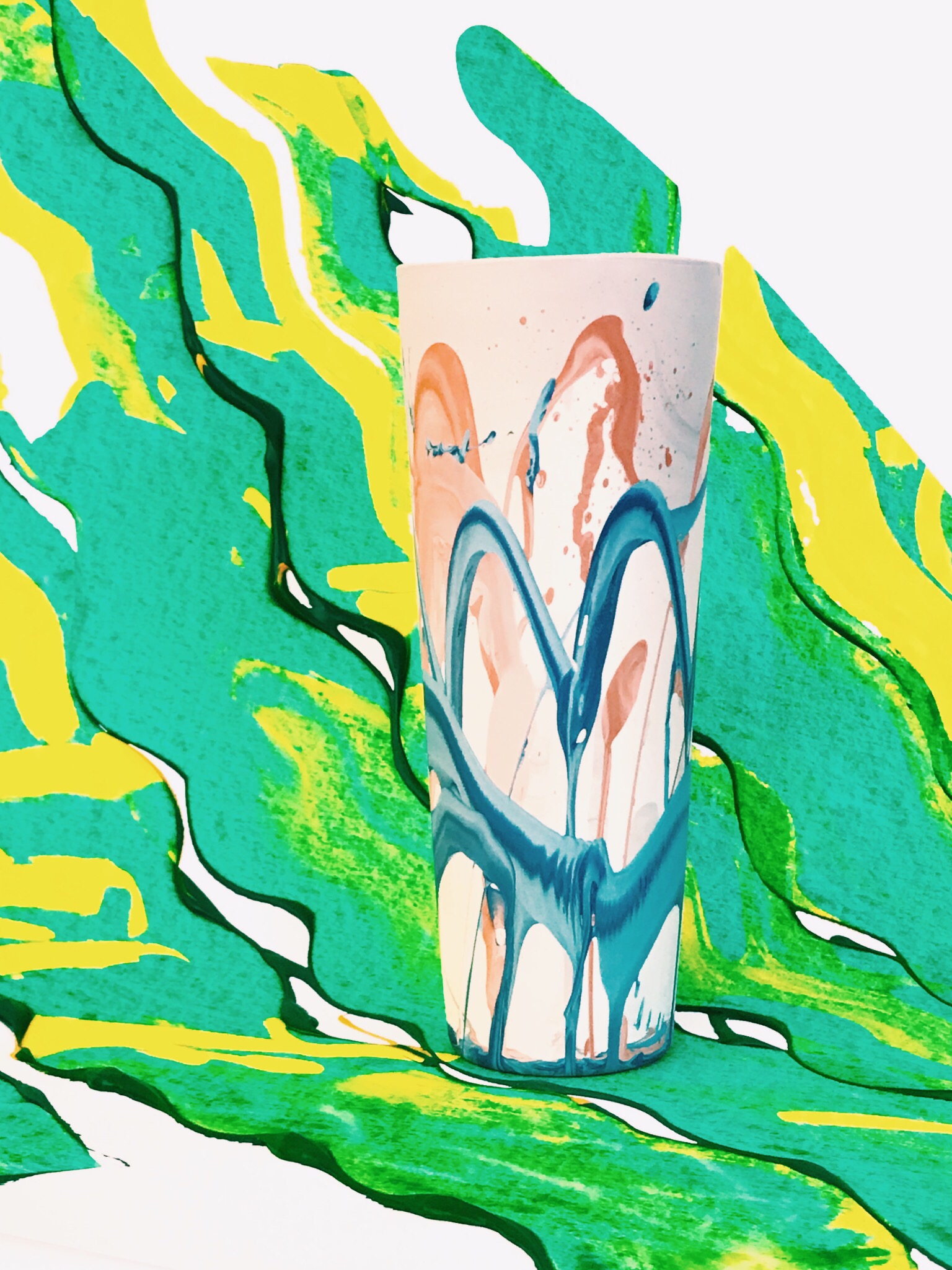 10. What do you hope to achieve with your art?
For me it's all about making things people appreciate and want to live with. My work does have a clear functionality to it yet as the surface of each piece can never be replicated they become usable works of art, whether they sit pride of place in someone's house or have a daily cycle of being in and out of a dishwasher. Once they leave my hands they start their own journey.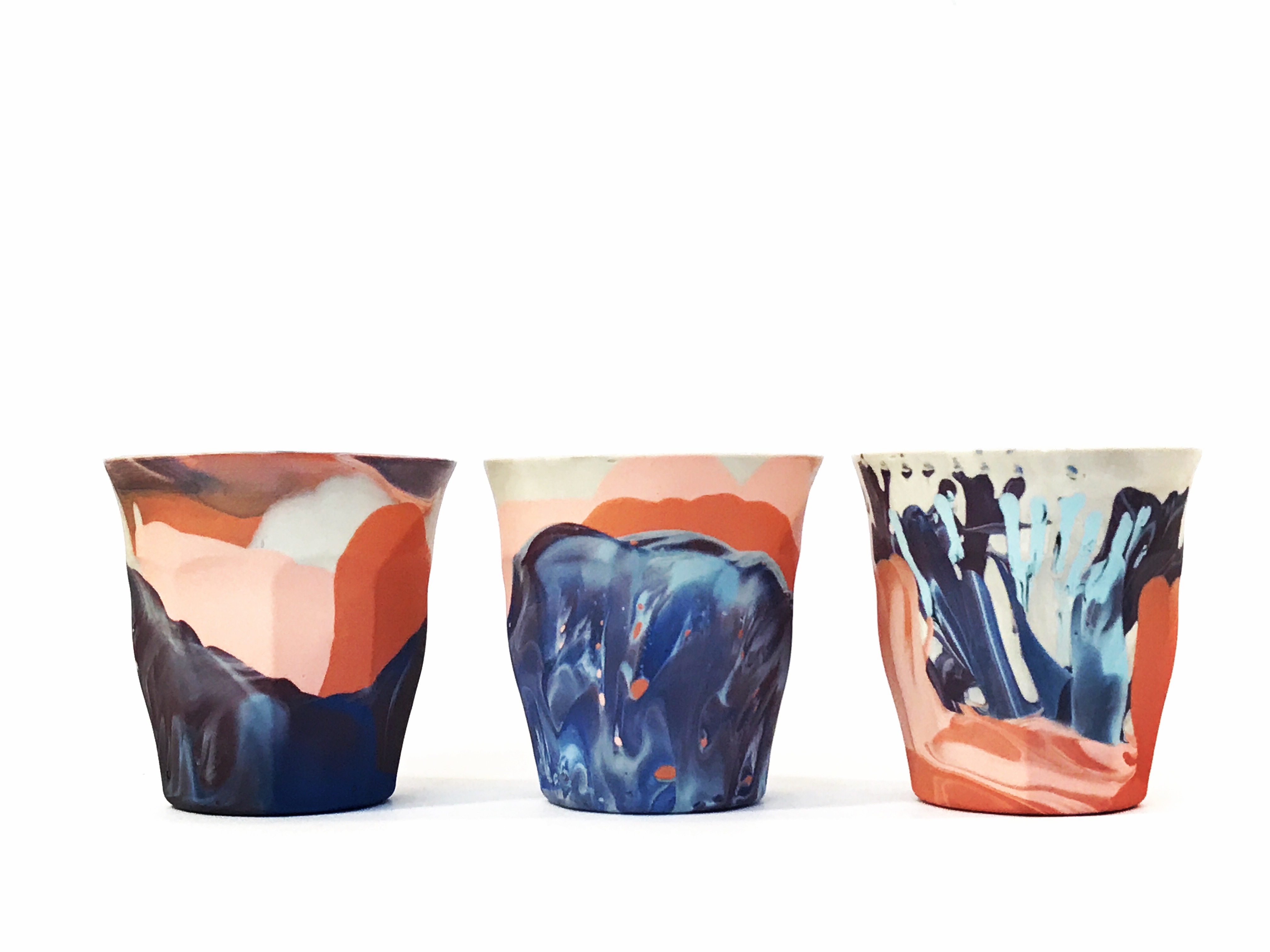 11. Now, tell us a little more about you as a person: what is your favourite food?
My husband and I have just started a plant based diet so are discovering a whole load of things. In fact, discovery is just as important as the familiar. We made Tahinopita at the weekend - A Greek Cypriot cinnamon swirl kind of thing with tahini! Basically anything with -pita at the end (Greek word for pie).
12. Favourite book?
I've always loved the pace of short stories, Some Rain Must Fall by Michael Faber is great or The Fun Parts by Sam Lipsyte is another. Really different but both such engaging sets of short stories.
13. Favourite genre of music?
Probably electronic but more band based? I was all about electro clash when I was a student and that has stuck with me, and this year has seen a number of returns from great millennial producers - Vitalic, LCD Soundsystem and Death From Above.
14. What are your hobbies?
I wish I had time! A full-time job and a full-time practice make it hard to fit any in! If I had more time? Maybe read more? If I had more money? Maybe travel more?
15. If you weren't an artist, what would you be?
BORED.