Instagram:
@jennidahbura
1. What's your story? Where are you from?
I was born in El Salvador, in a small but beautiful city called Santa Ana. I am a full-time freelance illustrator. I have always been in love with drawing since I was a little girl, I remember that I used to draw portraits of all my mom's friends, also my aunts. That was my first connection with the female body drawing. Now, I am starting a few personal projects, like open my own online shop and put more work to build my personal brand.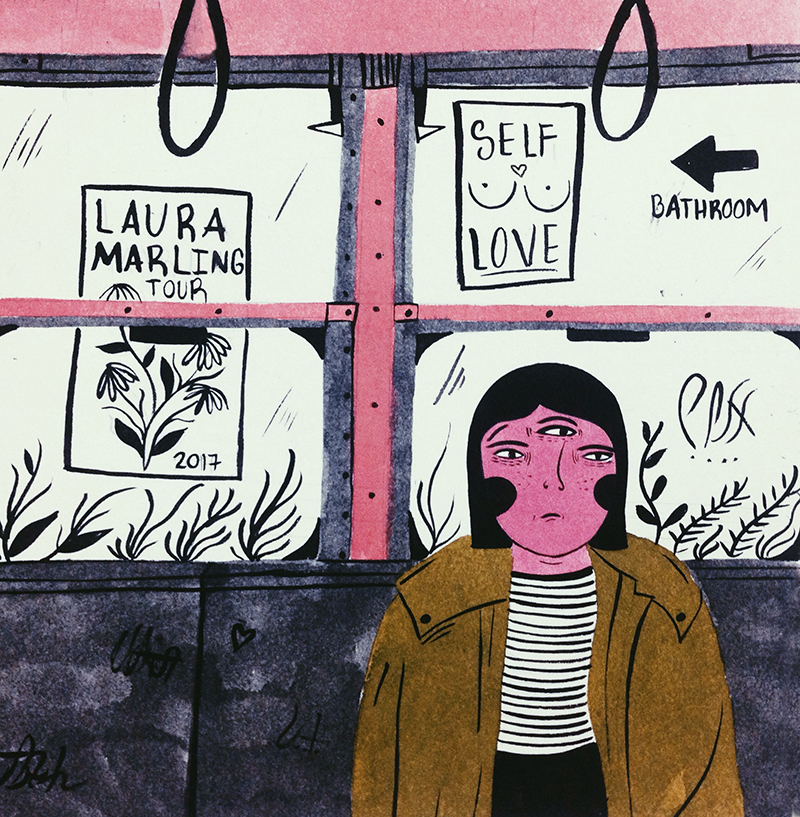 2. Tell us about your aesthetic.
I love to put a lot of detail on all that I do. At a certain point, overuse textures to create a fully visual experience. I kinda reflect my very deep person on my illustrations. One of the principal details that you could find on my work is the three eyes(or more). It means to me like a representation of that feelings that we cannot see only with two eyes, that we cannot tell to everyone. That thing that hurts, a fake reality, that opinions that we kept. I am also obsessed with drawing womens, playing with organic figures, little demons and a lot of flora and fauna.
3. What is your favorite medium and why?
Chinese ink and watercolors. I love the texture that you can create and how the errors become amazing organic details. Once you start, you cannot go back, so that is something that always makes me nervous and definitely an exciting experience. My second choice is to use gouache, because I like that mate effect at the end. I could never forget my brushpen with black ink and my sketchbook. Certainly I am never closed to experimentation, to discover new techniques.
4. What is your artistic process like?
I try to make sketches when I am about to start something new, but I do not always make them. Sometimes I ended up drawing directly to the canvas. Then I start with the choosing of the colors, that is one of my favorite parts. I prepare something to eat, make a nice playlist and that's all, I am ready to work. I think that a piece that you make spontaneously, within previous sketches has something special, something natural, within that overthinking behind. That's the principal idea, no? to make a very special thing that you give. I could be drawing all day long, it is like an anxiety issue and the feeling of seeing the final results.
5. Who and/or what inspires your work?
My older brother. He inspired me since I was a child, I remember him always drawing and me trying to draw the same things that he made. Being as good as him. Then my mom, she was always a creative person, making home crafts. Now I have my own favorite artists like Andrea Wan, Polly Nor and Rebeca Green. One of the principal things that inspires me is music. It has a big impact on me, a lot of sounds that play with my feelings, quotes that I cannot take out of my head. I see my work as a tribute to the ones who are around me, self-love, gender equality and girl power.
6. What role art plays in your life? How it changes the way you view the world?
It helps me to be happy. It is a way to express any single feeling that i have. It become more intimate, a part of my life. Represent it through what I love to do, that is very satisfying to me.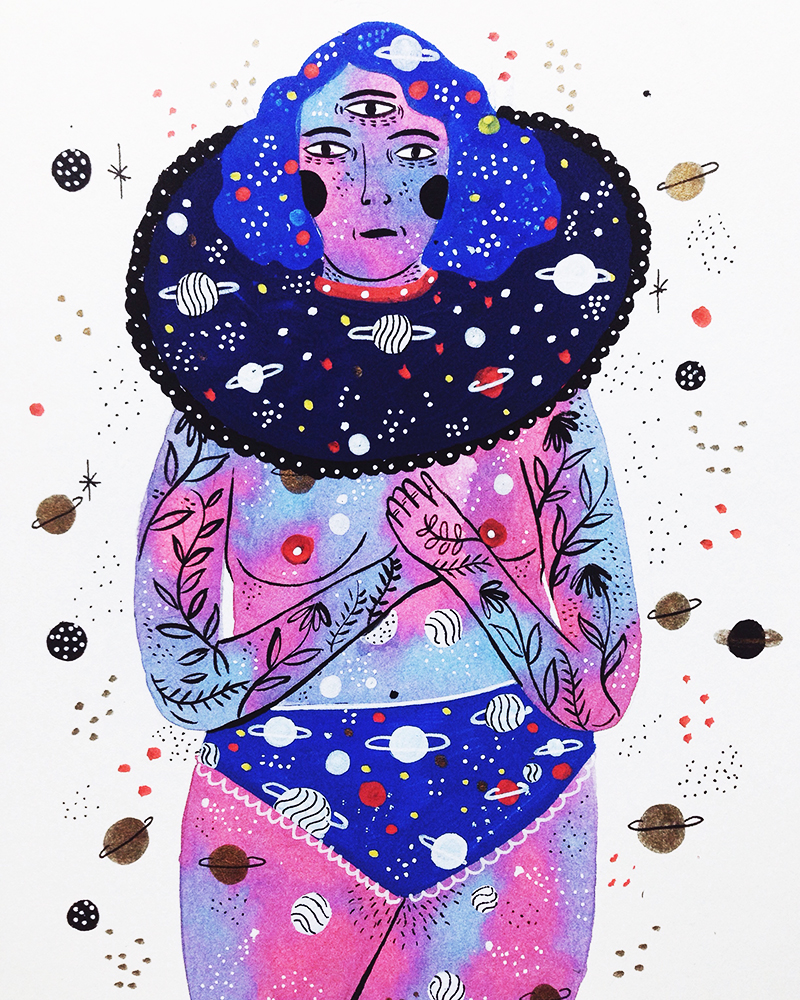 7. Where did you study?
I started studying graphic design, I made it to the 4th year, but I dropped school and focused on practicing illustration by myself. I have learned with the time, a lot of techniques by my own. But yeah, I have plans for my future, travel and study advanced illustration, and of course, to get my graphic design degree.
8. Where did you see yourself in 5 years : working on an agency?
One of my choices could be to work for an agency or just simply focus on my own brand. I see myself in the future just making what I love, reaching my goals, being happy, learning more, traveling and sharing my work around the world. I would love to work for all the bands that I love.
9. What about in ten years?
Again, travelling, learning more, getting more attention to my work. It makes me nervous to think about it.
10. Now, tell us a little more about you as a person : what is your favorite food?
I love seafood, vegetables, and yeah, coca-cola.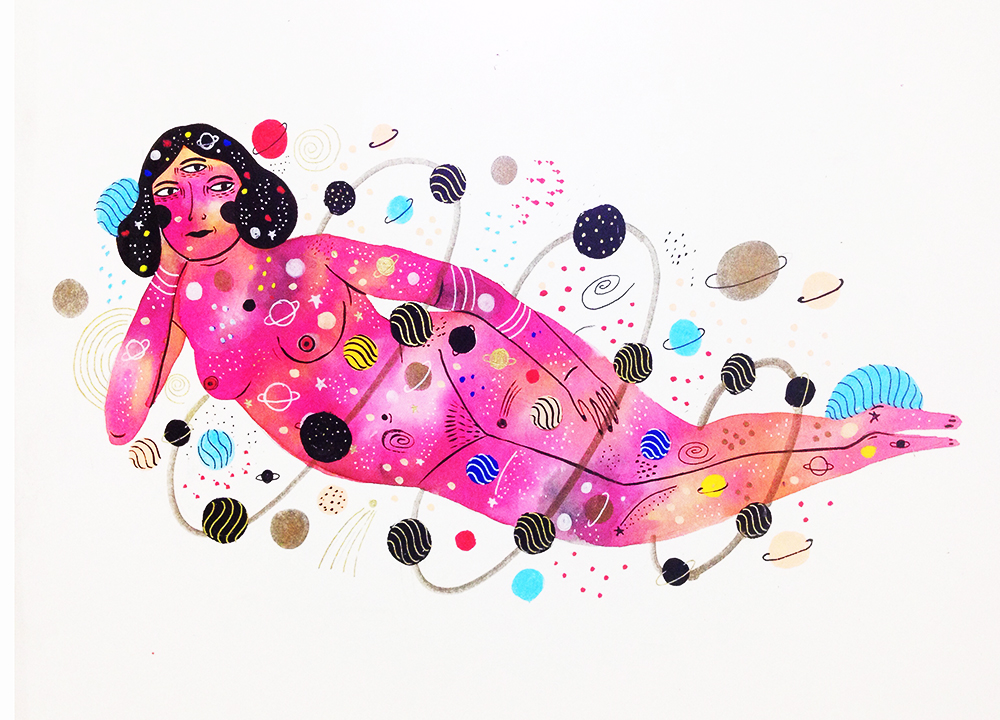 11. Favorite books?
I don't have any specific book to choose, but I remember one that marked my life since my childhood: The Secret Garden.
12. Favorite genre of music?
Folk, ambient, darkwave. It depends on what I am feeling that day. One of my very favorites are: Laura Marling, Jenny Hval, Sharon Van Etten and Princess Nokia.
13. What are your hobbies?
Draw a lot, listen to music, spend time with my cats(I have 3) eat and think a lot.
14. If you werent an artist, what would you be?
Homicide detective, I love everything about investigations and mysteries, it is something that intrigues me. I also wanted to be a Vet medic.
15. What do you hope to achieve with your art?
Feel satisfaction with what I reached. Be happy and keep doing what I love. Inspire others, share nice emotions and help others with my work.