Instagram:
@jesfortner_illustration
Twitter:
@JesFortner
Facebook:
www.facebook.com/JesFortnerIllustration
Tumblr:
jessicafortnerillustration.tumblr.com
Website:
www.jessicafortner.com
1. What's your story? Where are you from?
I'm a Canadian freelance illustrator and designer living and working in downtown Toronto, where I also grew up. I live with my partner and our feisty mutt, Dakota, in a small condo that doubles as my home studio. After graduating from the Ontario College of Art and Design, I began my career as an illustrator, and I've been fortunate enough to have worked with a wide range of clients on many projects, internationally and locally, in publishing, books, design and advertising, as well as within the music industry. I enjoy working on textiles and creating patterns and images to share on products. I'm co-founder, editor and designer of the online arts magazine Squidface & The Meddler, which is currently getting a much needed redesign/overhaul. But we are aiming to relaunch the site in September! It's a magazine I started with my partner to share some of our favourite creatives living and working in Canada. I'm also founder of the arts site Tangled Fingers, a blog dedicated to exploring the creative process. And guest writer for design blog, Formfiftyfive. I have a love for sustainable design, interface design, and typography.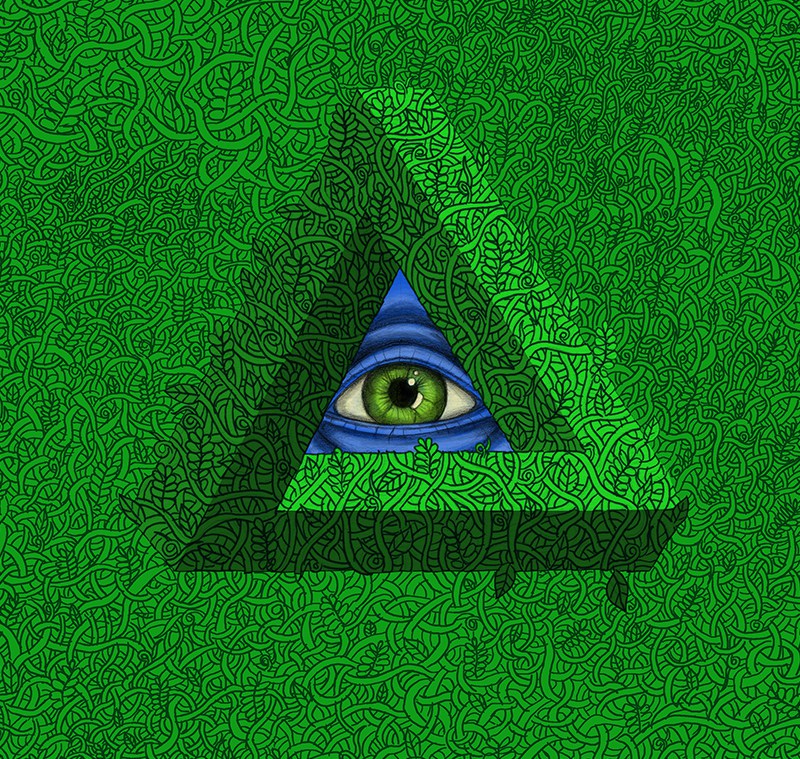 2. Tell us about your aesthetic.
If I were to describe my illustrations I would say that they are quite surrealistic and most definitely inspired by nature. You won't see too many people in my illustrations, that's for sure. I tend to enjoy creating very detailed images, covering every corner of the page. They are also very graphic and colourful.
3. What is your favourite medium and why?
I like working both traditionally and digitally. I love the immediacy and accessibility of just grabbing a pencil and paper and getting down to it. But I also love the flexibility of working digitally, mostly being able to experiment with different colour combinations and palettes. This really helps me in creating the best image I can. Sometimes you get surprising results that maybe you hadn't thought of during the inception of the project or piece. Lately though, I've been more interested in stretching my painting muscles and have been experimenting with different approaches and media. One of my all-time favourite paints to use are the Turner Acryl Gouache. You get such vibrant colours with a nice matte finish, which allows me to create very similar works of art as to my digital pieces.
4. What is your artistic process like?
For my personal work I like to keep a notebook of ideas and projects. When I'm not working on a client project then I'll spend some time going through and refining some of those ideas, making sketches, and then drawing/painting out the final piece. When working with clients, I'll get the brief or a general direction, write some ideas down, make a few sketches and send them off to the client. Once we've chosen a concept, I'll proceed to the final art. Ninety-five percent of the time I'll draw and then ink my work, scan it into Photoshop, and colour it digitally. On the odd occasion, if there's time, I will paint it. There's a limit to how abstract I can be in my commercial work. At a certain point it's too detached from subject matter the illustration it's supporting. But, left to working on personal projects for a while, I feel there's potential to do something really wild within that style, that I've been hoping to explore.
5. Who and/or what inspires your work?
It's very hard to pin influences down to only a few as we all consume so much in terms of film, books, art, comics, visual and storytelling culture. I definitely follow certain tangents and get on "kicks" where I'm obsessed with a theme. After reading a few Jack London stories I was definitely focused on all things wild and desolate. Apart from that, I have tons of favourites that influence visual and storytelling approaches. Stanley Kubrick movies are huge for me – the way he composes shots so dead on and symmetrical. I think I've worked a few patterns from the carpets in The Shining into some of my drawings. Jim Henson's movies like the Dark Crystal and Labyrinth really struck a chord with me when I was a kid. I think when I'm doing character design I'm always thinking a bit about Brian Froud's work on those movies. I love drawing animals. They exist in my drawings as themselves (the individuals and their personalities), but they also work as symbols, metaphors, reflections of our own personalities, disguises and masks. Then there are the artists that I have discovered through working on Squidface & The Meddler that continually inspire me. To name a few: Jesse Jacobs, Tin Can Forest, Peter Diamond, Luke Painter, Jamiyla Lowe, Julie Moon, Rajni Perera, Sean Lewis, and Talita Hoffmann. Go and check them out, you won't be disappointed.
6. What role does art play in your life? How does it change the way you view the world?
Art is all around us. Art helps you connect to different cultures, can show you what love is, can teach you about life and understanding, compassion and inclusivity. For me, art is an extension of my identity and self and often expresses ideas that can't be verbalized.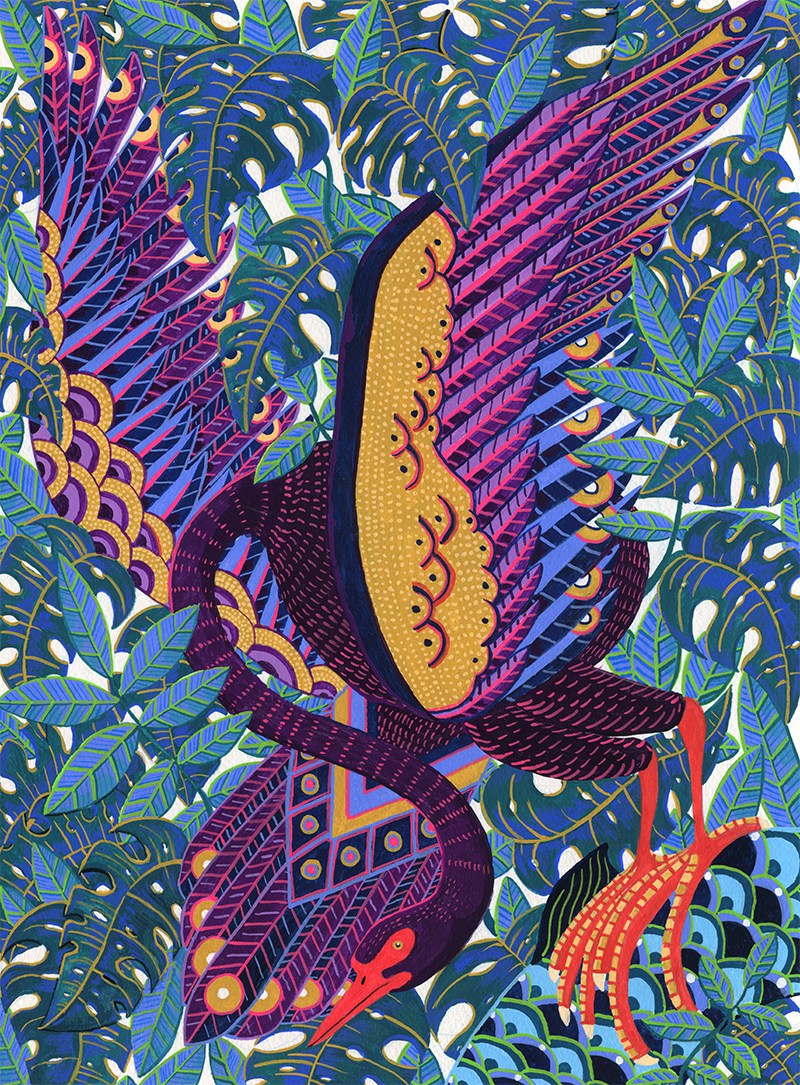 7. Where did you study?
I studied at the Ontario College of Art and Design, here in Toronto.
8. Where do you see yourself in five years?
I loved to do some more work with fashion brands. It'd be a dream to work with a sports brand, or even a high-end brand creating textiles for a clothing line. Or some artist designed shoes. But ideally from a mountain-situated home base. I have my eye on Vancouver.
9. What about in ten?
Ideally, I would love to continue creating art, but would love to expand my repertoire. To create art for gallery shows, work in textiles and with companies on cool brand work. To create artist products, and still be relevant enough to create illustrations for albums, advertising and editorial. I have this dream of designing and creating leather bags. Hopefully, in ten years I'll be putting some of those out.
10. What do you hope to achieve with your art?
That's an interesting question. I guess a sense of identity and culture, but also enjoyment and connected-ness.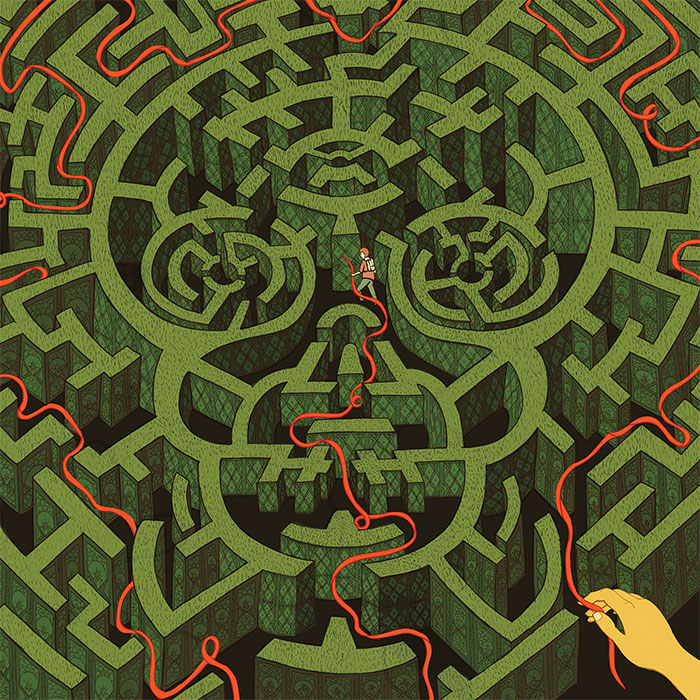 11. Now, tell us a little more about you as a person: what is your favourite food?
I love all food. I'm not picky. And as my mom would say: I have a hollow leg. So the more the better! But if I had to choose, good ol' mac and cheese (homemade, not out of a box) and smoked salmon, are two things that I can never get sick of.
12. Favourite book?
Books are definitely one of my main sources of inspiration. They can often get you in a different head-space, thinking and learning about new things. It is one of the most natural ways to get your imagination going. Sometimes a story, phrase or particular word in a certain context can evoke a strong visual — something you wouldn't have necessarily come to on your own. I also enjoy the strange connections that you make while reading. It's complete freedom to create whatever you want. Lately, I've been reading a lot of non-fiction. Lots of science, history, geopolitics. Some of my favorites are Tar Sands by Andrew Nikiforuk, The Golden Spruce by John Vaillant. Both examine the impact between resource exploitation industries in Western Canada. Some of it fires me up and that energy goes into my drawings. You must also check out Perfume by Patrick Suskind, as well as, The Secret History and The Goldfinch by Donna Tartt. Excellent, excellent books. Read them!
13. Favourite genre of music?
I listen to all type/styles of music - today it's the The Walkmen, tomorrow it may be Nils Frahm. Whatever mood I'm in or song/album that's stuck in my head, is generally what I'll throw on. Often times, I enjoy listening to podcasts and audiobooks more. There are so many great ones out there! One of my favourite podcasts is Radiolab – which explores a wide range of perplexing scientific and social topics in a fun and engaging way. I also really enjoy a podcast called Lore, about true-life scary stories: Lore exposes the darker side of history, exploring the creatures, people, and places of our wildest nightmares.
14. What are your hobbies?
I'm a big collector of plants. They bring a natural environment into my home that can be hard to find in the city, and is much needed. Lately, I've been collecting and maintaining bonsai's. It's an obsession that started a few years ago after receiving my first as a gift from my sister-in-law. I have also been eager to learn to play an instrument. I own and play the banjo, ukelele and piano, but not very well, as I find my attention divided between them. My hope it to one day know enough to create my own music. I also practice ballet at the National Ballet School of Canada.
15. If you weren't an artist, what would you be?
Hmm...it's hard to pin down one thing, but I have a few ideas. Maybe a marine biologist working with whales off the coast of Baja California? Industrial design making sustainable package-less products for the future. Maybe even just coding websites. In retrospect, these all sound pretty awesome - there may be still time to do these! :)