Instagram:
@jessebsworth
Website:
www.jessebsworth.com
1. What's your story? Where are you from?
I'm born and bred East London although I'm from the outer edges so grew up riding bikes and climbing trees in the forest at the end of my street. I graduated almost two years ago now (!!) and moved a bit further up the road to Hackney which has been great so far. I would love to go abroad at some point though and experience a different way of life to what I have now in London, preferably somewhere where I don't have to wear my puffa til May.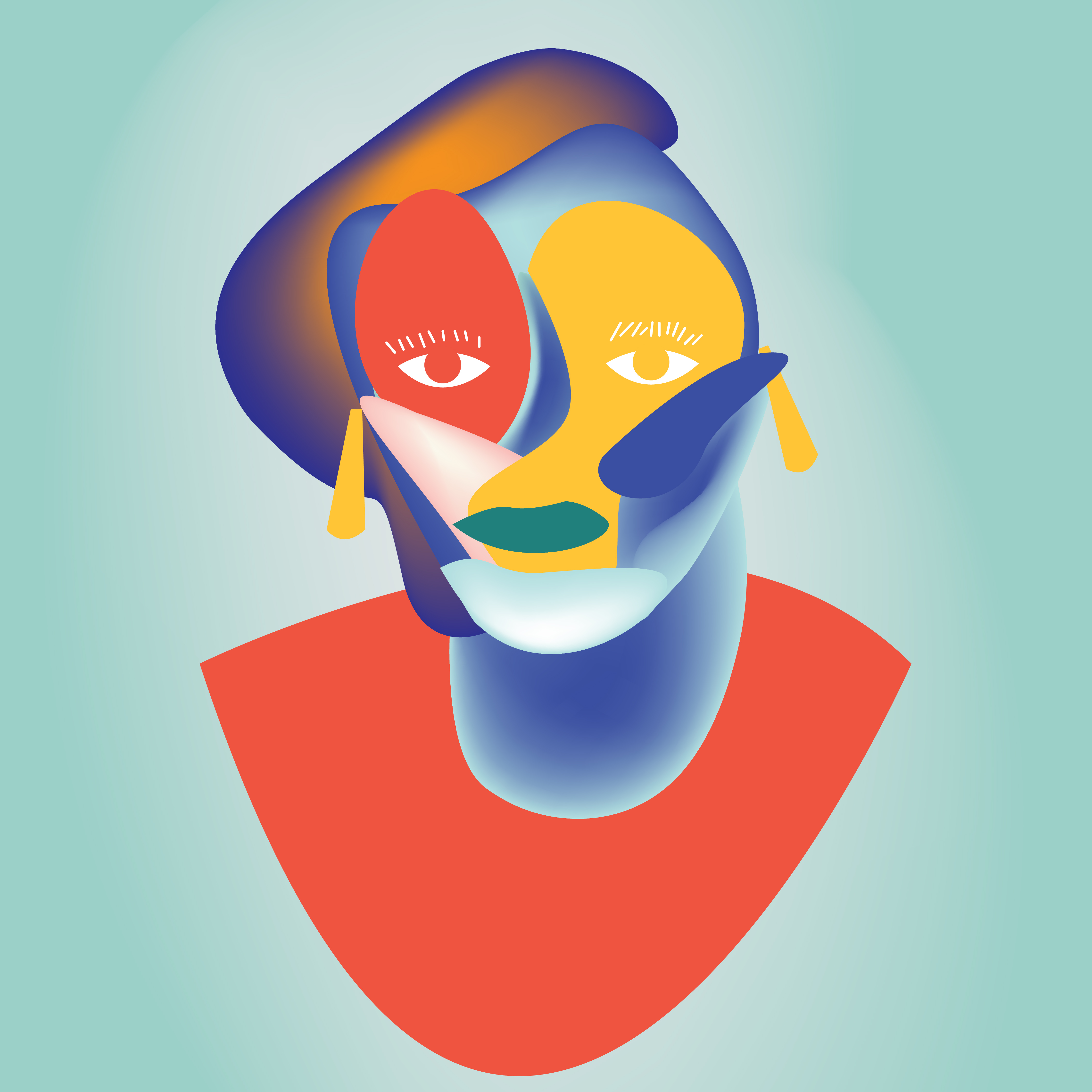 2. Tell us about your aesthetic.
I am obsessed with colour so a lot of my work starts with finding that perfect group of colours. I'm also really into abstraction so I always tend so simplify all the forms down to their basic elements to describe the scenario loosely rather than really going to town on the detail. So I guess it's kind of basic but in a good way?
3. What is your favourite medium and why?
Most of my work recently has been digital, I like the sharpness of the line that I get with vector drawing- I used to do a lot of collage to it's almost like cutting a nice bit of paper! I do really miss painting though, I would love to move onto larger scale paintings but I have very limited space at the moment- something I really miss about university :(
4. What is your artistic process like?
It sounds backwards but I almost always start by thinking about the colour! Once I've chosen a limited palette I then think about composition. I always try not to think about the end result and instead work more intuitively. I'm definitely not the sort of person who plans meticulously- possibly not the best way to work but I have always worked best under pressure.
5. Who and/or what inspires your work?
So much- I went to see the Hockney exhibition at the Tate and fell in love with everything even more than before. Other than that constructivism, bauhaus, travel, the sunshine, club culture, weird people I see walking about, rad tattoos, pretty girls and boys, hip hop, nature to name just a few………….
6. What role does art play in your life? How does it change the way you view the world?
I guess it's a way of expressing myself that perhaps I would struggle with normally. It's connected me with like-minded people and makes me look at and absorb all the visual gems that are we are constantly surrounded by! I'm lucky that one of my jobs is being the creative for a small brewery so I get to work on something fun and creative every week.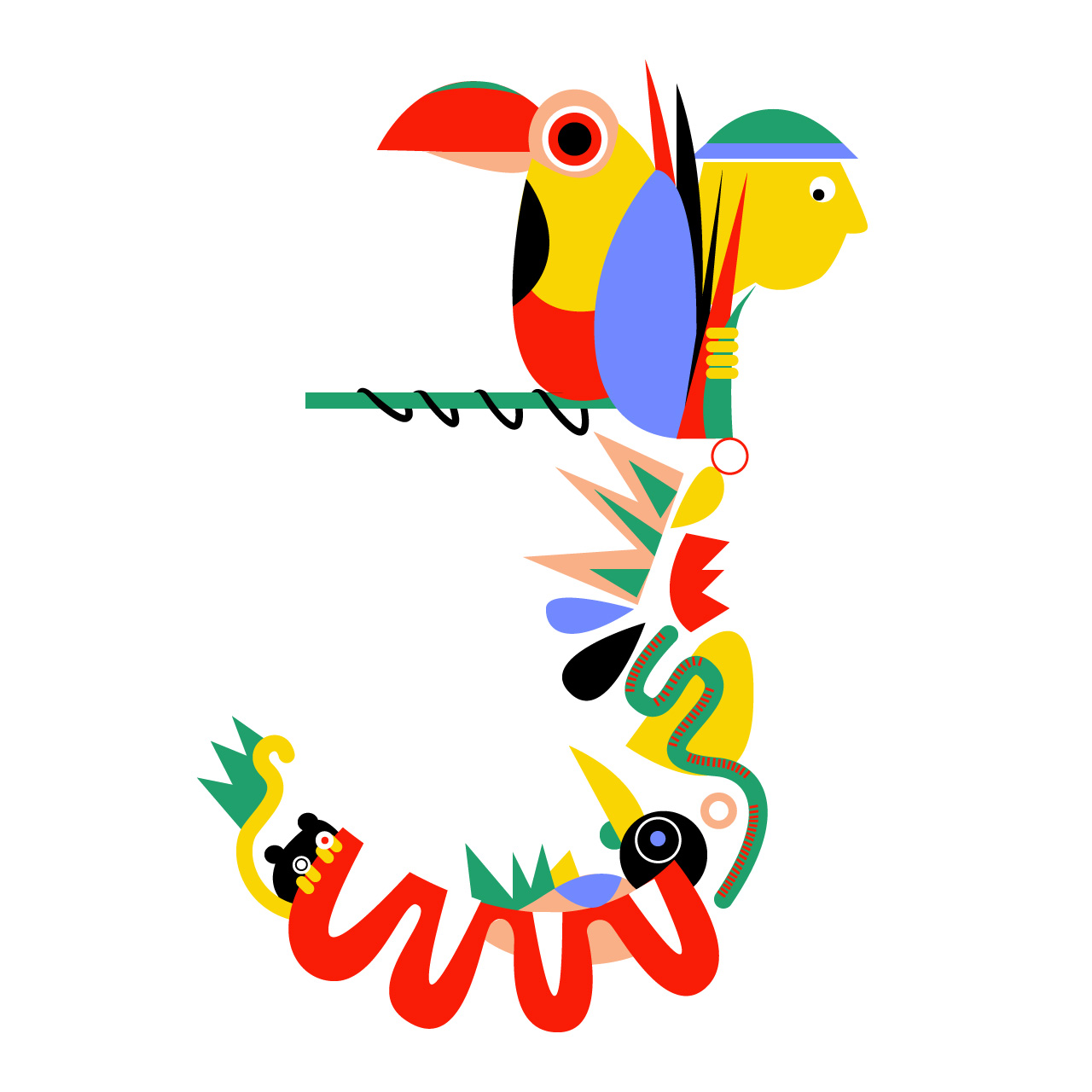 7. Where did you study?
I studied illustration with animation at Manchester School of Art- don't wanna sound cheesy but was honestly the best three years of my life. Such an amazing city with super inspiring people, I really hope I end up there again at some point in my life.
8. Where do you see yourself in five years? Working in an agency?
Probably not! I would love to grow as an artist and move onto bigger projects and work with lots of exciting people.
9. What about in ten?
Hopefully lying on a beach somewhere in Spain with a beer in hand. But seriously, if I was making a decent living somewhere sunny from my own creative output that would be a dream come true.
10. What do you hope to achieve with your art?
I'm not really sure… Hopefully that people will see it and it will spark some kind of feeling within them, whether they love it or hate it, it would just be nice to know that it made an impact with someone somewhere.
11. Now, tell us a little more about you as a person: what is your favourite food?
Korean food, or anything zingy and fresh. Then again I would pretty much love everything
12. Favourite book?
Creepy dystopian stuff- Brave New World is fab. Also Invisible Cities by Calvino, I would love to do a full illustrated version!
13. Favourite genre of music?
Always a hard one. I love anything from Stone's Throw to Stone Roses with some industrial techno thrown into the middle.
14. What are your hobbies?
Does going on a holiday count? Getting tattoos and doing really bad ones on myself.
15. If you weren't an artist, what would you be?
Sad :'(