Instagram:
@jessica_rosestitch
Twitter:
@jgradyartist
Facebook:
www.facebook.com/jessicagradyembroideryartist
1. What's your story? Where are you from?
I'm a contemporary embroidery artist originally from a small seaside town in the North East of England, although I've recently moved, so I'm now living and working in Leeds, West Yorkshire.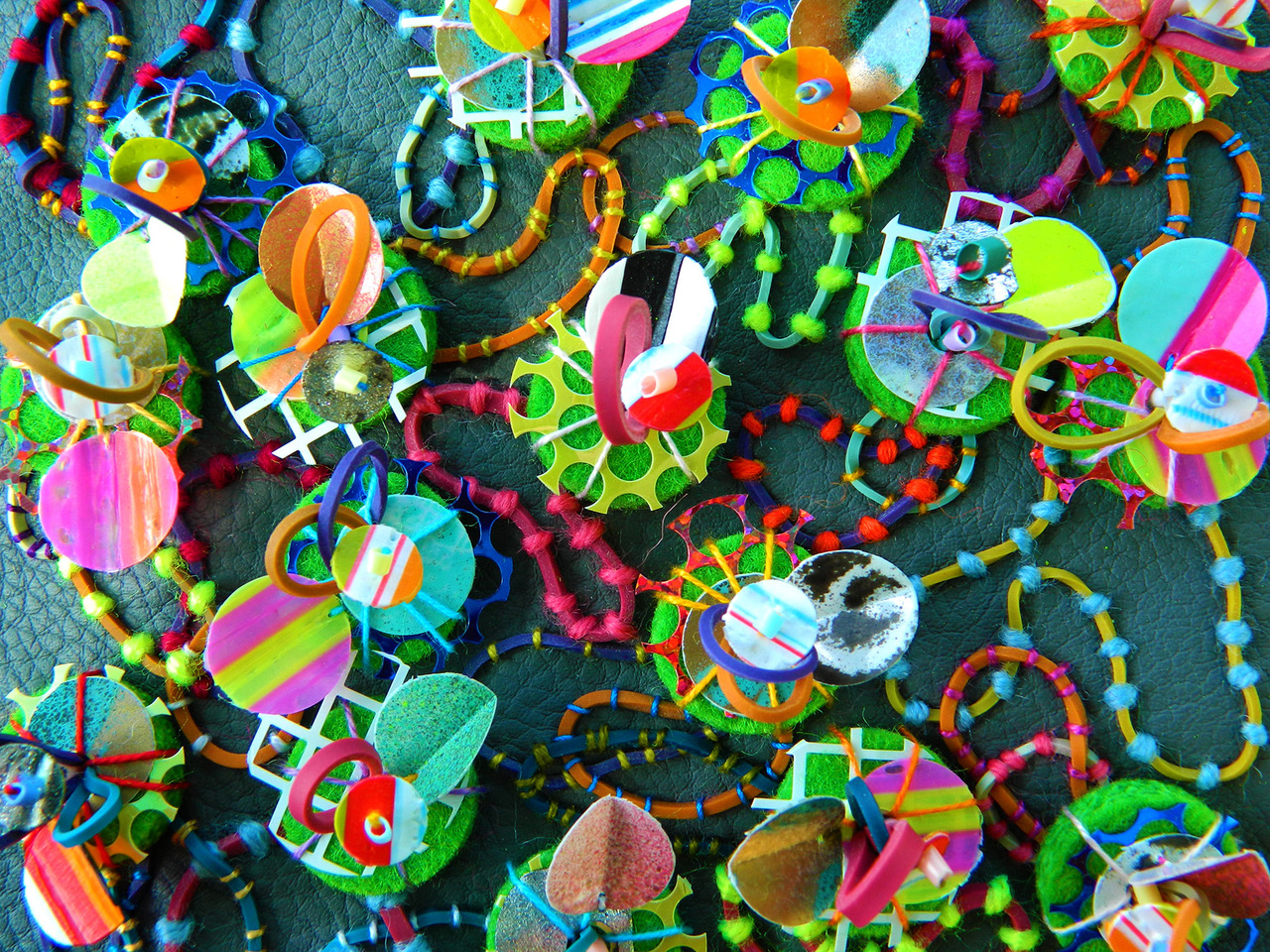 2. Tell us about your aesthetic.
My work is very bold and tactile, filled with colour and pattern. I enjoy using as many unusual materials within my textiles as I possibly can in order to create a sense of curiosity and playfulness. I'm a strong believer that just about anything can be stitched onto fabric!
3. What is your favourite medium and why?
Textiles! I love everything about fabric and the way using embellishments and hand embroidery can completely transform a flat piece of cloth into a heavily textured, encrusted surface. I'm also very passionate about hand techniques, specifically hand embroidery, and enjoy using traditional stitches in a contemporary way allowing my work to be viewed as fine art rather than a purely craft based form. I do a lot of recycling in my embellishment creations, I hand cut sequins out of old plastic packaging, and strip old electric cables to create my own beads. My current favourite material to use is cotton buds/Q-tips - these are fantastically versatile and can be dyed/cut/painted and then layered up to make bugle beads. I also use a lot of metal embellishments, mostly my own bits and pieces sourced from DIY stores and car boot sales, these can be painted up to create beautiful, intricate patterns and then add a lovely weight and drape to the fabric they are stitched onto.
4. What is your artistic process like?
I'm a very experimental worker - which can sometimes make planning cohesive collections quite difficult as my brain is always firing off 100 different possibilities I could be creating! I do a lot of playing around with materials, trying to layer up textures and create new shapes. A bit of serendipity always helps as well - I had a recent discovery of a new way of making sequins, by accidentally melting some straws together. I don't tend to heavily plan out my designs before I sit down and stitch them. I always can work into pieces further by adding more details and extra embroidery stitches, so sometimes its knowing when to leave a piece alone and not add anything else! I also enjoy transforming materials through processes such as dyeing, printing and melting. I stitch my embroideries using large quilting hoops or on my large roller frame, its a very time intensive process of working,my large scale pieces take up to several months to complete. I also like the fact that I can never stitch any two pieces the same - even if I tried! This ensures that anybody who has a piece of my art truly has a unique piece of embroidery.
5. Who and/or what inspires your work?
Textile artist Michael Brennan-Wood is a huge inspiration to my work. His textiles are so experimental and filled with detail and colour. I also love the fashion brand Delpozo, the creative embellishments they use on their clothing are jaw dropping in terms of their execution and playfulness. Liz Payne is another big inspiration, in the way she puts colour and pattern together to create such beautiful embroidered textiles. I'm also heavily inspired by materials - finding a new item that I can use as an embellishment idea always gets my creative gears turning at rapid speeds! This always seems to happen at peculiar times as well, I might be out on a walk and see a metal washer someone has dropped on the floor - suddenly I'll have a hundred new ideas for how to add them in new ways to my fabrics.
6. What role does art play in your life? How does it change the way you view the world?
Art has a massive impact on my life, I think being a creative person you automatically have a more flexible view of the world, as you can almost bend solutions to fit, based on being able to think outside the box. I like to think it makes me a happier and more creatively fulfilled person. I always say that every piece of work I create, I stitch a little bit of my personality into each one. My work is a true reflection of me as a person - if you could photograph my imagination and put it onto fabric - you'd get my work!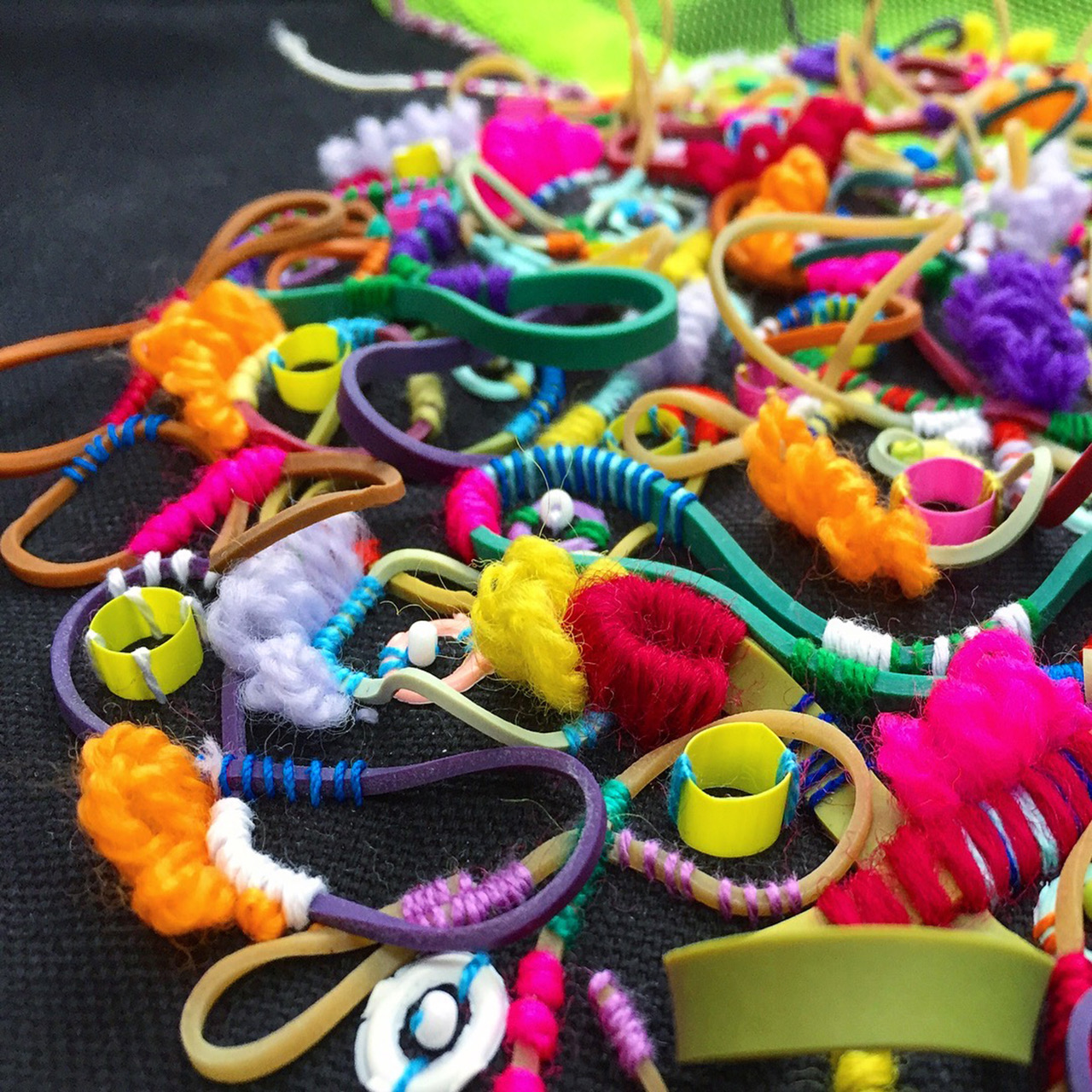 7. Where did you study?
I completed my BA Textiles degree in 2014 at Norwich University of the Arts.
8. Where do you see yourself in five years?
Still stitching away! I would like to have moved into a collaborative studio space, so that I have other creative individuals around me to boost me in my journey. I also hope my work will have grown in scale - so that I am creating more installation embroideries that really challenge my sewing hands and brain!
9. What about in ten?
I'm hoping in 10 years I will have a strong recognisable voice as an artist, and have the confidence to keep pushing myself further. I'd also like to have started teaching my embellishment workshops in different countries around the world - and obviously any children I have will all be learning hand embroidery I'm sure!!
10. What do you hope to achieve with your art?
I hope to give people a little burst of colour and playfulness, with my pieces of embroidery. I have strong hopes that as an art medium, hand embroidery and embellishment is starting to be taken more seriously in the fine art world, and that each embroidery artist who is pushing the boundaries of the discipline means this goal is one step nearer every time. I also want people to feel that childish sense of curiosity when they look at my work- enjoying the way that the materials aren't obvious until you really look closely - transforming your perceptions of the piece of work.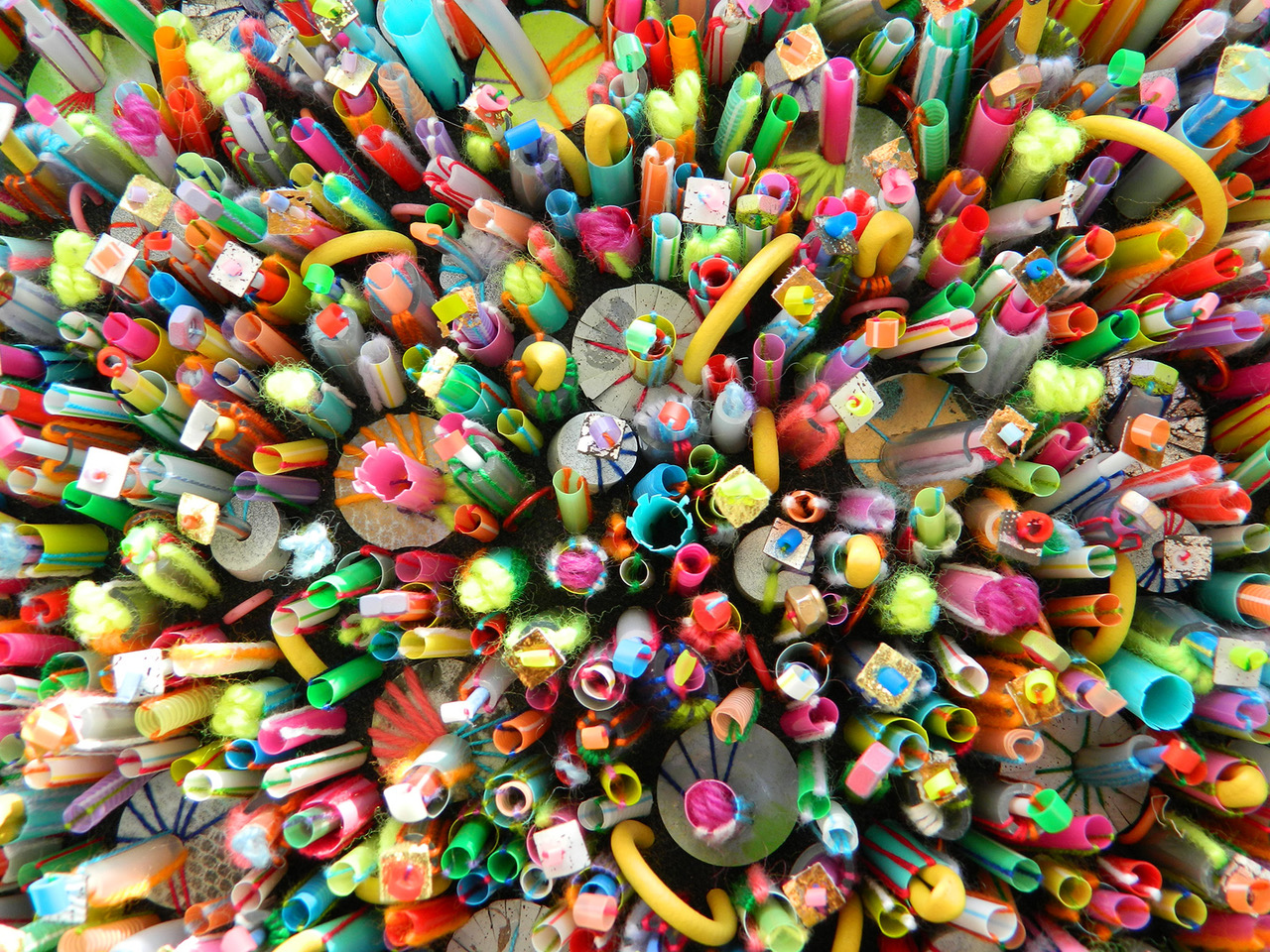 11. Now, tell us a little more about you as a person: what is your favourite food?
I'm quite a big foodie but love anything that is pickled! I will easily eat a jar of sliced gerkins as a snack. I also love any meal to do with breakfast so eggs, bagels, waffles - anything! Going out for breakfast with my partner is one of my favourite things to do.
12. Favourite book?
I love reading as I feel its another way to let my imagination go wild. My favourite books are always changing, at the moment I'm very interested in phscho thriller type reads. I love all of Gillian Flynn's novels and also the Passage series is another that stuck in my mind long after I read them.
13. Favourite genre of music?
I always listen to music or Podcasts when I'm stitching- it helps me to focus. I like lots of Indie- pop bands. The Wombats are my absolute favourite, I also like Warpaint, Fenech-Soler and the 1975 - all very good music to sew to!
14. What are your hobbies?
I have a lot of creative hobbies, I love rambling walks in the beautiful countryside that Yorkshire is rather famous for! I also enjoy drawing and painting and exploring new places, travel is a big passion of mine, and I'd absolutely love to one day go on an artist residency somewhere like India where they have such a strong and exciting textiles industry.
15. If you weren't an artist, what would you be?
A tough one! I've always seen myself doing something creative. I am very passionate about helping others with type 1 diabetes, as its a condition I've lived with myself for nearly 20 years so I'd like to think I'd be some sort of charity ambassador or paediatric diabetologist perhaps. Either that or a full time cat lady!