Instagram:
@jessica_smith_illustration
Twitter:
@JS_Illustration
Website:
www.jessicasmithillustration.com
1. What's your story? Where are you from?
I'm Jess, I live in a small town just outside of Oxford and I graduated from Falmouth University in Cornwall last September. Currently, I'm working in a small cafe near to where I live and in between shifts I'm working on building my portfolio. I always knew I wanted to follow a creative career but didn't know how or what in. It was only during my Art Foundation course that I realised my creative love lied with illustration.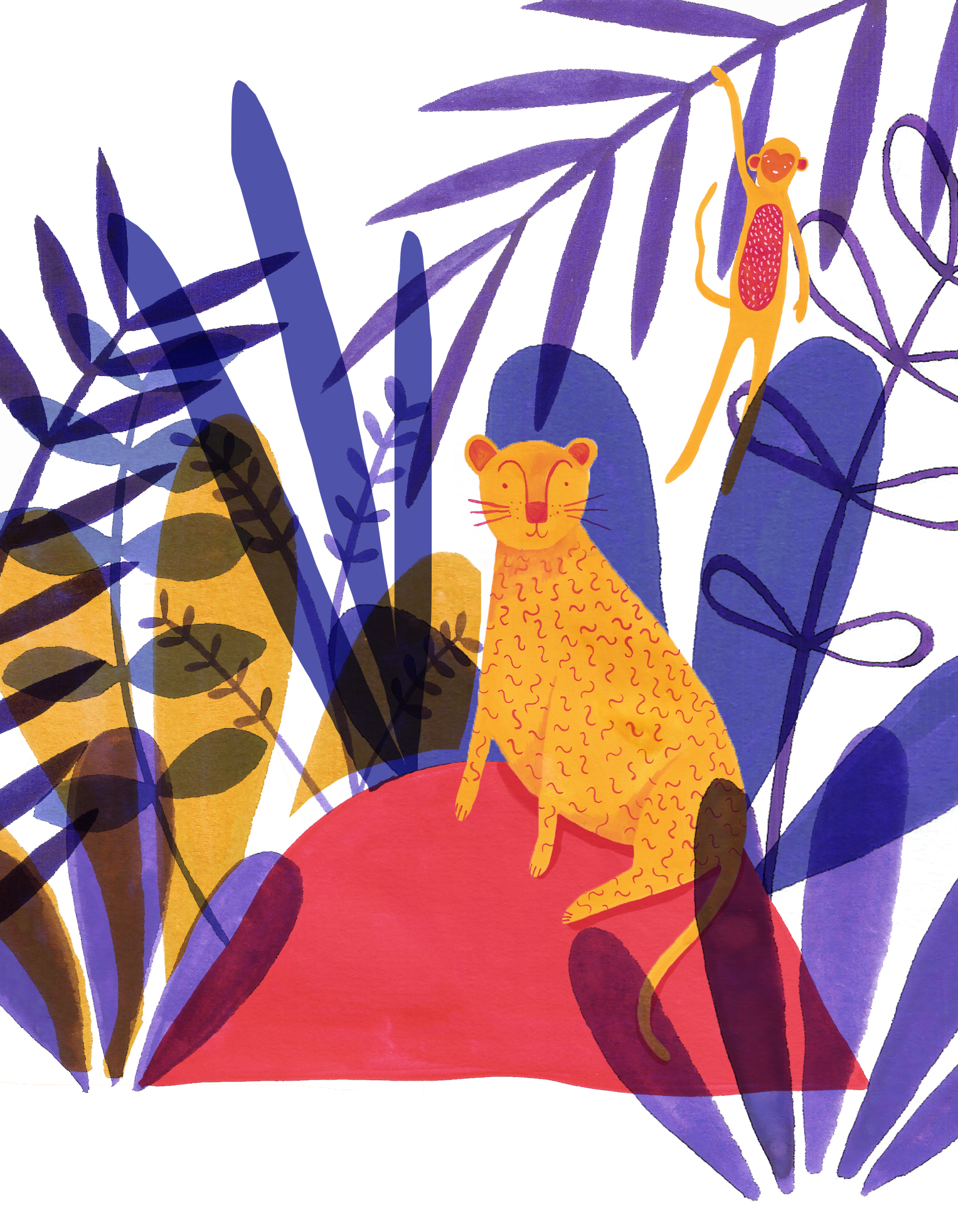 2. Tell us about your aesthetic.
The word 'playful' comes to mind when I think of my work. It's usually made up of bright and bold shapes which are layered over one another digitally and by hand. I really like building up layers in in my work as it gives it a really lovely feel and works really well for the plants and foliage that is used in most of my work. I also really enjoy to play with scale and paint tiny people with huge leaves and plants around them as I love the effect that this gives and feel it really lends itself to my way of working. A limited colour palette is so important to my work and rarely do I use any more than 3 colours within an artwork.
3. What is your favourite medium and why?
Gouache all the way! I really like how opaque it is and how childish and fun the block colours are. When I paint, I paint with simple colours and rarely do I add shadow or shading, and I think that this type of paint is perfect to achieve this look.
4. What is your artistic process like?
I paint all of the elements in my artworks and then scan and arrange them digitally so that I can play around with compositions and scale much more freely and easily than if I were to paint the scene/ layout exactly how I wanted it on paper. I also sometimes add in digital elements to my work where I think they fit.
5. Who and/or what inspires your work?
Plants and people inspire me the most, although I am not the most confident with drawing and painting people. This is definitely something that I need and want to get better at. But I love the playful shapes and patterns you can create when painting plants and foliage. I'm also a massive user of Pinterest and just browsing loads of different illustrators work. I'm not sure that I'd have made it through my degree without it!
6. What role does art play in your life? How does it change the way you view the world?
Illustration and art is a huge part of my life, I find it so relaxing and a way that I unwind and one day I'd love for that to be my full time job! It makes me look at everything in a different way, packaging posters, cards, anything. I'm always drawn to things that catch my eye and are aesthetically pleasing.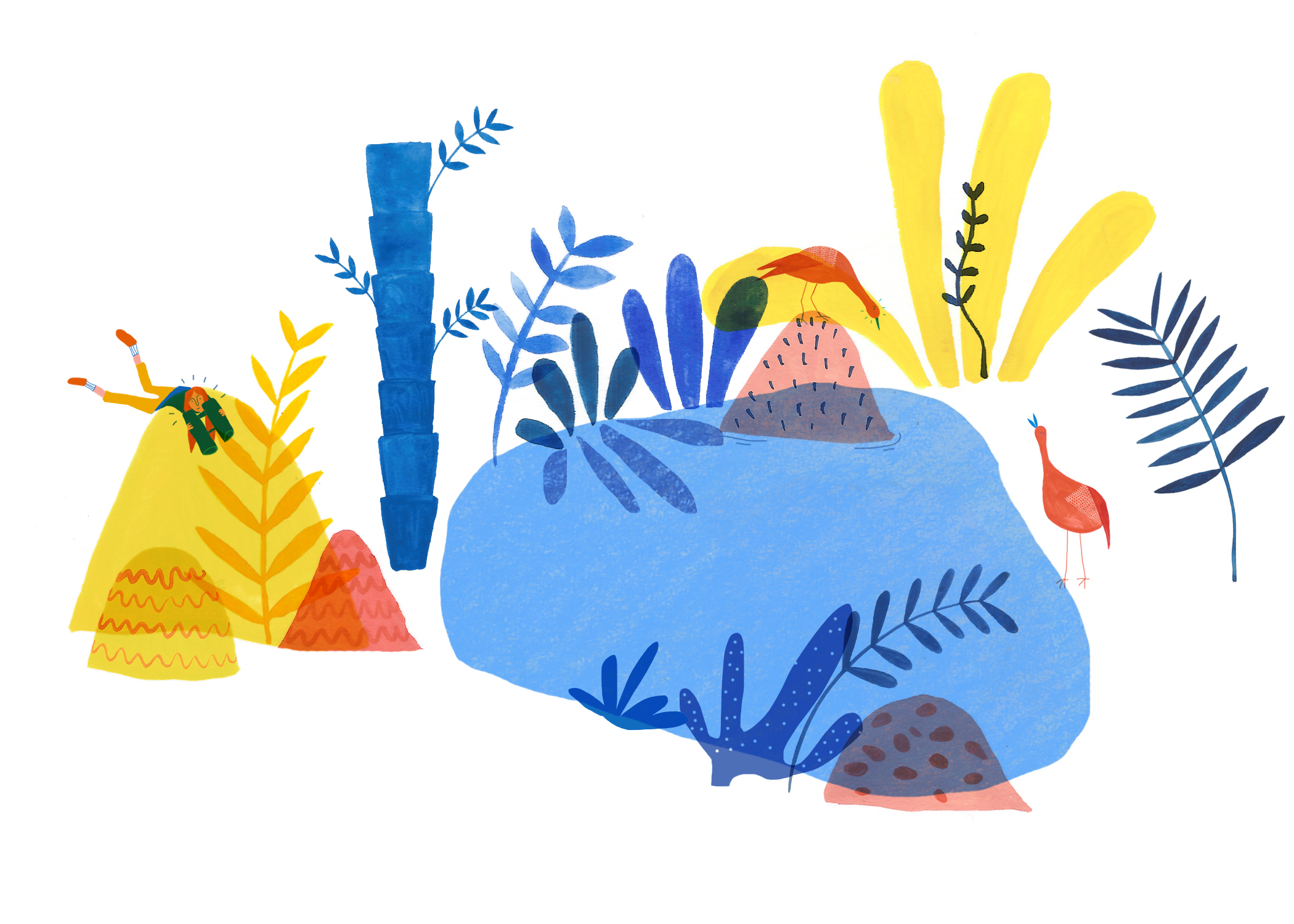 7. Where did you study?
I studied illustration at Falmouth University, Cornwall, England.
8. Where do you see yourself in five years? Working in an agency?
In 5 years time I'd love to be making a living solely from my illustration, that would be amazing! I'd also quite like a dog of my own. That'd be great. But if I don't manage to work for myself then I'd maybe like to work for an illustration magazine or something like that.
9. What about in ten?
Hopefully the same.. But I'd love people to be able to recognise my work before seeing my name underneath it.
10. What do you hope to achieve with your art?
I just really want people to look at my work, whether that be on their wall, in a magazine or on a card that they receive and feel good. I want my work to make people happy.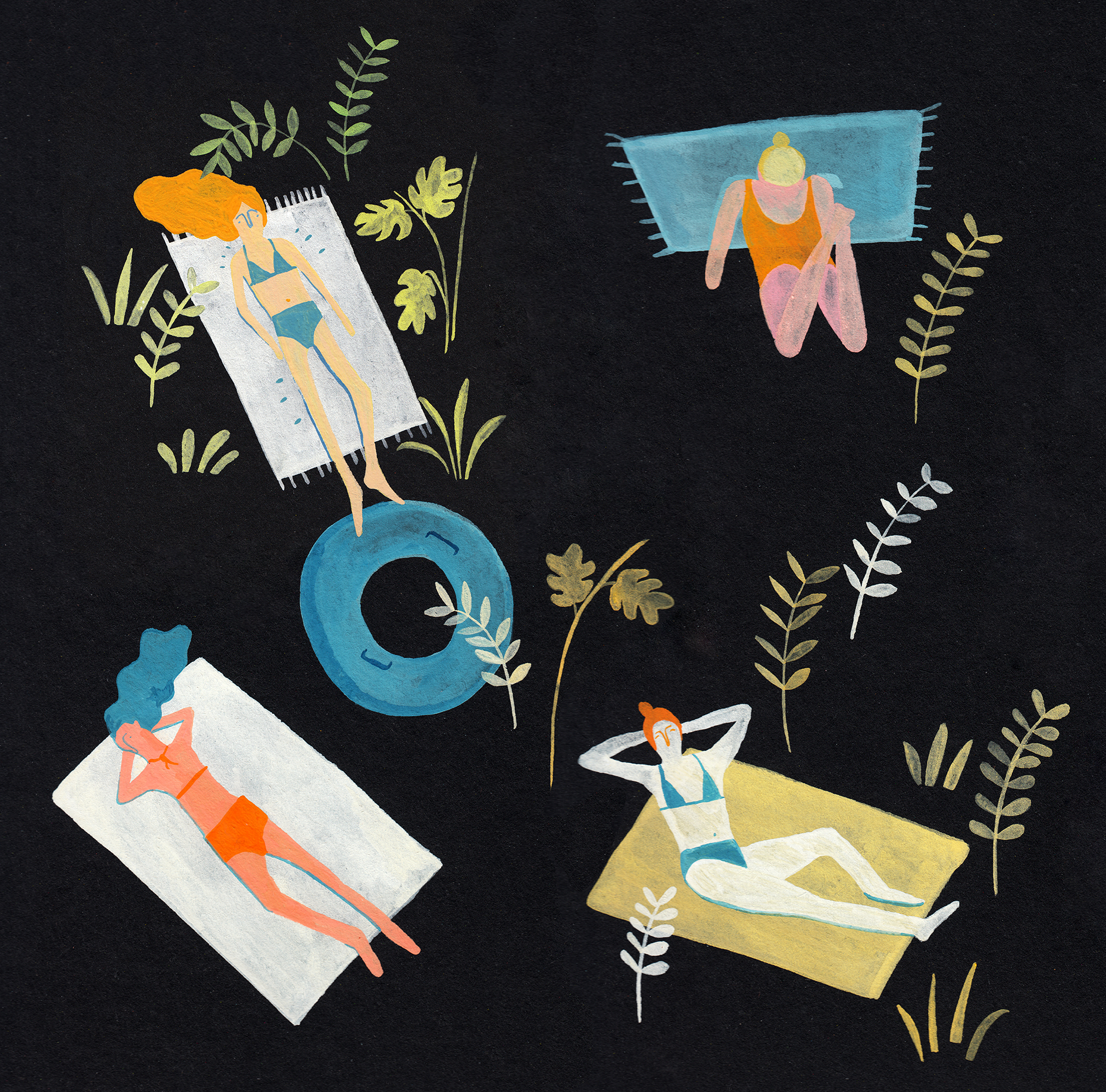 11. Now, tell us a little more about you as a person: what is your favourite food?
Curry is by far my favourite food, but I love pasta an unhealthy amount too and salted caramel brownies mmmmm.
12. Favourite book?
I've never been massively into reading but that's something I'm trying to change. But as a child my favourite book was probably the 'Jungle Book' which I am still a huge fan of now. But I mostly enjoy reading things that make me laugh or something that really grips me, I'm really into thrillers.
13. Favourite genre of music?
Things that are easy to listen to are what I'm drawn to the most, folk, acoustic etc.
14. What are your hobbies?
Apart from drawing, I enjoy cooking, eating out, running, buying unnecessary amounts of shoes and coats and baths (although i wouldn't call the last two hobbies..).
15. If you weren't an artist, what would you be?
Part of me always wanted to be a vet or doctor or paramedic, but I was never quite clever enough...so I settled for being an artist haha!