Instagram: @jessicaganis
1. What's your story? Where are you from?
My name is Jessica (but everyone calls me Jess), I'm an Art Director in a communication agency and I currently live in Clichy (a suburban city of Paris).
I am not from a particular region, I was born in Senegal and growing up with a father who was a state sailor, I spent half of my life moving between different French regions. I have been living in Île-de-France since I was 16 but I think I have kept this nomadic spirit, so it's hard to say where I come from!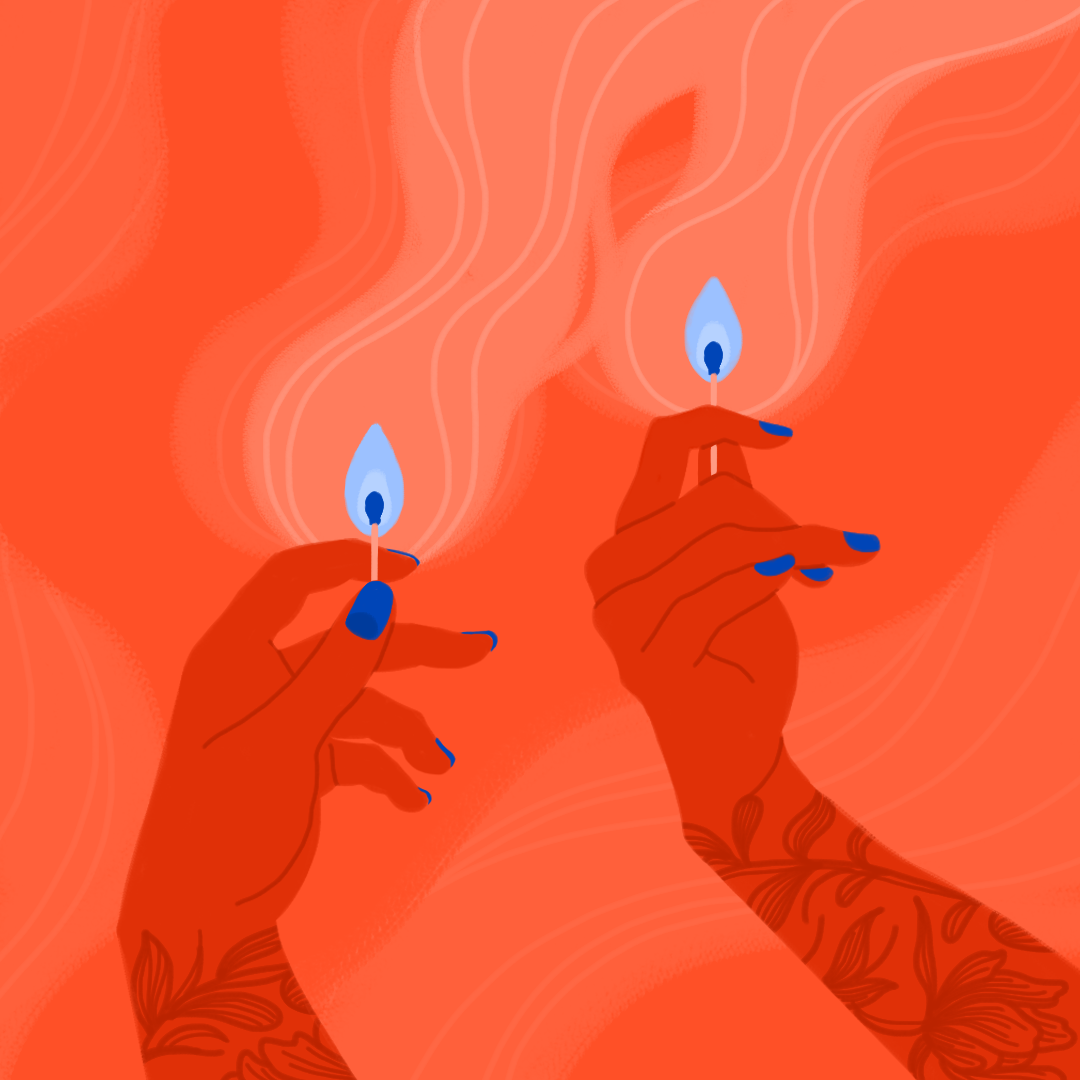 2. Tell us about your aesthetic.
I really like transcribing moments of contemplation, when you feel like time has been suspended and that the attention is caught by a detail, a person, an attitude, a color, a pattern… All with codes that I particularly like; the feminine, the vegetal, the cosmic and bright colors.
3. What is your favourite medium and why?
Digital is my main medium, for the immediate use of bright colors. A painter friend, whom I met during my studies, told me one day that black did not exist in nature and that it was made from other colors. It stuck with me, and I have had a fascination with color ever since.
I sometimes use colored pencils, but I am never happy with how it looks when I then watch it on a screen! Otherwise, I would very much like to go back to screen printing or discover fresco drawing.
4. What is your artistic process like?
I always start with a sketch with a propelling-pencil on loose paper which I then scan. I have to have a precise idea of what I want but make sure that the sketch is not too detailed, because its rough aspect gives me a base that can evolve from the moment I switch to color. I'm quite rigid when it comes to the design idea, but I allow myself more freedom when it comes to practice.
As for the color, I was adding it until recently using Photoshop, but now I am discovering Procreate. I really like playing with shades of blue, red and green and playing with their complementarity, but the color is where I improvise the most. I follow my desires of the moment while trying not to have more than 3 major colors for an illustration.
5. Who and/or what inspires your work?
For a long time, I was very much inspired by Art Nouveau, by its principle of metamorphosis of plants into urban areas. Today I am fascinated by practices other than mine; photography, fashion, object design, pottery…
So many mediums that fascinate me and push me to take the time to look, to memorize. This exercise of contemplation continues to take an important place in my practice of drawing and I believe that I will never stop learning.
6. What role does art play in your life? How does it change the way you view the world?
Like many people, I have been drawing since I was little and the practice of drawing was the expression of my fantasies. This is still the case today, but above all, it has become an essential personal practice to do only what I like, in order to separate it from the creative part of my job in a communication agency.
While the world seems a lot less fanciful to me than when I was a child, as an adult I am still learning what I think is beautiful in everyday life.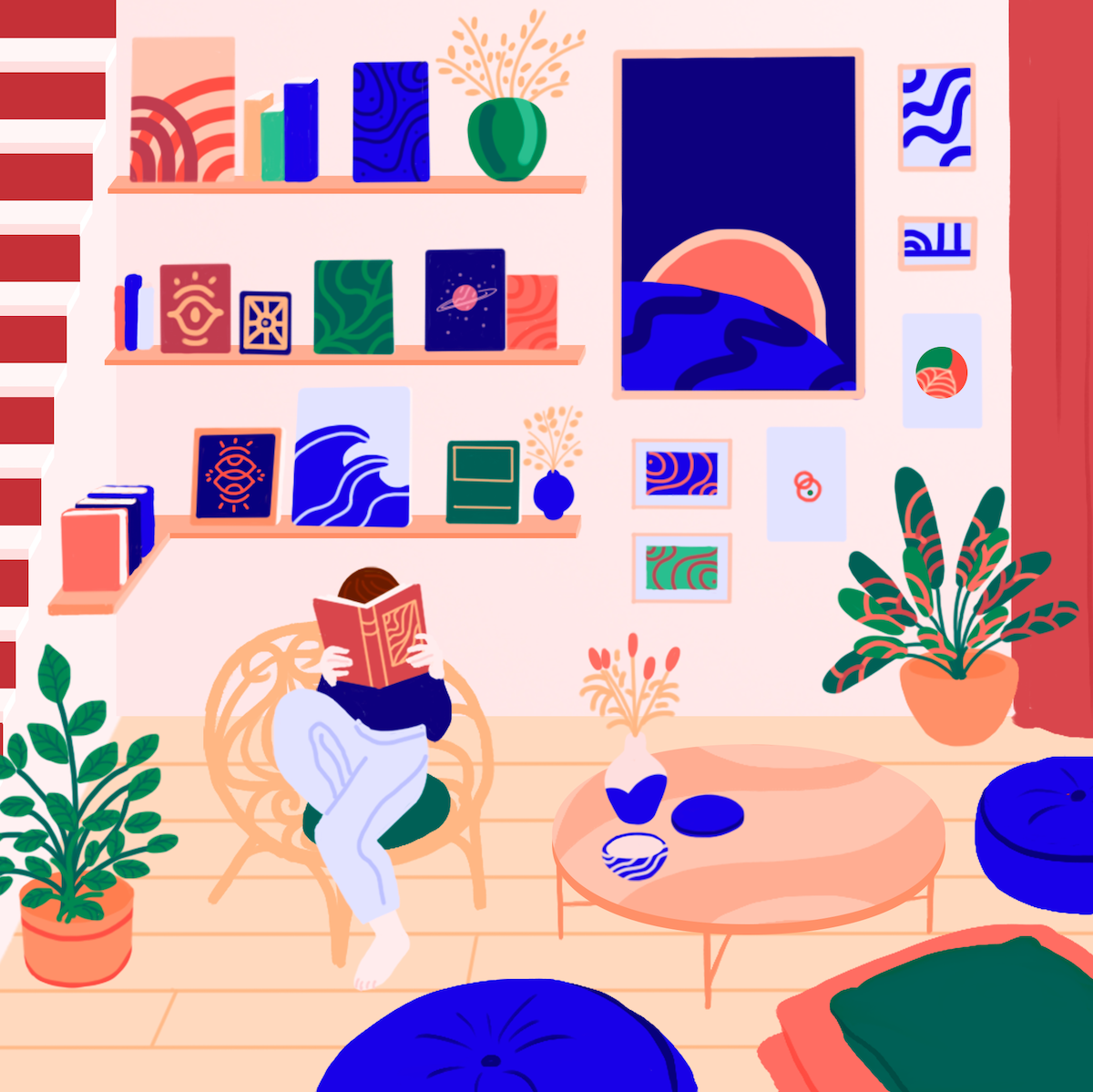 7. Where did you study?
I am largely self-taught, I looked for my path by studying Plastic Arts at La Sorbonne university. I then did an additional year of training in Illustration at the Corvisart High School with great teachers, but I realized that I did not have the ability to make Illustration my profession, so I chose to be multidisciplinary by getting a degree in Graphic Arts at EPSAA.
I learned a lot thanks to these schools, but funny thing, the digital field in which I work today (web design, e-mails creation, social media communication…) are practices that I have acquired mostly since I joined the workforce and I appreciate the idea that it is a profession that evolves constantly and that I continue to learn from.
8. Where do you see yourself in five years?
I hope I will finally have started a career as a professional illustrator!
9. What about in ten?
I would like to live in a place that will allow me to add the practice of screen printing and a ceramic oven to my daily life, to bring my illustrations to life on a new media.
10. What do you hope to achieve with your art?
To keep learning, contemplating and maintaining this peace of mind in my practice, and why not inspire and make others want to start drawing!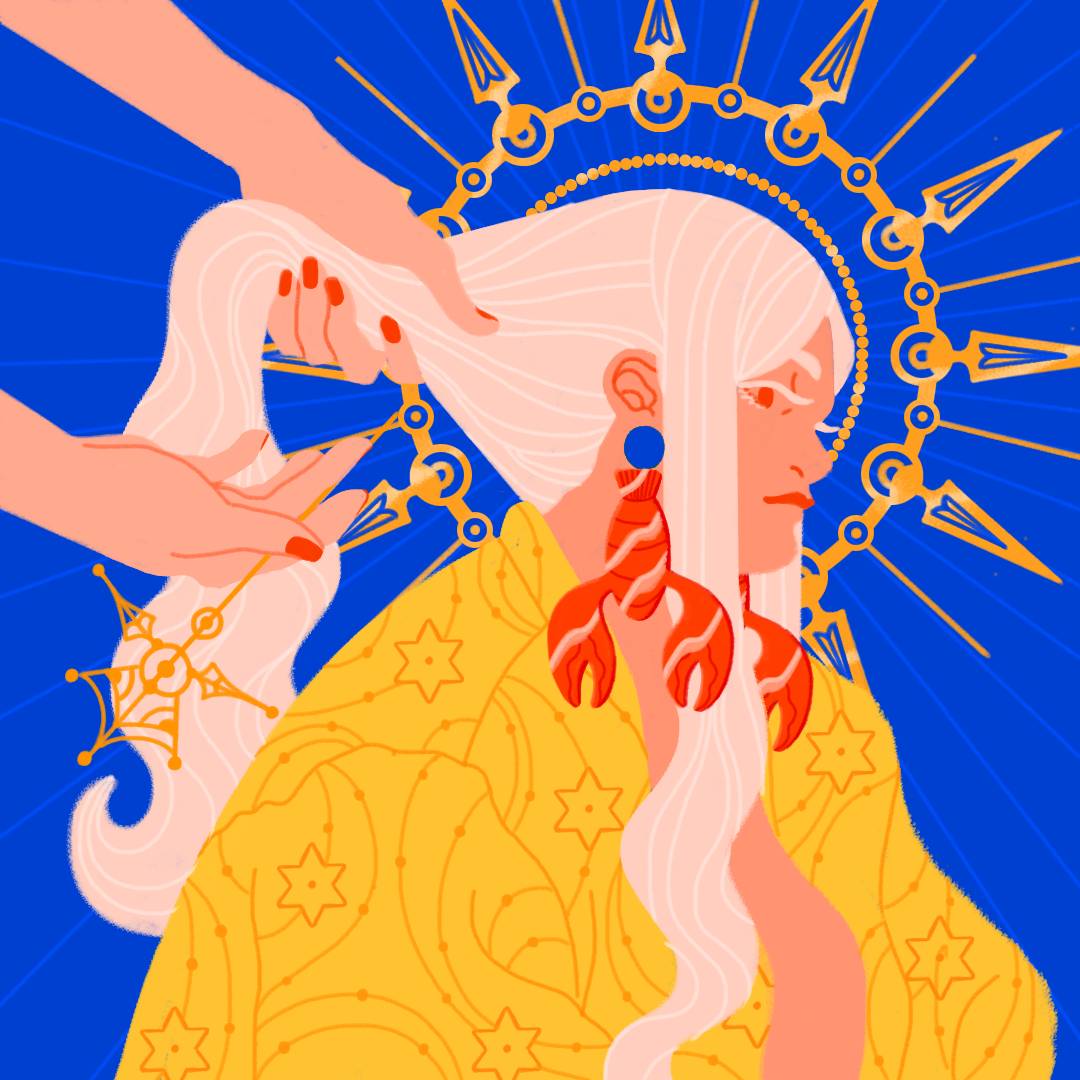 11. Now, tell us a little more about you as a person: what is your favourite food?
I have a sweet tooth, I am a huge fan of French desserts! But my favorite dish comes from a recipe that my parents learned from an Italian friend, one evening, when everyone was drunk and hungry: linguine with olive oil, basil, parsley, tarragon, oregano and lots of garlic. This friend probably didn't invent this dish, but we call it « Tullio's pasta » among us, and it's a treat.
12. Favourite book?
Difficult question! My financial ruin comes mainly from the purchase of illustrations and books, treaties on feminism, art history, fantasy and science fiction... If I had to choose one, it would have to be Alain Damasio's « The Hord of Counterwind » which struck me by its very poetic use of punctuation as language in its own right.
13. Favourite genre of music?
I tend to say metal, but over time I found myself listening to mostly indie rock and indie. That being said, the progressive metal band Tool always keeps a special place in my playlist.
14. What are your hobbies?
When I'm not drawing for Instagram, I relearn to draw just for myself, with no pressure! And with my huge passion for books, I expose them as art in my place and I love to lose myself in a story, particularly myths and fantasy.
15. If you weren't an artist, what would you be?
I think I would like to run a place that would function as a gallery for illustrators, a bookstore, and modelling/pottery workshop.