Instagram:
@jessicasorentang
Website:
www.jessicasorentang.com
1. What's your story? Where are you from?
My name is Jessica So Ren Tang and I was born and raised in San Francisco, California. I am the first generation born in my family and much of my childhood was spent experiencing Chinese and American culture. As the middle child, I was given a bit more freedom from filial responsibilities which allowed me to embrace my passion for the arts.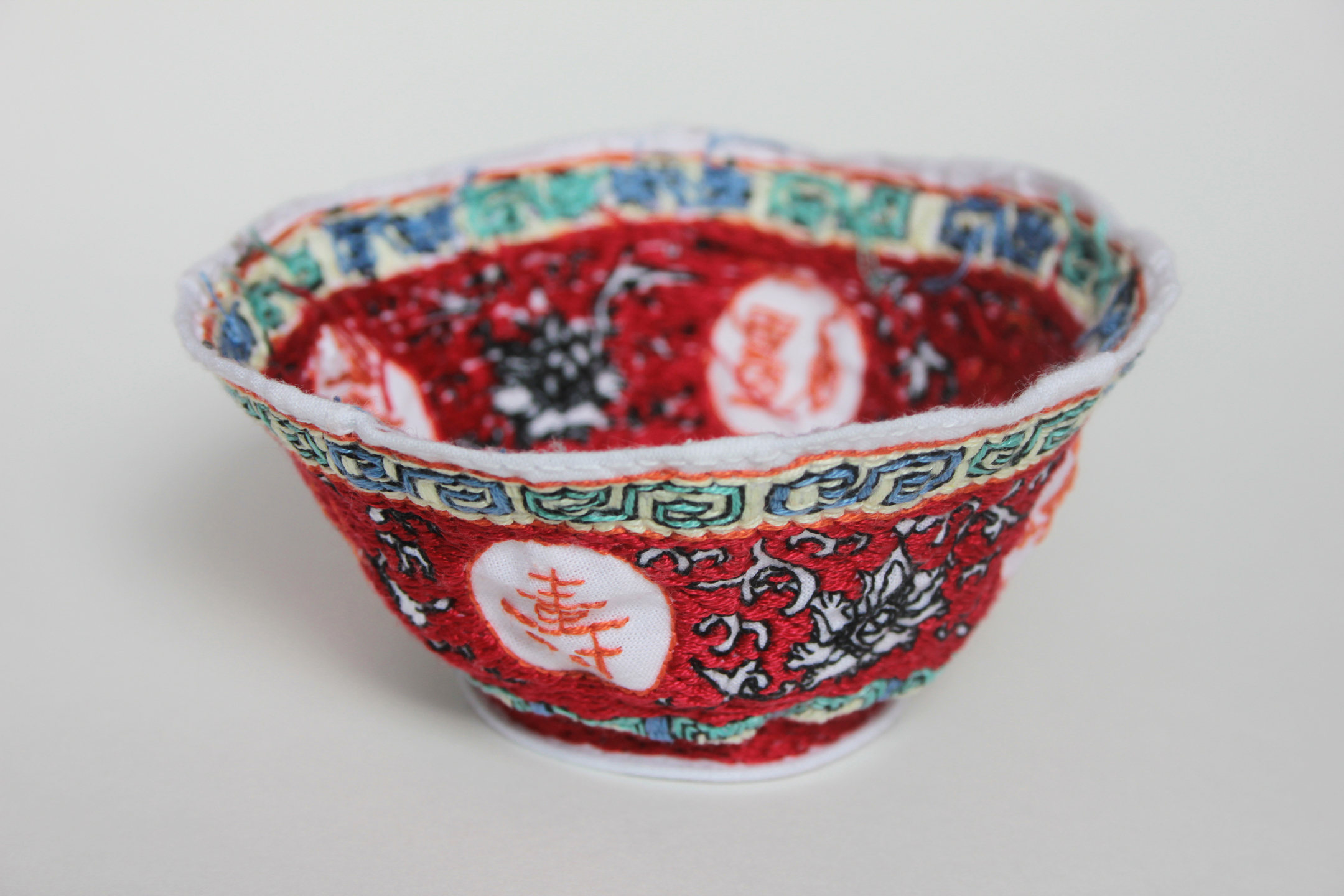 2. Tell us about your aesthetic.
I look for Asian patterns and motifs in my work that relate to my experiences as an Asian American woman. I replicate nostalgic Asian objects from my childhood.
3. What is your favorite medium and why?
I enjoy tapping into the vast history of embroidery as a medium in American and Chinese culture and its history of women's work. Physically, the texture is very tactile, soft, and more intimate than other mediums I've used. I'm still learning how to manipulate fabric and thread and I'm eager to explore more of this medium.
4. What is your artistic process like?
For my girl pieces, I research for reference images for the girls silhouette and the patterns for the skin. I draft the line art, experiment with different combinations of figures and patterns, transfer the design onto fabric, and stitch. When I start making a piece in my object series, I go to Chinatown or my local Asian supermarket and buy items from my childhood or are significant to my Chinese/American identity. I look for objects that can be flattened and traced. For more dimensional objects, I create a 3d paper mock up and transfer to fabric which I later stitch in the pattern/logo of the product.
5. Who and/or what inspired your work?
During college I experimented with materials for an assignment. I tried stitching into a cup noodle container but found that styrofoam was terrible to stitch onto. So I swapped to fabric but aimed to replicate the cup noodle container. From there, I looked for other Asian objects to replicate. Ikenaga Yasunari's painting directly inspired my girl series. When I saw his paintings I fell in love with the female pose and textile patterns. I thought it would be interesting if the skin and pattern were switched, and thus my girl series was born.
6. What role does art play in your life? How does it change the way you view the world?
I've always been passionate about creating art. I've never been great at any other school subject but when a, assignment involved any artistic creativity, I found that I was more enthusiastic and engaged. I'm a bit of a workaholic so having a tedious and slow medium like embroidery is perfect. I look forward to reaching a flow and end up stitching for hours. Over the years, I've grown to appreciate the time and techniques that go into making art and creating work. Art and politics often overlap and influence each other and has often sparked many debates and discussions about expression and influence. Looking at contemporary art is one way that I can learn about and understand current news and ideas.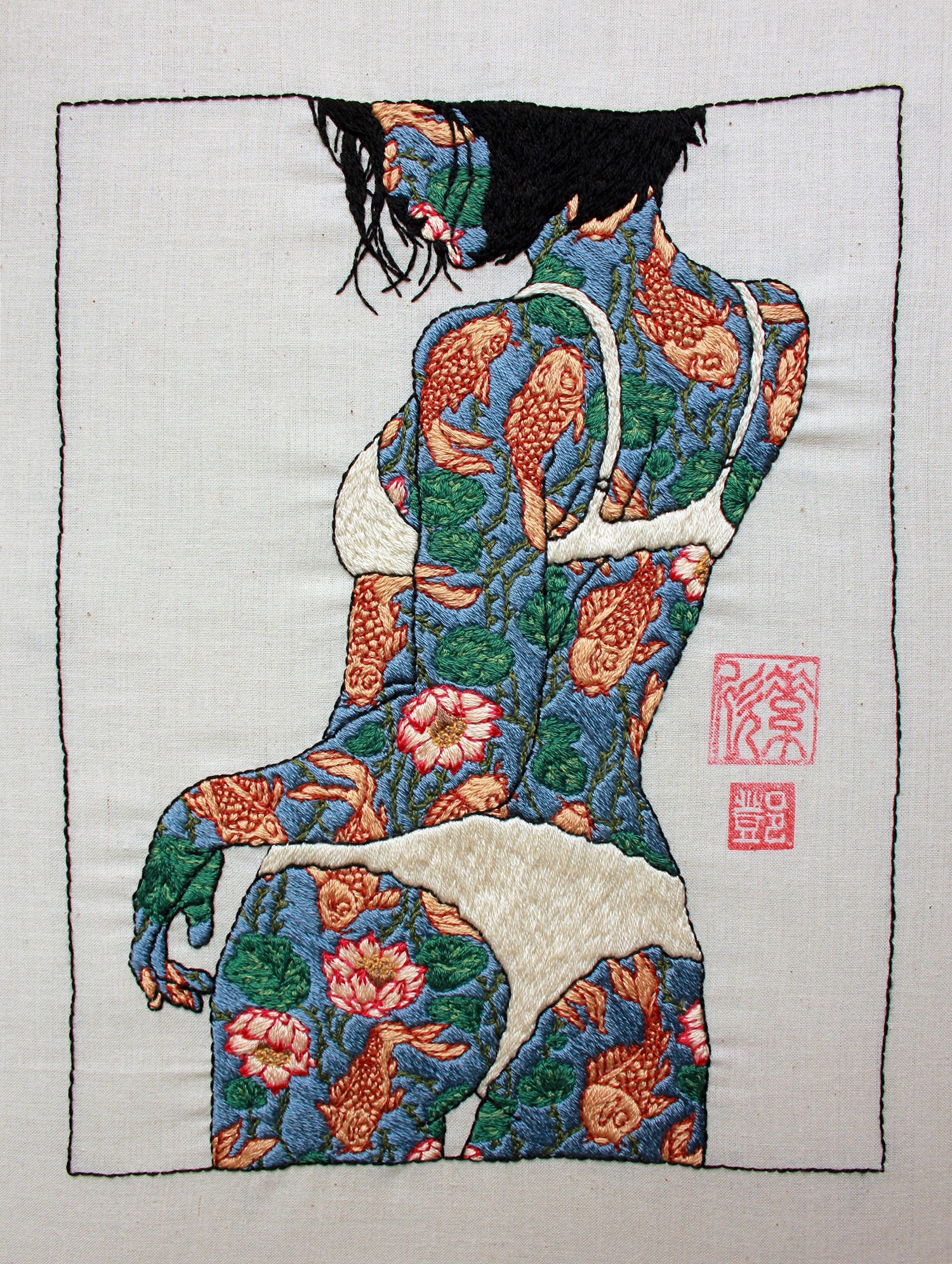 7. Where did you study?
I received my Bachelors of Fine Arts at Mills College, Oakland, California.
8. Where do you see yourself in five years?
Realistically, I don't think much will change from my current situation. I have a full-time job and make art in the evenings and weekends.
9. What about in ten?
I aim to be a full-time artist either it be at my dream job working for Laika Studios or on my own work. (Or both, fingers crossed!)
10. What do you hope to achieve with your art?
Identity and culture are large influences in my work and I hope that my art inspires others to embrace and express their identity in everyday life and/or in their art.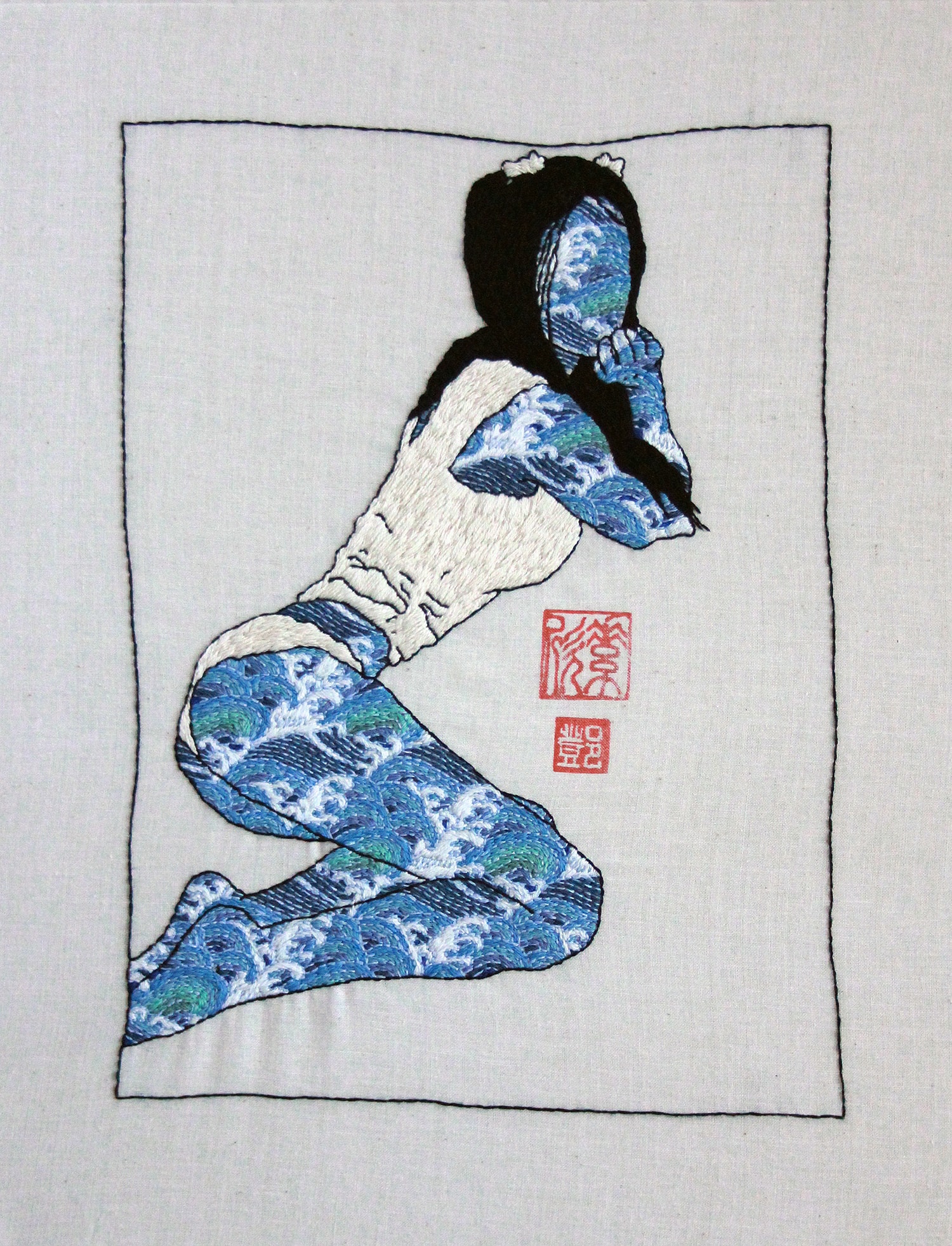 11. Now, tell us a little more about you as a person: what is your favorite food?
If there's one thing I had to eat for the rest of my life it would probably be Chinese steamed eggs with soy sauce drizzled on top.
12. Favorite book?
I'm a big fan of graphic novels and one of my all time favorites is Habibi by Craig Thompson.
13. Favorite genre of music?
I'm a sucker for Disney soundtracks. Film scores and indie/folk are some of my favorites as well.
14. What are your hobbies?
I love miniatures, dioramas, and ball jointed dolls. I've tried my hand at making a ball jointed doll but it's been on hold while I focus on my embroidery work.
15. If you weren't an artist, what would you be?
As a child, I wanted to be a chef. Or a pastry chef.