Instagram:
@jigeumhae_
Facebook:
www.facebook.com/Jigeumhae-1894988074098566
Website:
blog.naver.com/lee_jihae
1. What's your story? Where are you from?
Hello. I am illustrator 'Jigeumhae' based in Republic of Korea. I usually draw something being with us in our daily lives such as objects on the desk, people in the media and time that has passed. 안녕하세요. 한국에서 활동하고 있는 일러스트레이터 '지금해'입니다. 저는 주로 책상 위 오브젝트, 미디어 속 낯선 사람들, 지나가버린 시간과 같이 일상에서 우리와 함께하는 것들을 주로 그립니다.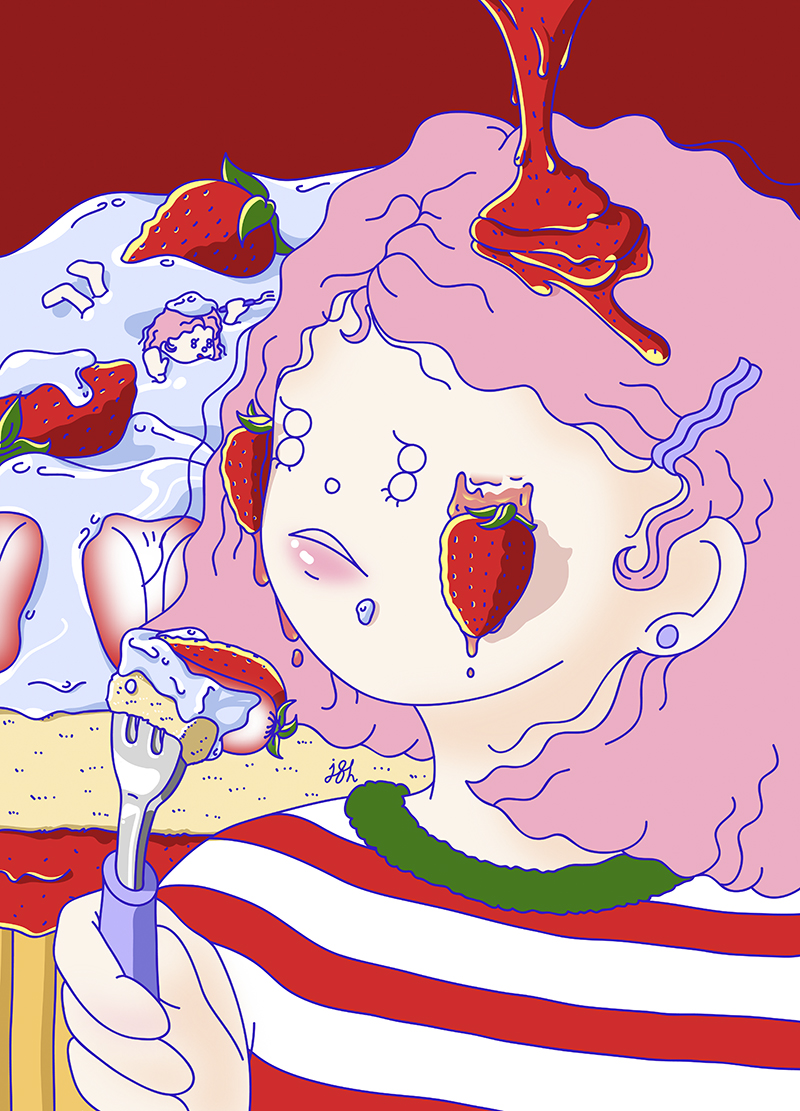 2. Tell us about your aesthetic.
I try to express something stamped on my memory at the moment and something memorable in daily life. Some of this, I usually draw people with ambiguous eyes who do not know what they are looking at and what they are thinking. I think that this person is similar to us, not even knowing ourselves and our future. These days, I focus on drawing together with plain objects having deeper thoughts. 일상에서 찰나에 각인되고 오래 기억에 남는 것들을 간결하게 표현하려고 노력합니다. 그중에서도 어디를 보고 있는지, 어떤 생각을 하고 있는지 모를, 애매한 눈을 가진 사람을 주된 소재로 합니다. 이 모습이 마치 나 자신조차도 잘 모르는, 한치 앞을 알 수 없는 우리의 모습과 비슷하다고 생각합니다. 요즘에는 더 깊은 생각을 담고 있는 평면의 소재들을 함께 그려내는 것에 집중하고 있습니다.
3. What is your favourite medium and why?
I use illustrator mostly, because I like that I can draw something very simply and clearly, and it is available in variety of ways. 굉장히 단순하고 간결하게 나타낼 수 있는 점과 활용성이 다양한 점이 마음에 들어 주로 일러스트레이터를 사용합니다.
4. What is your artistic process like?
I try to make a lot of notes. I write down words and scenes that I remember while walking or watching TV. Then I start to draw while organizing thoughts, that comes to mind, with those notes. 메모를 많이 하려고 노력합니다. 길을 걷다가, 혹은 TV를 보다가 순간 기억되는 단어나 장면들을 글로 기록하고 거기에서 파생되는 생각들을 정리하며 그림을 그리기 시작합니다.
5. Who and/or what inspires your work?
I am inspired by everything around us. It can be some objects, some people or even time. I am interested in diverse people and their style these days. 물건이 될 수도 있고 사람이 될 수도 있고 시간이 될 수도 있고, 영감을 받는 것들은 다양합니다. 함께하는 모든 것에서 영감을 받는 편입니다. 요즘에는 다양한 사람들, 그들의 스타일에서 영감을 받습니다.
6. What role does art play in your life? How does it change the way you view the world?
It means that regardless of different language or culture, I can show so many people my thoughts and experiences through my pictures, and we can think about together. 문화나 언어의 다름과 상관없이 내가 느끼고 생각한 것들을 훨씬 많은 사람들에게 쉽게 보여줄 수 있고, 또 함께 생각할 수 있게 만들어 주는 수단입니다.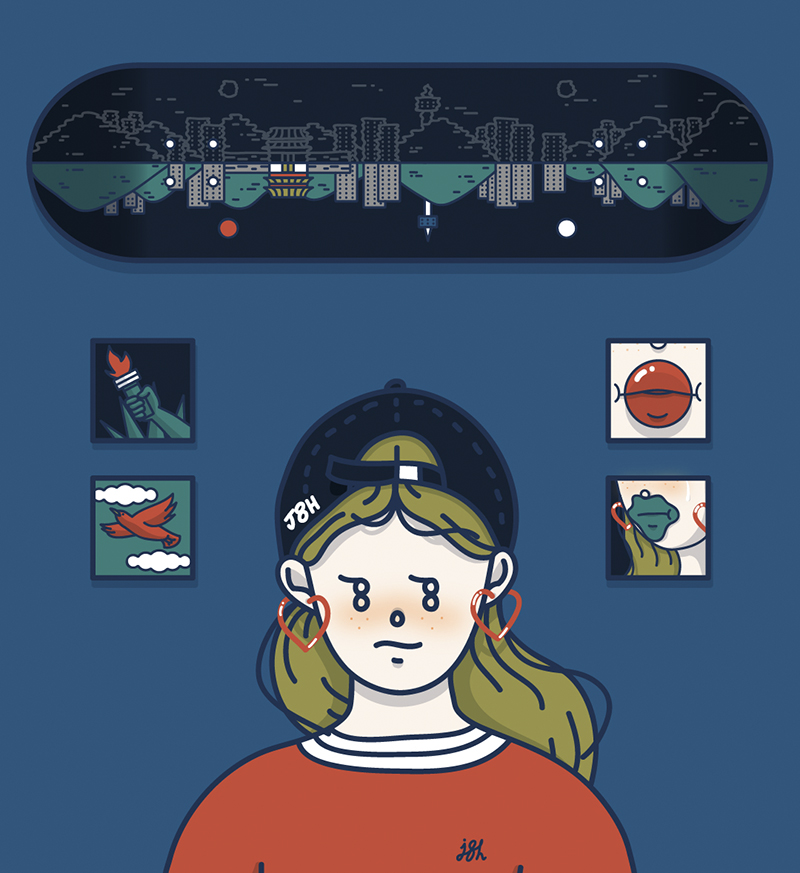 7. Where did you study?
I majored design in university, Republic of Korea. 한국에 있는 대학에서 디자인을 전공했습니다.
8. Where do you see yourself in five years?
I am usually working personal works now, but I want to have a wide and huge experience through collaboration works with diverse fields and brands. Then, I believe that I will be a little bit grow more than now. 현재는 주로 개인적인 작업을 주로 하고 있지만, 다양한 분야와 브랜드들과 협업을 통해 더 크고 넓은 경험을 하고 싶습니다. 그럼 아마 지금보다는 조금 더 성장해 있지 않을까.
9. What about in ten?
I want to use my work so that people who see my paintings (including myself) can feel my thoughts with their hands. And, I hope make my brand based on my paintings with art directing and product design. 나뿐만 아니라 내 그림을 보는 사람들이 내가 담았던 생각을 손으로 직접 만질 수 있도록 작품들을 활용하고 싶습니다. 내 그림을 바탕으로 아트 디렉팅을 하고, 제품 디자인과 연결하여 나만의 브랜드를 만들고 싶습니다.
10. What do you hope to achieve with your art?
I've included pictures that I've thought, felt and wanted to talk about. However, I don't want people to take my intention as it is. I wish that the people will accept my works in various ways, with their different thoughts and values. 저는 그림에 제가 생각하고 느낀 것들, 말하고 싶은 것들을 담았습니다. 하지만 제 생각과 느낌을 그대로 받아 달라고 하기보다는, 사람들이 모두 다르게 생긴 것만큼 각자의 생각과 가치관을 통해 다양하고 새롭게 받아들여 주기를 바랍니다.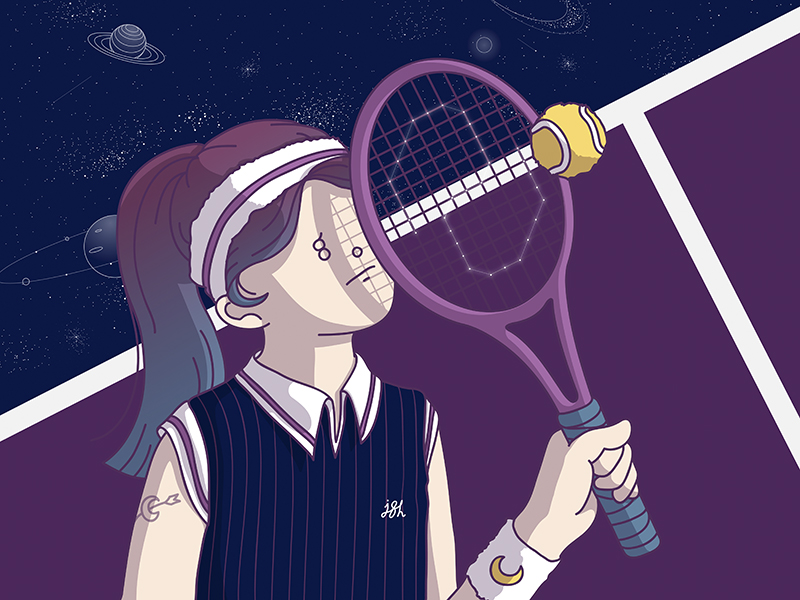 11. Now, tell us a little more about you as a person: what is your favourite food?
Sushi and all deserts. 초밥과 디저트.
12. Favourite book?
I'm sometimes reading a book of poetry. I like the simplicity of this, but I think that having an implicit meaning in the poem is similar to my painting. 요즘에는 가끔 시집을 읽고 있습니다. 1차원적으로는 짧고 간결한 점도 좋지만, 글에 함축적인 의미를 담고 있는 것이 제가 그림을 그리는 것과 비슷한 맥락인 것 같습니다.
13. Favourite genre of music?
I like all kinds of music regardless of genre. I listen to different kinds of music depending on my mood and what i'm doing. Nowadays, I often listen to ballad or pop music. 장르에 크게 구애받지 않고 모든 음악을 좋아하는 편입니다. 기분에 따라, 하고 있는 일에 따라 듣는 음악이 다릅니다. 요즘은 조용하게 들을 수 있는 발라드나 팝송을 주로 듣습니다.
14. What are your hobbies?
Watching exhibitions, especially art or design field. 전시를 보러 가는 것을 좋아합니다. 특히, 회화나 디자인 쪽.
15. If you weren't an artist, what would you be?
I might be a normal designer who went to normal work. Even if I don't paint, I think I would be designing something related to my major. 아마 평범한 회사에 다니는 디자이너? 그림을 그리지 않았어도, 전공과 관련된 디자인을 하고 있지 않을까 생각합니다.