Instagram:
@jinwooky
Naver:
blog.naver.com/jinwooky_art
1. What's your story? Where are you from?
Hello, I am an illustrator JINWOOKY from Korea. I studied a visual design at the university. Currently, I work at the company and also work as a freelance. 안녕하세요. 저는 한국에서 일러스트레이터 김진욱 (JINWOOKY)입니다. 현재 시각디자인을 졸업하고 회사와 프리랜서일을 병행 하고 있습니다.
2. Tell us about your aesthetic.
I try to express funny things happening in everyday life with my yellow cat, Jinnorang in the picture. I hope people will see my picture and laugh. 일상속 일어나는 재미난 일들을 동생인 진노랑(고양이)와. 함께 그림에서 표현합니다. 제 그림을 보면서 한번씩 웃음이 나왔으면 좋겠습니다.
3. What is your favourite medium and why?
I like to draw actual pictures with various materials, but there are many space constraints. Thus, I usually use the Photoshop and Illustrator, which can make a detailed expression. 여러 재료로 그림을 실제로 그리는 것도 좋아하지만, 공간적인 제약이 많아 현실상 포토샵과 일러스트레이터로 표현을 하고 있고, 디테일한 표현을 할 수 있어 지금은 이렇게 그림을 그리고 있습니다.
4. What is your artistic process like?
I take photographs of what's happening in my daily life and draw pictures with my yellow cat, Jinnorang. 일상에서 일어나는 일들을 사진으로 남겨 거기에 나와 진노랑(고양이)를 대입해. 재미난 그림들을 그리고 있습니다.
5. Who and/or what inspires your work?
I get a lot of inspiration from everyday life. People passing by, flowers blowing in the wind, etc. And I look at everyday colors carefully and take a lot of color that I can feel every season. 일상에서 영감을 많이 받습니다. 지나가는 사람들, 바람에 날리는 꽃 등. 일상의 컬러들을 유심히 보며, 그 계절마다 느낄 수 있는 컬러를 많이 사진으로 찍어 놓는다.
6. What role does art play in your life? How does it change the way you view the world?
I can express what I have been thinking in reality and in my mind as a picture, which makes me feel happy and fulfilling. 현실에서 생각만 하고 지나가던 일들을 내 마음데로 그림으로 표현할 수 있어. 행복하면서도 그리고 나면 무언가를 이룬거 같은 느낌이 든다.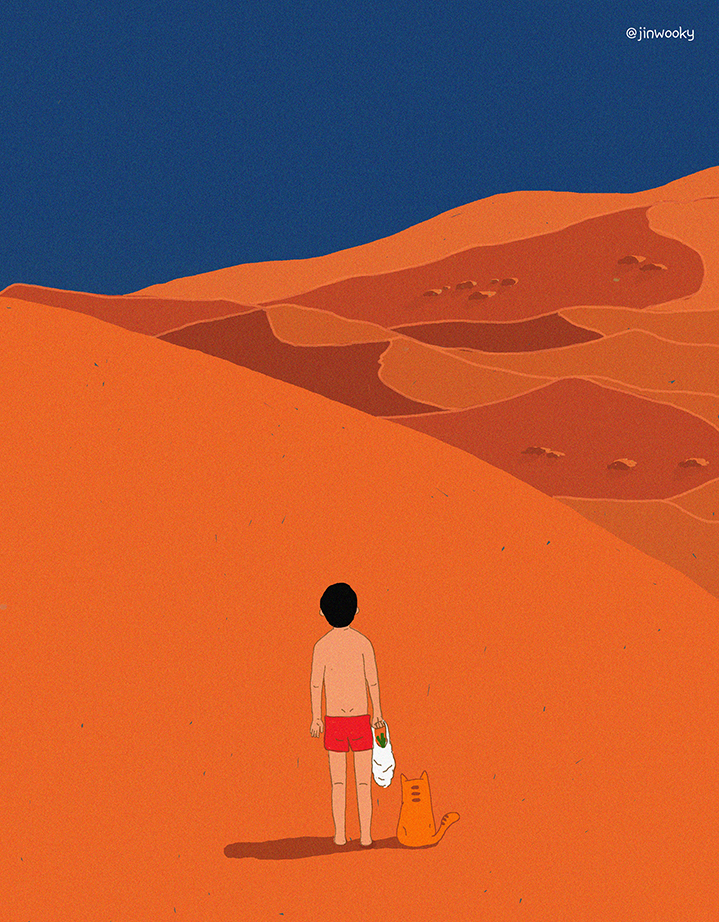 7. Where did you study?
I like to paint originally, so I started using the Photoshop and Illustrations at home as a hobby. Personally, It seems that painting is more about how you express your thoughts rather than studying 원래 그림 그리는 것을 좋아해 집에서 취미로 포토샵과 일러스트로 그림을 그리게 되었다. 그림은 공부보다는 자신의 생각을 어떻게 표현하냐가 맞는거 같다. 그림은 못그리고 잘 그리고가 없다.
8. Where do you see yourself in five years?
Five years later, it seems to be the head of a family and to express my daily life as a picture. Now, I and the yellow cat. Jinnorang are represented, but not only the two but also the family will be in the picture. Later, I plan to have a short 2d / 3d animation with my drawings. 5년뒤에는 어느 가정의 가장이 되어 나의 일상을 그림을 표현하고 있을꺼 같다. 지금은 나와 노랑이(고양이)를 표현하고 있지만, 그때는 둘뿐만이 아닌 다른 가족들도 그림에 있을 것 이다. 그리고, 내 그림으로 짤막한 2d/3d 애니메이션도 준비 중 이다.
9. What about in ten?
Until I can not see my eyes, use my hands, and think, I will be drawing a picture. 눈과 손, 생각들을 못하기 전까지는 그림을 그리고 있을 것이다.
10. What do you hope to achieve with your art?
I want to keep painting happily. And I hope that many people sympathize with my painting and have a happy energy. 첫번째로는 계속 행복하게 그림을 그리고 싶고 두번째로는 내 그림을 많은 사람들이 공감하며 즐겼으면 좋겠다 세번째로는 내 그림을 보고 행복한 기운을 받았으면 좋겠다.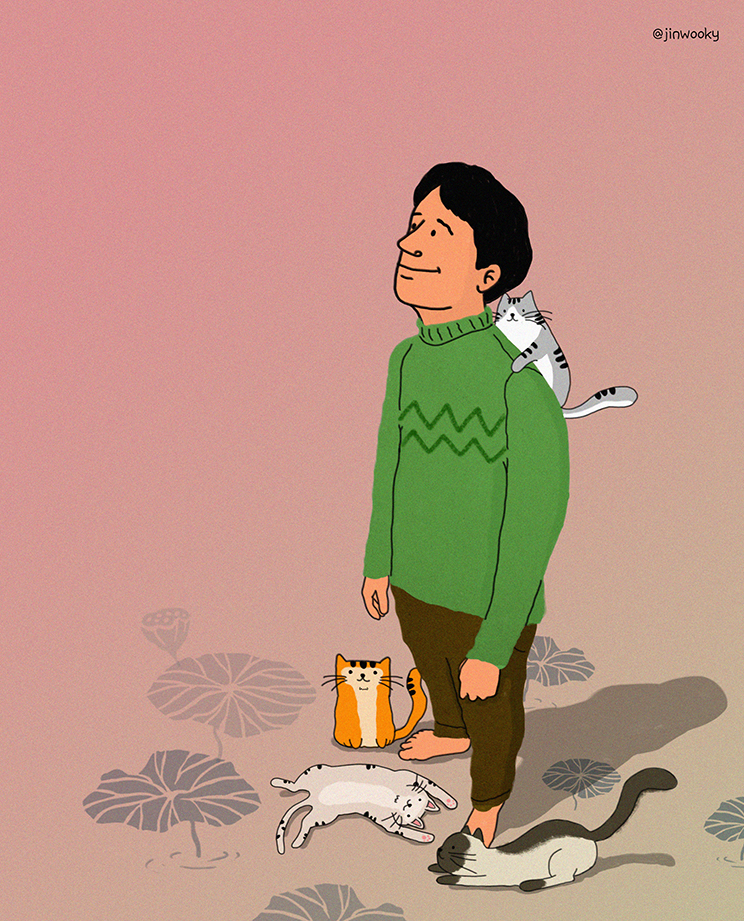 11. Now, tell us a little more about you as a person: what is your favourite food?
I like fruit juice. 과일 쥬스를 좋아한다.
12. Favourite book?
In fact, I see a lot of movies and animations rather than reading books. 책을 잘 읽지 않는다. 영화와 애니메이션을 많이 본다.
13. Favourite genre of music?
I like shiloh dynasty infused mix. Lofi music.
14. What are your hobbies?
I like movies and music, so I watch and listen all day. Nowadays, my hobbies are collecting nag champa incence. 영화와 음악을 좋아해 하루종일 보고, 듣는다. 아! 요즘 취미는 나그참파 인센스스틱을 모은다.
15. If you weren't an artist, what would you be?
I do not know what I would be, but it seems to have become a craftsman. 어떤 것인지 모르겠지만 장인이 되었을 것 같다.