Instagram: @jirayu_koo
Website: www.jirayukoo.com
1. What's your story? Where are you from?
Hi, I'm Jira a Bangkok based artist/ illustrator who works under "Jirayu Koo" name. I started out as a graphic designer in Advertising agency before got a chance to work on editorial illustrations for some fashion magazines on my spare time. I remembered that I felt in love of the freedom and openness of making illustration which was far different than working as a graphic designer at the time. Later on, I went to study in London where the whole other world of arts had opened to me. Over there I can see all possibilities of making illustration for a living and becoming a full time illustrator. So I started to gather my previous illos, made some more and built my own portfolio. Submitting my works to wherever possible as well as contacting some artist agencies and —long story short— I never stop working ever since (over 10 years now!)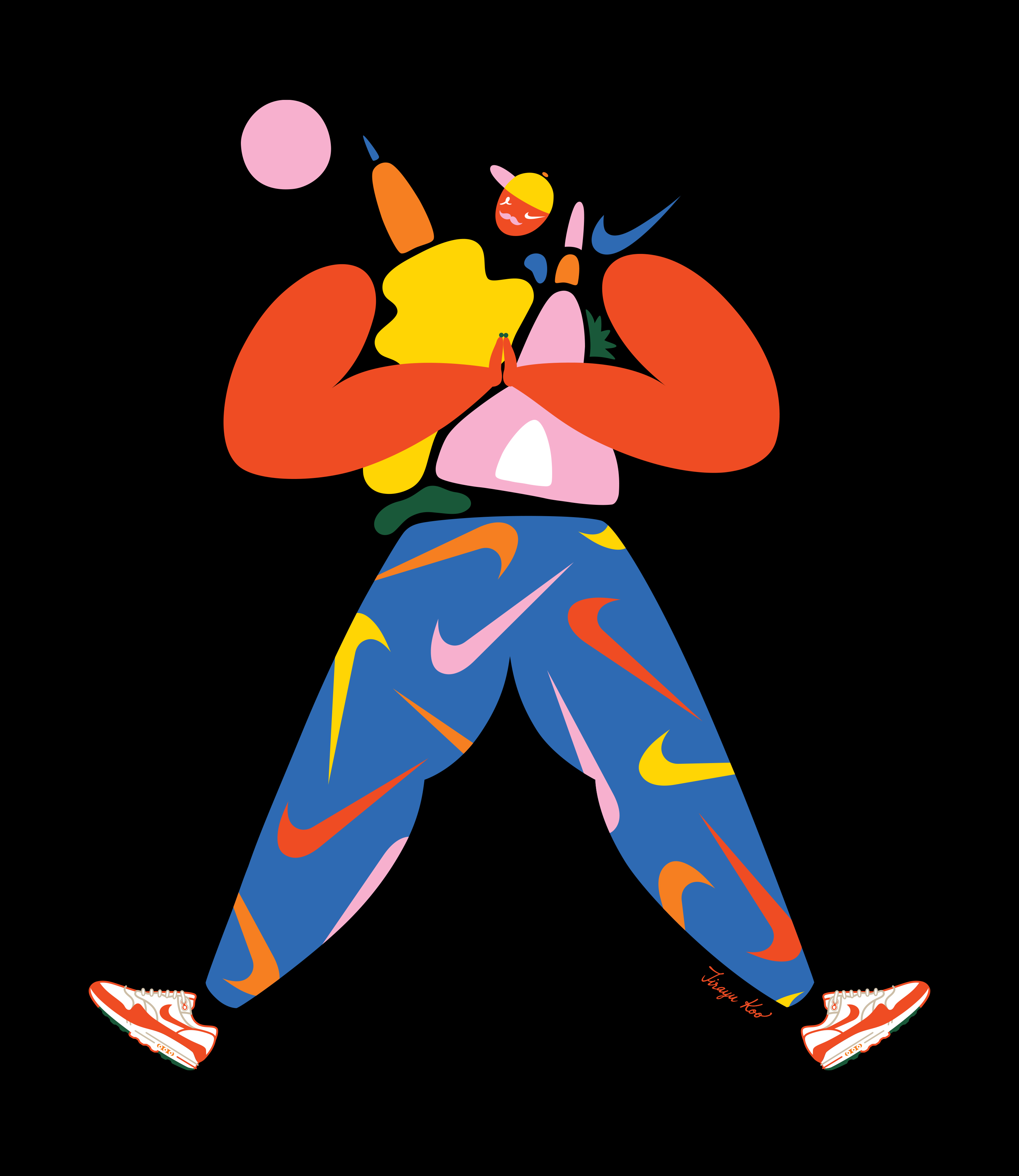 2. Tell us about your aesthetic.
I enjoy making positive visual inspired from all things around with playful shapes and vibrant colours combination. The roly-poly characters, called "Glom-Glom" in my work are me in different versions and that version of me is always seeking an optimistic side of all matters in life. That's why I wanted to celebrate it by creating Glom-Glom characters and tell stories through them. I guess it's my very own way of dealing with this hectic world by using positive thoughts and colourful visuals against the ugliness that get crazier these days.
3. What is your favourite medium and why?
I work between digital and analog, depends on the project and my feeling at the time. Often I might work solely on computer or iPad Pro but sometimes I just draw and paint on canvas and stuff while some other times, I combine both together. I also love to mix painting with collage for a change.
4. What is your artistic process like?
I always kick started my design with pencil sketches, lots of them until I got the one I really like to move on with. Then I will start drawing whether by hand or digitally before choosing the colour pallet for the design, usually I will make 3-4 colour combo options then pick the one I feel it connect with the whole picture the most.
5. Who and/or what inspires your work?
Literally everything. I rather look at things around me to find inspirations than search for design related stuffs online. I might flip through a magazine and found some interesting poses from fashion photography and that can inspire my character posture. Watching a movie and see some captivating scene or even catching a colour combination from a random things on the street - these things can inspire me in a certain way to create my own artwork. Music also plays a big role in my creative mood, there'll be tunes playing while I am working always.
6. What role does art play in your life? How does it change the way you view the world?
Art for me is a great way to express my inner thoughts and ideas out to the world. I can tell some stories through them that otherwise can't put into words. It's also influencing the way I dress, how I live, where I would like to be, people I love to be around with and every other big and tiny aspects in life.
7. Where did you study?
I graduated in communication arts and design from King Mongkut Institute of Ladkrabang, Thailand before went to studied Creative Media Programme at London College of Communication, University of the Arts London.
8. Where do you see yourself in five years?
Still making arts is one thing I can be sure of. Travel a lot. Maybe have my own brand of lifestyle products and get myself a cat or two!
9. What about in ten?
Making arts still. Travel even more, eat healthier and be able to support and be more useful at some point for our local younger creative community.
10. What do you hope to achieve with your art?
I want my art to be friend with audience, I want them to feel comfortable and happy when observing it. I hope that the positive energy from my art can connect people either together or to their inner selves even without any words. Or at least, bring joys and smiles to if not everyone then some.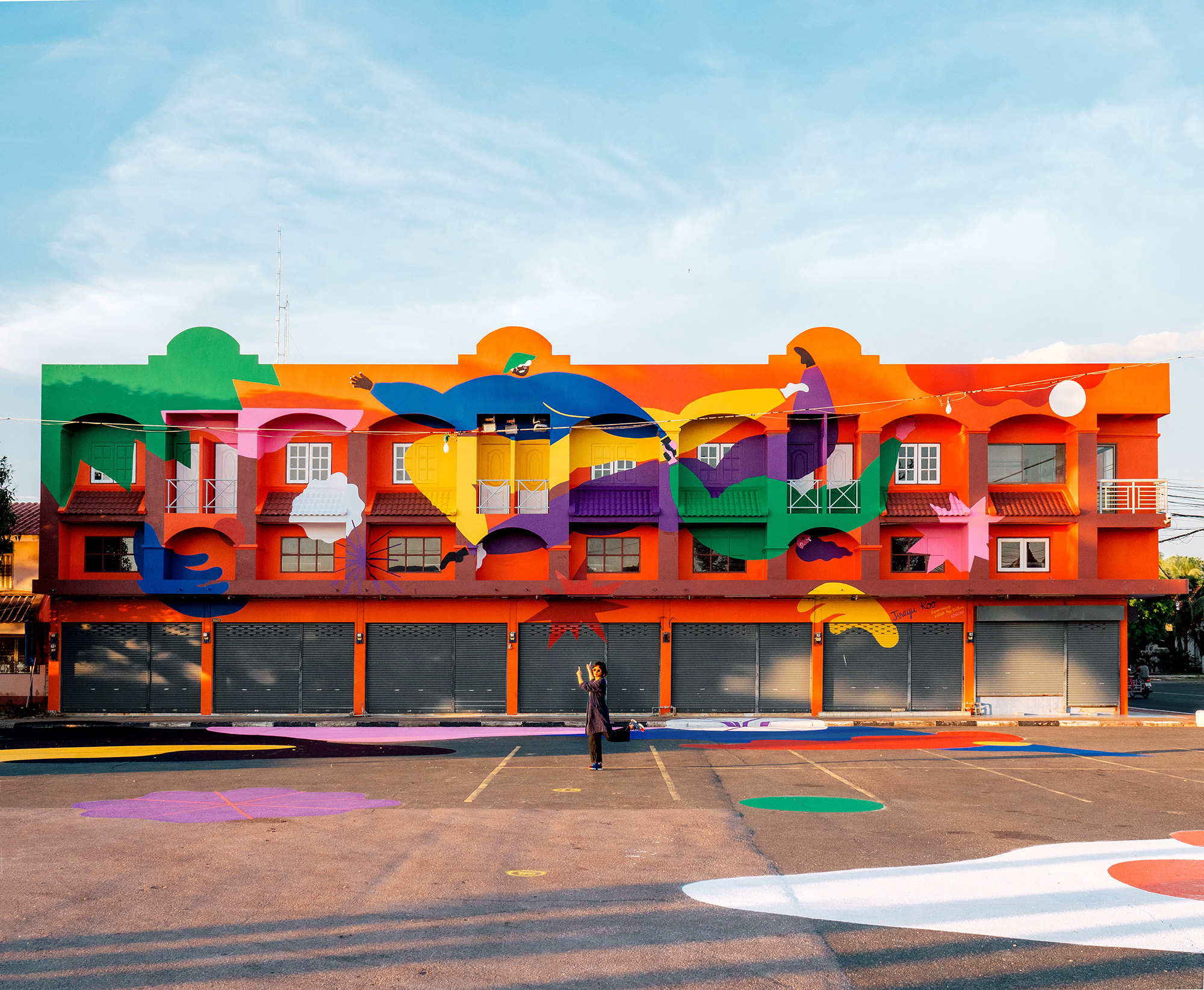 11. Now, tell us a little more about you as a person: what is your favourite food?
Thai food obviously, especially authentic Thai curry and Namprik. But I actually enjoy all kind of food, living in one of the biggest melting pot like Thailand has shaped me to be a very open-minded person particularly when it comes to food!
I'm a night owl rather than a morning person and a dry martini with a lemon twist enthusiast who always love having music constantly playing while working. (Mainly BBC Radio 6 Music).
12. Favourite book?
I'm not really a reader to be honest, but currently hopping between Table Talk : A.A. Gill and What Caesar Did for My Salad by Jack, Albert. Yep all food related.
13. Favourite genre of music?
Brit pop was a reason that made me flew all the way from Bangkok to study in London, so it always has a place in my heart. But for now, I must say I can enjoy all kind of music and I can see myself find pleasure in hip hop, spoken words and soul more lately too.
14. What are your hobbies?
As I live in Bangkok and the best thing the city has to offer is food! And I mean all kind of food and culinary. From street food to fine dining and they are plenty of choices to try on and that made me a happy person as I love eating, trying and learning about the stories behind all dishes. My love of eating goes on and I even have another Instagram account 'WeAreKinKin' with my partner that dedicates to food, places and everything in between. It's a kind hobby that brought me so many creative opportunities too.
15. If you weren't an artist, what would you be?
A sommelier perhaps, only if I will be able to remember all type of grapes, let alone pronounce them correctly...