Instagram:
@jodepace
Facebook:
www.facebook.com/joannedepace
1. What's your story? Where are you from?
Hello, I'm Jo, an artist and surface pattern designer from Hampshire, UK. I have always been a creative person, constantly drawing and painting from a very young age. I have a degree in Illustration but I realised that by the end of my degree, that traditional Illustration wasn't for me. I found myself focusing on my fine art practise whilst I worked a day job as a librarian, but after I had my third child I realised that it was my chance to claw back some time to follow my true passion…Surface Pattern Design. I looked at my children and knew that I had to be true to myself in the hope that I will inspire them to follow their dreams too. So, I quit my day job and a spent a long time teaching myself how to use Illustrator, completing some online courses, finding my tribe and learning everything I could about designing patterns. Now I run a small design studio working on everything from logos and wedding stationery, to patterns for textiles and private commissions. One of favourite projects this year was for the lovely folks at Festival Postcards (@festivalpostcards) designing their official 2017 wooden postcard for Glastonbury Festival.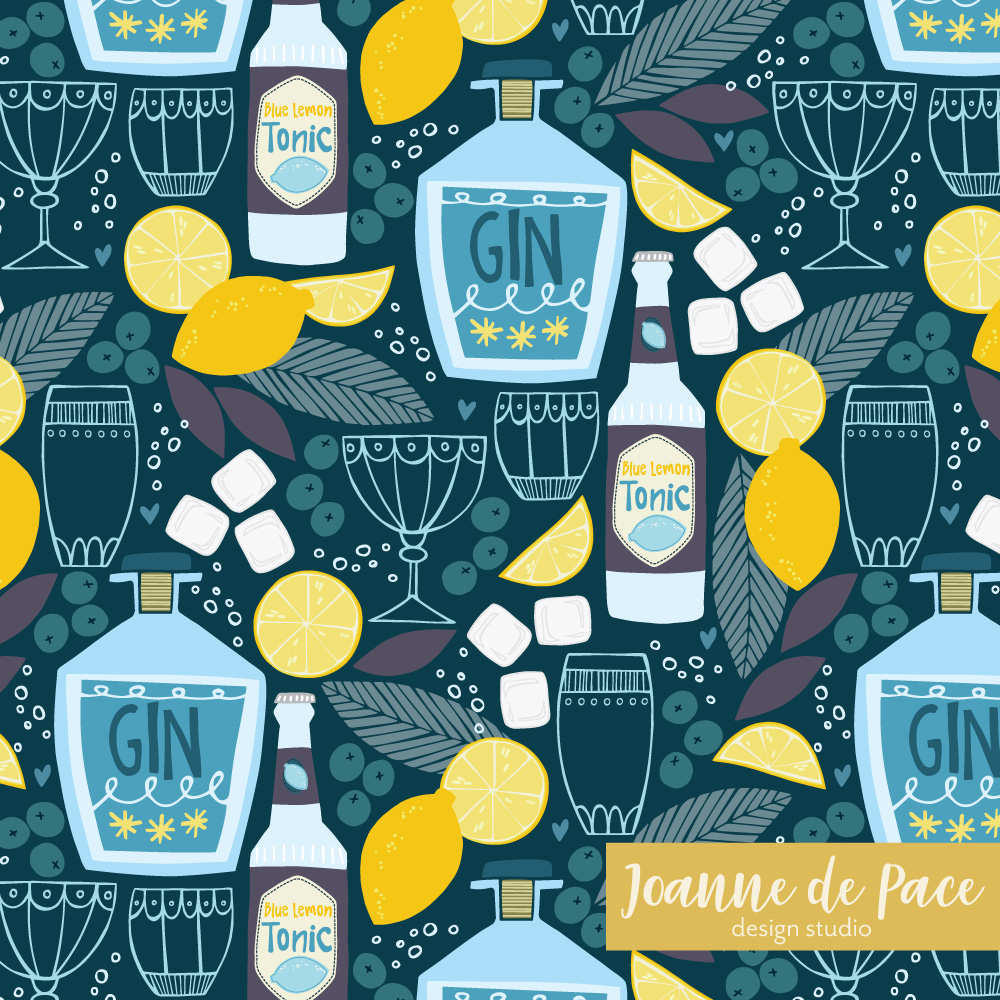 2. Tell us about your aesthetic.
I discovered my 'style' at the very end of my degree. It took me a long time to come to terms with how graphic it is. When I first started out, I tried to change it so that my work 'fitted in' with other styles that seemed more 'on trend', I tried to create patterns with watercolours for a while but I kept coming back to this emphatic, bold way of creating work and actually, it is just what comes most naturally to me…it's mine. I love using colour, texture and lots of little details in my work and the more I create and the more I hone my craft, the more I find my aesthetic changing and developing along with me. As I've gained confidence I've also found myself getting braver with my work, so now I'm more willing to try drawing new things that in the past I would have felt too intimidated to try. You have to, at some point, decide to be brave and stop worrying about what other people think of your work. You just have to be true to your own voice.
3. What is your favourite medium and why?
I draw every day and although I own many, many sketchbooks, I often find myself just sketching with an HB mechanical pencil and some plain white copy paper! I have pages and pages of drawings that I really should get organised in some kind of way.
4. What is your artistic process like?
Aside from the daily sketching, I also love to paint, usually with watercolours and gouache. Painting is very much my meditation, I love to mix paint, the simple act of picking that colour up with my paint brush and watching it be absorbed by the paper, it's very relaxing for me and it's here that I really give myself permission to try new things. I spent so many years at school and university, making my sketchbooks look perfect, every page had to be a masterpiece. One day I realised that nobody else was going to see what was on those pages and that actually I was missing out on the freedom of experimentation. Since then, I let my painting be my escape from my 'work' which is my design business. Very often, something I have painted then gets developed in Illustrator as a pattern. For instance, I have just finished my first '100 Days' project, where you commit to following a creative theme for 100 days and post your work on social media. I chose to work with the colour blue, and filled two sketchbooks with blue inspired paintings and collage. Now, I'm going through that work and picking out pieces that have potential to become more developed patterns. Once I have an idea for a pattern, I translate that painting or sketch into black and white motifs, scan those into Illustrator and go from there. I'm entirely comfortable that I have a very painterly side to my creative self and a side which is drawn to flatter, graphic design, it gives me so much to play with.
5. Who and/or what inspires your work?
Inspiration is everywhere! I have a habit of stopping people on the street to take a photograph of their clothing because it features a lovely pattern! Obviously, you can't beat Mother Nature's ability to show you some amazing things. I love rummaging around antique shops for vintage textiles and clothing, sometimes it's just a colour I see in a photograph, sometimes it's a shape. My mind is always thinking up possible ideas for new work and there is a sketchbook and pencil case in my handbag at all times!
6. What role does art play in your life? How does it change the way you view the world?
I feel very lucky to have always had art in my life. I was taken to art galleries, museums and exhibitions when I was growing up. I was shown work by such a diverse collection of artists, masters like Matisse, Rothko and Van Gogh, to contemporary work by Tracey Emin and Damien Hirst. I also loved looking at picture books, so illustrators like Shaun Tan were incredibly inspiring to me. I see being creative as a gift, it allows me to tell my stories in a truly unique way. My daughters are also all very creative. They put so much of their self-expression into every crayon covered piece of paper, every glitter covered homemade card and Minecraft building! I love being in my studio with the kids while we are all just sitting making art happen, it's a beautiful connection to share with them. I love that art allows me to show the world something unique and also receive something in return. Art is a both a mirror and a window.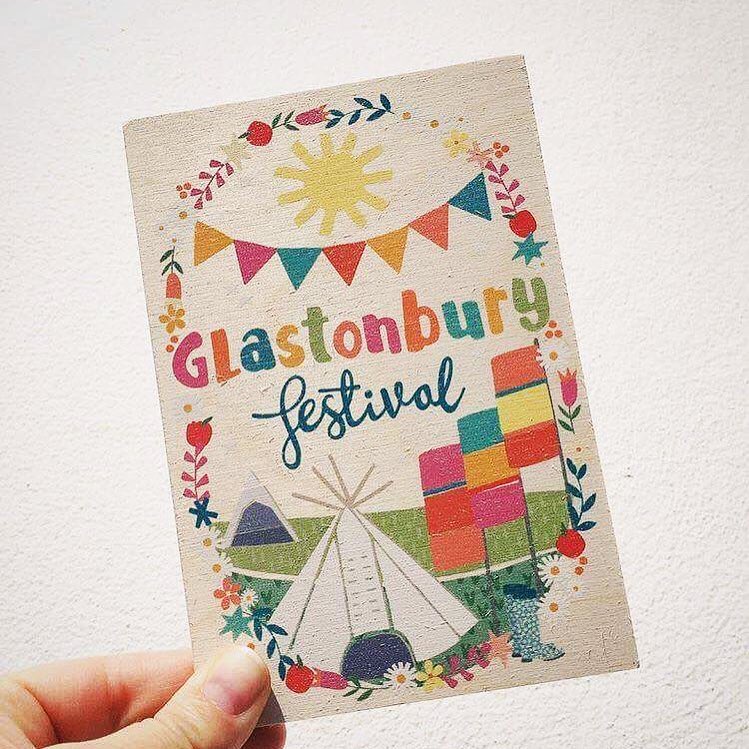 7. Where did you study?
I completed my art and design foundation year and the first year of my degree at Middlesex University in North London. In 2000 I moved out to New Zealand and completed my degree at Massey University. I returned to the UK in 2006 and started my fine art practice the following year. Once I figured out that Surface pattern design was going to be my focus, I enrolled in Rachael Taylor's Make It In Design courses which were really helpful.
8. Where do you see yourself in five years?
My focus right now is growing my business. I'm really enjoying developing my portfolio and seeing my work on products, so that's a direction I'm keen to keep moving in.
9. What about in ten?
In the Bahamas, on a yacht, sipping a cocktail, having built a highly successful surface pattern design business!
10. What do you hope to achieve with your art?
For myself, I want to find purpose in what I make. For my children, I want them to see me doing something every day that I truly love, and I want them to feel inspired to follow their own paths too. For my wider audience, I simply hope that my work makes them smile, that it provides a little piece of joy in their day.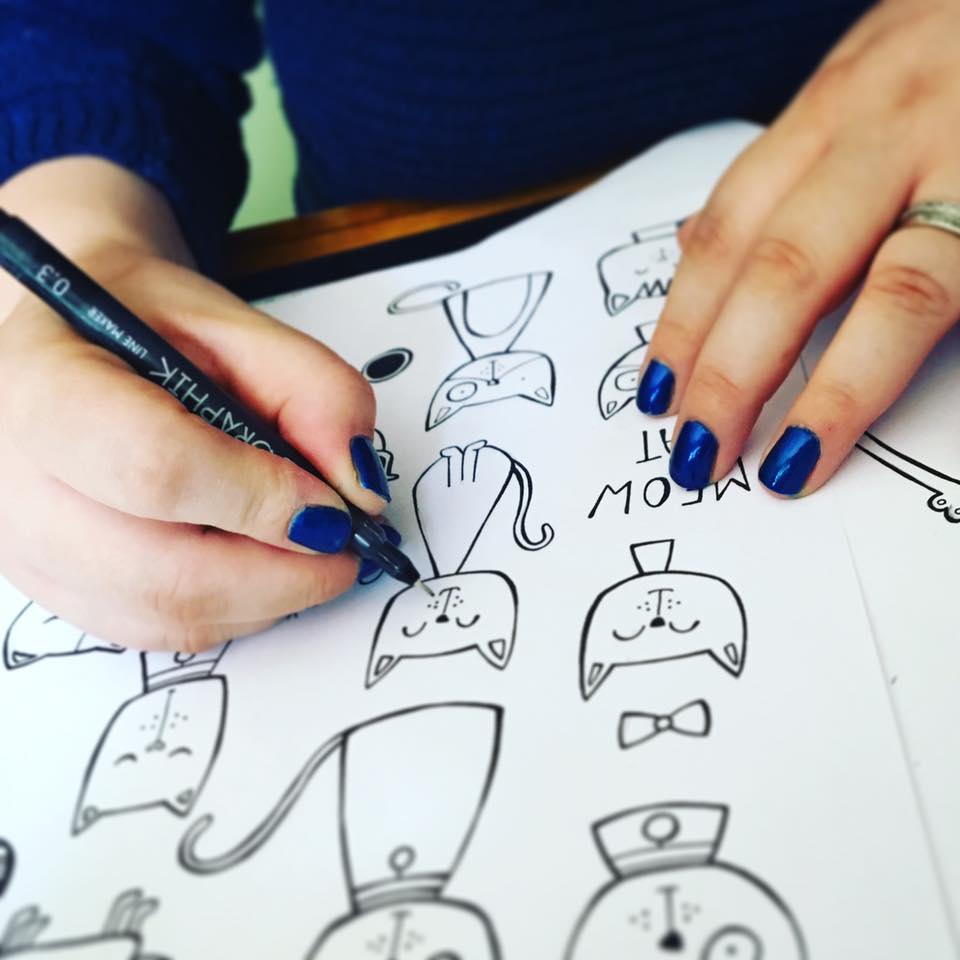 11. Now, tell us a little more about you as a person: what is your favourite food?
When I was little, I didn't appreciate how much love my Mum put into cooking for all us. Now, all the things that I rejected as a child, I love and, having children of my own, I understand how much effort she made for us. My Mum cooked us roast lunches every Sunday, she made beautiful pies and cakes, and of course her chicken soup cures everything from common colds to utter heartbreak! I'm still not allowed the recipe!
12. Favourite book?
I'm a big reader and can't possibly pick just one. But, 'Brave New World' by Aldous Huxley, 'Never Let Me Go' by Kazuo Ishiguro and 'Shutter Island by Dennis Lehane are in my top 10 list.
13. Favourite genre of music?
Depending on what I need to focus on, my playlist changes. Sometimes I need motivation, other times it's calm. I'm currently listening to Nothing But Thieves, Oh Wonder and Christine and the Queens. I actually love listening to Desert Island Discs on BBC Radio 4, it's a wonderful insight into the lives of some very interesting and often highly creative people.
14. What are your hobbies?
I like to read, and walking in the beautiful woodland by our house. There's a long list of hobbies I'd love to explore once my family is a little older and my business is more established, such as: travelling, kayaking, learning to use a sewing machine and writing the book that's been in my head for the last five years.
15. If you weren't an artist, what would you be?
I like to think I'd work for a charity that helped people to change their lives for the better. The world would be a better place if we all just looked after each other a little more.