Instagram:
@joey____bates
Website:
www.joeybates.com
1. What's your story? Where are you from?
I am from the Pacific Northwest of the United States, Seattle, WA to be specific. I am the middle child of three to a psychotherapist and a social worker. I've been serious about making art since I was 5 years old and found out that it was something people did for a living. I dabbled in puppetry, comics, and illustration before deciding to be a "fine" artist. I left Seattle in 2001 for Art school in Michigan for four years and ran right back to Seattle. In 2013, I met my partner in all things and we eventually got married. My wife, Amanda, is a Swedish to English translator. For the past 4 years, I have been making art full time. In 2018, we moved to Stockholm, Sweden. We have a dog named Kevin O'Connor and a surprisingly quiet life here.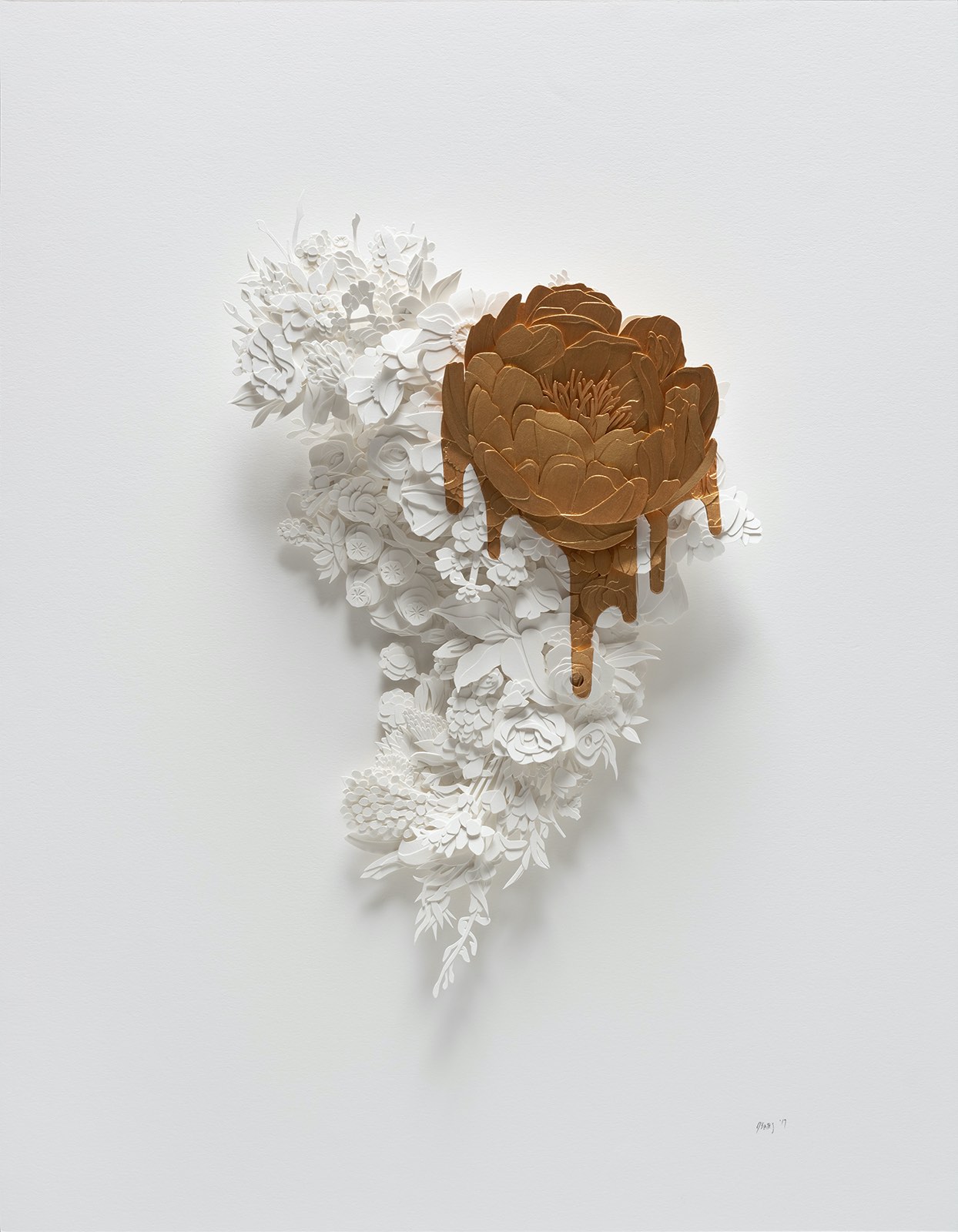 2. Tell us about your aesthetic.
I like to think of my aesthetic as meticulously organized chaos. My work focuses on disruption and energy dispersal. I am drawn to rich lush, abundant imagery.
3. What is your favourite medium and why?
I really enjoy working in cut paper, but I'm truly in love with mark-making in ink. I like to draw a lot despite what I'm known for. Repetitive tasks are my jam.
4. What is your artistic process like?
For my current series of explosion sculptures, I start everything by looking at images of explosions. From there, I make a drawing/ guide for my sculptures, mapping out the levels of a piece and the underlying structure that will support the cut paper flowers and objects. I spend anywhere from a few weeks to a few months on each piece. I use paper mâché and paper layering methods to build the work.
5. Who and/or what inspires your work?
I am inspired by nature especially flowers, volcanic explosions, mountains, and rock formations.
6. What role does art play in your life? How does it change the way you view the world?
At times, art is everything. It may sound hyperbolic, but art and the pursuit of making it has saved my life at a few points along the way. Experiencing art has opened up my interpretation of the world and how I view it. I think the most important art furthers empathy in an individual for people who have had entirely different experiences.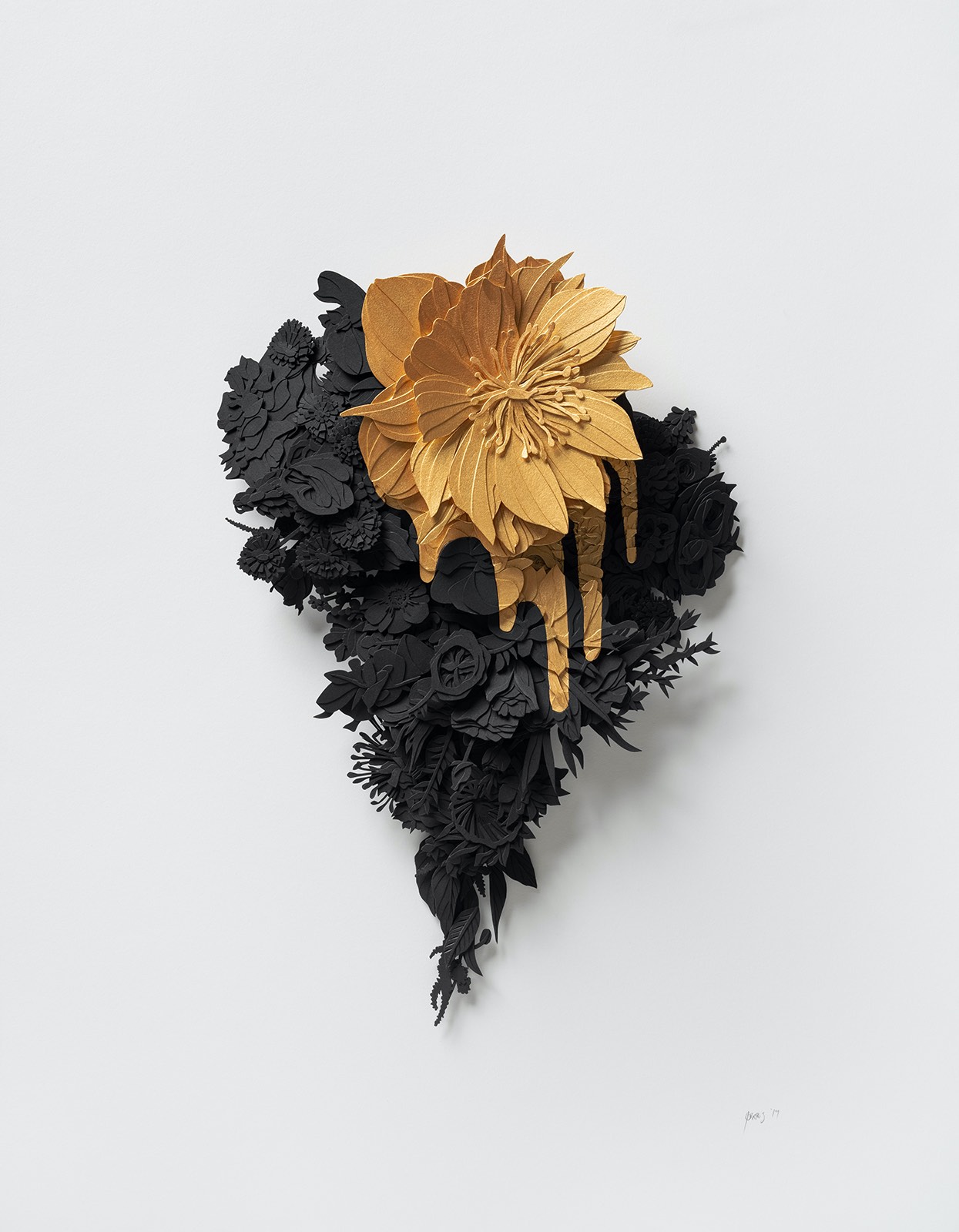 7. Where did you study?
I received my bachelor's degree in fine art at Kendall College of Art and Design in Grand Rapids, Michigan back in 2005. I'm considering pursuing my master's degree in fine arts here in Sweden, possibly next year.
8. Where do you see yourself in five years?
I believe I will still be here in Sweden, hopefully with some more gallery representation and selling more artwork, at least that's what the goal is.
9. What about in ten?
In ten years, I hope to be making much larger work. I don't know about everyone else, but I feel very uncertain about the future and what it will look like. I'm hoping that our environmental stewardship as a species starts to shape up, otherwise I think we will all be feeling the effects of a warmer world even more so than we are feeling right now. Uplifting? I know!
10. What do you hope to achieve with your art?
I hope to continue making connections with people and sharing my work with a broader audience. With my paper sculpture, I would like to help elevate the medium and keep making work where people wonder how on earth it was made.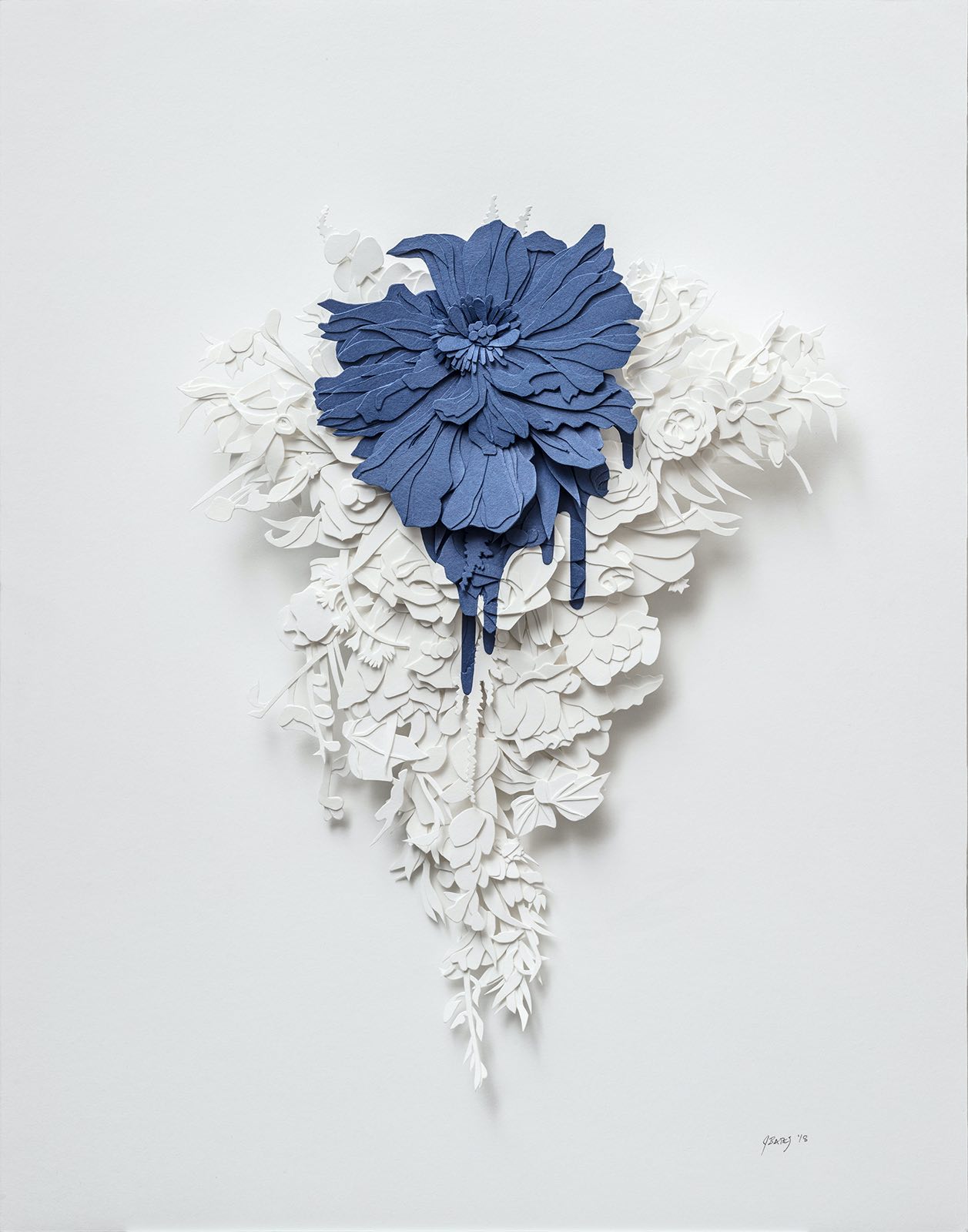 11. Now, tell us a little more about you as a person: what is your favourite food?
Ha! I'm terrible. I eat to keep living. My wife and I are plant-based, mostly vegan and I love her lasagna. When I break vegan, carrot cake takes the cake. Especially carrot cake with frosting not using cream cheese (I know this is a controversial take on the matter).
12. Favourite book?
Illusions: The Story of a Reluctant Messiah by Richard Bach. This book has somehow followed me through life from camp when I was a kid to being reintroduced to it as a teenager to relying on it when times have been tough in my adult life. It's a bit cheesy, but I'm a bit cheesy. My favorite author is Denis Johnson – super dark and gritty.
13. Favourite genre of music?
I think my friends would all say "sad bastard music" I really enjoy wallowy music on the melancholy side of things. I'm listening to Sun Kil Moon at the moment. I enjoy a wide range of artists here are some of my tops: Sufjan Stevens, Built to Spill, Stew, Nada Surf, Neko Case, Laura Viers, Fleet Foxes, Grizzly Bear, Moses Sumney, Sam Amidon.
14. What are your hobbies?
My wife claims I do not have hobbies. I really enjoy building with Legos, turning off my brain and building something with instructions. I also enjoy playing baseball on the PlayStation 4, but I'm no gamer.
15. If you weren't an artist, what would you be?
A patent clerk. Just kidding. I'm pretty resigned to being a maker. A lot of people have entered adult life with multiple plans or back up vocations. I have made it so all roads lead to making art and any job I take outside of art has been there to support me while I make art. My wife and I have talked about how art-making is more of a compulsion than a choice.