Instagram:
@johannastark
1. What's your story? Where are you from?
I work as a freelance illustrator and graphic designer, and sometimes copywriter. A couple of days a week I work as a in-store visual merchandiser for a lifestyle brand. Doing different stuff keeps me inspired and it's also really hard to get bored, which I actually think I've never been.. I grew up in a really small village in the south of Sweden, kind of in the woods, but I also lived a couple of years in the US (Chicago) and in northern Italy as a kid. After some moving around as a grownup, I finally settled in Malmö (south of Sweden, connected to Copenhagen with a bridge!) some years ago. I would say that I've never felt this at home in a city before as I do here! But I do try to spend at least two months a year in some warmer place in the winter (even if Malmö is great Sweden is what it is in the winter - GREY). So wintertime I pack my drawing stuff and a surfboard and go some nice warm place, like Sri Lanka!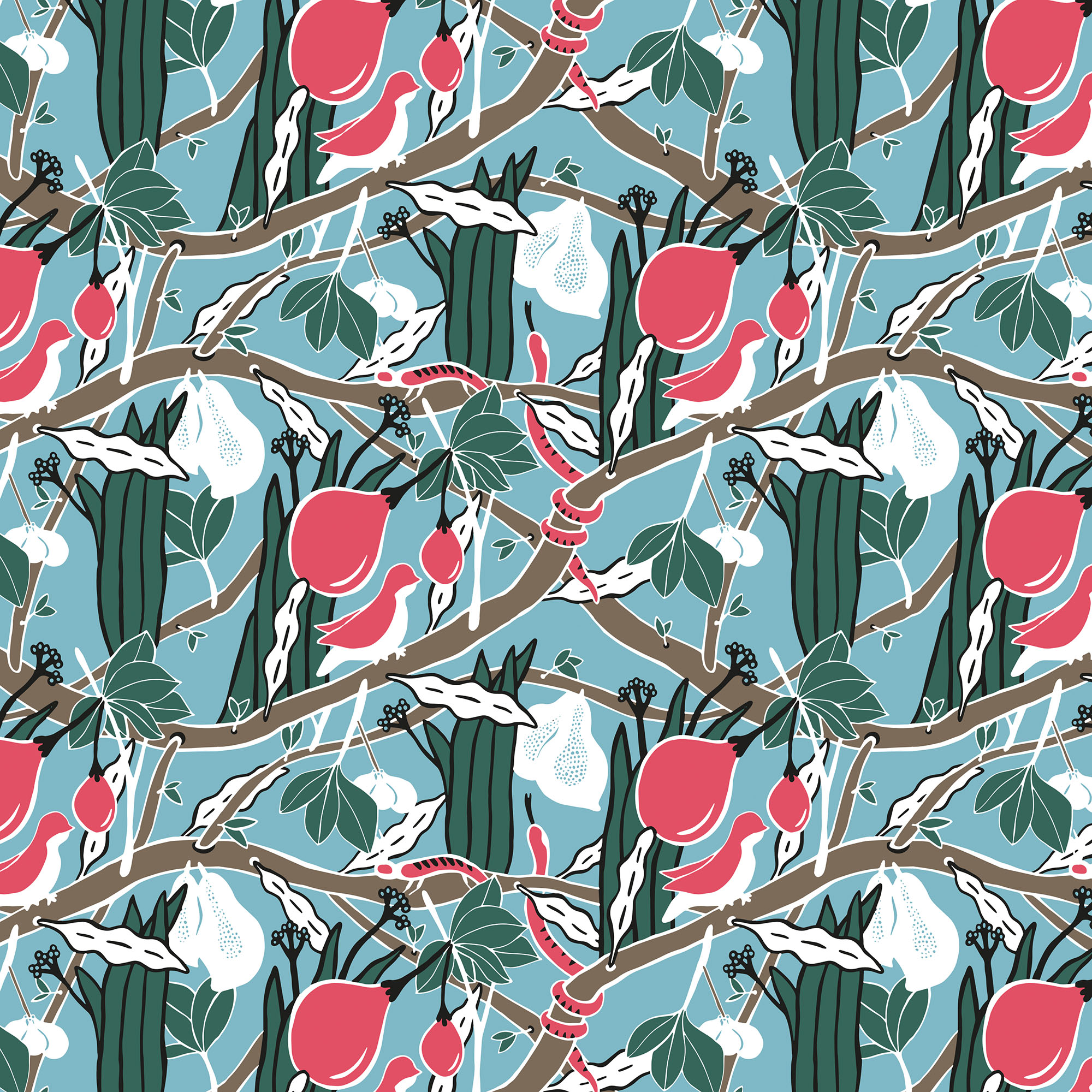 2. Tell us about your aesthetic.
I've always been kind of obsessed with nature and animals, the different seasons and how everything changes but always comes back again.. Some years ago I started working with patterns, and really felt that I found my thing. Sometimes I find it easier to work with patterns than "just" a picture, cause then it has a different purpose, the pattern has to "work", and for me that aim or goal helps me to get the job finished. So when I don't do commissioned work, I usually end up doing patterns..
3. What is your favourite medium and why?
For the moment probably gouache, and I love painting/drawing by hand, so I usually use the computer as little as possible. From time to time I turn some of my illustrations into silkscreen prints, which I also think is a superfun process. The ability to reproduce your own work in that way by hand is really cool, and also a mindful process for the brain, which is so used to just being able to press print and do everything as fast as possible..
4. What is your artistic process like?
When I do my personal work, it often starts out with just a small thought (often when I'm traveling, or in the forest where my parents live), it could be like "It would be fun to make a pattern of common everyday stuff that you don't really notice otherwise". And then I make some sketches of that stuff in whatever medium I like best at the moment (it could be marker pens, watercolor, or like now, gouache), and eventually, maybe when I come back home, I start putting it together to a pattern or an illustration. I actually find it quite liberating to not be in art school anymore, cause there a motivation for some art couldn't just be like "I just thought these things/leaves/dogs/plastic bottles looked nice together." So many other things in life are serious and excluding, and personally I don't believe that art should be one of them. Anyway, I try to have fun and do something that interests me in that moment, I've learned that this usually gives the best results for me.
5. Who and/or what inspires your work?
So many things.. The dog me and my boyfriend used to have who sadly passed away last year, other dogs, at the moment different shapes and colors of leaves, music videos (I don't understand why that is not a big thing now like it was when I grew up?), old fabrics... How animals and plants cooperate in the world (even though they sometimes eat each other).
6. What role does art play in your life? How does it change the way you view the world?
I think it makes my life more fun - sometimes just the thought that you could actually draw whatever you want, makes me ridiculously happy. But sometimes it of course also can bring me down since it can be quite tricky making a living out of it. But most of the time I'm really grateful that I've chosen a life where art is a big part of it. Since I often look for inspiration in everyday life, I think it makes me appreciate small things that might not even look nice at all to someone else..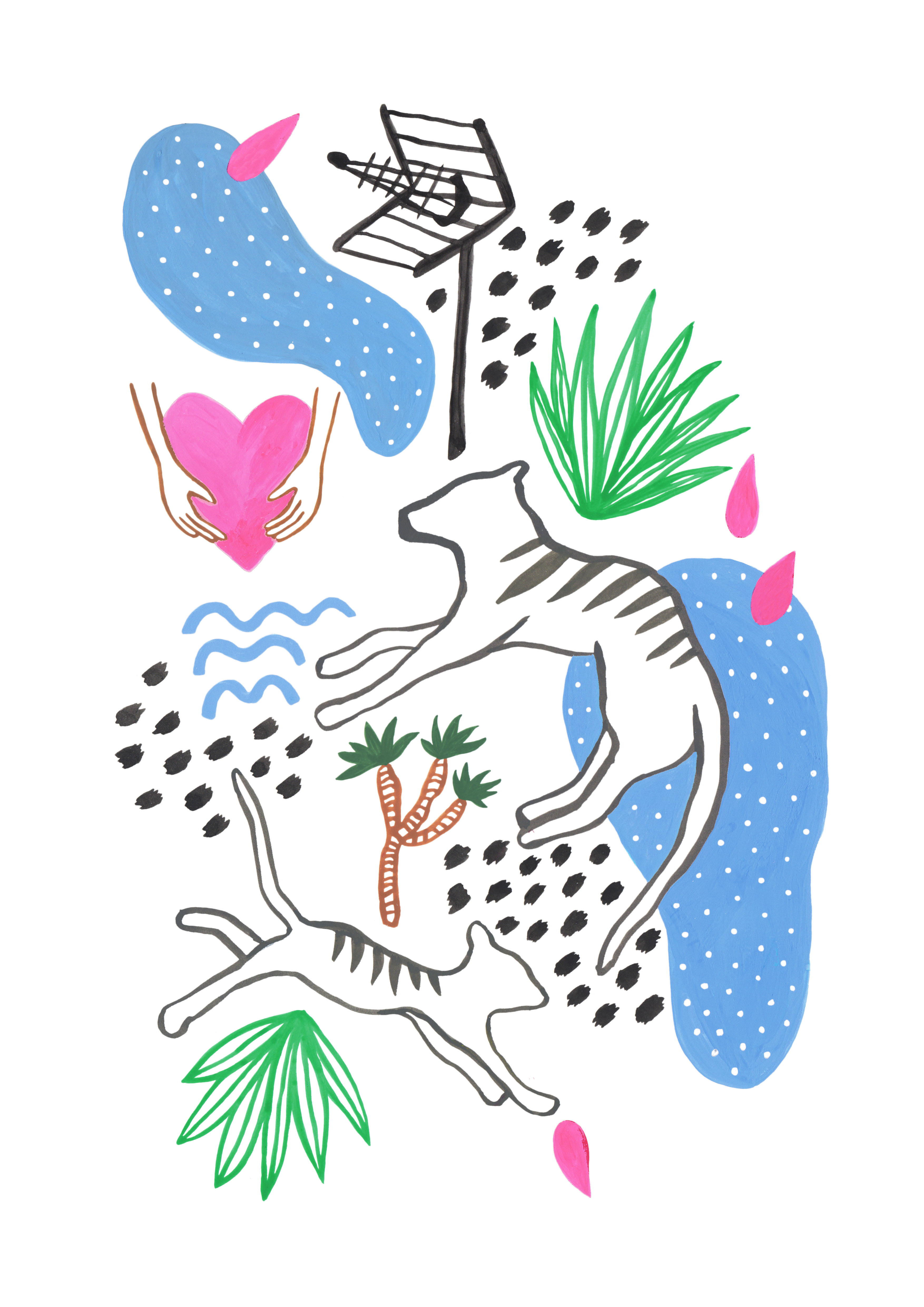 7. Where did you study?
The Royal Danish Academy of fine arts, School of Design in Copenhagen
8. Where do you see yourself in five years? Working in an agency?
I see myself working with my own company, like I do today, but with more clients and more of the type of work I enjoy doing the most (patterns if anyone missed that..:) And I would love to share a nice big studio with some friends!
9. What about in ten?
The same! But maybe with an assistant that does the less fun work..
10. What do you hope to achieve with your art?
I guess to be able to make a living out of it, and hopefully to once in a while make someone who sees my work happy. I don't think it's more complicated than that.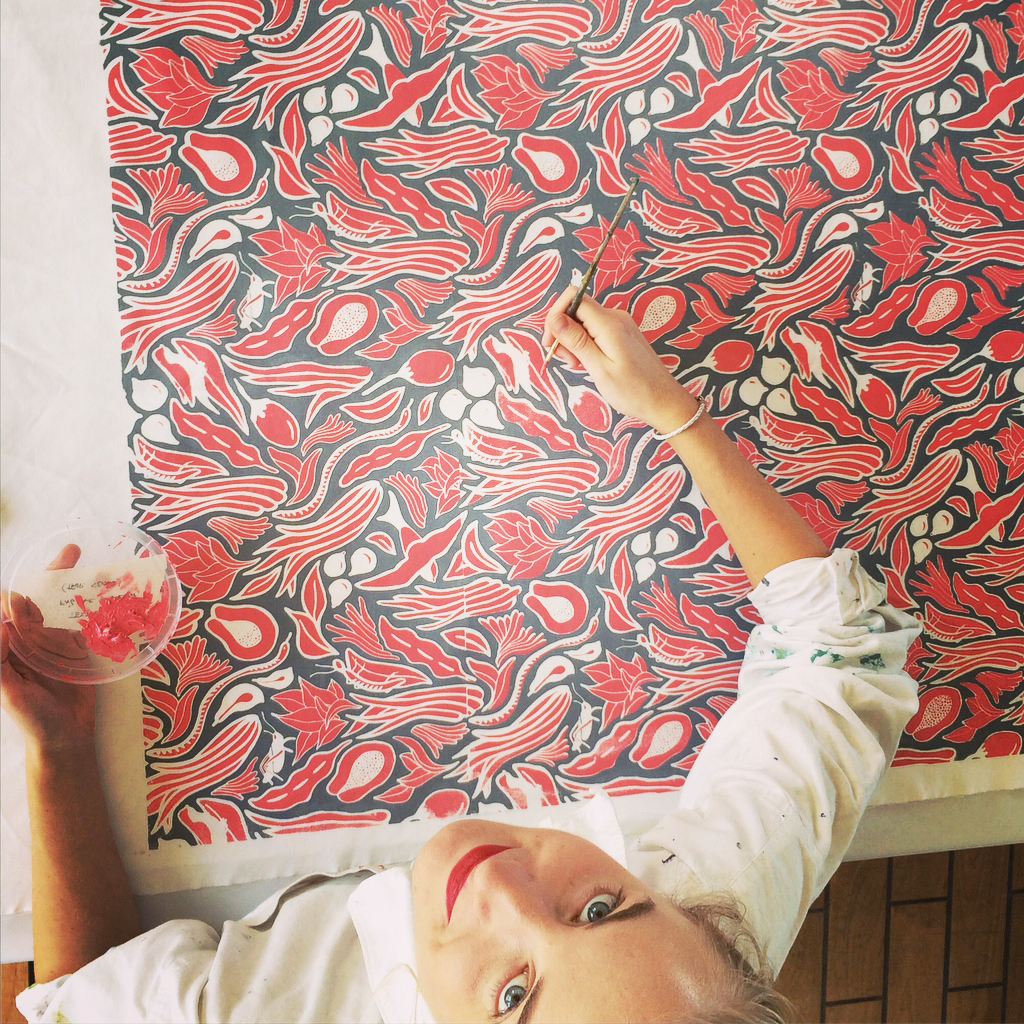 11. Now, tell us a little more about you as a person: what is your favourite food?
That is such a hard question cause there is really so much I love.. but weirdly enough I don't enjoy cooking that much so when I cook I often do tapas.. (meaning that I put some nice cheeses on the table along with some bread and olives)
12. Favourite book?
I love fact books about birds, the Swedish forest, palm trees etc.. I can't read anything to exciting before I go to bed, then I find it really hard to sleep, because I'm just thinking about what's going to happen next.. My favorite book is one of a Portuguese writer named Adriana Lisboa, about a girl who decides to swim out in the ocean and never comes back. Sounds super depressing, and in one way it is, but it's written so nicely that you just kind of want to be in the book. Strangely enough I think it's only been translated to swedish. The original title is "Um beijo de Colombina".
13. Favourite genre of music?
Probably pop. When I'm working I mostly like happy music, like Jain, Solange, Little Dragon or Haim. I also really love Grimes! And when I want something a bit slower I usually put on JJ. Or Neil Young! Or Fleetwood mac.. Anyway, I like a lot of music..
14. What are your hobbies?
Traveling (if thats a hobby?), and I like to work out, I think it keeps me happy and balanced. I really like doing yoga, it's great for my sometimes other-thinking mind, but I also think it's a great workout. Surfing works in kind of the same way, but it's much easier to find a yoga class than waves in Sweden.. Spending time with my boyfriend, family and friends is also a nice hobby!
15. If you weren't an artist, what would you be?
I think I would have my own little shop with only nice things. And maybe I would sell coffee too.