Instagram:
@johnfmalta
Twitter:
@johnfmalta
Website:
www.johnfmalta.com
1. What's your story? Where are you from?
I was born in Cleveland, Ohio and started out as an illustrator drawing posters, designing cassette tapes/demos, and painting stage banners for me and my friends punk bands in high school. This continued throughout undergrad where I started using Myspace as a way to reach out to bands and record labels that meant a lot to me. I went to the Columbus College of Art and Design and began drawing posters and flyers for most of the punk houses and DIY spaces around Central Ohio. I liked supporting a community that I was apart of - and was psyched that people, that I thought were cool, thought what I was doing was cool. In 2010 I moved to New York City and began reaching out to magazines, newspapers, and ad agencies in the same way I had reached out bands on Myspace. I'd send out the self-published zines and comics that I was making at the time in an attempt to foster connections with Art Directors and Designers at companies that I really wanted to collaborate with. Since then I've been working on a steady stream of projects with clients such as The New York Times, The New Yorker, Honda, Adult Swim, Valley Cruise Press, MIT Technology Review, WIRED, Nordstrom, Quality Eats NYC, and Pabst Blue Ribbon. I am currently based out of a studio in Ridgewood, NYC alongside my partner, fellow illustrator, and favorite artist Siobhán Gallagher (http://www.siobhan-gallagher.com/).
2. Tell us about your aesthetic.
My work seeks to channel the visceral energy found deep below the floorboards of old punk houses and felt during the Attitude Era as Steve Austin Stone Cold Stunned the entire WWF roster into oblivion.
3. What is your favourite medium and why?
For my illustration work and comics I love drawing with a Micron Pens/Sharpies on Stonehenge Paper and finalizing color in Photoshop. For my gallery work I typically paint with Gouache and House Paint on Wooden Panels. I differentiate the two because with client related illustration work and comics it's important for me to be able to edit and make quick changes on the fly. But when I have art exhibitions I prefer the tactile nature of paint on a surface. I tend to vary my approaches depending on the project - but those are my go-to/daily mediums.
4. What is your artistic process like?
Rapid fire - I spend more time thinking, conceptualizing, writing, and letting my brain relax via playing hockey or doing something that's energizing like rock climbing. That way when I sit down to work I can get right to it and blast it out.
5. Who and/or what inspires your work?
The Hairy Who, Nelson - Kearney - Jimbo - and Dolph from The Simpsons, 70's and Early 80's Punk Aesthetic (Sniffin' Glue, Raymond Pettibon, and piles of Xerox Fuzz), Golden era Nickelodeon programming, Professional Wrestling (specifically 80's/90's era WWF - WCW - and ECW), R.L. Stine's Goosebumps, the patterns and colors used on the set of Double Dare, VHS horror movie box art, Old Sci-Fi and Western Pulp illustrations, the hand-painted Movie Poster Art of Ghana, Kenny Omega/The Bullet Club, and John Carpenter.
6. What role does art play in your life? How does it change the way you view the world?
Art is what drives my life forward. I met my partner Siobhán Gallagher through the NYC comics and illustration community (and most of my friends as well). I probably spend more time painting wood panels and editing drawings in Photoshop than I do in reality - it is the world and universe that I exist in. In that way, it has fundamentally shaped and changed every aspect of my life in the best way possible. It is the reason I want to wake up in the morning and get to work immediately. It's why I love being alive and why I'd love to just continue to exist indefinitely. That way I would have the ability to work on and complete every project that I currently have on my always growing to-do list. The quote from the French short film "An Occurrence At Owl Creek" bridge is really the one belief I hold true because of this idea - "I want to be a Living Man, and walk about this Living Land".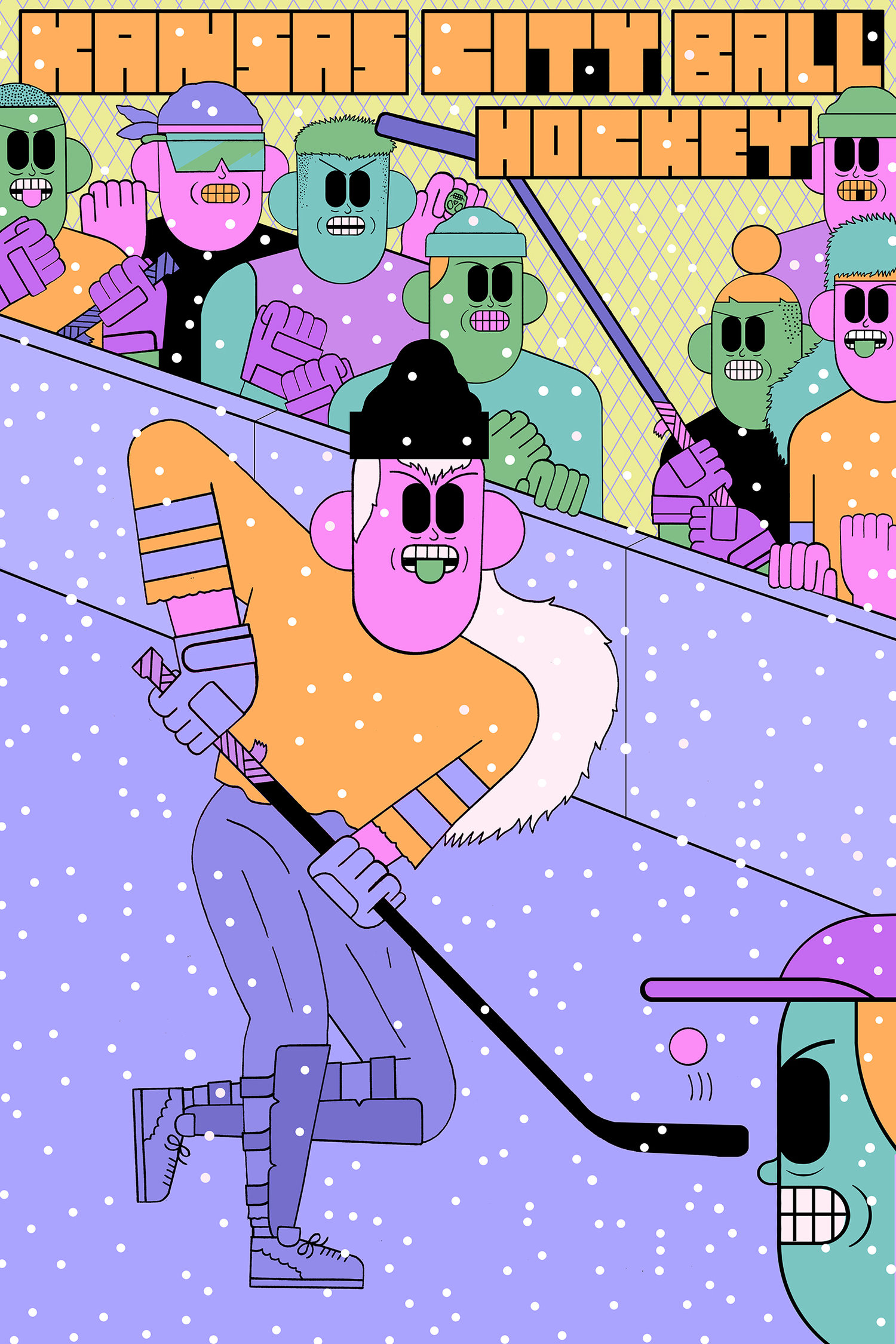 7. Where did you study?
I received an MFA in Illustration as Visual Essay from the School of Visual Arts in New York City and a BFA in Illustration from The Columbus College of Art & Design.
8. Where do you see yourself in five years?
Still living in New York City - piling up comics and paintings.
9. What about in ten?
It's hard to say, but I'd imagine I would be living in Canada (ideally Toronto) with my partner Siobhán (she's originally from Moncton, New Brunswick). America has turned into the Wild West, and as much as I love living here I am not so sure I want to stick around these parts much longer.
10. What do you hope to achieve with your art?
I plan to continue the output I have established. I love telling stories, painting, and making books/comics/zines and I will continue to do that in whatever form it takes over the next decade.
11. Now, tell us a little more about you as a person: what is your favourite food?
Peanut Butter Acai Bowls and In & Out Burger (Double Double Animal Style).
12. Favourite book?
Everything Matters by Ron Currie Jr. (if you love good fiction I implore whoever is reading this interview to buy this book. Be prepared to be bombarded by emotions - one of the few books that made me miss my subway stop) and Notes from Underground by Fyodor Dostoevsky.
13. Favourite genre of music?
Crusty punk that sounds like it was recorded in a garbage can (Skeptix, The Virus, The Achtungs) - and loud, blasted, and heavy, hip-hop (Swishahouse, Skepta, Run the Jewels).
14. What are your hobbies?
I play street hockey three times a week, obsessively follow professional wrestling (NXT, New Japan, Ring of Honor, and WWE), and really love mining thrift stores for vintage junk.
15. If you weren't an artist, what would you be?
Touring in a punk band and attempting to make it as an independent professional wrestler.