Instagram:
@jonathan_vermersch
Website:
jonathanvermersch.heyhey.io
1. What's your story? Where are you from?
So I'm from Paris and lived there for 23 years of my life. When I as in high school I specialised in sciences and everything in my family kind of pushed me towards that way as my father is an engineer and my brothers both went towards that direction and were really good at it. But I always felt my heart lied elsewhere.I think it brought me a lot in terms of logical skills and certainly using perspective in my work. After high school I decided that art was the path I wanted to explore and, as I didn't know anything about the different schools or career paths, I decided to do a preparatory school to enhance my academic drawing skills and to explore all the possibilities and different pathways. I soon ended up being really obsessed with the Gobelins school in animation, which I successfully entered after 3 years of hard preparation. After graduating I still wasn't really satisfied with my drawing skills and really wanted to push my own style further and allow myself to go on a path of self-discovery, I really felt my particularity and talent relied there on my own visual language. This pushed me to move country and do an illustration MA in London where I experimented for another 3 years, pushing my drawing in the direction I felt was the closest to my heart, trying not to please anyone around me. It was a time of introspection which I really needed.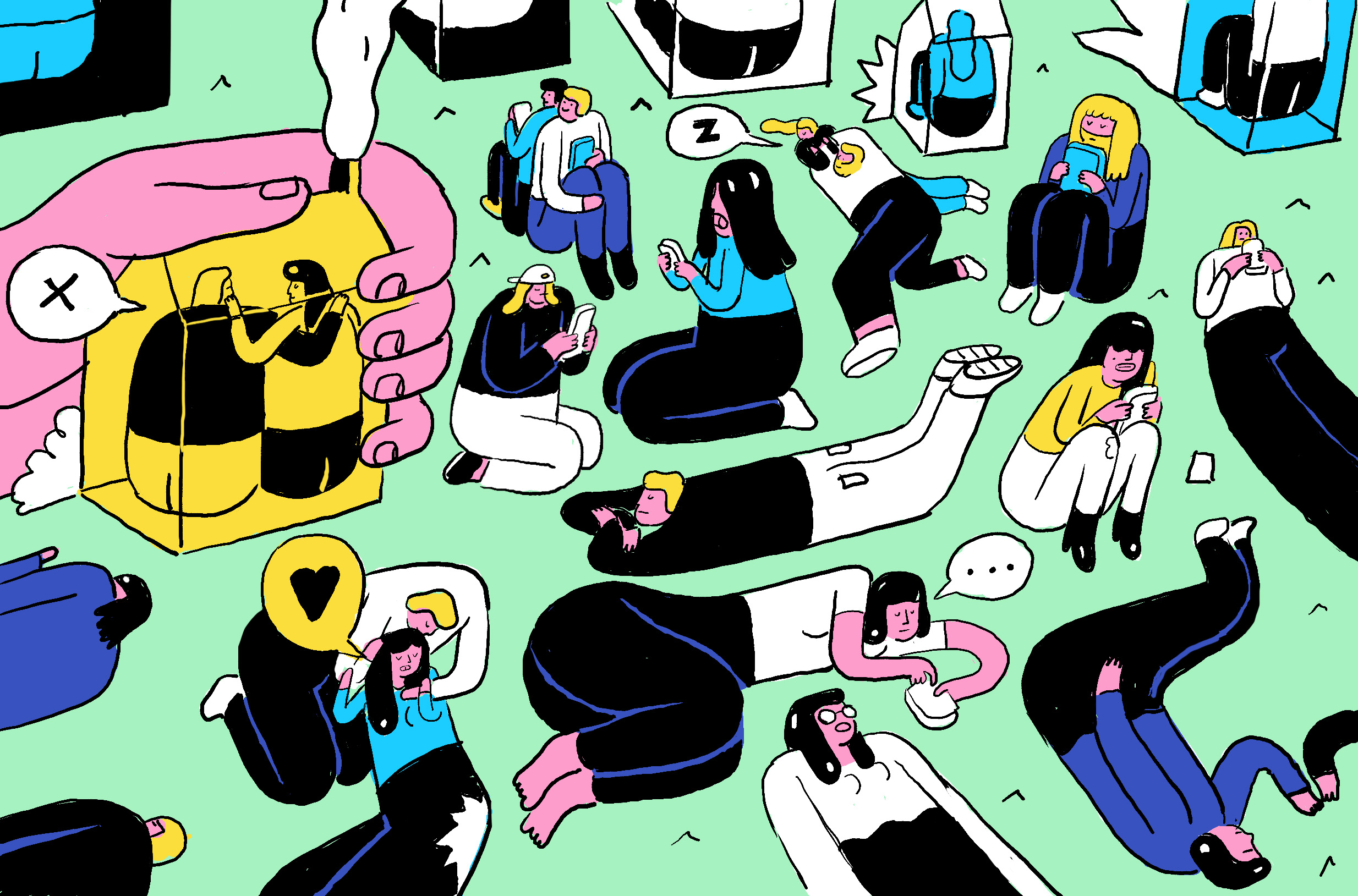 2. Tell us about your aesthetic.
I have been through many stages in my drawing style. But I always was drawn to a good mix of very graphic shapes mixed with volume, it is very hard to find the quite right balance between the two and know the right amount of information to get to a certain harmony in the drawing. That's the case of Mike Mignola and Mike Macmahon, using both a very good mix of that information to such a genius level. My aesthetic then became less semi-realistic and more cartoony, always a considering the fact that it could be animated. When going on a discovery path I pushed myself to simplify shapes and characters so that my work could be way more efficient, impactful and flexible. It led me to observe and be influenced a lot by people like Keith Haring, Andy Rementer, Patrick Kyle, Matthew the Horse, and many others, using each a very powerful unique and yet efficient simple visual language able to conceptualise any ideas.
3. What is your favourite medium and why?
I've always liked ink and watercolours, and acrylics. Though my most natural way of drawing is with black ink and a brush. It feels natural and spontaneous, it just flows. It also allows a lot of richness in the line and creates a quite bold aesthetic, with a very strong presence which I am quite fond of. It's like some sort of strong assessment or a way of yelling out something. As I am quite a calm person on the outside, I feel this is my way of getting the energy out. I have to feel like I am drawing, and that there is a kind of fight going on the paper. The process is very important: the act of doing something with my hands is central to it..
4. What is your artistic process like?
I do a lot of sketching, I just draw automatically a lot. My sketchbook is populated with ideas that I then use in my professional work. I use a brush pen most of the time, to sketch out loosely the illustration, I then scan it and properly ink it in photoshop, then colour it. It's the most efficient technique I found, the one I find the most natural to me. I need spontaneity that I have in the first stage with my brush pen then I need some control over the inking process and composition that I gain from photoshop, I can move things around and it creates more flexibility and possibility to test out things. It's a good balance between paper and computer which I find satisfying.
5. Who and/or what inspires your work?
So many things, difficult to tell. From books to movies to music... But essentially humbleness in people. I read Keith Harings journals lately and it really made me understand a lot of things about art and why we do it. I felt connected to the reasons and struggles he went through when he became a major actor in the democratisation of art. I have the tendency to forget that I draw for people. When I was a kid I used to draw all the time and give my drawings as gifts to everyone. I want my illustrations to imitate at most that selfless behaviour ( well for a bit of money of course...)
6. What role does art play in your life? How does it change the way you view the world?
Well certainly. When I walk around in the street or anywhere really I can't help but notice interesting shapes or views, sometimes I take pictures of those or I draw them, but the capacity to create new art and illustrations often comes from a good and precise observation of reality. Nature nurtures art. Your art is a reflection of how you perceive the world. When I draw people on the tube, bus or coffee place I can't help but think of their lives, who they are, what's their life story. Sometimes people come and talk to me, it is a mean to create a connection, acknowledging what's around you, taking it in, reshape it through your won prism and give it back to the world.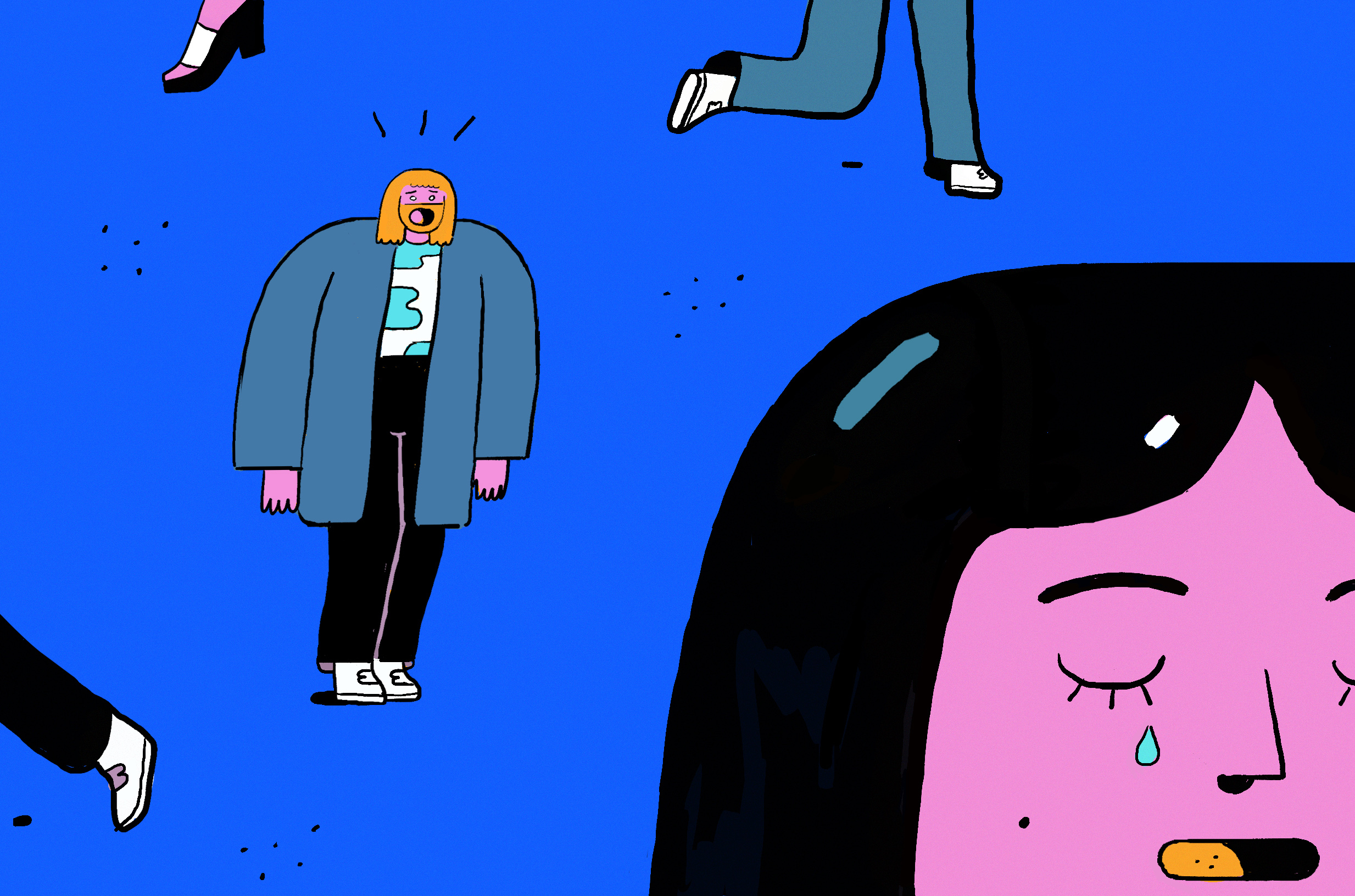 7. Where did you study?
I did very long studies... I started studying art in paris at Ateliers de Sevres, then went to Gobelins school of the image for 3 years doing an animation degree, and then decided to continue with a masters at Camberwell college of arts in London.
8. Where do you see yourself in five years?
Doing a lot of freelance work in loads of different areas, clothing, commissions for newspapers and magazines, and starting including animation in my visual language which is a tool I rarely used until now ( coming from a degree in animation is quite strange) but I think my visual language wasn't mature and simple enough to be animated. It has now reached a satisfying form for me which opens up that possibility and it's quite exciting.
9. What about in ten?
I always have been attracted to the idea of opening a bar/coffee/gallery space where artists could meet and exchange. I definitely would see myself doing that in that amount of time when I would have accumulated enough money. I am quite a social person and love to link up people or try to determine what kinds of artists would help shape the future trends!
10. What do you hope to achieve with your art?
A very simple and efficient language that talks to most. Being able to conceptualise ideas and facilitate their emotional or logical understanding to most people thanks to that visual language. As well as giving a treat to the eye, but that is less important to me now.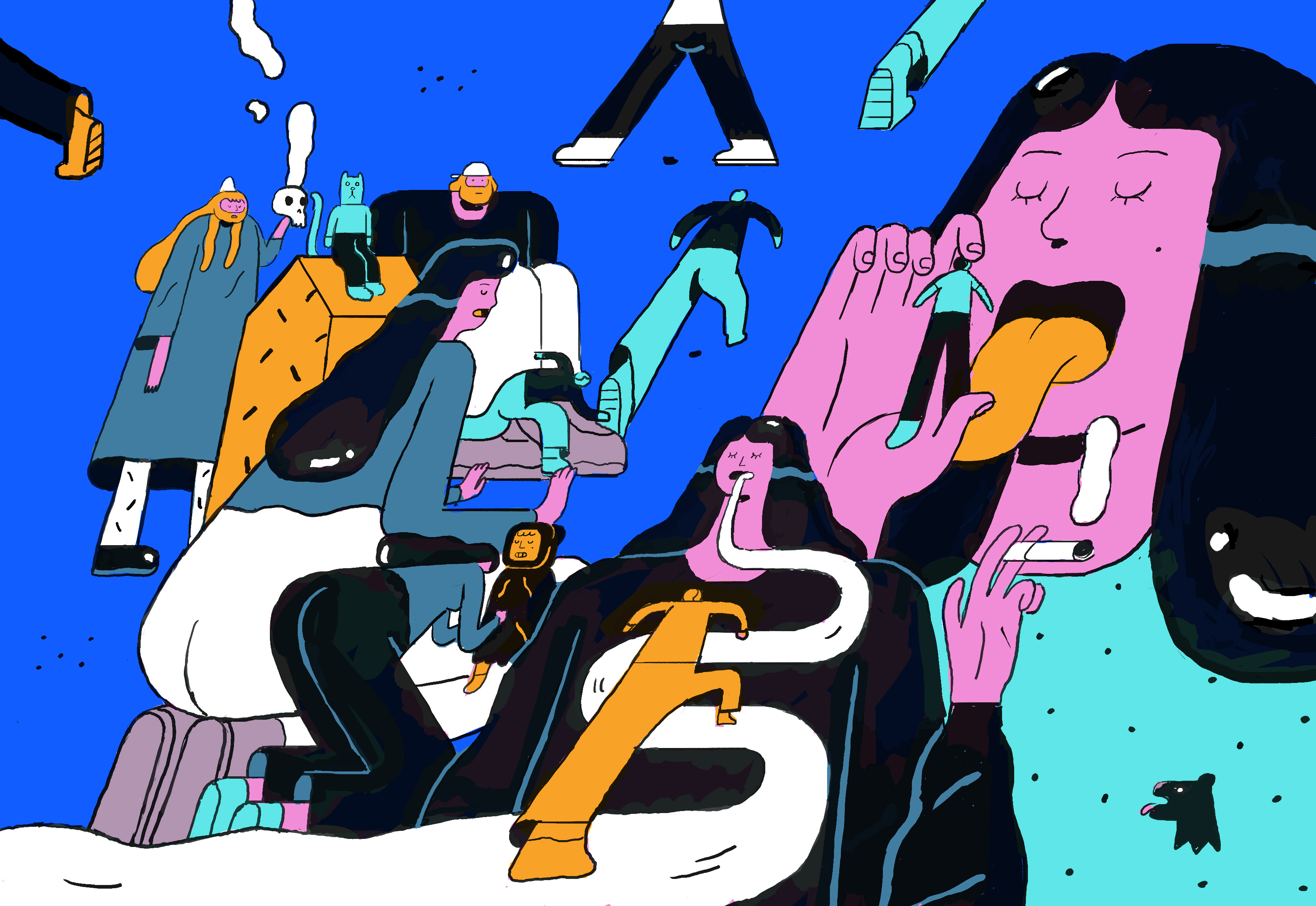 11. Now, tell us a little more about you as a person: what is your favourite food?
A good Italian tagliatelle carbonara. I mean the real one. With good pancetta and a reasonable amount of cream. I do love creamy meals. I'm not really sure what that says about me.
12. Favourite book?
My latest favourite book is probably Martian chronicles by Ray Bradbury. It's so poetic and surreal and really want my work to quite reach that kind of feeling.
13. Favourite genre of music?
So many. I listen to a lot oh Hip Hop lately (Kendrick Lamar, Young Thug, Frank Ocean, Kid Cudi, Rejjie Snow); but listen to a lot of psych rock ( Wytches, Whistlejacket, Unknown Mortal Orchestra, King Gizzard and the Lizard Wizard) electronic music (Nicolas Jaar), classical music (Smetana, Prokofiev, Moussorgsky), atmospheric music (Brian Eno) and post rock which is my favourite for work time (Caspian, This Will Destroy You, Explosions in the sky, Godspeed You Black Emperor) . I have got a very eclectic taste I guess.
14. What are your hobbies?
I started doing yoga a year ago now and going to India on my own last month definitely gave me the drive to take my activity further and do meditation as well. I'm really into trying Vipassana in london, it seems a logical step to take for me at the minute. As an anxious person, those activities and yogi philosophy (reading the Bhagavad Gita) gave me some tools to control my fears and anxieties, giving me way more capacity to let go of things and access peace of mind while working or doing things. I play tennis as well and all kinds of sports really, love to cook (french genes I guess) and developed a new found interest in writing.
15. If you weren't an artist, what would you be?
I would be an event (festivals) organiser, someone representing artists, a gallery owner, or anything that would require me to use my skills of observing people or art. I am a good observer and have in general very good intuitions about things or people. I also know well what people seem to like or want, applied to taste of music, art or films.