Instagram:
@jorenjoshua
Website:
www.jorenjoshua.com
Tictail:
jorenjoshua.tictail.com
1. What's your story? Where are you from?
I grew up in a village in the south of the Netherlands, near the Belgium border. I moved to the city of Breda when I was 15. After high school I studied illustration art at the Art academy there for four years. When I started as a freelance illustrator I decided to move to the bigger city of Rotterdam. I'm living there for 3 years now and I'm working fulltime on all kind of illustration jobs.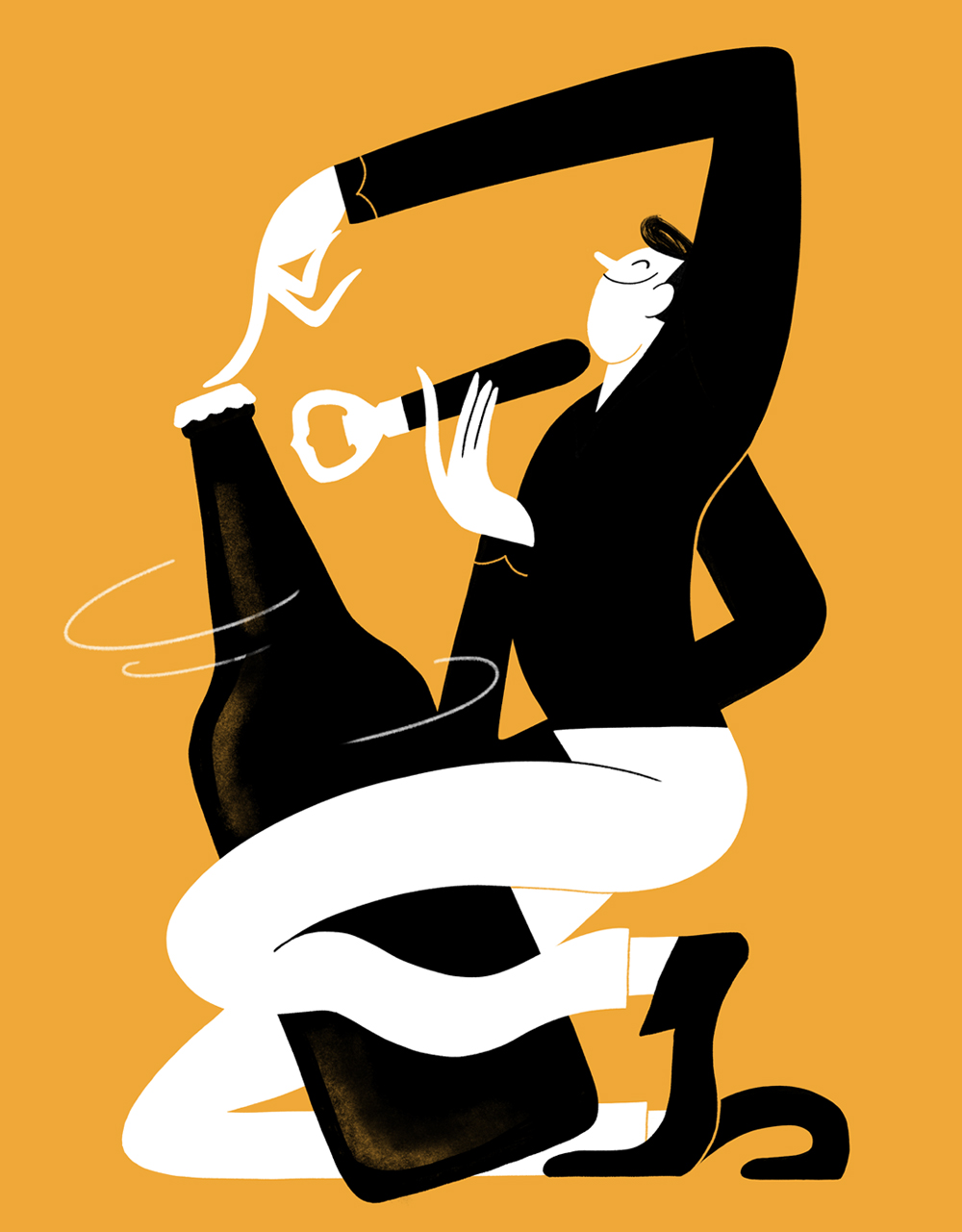 2. Tell us about your aesthetic.
I think motion is the key of my work. Although my illustrations are quite flat and graphic I try to get the feeling they're moving on the paper. When I was a child drawing was more like playing so the characters were really alive too me, I even talked with them. After a period of silence, I didn't like drawing for years, I started doing graffiti. I think graffiti brought me back into this playful vibe. In graffiti I learned to work in basic color schemes and forget about details because of time pressure. So at that moment my work become way more graphic but still had his playful feeling because of the flow of graffiti. After my studies I focussed really hard on the perfect imperfection of the bodies of my characters, because the body language tells the story of my drawings. I always get really inspired by big cities where everything is busy and on his way. But my characters seem to be very lonely, lost or selfish. So it's kind of a battle between 2 opposites.
3. What is your favourite medium and why?
It depends a little. When I'm doodling I prefer to draw with a marker. In that case I can't erase it and I draw a lot little of ugly studies focussing on forms. When I start with an illustration job I often use a 4b pencil to sketch the rough illustration. After that I start digital on my cyntic in Adobe photoshop. But painting with acrylic or latex paint is secretly my biggest love. Painting is really like meditation too me.
4. What is your artistic process like?
I start drawing quite quick looking for the right form and composition. For me the start it's kind of a struggle since I'm not easily drawing my own characters. I study quite long on the right anatomy of the character. When the figure is close to my thoughts I start coloring it digital. When I'm outside I always observe how people walk, move, dance etc. So when I start on the illustrations I don't use any references of pictures but draw straight from the head. For the elements around the characters I always search for really stupid graphic or stock images to get to the key of a form.
5. Who and/or what inspires your work?
There are so many great artists 1000 million better than me in the world. And because of the hell of internet you find even greater ones everyday. So sometimes it really demotivates me. I think just the people around me are just inspiring. When I go out with friends and get drunk, starting dance battles acting like stupid it can be such a huge inspiration. Also the metro, train stations or just a youtube video with a dancing James Brown or Justin Timberlake can be the start of something new.
6. What role does art play in your life? How does it change the way you view the world?
It's my daily life. I work fulltime on it and my girlfriend is a freelance illustrator too. Also most of my friends are working in the creative field. So it's always surrounding me. Even if you're not drawing, and I'm an illustrator who easily doesn't draw for days, you're observing, looking for pictures, discussing it.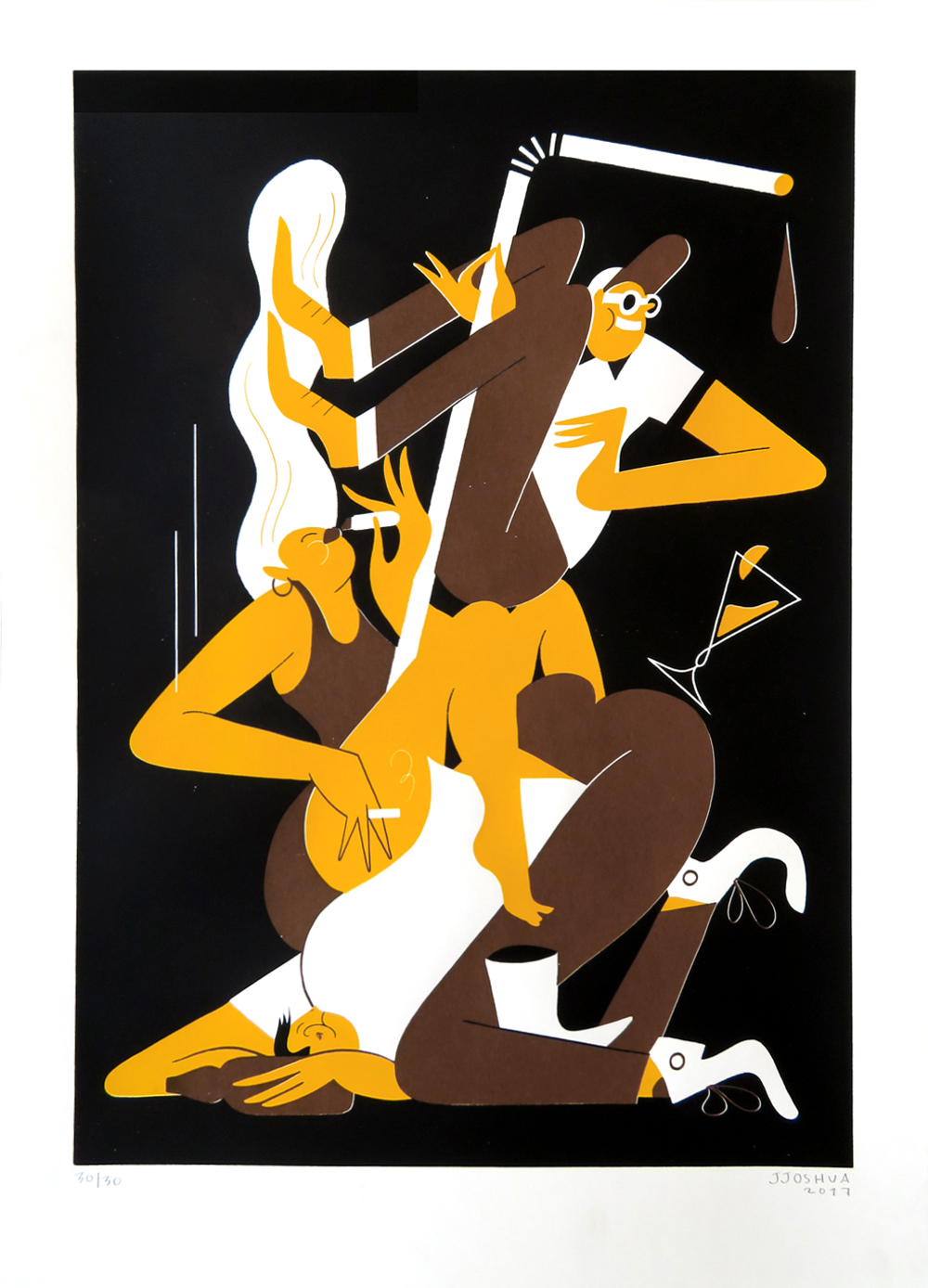 7. Where did you study?
I studied illustration for 4 years at St. Joost in the city of Breda. I graduated in 2012.
8. Where do you see yourself in five years? Working in an agency?
I try to focus on what happens right now and not too much on the future. I still hope I can live as a freelancer, and have way more clients and being an inspiration for new kids on the block. I would love to live periods in other cities and countries and spend my time travelling around for different jobs. An agency can be useful but I don't believe that's the key of success.
9. What about in ten?
Counting money with all my kids.
10. What do you hope to achieve with your art?
I really hope people just can laugh about it. Recognising the stupidity of people and how they act. I don't believe illustrations are the most important things in live. But it makes everything more colorful and complicated or boring things way funnier for sure.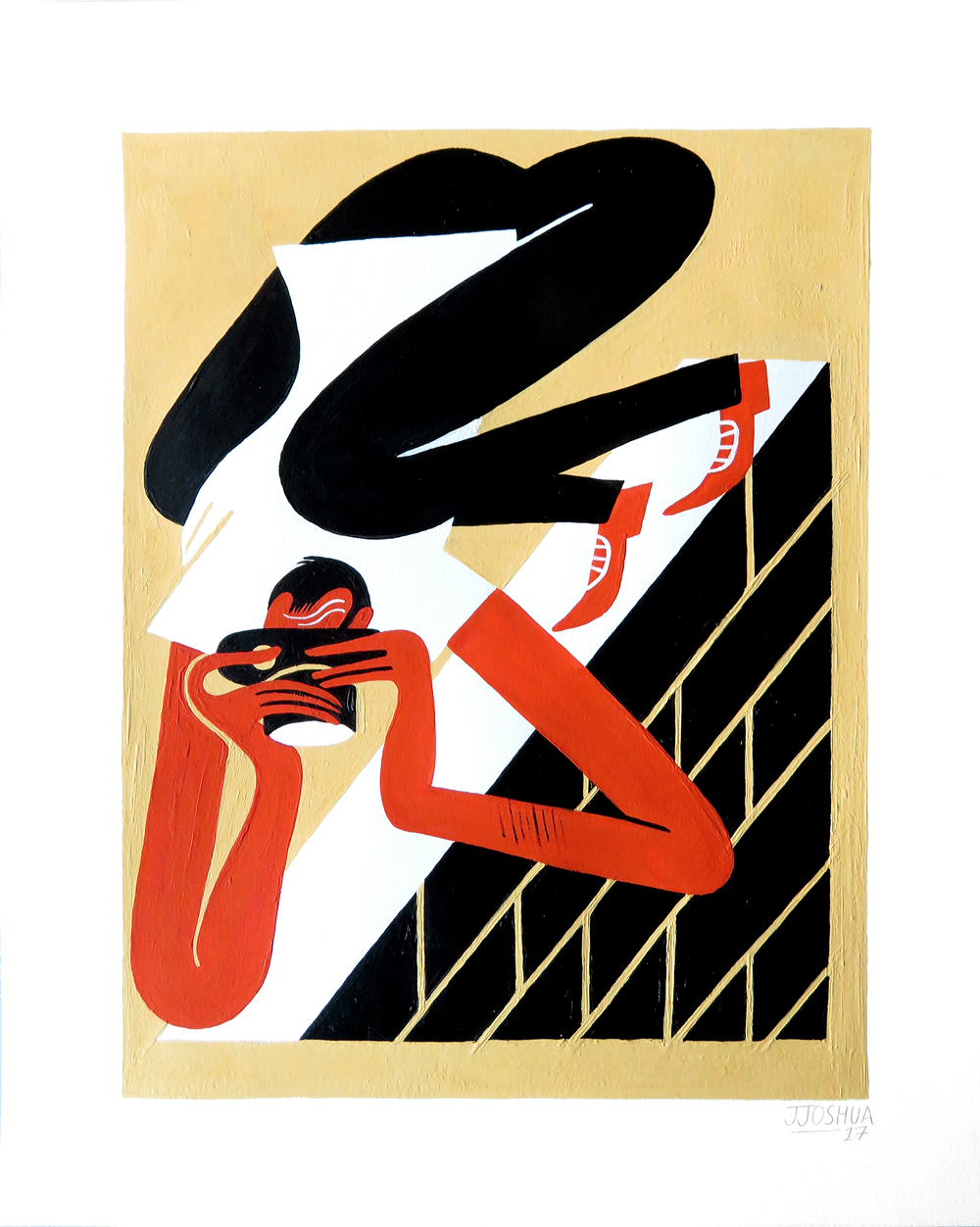 11. Now, tell us a little more about you as a person: what is your favourite food?
Ahh man I love food. I'm really skinny and tall (like my characters) but food makes life great. I cannot choose right now, sorry!
12. Favourite book?
To be honest, I don't read that much books and that's really bad. I really enjoyed 'de helaasheid der dingen' by Dimitri Verhulst. It's about a child who grew up with his alcoholic dad and oncles. Even though it's a sad situation it's written in a romantic way. The characters and stories in the book were quite related to my drawing. Besides, I love all BLEXBOLEX his books, quite a big inspiration for me.
13. Favourite genre of music?
It really depends. I listen to hiphop music a lot: A tribe called quest, Digable planets, De la Soul. But like last year Agnes Obel was one of my favorites.
14. What are your hobbies?
I love to have good meals with friends and drinking beers. Besides, I play soccer just in the middle of the city. And I'm quite out of the graffiti scene, but painting a piece can be really fun.
15. If you weren't an artist, what would you be?
I have no clue. Always afraid for not having a back-up plan haha!