Instagram:
@joshoneburg
Bigcartel:
joshoneburg.bigcartel.com
Website:
www.joshburgess.co.uk
1. What's your story? Where are you from?
I was born in Bristol, and have been studying illustration here for the past few years at UWE. I'm graduating this summer in a month or so time. I've travelled about quite a bit but Bristol is the place for me for now at least, I find I can fulfil all my hobby's and interests here and creatively its a great place to be. I spent six months last year living in Rotterdam studying the illustration course there on Erasmus which was a great time, I was lucky enough to trade places and did a house swap with a Dutch guy for 6 months which worked out perfectly, I ended up taking on his studio which was in an old school. The guys there were all really cool and welcomed me so nicely into there group, they did a lot of painting and making 3d works which I think had a big influence on me, they also had a really hard work ethic for getting things done which I think has stuck with me since I've been back. I miss living in the Netherlands but yeah Bristol is the place for me at the moment.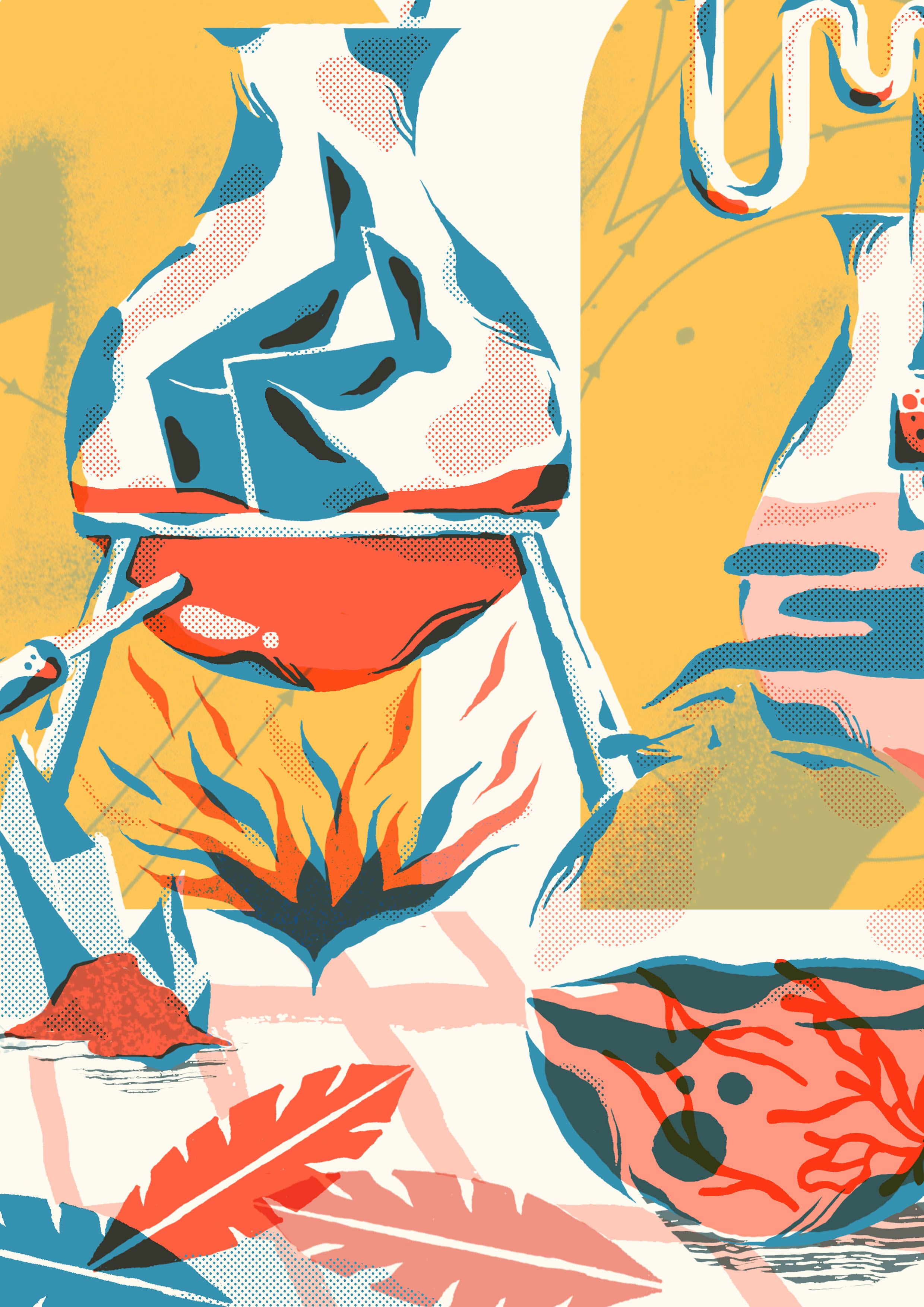 2. Tell us about your aesthetic.
I think my aesthetic is basically just a combination of all the things I'm influenced by and materials I use. I take a lot of influence from printmaking, graffiti, tattooing and old posters and books. I love collecting quirky old books to use for reference.
3. What is your favourite medium and why?
I use a lot of different mediums in my work and used to see that as a bit of a burden as I wasn't particularly refining one way of working, these days I have realised what an asset it is to be versatile and I'm trying to embrace it a lot more now. At the moment I really like painting with ink for the textures you can make and the fluidity of painting with a brush. I also like spray-paint for how quickly and easily you can paint with it.
4. What is your artistic process like?
While being at uni I always struggled with finding the content to base my work on, I don't really have any interest in making a particular narrative with my work. Its more like problem solving through a single image, a bit more symbolic than narrative based maybe. In the last 6 months I've discovered that I really enjoy working for an editorial brief and it suits my creative process well. For digital work I tend to draw and ink everything by hand then scan it into the computer and add colour, I have a big folder of textures that I'm constantly adding to when I find a new and interesting one. I'm kind of always trying to get in that sweet spot between digital and handmade. I don't like it when things look too polished or clean. I like my work to look like it could have been a screen-print even if its digital.
5. Who and/or what inspires your work?
I started off being interested in art through painting graffiti when I was younger, I think if it wasn't for that I probably wouldn't have ended up pursuing art at all. I don't think visually that has a real influence in my work now but the DIY attitude, way of composing things and colour choices have really rubbed off on me.
6. What role does art play in your life? How does it change the way you view the world?
I can't remember a time when I wasn't making art so its difficult to tell if its really changed the way I see the world because I'm so stuck in my own bubble. I'm pretty uninterested in doing anything that isn't creative or productive and I get itchy fingers if I spend too long sat around. I don't like to relax much haha.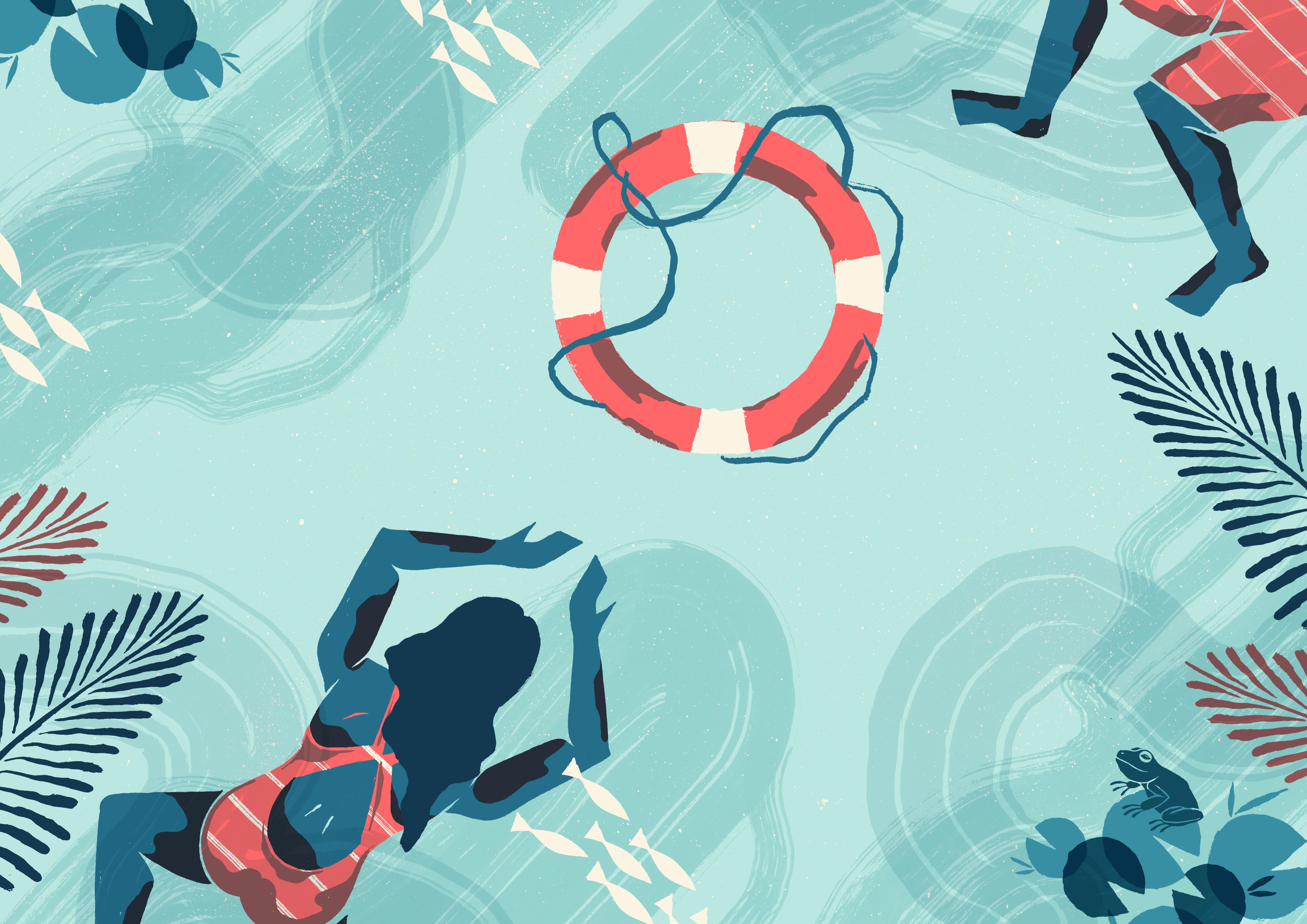 7. Where did you study?
I'm currently in the process of graduating from UWE and studied six months on Erasmus at WDKA in Rotterdam. Come and see our degree show at Bower Ashton campus! 2nd-8th June.
8. Where do you see yourself in five years? Working in an agency?
When I graduate I've got plans to start a tattoo apprenticeship, In 5 years I would really love to be tattooing a few days a week and taking on illustration jobs for the rest of the time. I have a long hard road before that can be reality but I'm really excited to get to work.
9. What about in ten?
Who knows what the future can hold! Maybe moving somewhere with a bit warmer climate? I think if I can stay afloat and keep doing my art full time in ten years I will be really stoked.
10. What do you hope to achieve with your art?
I don't know if I'm trying to achieve anything with my art its more like a bit of an obsession, I guess with each piece just trying to get better and better but I'm never fully satisfied. I have been tackling a lot of editorial style briefs at the moment and really like how it informs the work I'm making so would like to keep developing that ideas making process.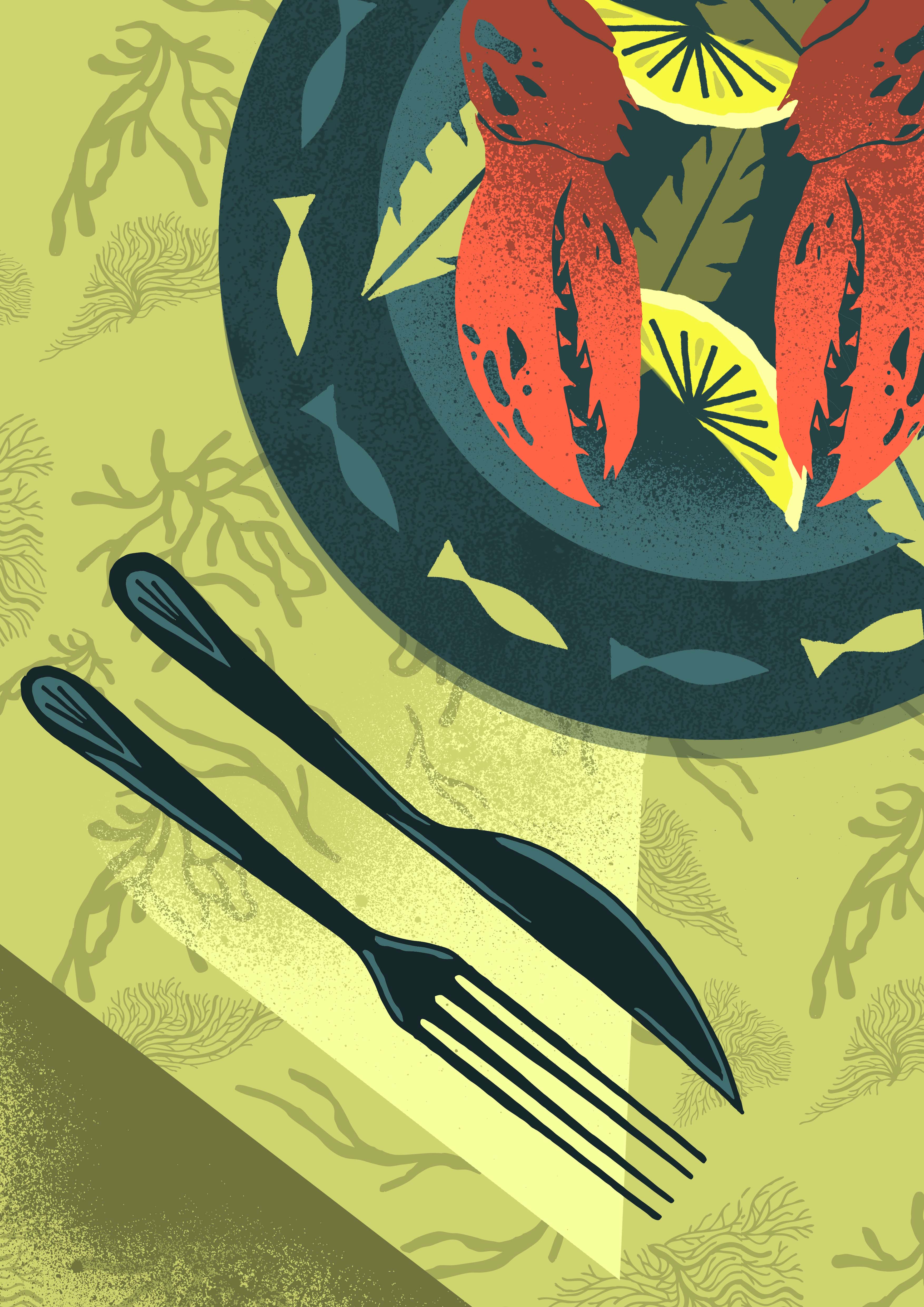 11. Now, tell us a little more about you as a person: what is your favourite food?
Margarita pizza!
12. Favourite book?
I'm honestly not that much of a big reader but I listen to a lot of podcasts while I work, at the moment in really enjoying Criminal on Radiotopia and the distraction pieces podcast with Scroobius Pip.
13. Favourite genre of music?
I like a lot of electronic music and hip hop but really love a bit of everything. Its hard to pick!
14. What are your hobbies?
I have a lot of different hobbies and tend to dip in and out of them at times, sometimes it can be hard when you have a lot of different interests and spread yourself too thin . My main passions at the moment are rock climbing, cycling and painting a bit of graffiti here and there. My all time favourite pastime is swimming outdoors in the summer, nothing makes me happier than that!
15. If you weren't an artist, what would you be?
I really love to work with wood and use it a lot in my 3D work so I think I would have ended up being a carpenter or something in that area. I find the process really satisfying.