Instagram:
@juliamflanagan
,
@frejjleatherwares
1. What's your story? Where are you from?
I grew up in Newcastle, which is a large coastal town in the East of Australia. It's a very creative city, with many artists living there and fantastic independent Galleries. My childhood was very free, with much time spent exploring local bushlands and playing with my 3 Siblings and friends. My parents have an industrial sewing business which I spent time during school holidays and where I learnt how to sew. Both my parents were very much interested in the Arts and encouraged us to be creative. They took us to local art shows and to galleries in Sydney, which is a few hours drive from Newcastle. After finishing my High School studies, I moved to Sydney to pursue my interest in painting. I've been in Sydney for 20 years now, during which time I have exhibited my art, worked in a Gallery and am now teaching art to kids at a local Art School.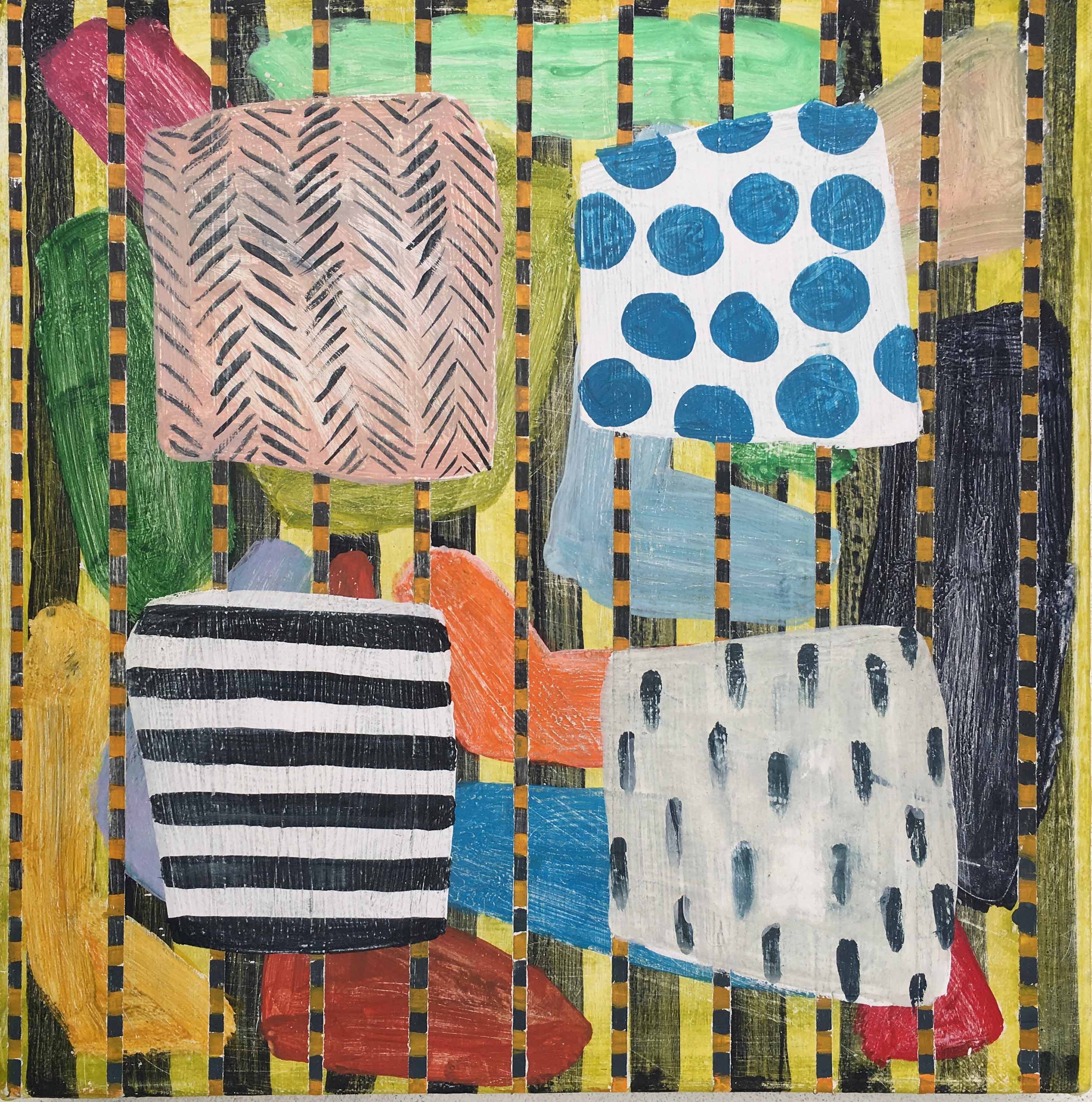 2. Tell us about your aesthetic.
My work is an exploration in colour and pattern. I'm interested in how they relate to one another, vibrate and become harmonious. I have worked over many years designing and making textiles, painting patterns on leather and sewing into bags. My current works draw on my textiles practice heavily. Many of the patterns I use within my painting are ones I have designed for my textiles.
3. What is your favourite medium and why?
I really enjoy working across a range of mediums, though I would say, I'm primarily a painter. I have recently started making timber constructions, which have evolved from a series of small playful oil pastel drawings. I have also switched to working in acrylic paints in the last few years as I work from my home studio and its a little less toxic for my kids to be around. I'm so pleased I made the switch as I find acrylics work very well with my painting methods.
4. What is your artistic process like?
I work in a fairly improvised way and like to build up multiple layers quickly. Often my paintings begin with an initial idea for a first layer, then are developed from there. I use my library of patterns from my textiles and also make many quick oil pastel drawings. I draw on these for colour combination and inspiration for compositions. Sometimes I reproduce the drawing in paint form, though they rarely end up looking the same. My paintings are many layers of patterns and colours. I block out areas and repaint sections back in. I enjoy creating a sense of perspective within the works, pathways through the layers of pattern and colour. My timber constructions begin in a playful and freeform way. I work from quick oil pastel sketches. these sketches are then used as my pattern for the larger timber pieces. More than anything, I thrive on mixing colour and mucking around with different colour combinations.
5. Who and/or what inspires your work?
My inspiration comes from so many sources. I look at textiles, listen to music and am inspired daily by my kids. I love the work of Paul Klee and am amazed at the amount of work he produced. As well as some contemporary artists like Tal R, Keltie Ferris, Katherine Bernhardt and Matt Kleberg, to name a few.
6. What role does art play in your life? How does it change the way you view the world?
Art is my everyday. It's something that I'm completely consumed with. It makes me happy to be working on my art. Teaching kids art classes has made me see the benefits that art can have. It's a relaxing and satisfying way to spend time. You can see the confidence it gives kids and the smiles it puts on their faces. The small things in life.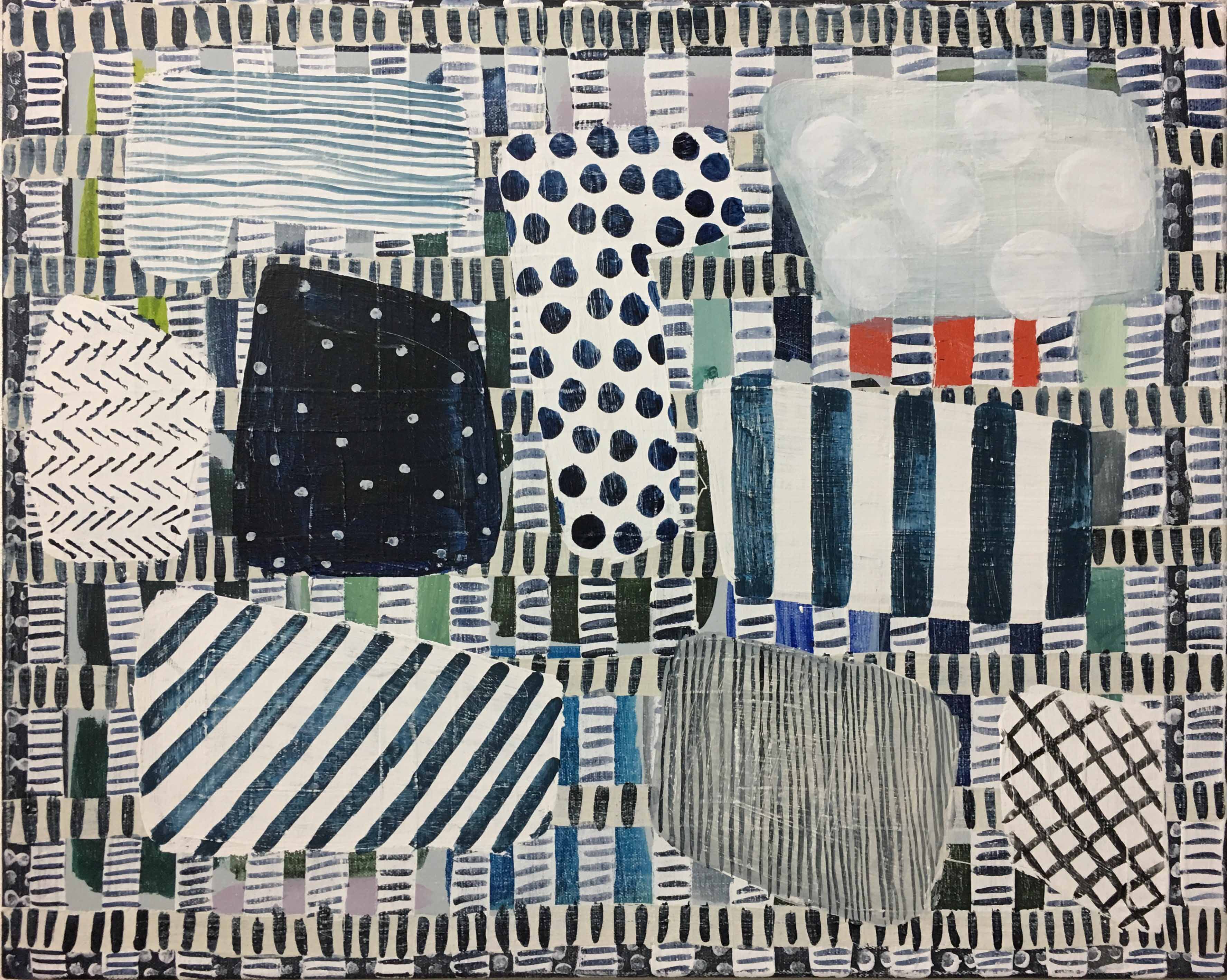 7. Where did you study?
I studied my Bachelor of Fine Arts at the National Art School in Sydney, completing my Painting Honours in 2005. Based in an old convict prison in the middle of the city, it was a beautiful place to study. Many of Australia's well-known artists have studied there. It was a great school for learning traditional drawing techniques, as well as art theory.
8. Where do you see yourself in five years?
In five years I hope to be still painting. To have a bigger studio and to be scaling up my work and exhibiting with a reputable Gallery.
9. What about in ten?
I'd be happy to be making art for the rest of my days.
10. What do you hope to achieve with your art?
I hope my work provokes feelings of happiness and joy within the viewer. It doesn't really have any deep meaning or aim. Just little moments for people to escape from their daily routines.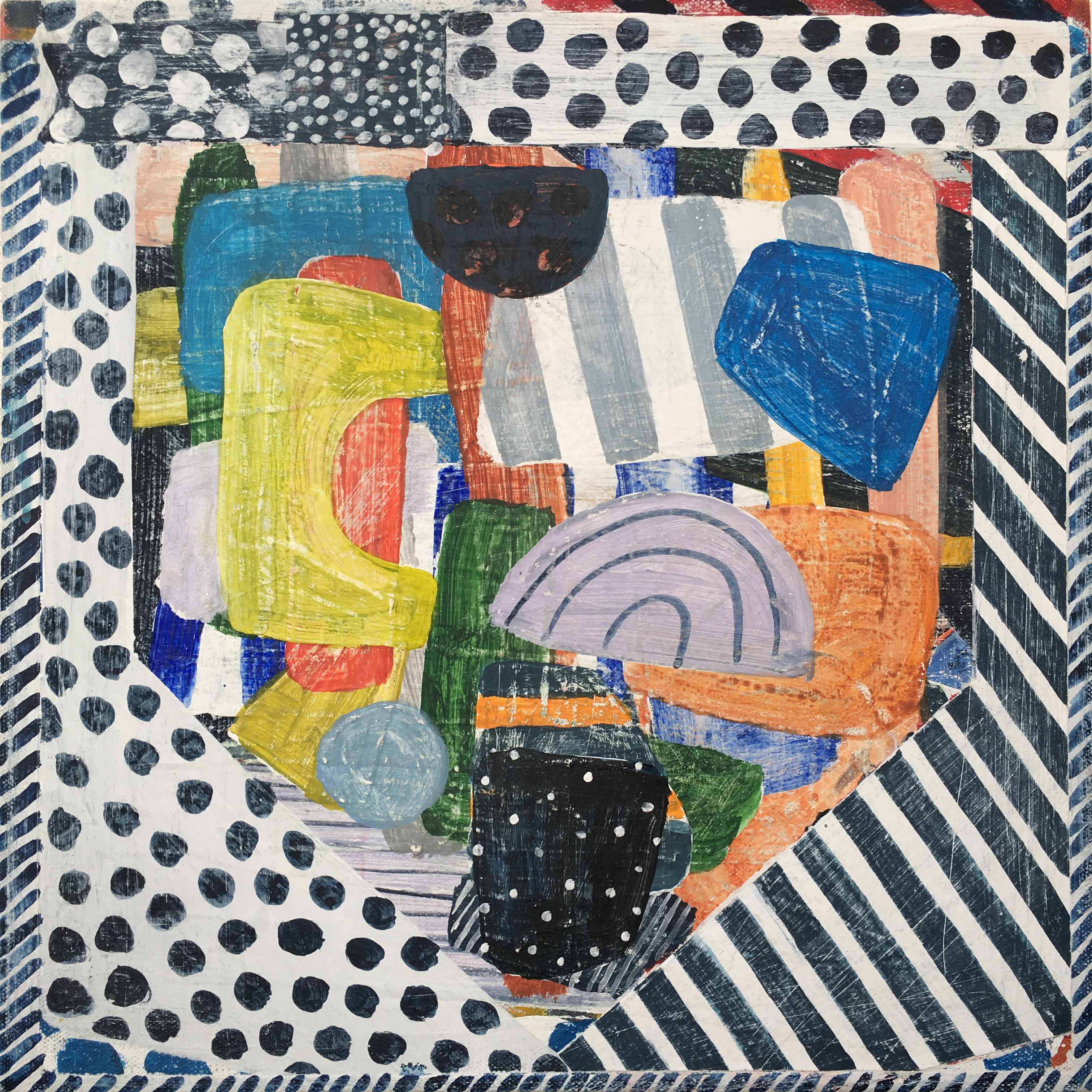 11. Now, tell us a little more about you as a person: what is your favourite food?
I live in a pretty multicultural city with so much good food. Locally we have great Vietnamese, Greek and Thai food. We live close to another suburb with great Korean Food. My partner, kids and I love the local Bbq restaurants there. I love a good home cooked roast too.
12. Favourite book?
I'm reading mostly about artists at the moment. Vitamin P3 is a good one.
13. Favourite genre of music?
I listen to all sorts of music and mostly I listen to the radio in my studio. A local Sydney independent station FBI, plays some great local music, such as Julia Jacklin and Aldous Harding. I also listen to the NPR tiny desk concerts via podcast. I just recently discovered American band Helado Negro. They're great!
14. What are your hobbies?
I'd say now that my textiles practice and leather bag making is my hobby.
15. If you weren't an artist, what would you be?
I considered studying Architecture at University and still have a keen interest in design.