Instagram: @julieetozzy
1. What's your story? Where are you from?
I'm Julie, I'm from Limoges, a small town in France. I'm a librarian, specializing in comics. I used to draw a lot when I was younger, so I went to a high school with an art section. Then I studied comics in Angoulême.
I became a librarian, at first, to earn money when my studies were over. I had already discovered the job as a summer job when I was still a student. It is such a thrilling job!
Choosing books, advising people, talking about comics... But I missed drawing and I wanted to have a try at digital illustrations. By the end of 2020, I bought a graphic palette and I liked it a lot. I have been drawing almost every day since.
It took me a while to start illustrations because I was never satisfied with my work, not good enough... a big inferiority complex! My work is not perfect and I have a lot to learn, but what a pleasure to finally overcome this issue and get back to drawing. It took me time to dare to show my work. It was stupid, nothing terrible was going to happen to me, if someone found it ugly or lame I was not going to die! So if I have just a piece of advice to give, for readers who would like to draw or show their work but don't dare: go for it. I regret that I did not start sooner.
Je m'appelle Julie, j'habite à Limoges une petite ville en France. Je suis bibliothécaire, spécialisée dans le rayon de la bande dessinée. Je dessinais beaucoup quand j'étais plus jeune, j'ai étudié dans un lycée en section Arts appliqués puis j'ai fait des études de bande dessinée à Angoulême. A la fin de mes études, je suis devenue bibliothécaire pour gagner ma vie, car j'avais eu l'opportunité de découvrir ce travail avec un emploi d'été pendant mes études...et c'est vraiment un chouette job ! Choisir les BD que l'on va acheter, conseiller les lecteurs en bande dessinée... Mais le dessin me manquait et j'ai eu envie d'essayer l'illustration digitale. Je me suis achetée une palette graphique à la fin de l'année 2020 et j'ai adoré. Je dessine tous les jours depuis ! J'ai mis du temps à me lancer car je n'étais jamais satisfaite de mon travail, pas assez douée pour dessiner... un gros complexe d'infériorité ! Mon travail n'est pas parfait, j'ai encore beaucoup à apprendre mais quel plaisir d'avoir réussi à dépasser ce cap et me remettre au dessin. J'ai mis du temps à oser montrer mon travail, alors que c'est bête car il ne va rien se passer de terrible, si quelqu'un trouve ça moche je ne vais pas en mourir ! Donc si j'ai juste un conseil, pour les lecteurs qui auraient envie de dessiner ou de montrer leur travail mais n'osent pas : lancez-vous ! Je regrette de ne pas m'y être mise plus tôt.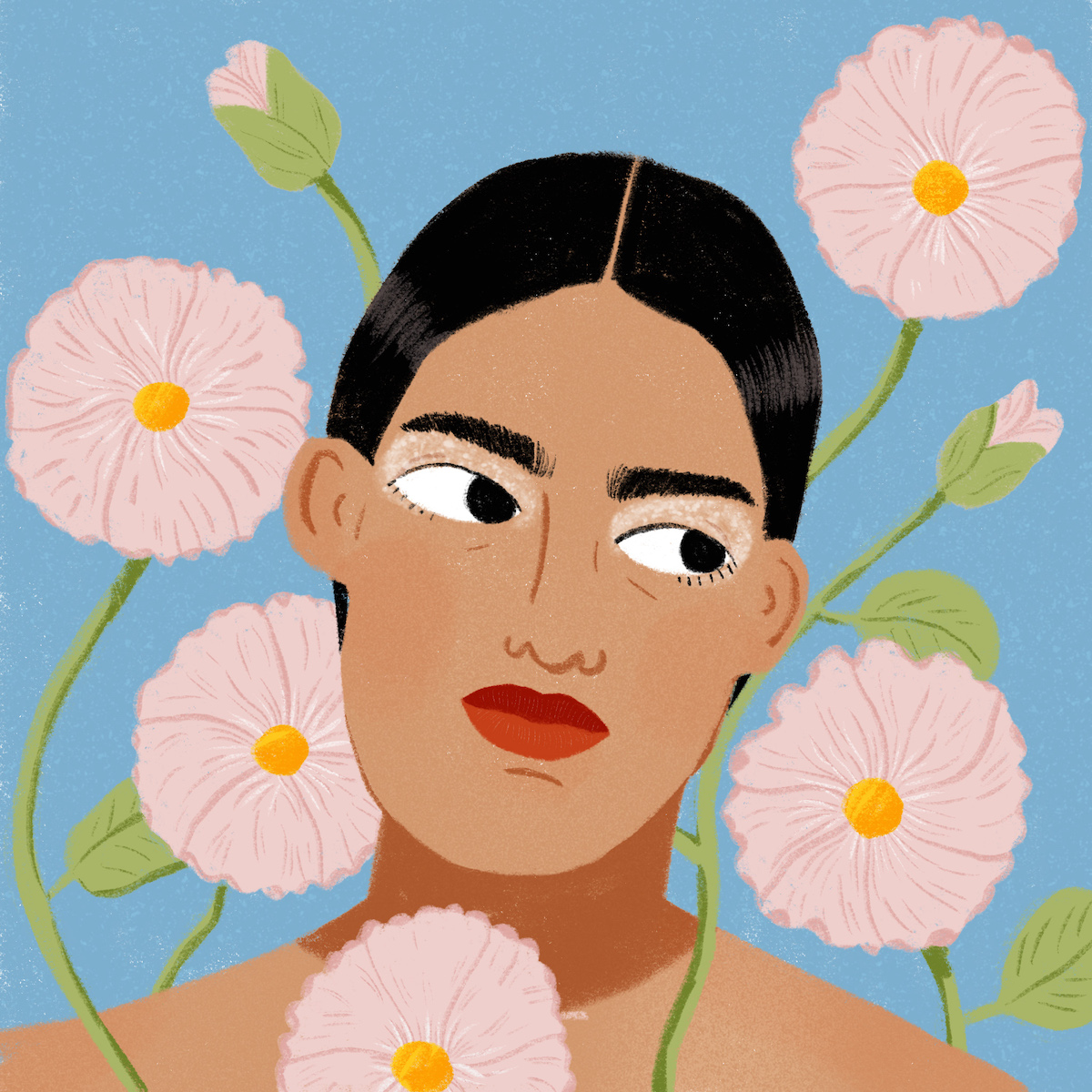 2. Tell us about your aesthetic.
I'm still looking for my style, I'm trying things out, there are so many possibilities! For the moment, it's more in a flat style and I try to play with textures and colors. My drawing is quite stylized and I don't have a designated color palette. I drew for a while in soft colors but right now I want brighter colors.
Je suis encore à la recherche de mon style, j'essaie des choses. Il y a tellement de possibilités. Pour le moment c'est plutôt de l'illustration dans un flat style, où j'essaie de jouer avec les textures et couleurs. Mon dessin est assez stylisé et je n'ai pas de palette de couleurs attitrées. J'ai dessiné pendant un moment avec des couleurs douces mais en ce moment j'ai envie de couleurs plus vives.
3. What is your favourite medium and why?
My favorite medium is photoshop with my palette or Procreate. I discovered procreate a few weeks ago and I love it. It's so easy to use and intuitive. And possibilities for both programs are endless... I feel like I have so much to try. I thought digital illustration was not for me, it seems too complicated to do... once again, I should have tried it sooner! Don't put up any barriers, try as many things as possible and you'll see what works for you and what does not. But do not give up before trying!
Mon outil préféré pour le dessin c'est Photoshop avec ma palette graphique ou Procreate sur l'Ipad. J'ai découvert Procreate récemment, et j'adore. C'est tellement facile et intuitif. Les possibilités graphiques sont sans fin avec ces deux logiciels, j'ai la sensation d'avoir encore tellement de choses à essayer ! Je pensais que le dessin digital n'était pas pour moi, ça me semblait trop compliqué à faire... là encore j'aurais dû essayer plus tôt !
Ne vous mettez pas de barrières, essayez un maximum de choses et vous verrez ce qui vous convient ou pas. Mais ne renoncez pas avant d'avoir essayé !
4. What is your artistic process like?
I start a draft on my iPad, then I go online or in books to search for some pictures about my illustration idea or theme. I try to make a quick mood board, especially when I want to work more on my color palette.
Then I start my illustration on Procreate and or Photoshop depending on what I want to do.
I tried to write or doodle on a notebook when ideas cross my mind. When I do not know what to draw I just have to pick ideas up for a new illustration.
Je commence un brouillon sur mon ipad. Je vais chercher ensuite sur internet ou dans des livres des images autour de l'idée que j'ai pour mon illustration pour faire un moodboard assez rapide, surtout quand je veux travailler un peu la palette de couleur. Je fais ensuite mon dessin sur Procreate et/ou Photoshop selon mes besoins et envies. Je note quand une idée d'illustration me vient pour avoir une petite réserve les jours où je ne sais pas quoi dessiner.
5. Who and/or what inspires your work?
So many things inspire me! It can be a movie, an Instagram illustrator, a comics book, a painting, a photograph, a person or a scene I saw in the street... Small details can be inspiring: tiles in a bathroom on a photograph give me the idea for an illustration on the theme of the sunburn or my niece's cute pink boots for an illustration about the rain! I try to have an open mind and be curious.
Beaucoup de choses m'inspirent. Ça peut être un film, un illustrateur sur instagram, une BD, une peinture ou une photographie, une personne ou une scène que j'ai vu dans la rue... Des petits détails peuvent me donner des idées : le carrelage d'une salle de bain sur une photo m'a donné une idée pour une illustration sur le thème du coup de soleil ou les bottes rose de ma nièce ! J'essaie de garder un esprit ouvert et d'être curieuse.
6. What role does art play in your life? How does it change the way you view the world?
Art allows me to escape and have a better understanding of the world and society.
A book, a TV show, a good illustration can transport me elsewhere, just as they can also make me think about our society, or myself. I love when a piece of art is so strong, so right that we think about it again days later, and it stays in our minds.
L'art permet de s'évader et de mieux comprendre le monde qui nous entoure. Un livre, une série, une illustration réussie peuvent me transporter ailleurs, comme elles peuvent également me faire réfléchir sur notre société, ou moi-même. J'aime quand une œuvre est tellement forte, tellement juste qu'on y repense encore des jours après, qu'elle nous reste en tête.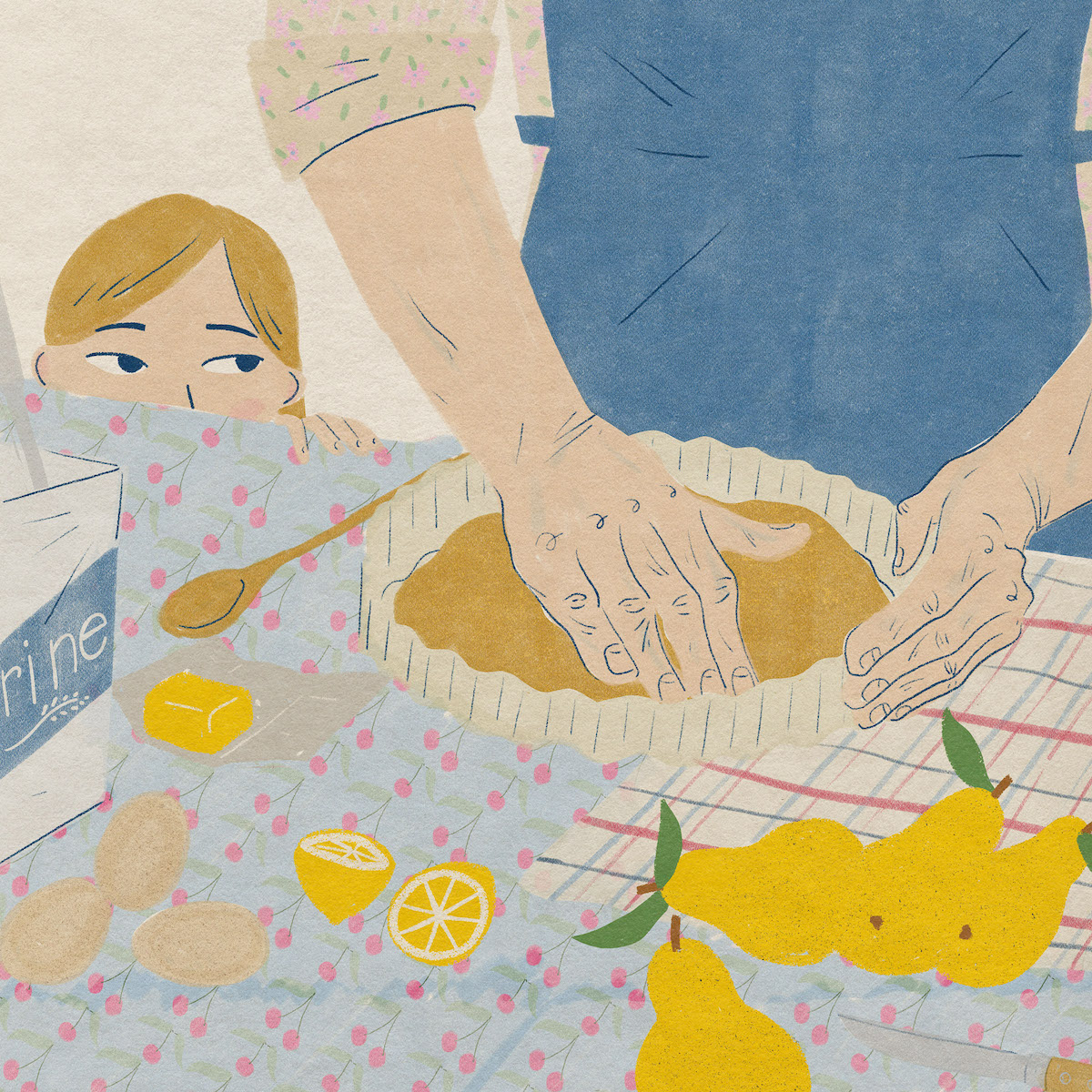 7. Where did you study?
I graduated from high school in the Arts Appliqués section (where you studied graphism, design, fashion, architecture...) then I studied at the "Ecole Européenne Supérieure de l'Image "( Beaux-Arts) in Angoulême. I studied mostly comics and some other stuff.
J'ai passé mon bac en section Arts Appliqués puis je suis allée à l'Ecole Européenne Supérieure de l'Image (les Beaux Arts) d'Angoulême, où j'ai étudié en autres choses la bande dessinée.
8. Where do you see yourself in five years?
I am just at the beginning of my illustration journey. I hope I could sell my work and work halftime as an illustrator and halftime as a librarian.

Je n'en suis qu'au début de mon chemin dans l'illustration, j'espère arriver à vendre mon travail et travailler à mi-temps entre l'illustration et la bibliothèque.
9. What about in ten?
It would be crazy and so great to work just as an illustrator or make a comic... I am leaving one day at a time and I am not thinking that far ahead. One year ago I was not even imagining drawing again and owning a graphic palette.
Ca serait fou d'arriver à travailler uniquement comme illustratrice ou d'arriver à publier une BD. Je n'y pense pas trop pour le moment, je vois au jour le jour. Il y a un an je ne m'imaginais pas avoir repris le dessin et posséder une palette graphique!
10. What do you hope to achieve with your art?
For the moment, I just hope I could give this feeling of escape, of happiness that I can have by seeing an illustration that speaks to me.
I would like later to be able to convey through an illustration my ideas about our society. To be able to find little things that will resonate somehow with people observing my illustrations.
Pour le moment j'espère juste arriver à procurer ce sentiment d'évasion, de bonheur que je peux avoir en voyant une illustration qui me parle. J'aimerais plus tard arriver à véhiculer aussi mes idées sur notre société, trouver les petites choses qui vont résonner avec les gens qui vont voir mes illustrations.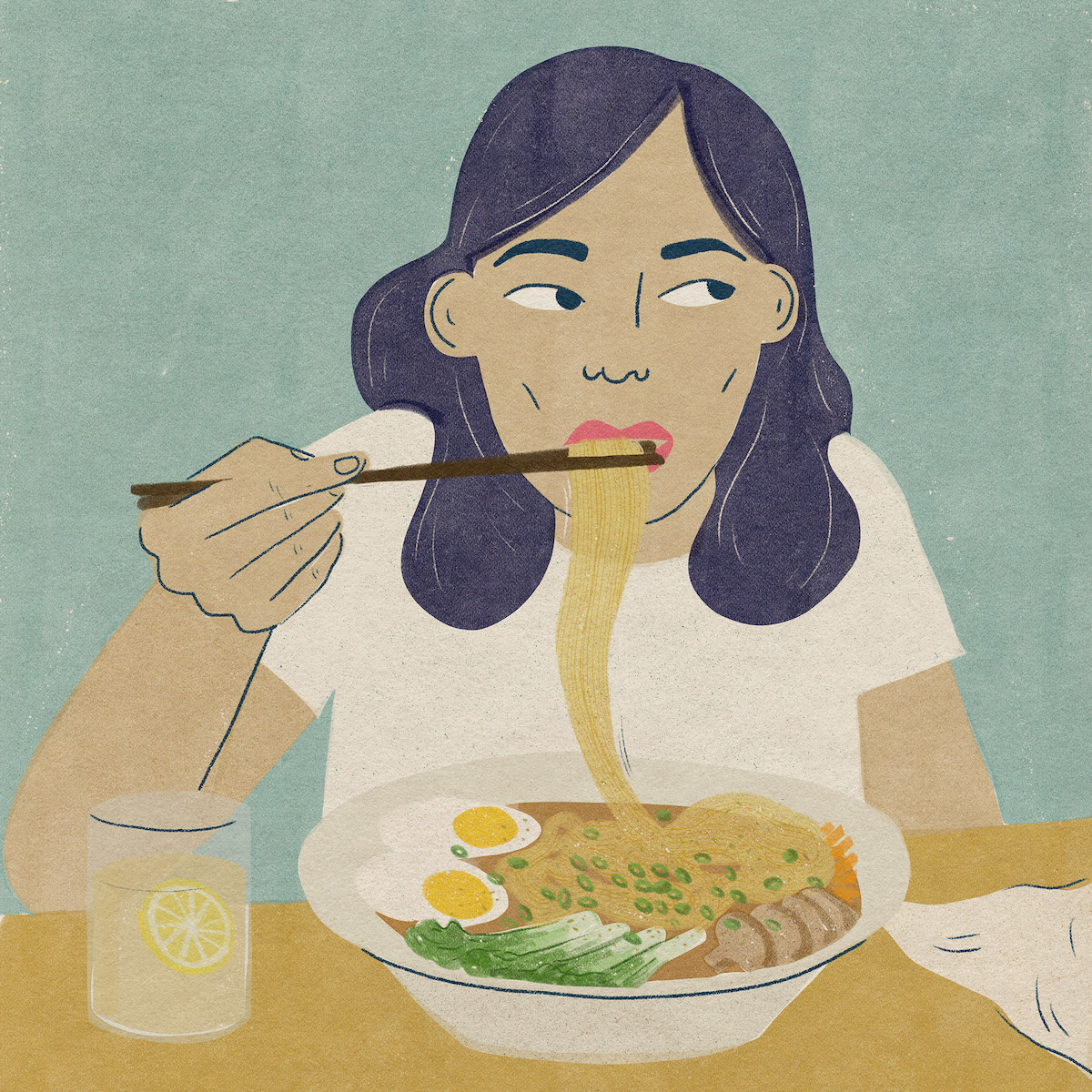 11. Now, tell us a little more about you as a person: what is your favourite food?
Tough question! My family takes food very seriously, everyone cooks... If I had to choose just one dish I would say hummus with a loaf of good bread (I should have chosen the stuffed vegetable recipe from my grandmother (and my mother now) but that would not speak to many people!)
Difficile question ! Ma famille prend la nourriture très au sérieux, tout le monde cuisine... Si je devais choisir juste un plat je dirais du houmous avec du pain grillé (j'aurais du choisir les légumes farcis de ma grand-mère, et de ma maman maintenant mais ça ne parlera pas à grand monde!)
12. Favourite book?
I love books ... it's impossible for me to pick one! Concerning comics, I would say all Chris Ware work, Black Hole by Charles Burns, Megg, Mogg and Owl by Simon Hanselman, all Riad Sattouf and Catherine Meurisse work, Ghost World by Daniel Clowes... Regarding novels I really liked Disturbance by Philippe Lançon, Vernon Subutex by Virginie Despentes, Witches by Mona Chollet (only in french for now). These are the first titles that come to my mind but if I had answered this question yesterday I might have quoted other works or authors. There are so many!
J'adore les livres...c'est impossible pour moi d'en choisir un ! En bande dessinée je dirais tout le travail de Chris Ware, Black Hole de Charles Burns, Megg, Mogg and Owl de Simon Hanselmann, le travail de Catherine Meurisse et Riad Sattouf, Ghost World de Daniel Clowes... en roman j'ai beaucoup aimé Le lambeau de Philippe Lançon, Vernon Subutex de Virginie Despentes, Sorcières de Mona Chollet. Ce sont les premiers qui me viennent à l'esprit mais si j'avais répondu à cette question hier j'aurais peut-être cité d'autres œuvres. Il y en tellement !
13. Favourite genre of music?
Rock or a little bit of Hip Hop. One of my favorite artist is Beck. I listen to a lot of music and podcast while drawing.
J'écoute surtout du rock et un peu de Hip Hop. Un des mes artistes préférés est Beck. J'écoute de la musique quand je dessine ou des podcasts.
14. What are your hobbies?
I am learning to rollerskate right now, but I am a rookie! I like to go to a movie, to drink at the pub with my friends, to read, to cook, to take a nap with my cat Ozzy...
J'apprends le patin à roulettes en ce moment, mais je suis vraiment une débutante ! J'aime aller au cinéma, boire un verre avec les copains au pub, lire, cuisiner, faire la sieste avec Ozzy mon chat...
15. If you weren't an artist, what would you be?
A librarian! Easy one because it's my actual job. It's also the job I wanted to do when I was 6 or 7 years old... because I thought librarians were reading all day long and that sounded like heaven to me (and sadly it's not true!).
Sûrement une bibliothécaire, vu que c'est le métier que j'exerce et que je l'aime bien ! C'est aussi le travail que je voulais faire quand j'avais 6 ou 7 ans car je pensais qu'un bibliothécaire lisait toute la journée, ce qui me semblait être le paradis (malheureusement ce n'est pas vrai !).