Instagram:
@kalinamecrazy
Website:
www.kalinamecrazy.com
1. What's your story? Where are you from?
Hello! I'm Kalina Croes or Kalinamecrazy. I was born and raised on this tiny island in the Caribbean called Aruba. I moved to NYC to study advertising but after graduating I realized that Illustration was something I've been always interested in. I now live in London and work as a freelance creative.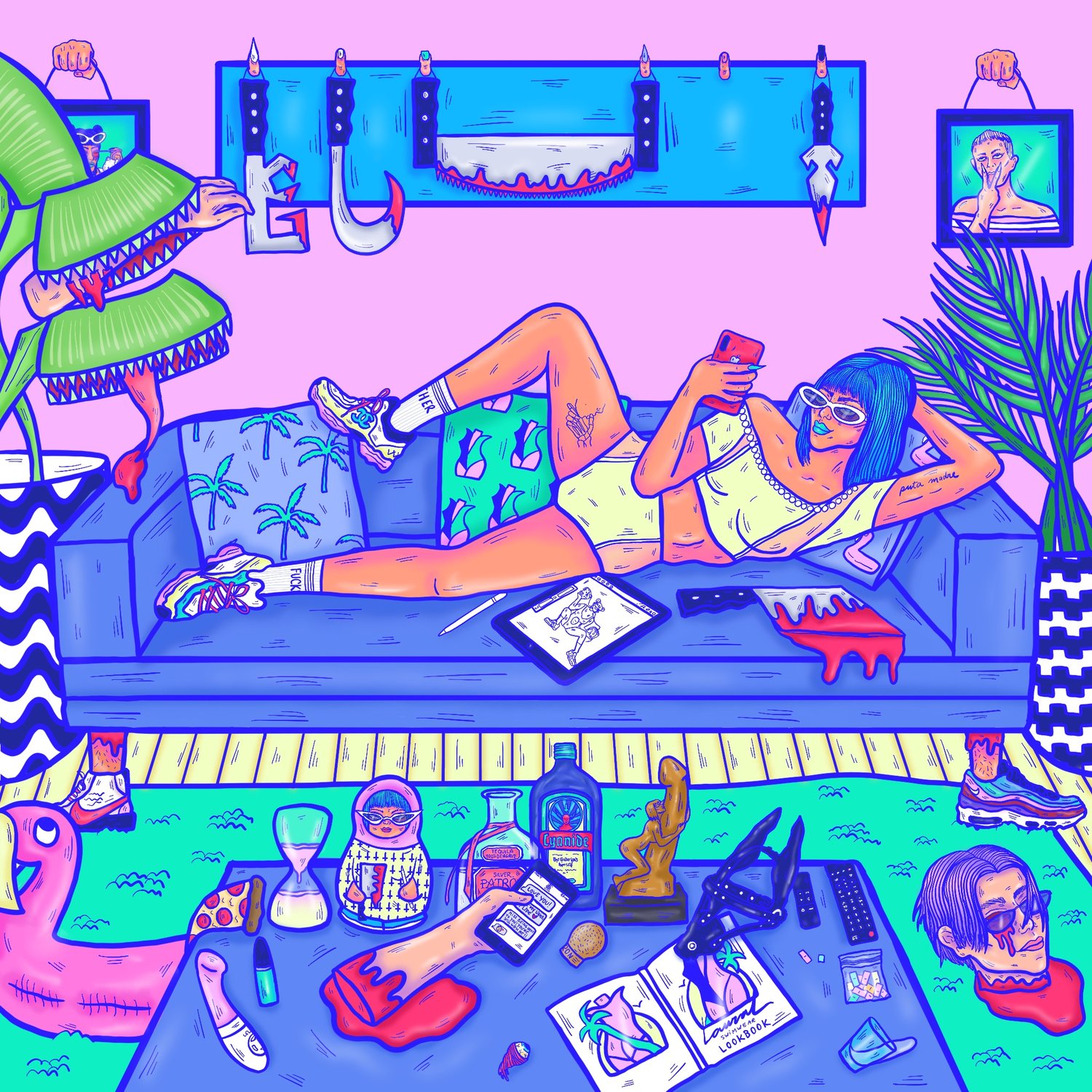 2. Tell us about your aesthetic.
It's weird cause it's slowly shifting but at this moment I'd describe it as a neon 80's killer fantasy. The neon may change in time, but right now I'm thoroughly enjoying using bright and bold colors while having such dark themes in my illustration.
3. What is your favourite medium and why?
I know some people might frown upon this, but my iPad Pro saved my life, no kidding. Although I do still love going back to basics and drawing in my sketchbook. There's something just so nice about having that immediacy the iPad Pro bring you or even any drawing tablet, and of course the editing you can do. So yeah, the Ipad Pro, 10/10 recommend. It's my tech baby.
4. What is your artistic process like?
I'm still figuring out this one. Most ideas have always been brewing in my mind for a long time, but I haven't been able to do execute them. So practicing my illustration skills has really helped me. It normally begins with the idea, then I find good references, and if I can't find one that works for what I want, I'd use my sister as my model (she's a trooper). After that I build up my composition with rough sketches on my iPad and when I'm happy I go into inking (studio pen forever ) (Only Procreate users will get it). I then go into coloring, mostly flat ones to figure out what works and what doesn't. Once I'm happy with the colors I go directly into shading and tweak accordingly. Later on, it goes straight to da gram. This is the ideal scenario though, I normally have multiple breaks where I stare at my ceiling and contemplate the meaning of life.
5. Who and/or what inspires your work?
Oh man, this is hard. What inspires my work is extremities. Mostly extreme emotions and actions and what a person does in those situations. The person who really made me go into darker themes in my illustration is Toshio Saeki. He's just so good, pushing boundaries with his disturbing illustrations, and not being afraid of controversy. It really helped me figure out how I wanted my illustrations to feel, and basically, let go of being afraid to show the ugly side of things. Kristen Liu Wong's work comes in a close second, especially her color usage, ugh, gets me every time.
6. What role does art play in your life? How does it change the way you view the world?
Well, professionally it plays a big role. I work at a creative agency where you have to always be on your A-game and always be in the know about the art/design world. Personally, it does in the way I view certain things, I could look stare at my kitchen and create a whole scenario of how my character could be in that moment. It's really bizarre, there's a fine line of how much my character and I are alike.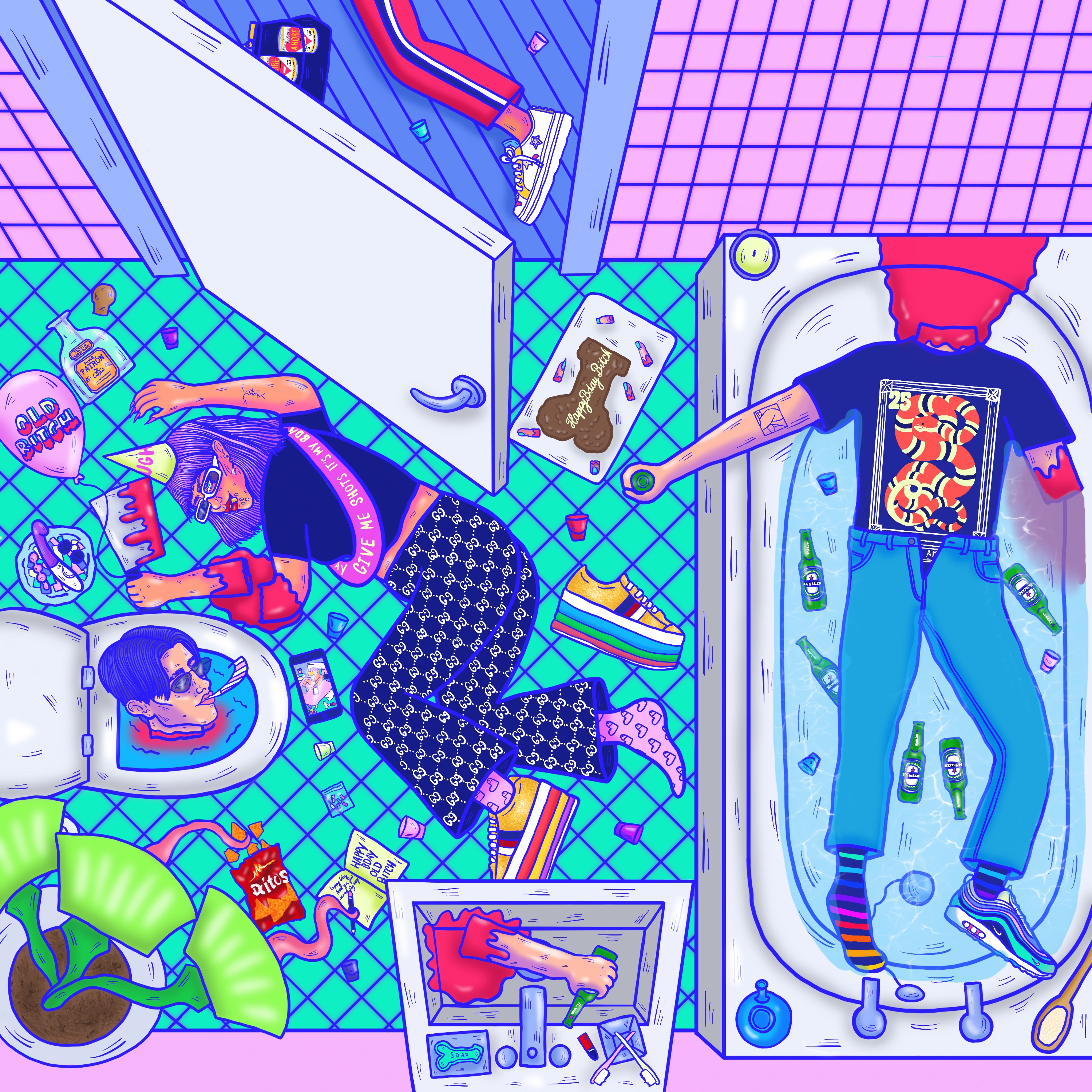 7. Where did you study?
I studied at Pratt Institute in Brooklyn, NY, with a bachelor's degree in Communications Design.
8. Where do you see yourself in five years?
Somewhere in a ditch, probably dead. Nah, just kidding (sorry for my "humor"). Hopefully really happy with whatever I'm doing, be it thriving in illustration or working somewhere I really love. It should always come down to making meaningful art.
9. What about in ten?
Achieving the coolest person award and being responsible enough to own a dog.
10. What do you hope to achieve with your art?
Clarity, the biggest thing. Figuring out what my mind is telling me, and letting it guide my art. I hope to also reach an audience that can interpret something from my art, and talk about it with me, be it big or small. I'm just really fascinated by what people think of my art because it can be super straight to the point, or abstract enough that people wonder what it means.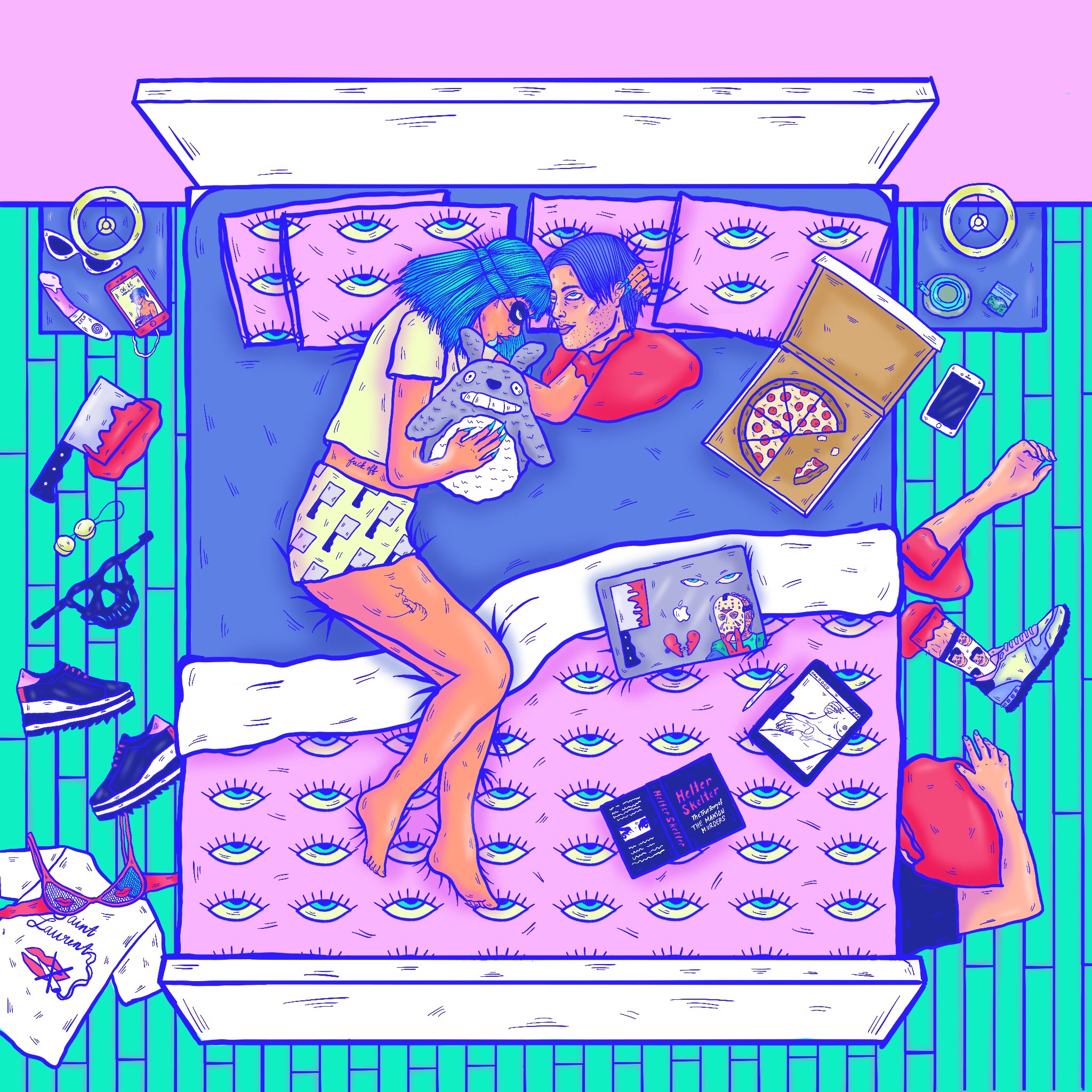 11. Now, tell us a little more about you as a person: what is your favourite food?
Ramen 147372% and then pickle, yes.
12. Favourite book?
Invisible Monsters by Chuck Palahniuk. Flash.
13. Favourite genre of music?
Alternative, indie, classics rock, chill hop, nostalgic early 2000's and 90's music, and my sick falsettos (that I don't have).
14. What are your hobbies?
Anime, working out, video games, going on dates with tequila, I also wanna say illustrating, but I'm trying to make that into my career.
15. If you weren't an artist, what would you be?
A professional eater, or trying to be an actress, that'd be cool.