Instagram:
@karlasandersart
Website:
www.karlasanders.com
1. What's your story? Where are you from?
I was born in Ohio, my mother is German and so I went to school in the US but spent nearly every summer until this day with my family in Germany. Being immersed in American parks and German forests from a young age have greatly influenced my story; I'm passionate about our environment and have shaped my life to create art around advocacy and nature storytelling. My stepping stones have included master's degrees in environmental studies and graphic design, working for environmental non-profit groups, tasting corporate life as an in-house graphic designer, co-starting my own design businesses, and going on a year-long adventure through 30 national parks of America from 2016 to 2017. Central to it all has been my love for art, which re-awoke during that adventure, and since then I've grown my own career as an independent illustrator.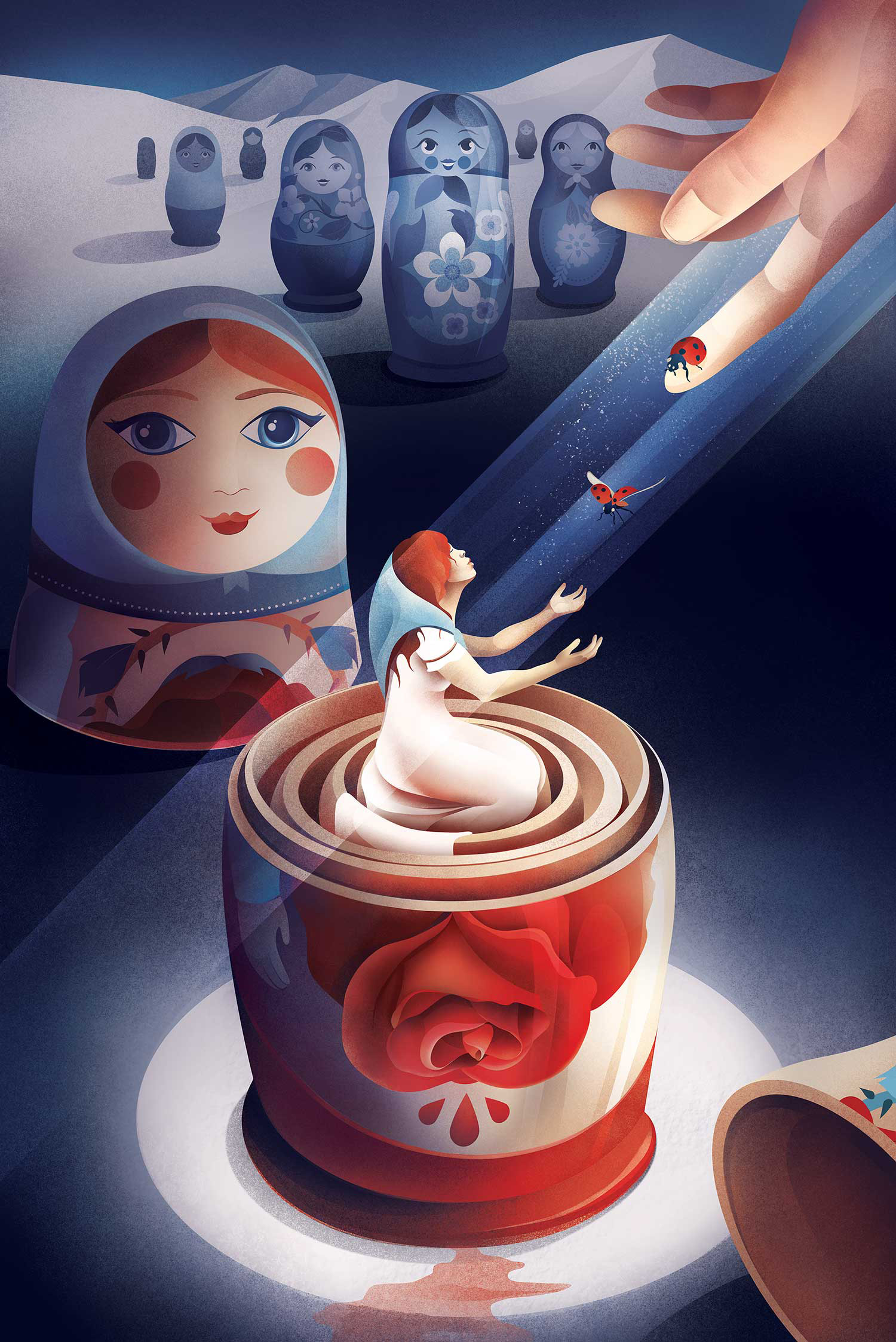 2. Tell us about your aesthetic.
My aesthetic is a reflection of how I see the world. It's vibrant and layered, I love using rich colors and contrasts to express the intensity, wonder and mystery of life.
3. What is your favourite medium and why?
Digital illustration is my favorite medium because of its versatility and an incredible array of opportunities. I can explore so many possibilities in the digital realm and there are more tools at my disposal to express an idea. The options feel endless, which also means it's challenging at times not to become overwhelmed by it all. However, I believe it's important for all artists to learn traditional mediums first, considering that most digital tools are based on traditional ones. This way we truly understand what we are using while creating.
4. What is your artistic process like?
My process truly begins with experiencing the world. Whether through physical exploration or absorbing books, podcasts and other art forms, I think it's essential for artists to nurture a strong thirst for knowledge. Our minds are like libraries, we never know which book an idea might come from. It's so important to just go out and do different activities. I currently volunteer part-time on an olive-tree farm where I'm living in Cyprus, and that supports my process a lot. I always begin a project with sketching, but sometimes my sketches for personal work are so rough no one would be able to understand it. For client work, I put a lot more focus on the sketches and from there I follow a typical traditional painting process. Underpainting, block out color dynamics and lights/shadows, followed by details. I'm currently illustrating in Procreate, but for a long time have balanced my workflow between Illustrator and Photoshop. I also love writing poetry and will typically write a poem for each work.
5. Who and/or what inspires your work?
I am inspired by a drive to bring healing and love to the world. I see art as a universal language and I create mine to share ideas about how we can create a just, healthy, and nature-friendly society for all species. The actual aesthetic of my work is inspired by many other artists, contemporary and historic. For example, a few months ago I went to a Matisse exhibit and several of the works I saw inspired one of my recent pieces using peachy warm hues and olive green hues. I recently listened to a story about Caravaggio on a podcast called History on Fire, and this inspired me to think about how I can bring greater light / dark contrast into my work. I also love the simplicity of old art deco posters, the details of 1920s fairytale illustration, historic artists like Aaron Douglas, and contemporary illustrators like Charlie Davis.
6. What role does art play in your life? How does it change the way you view the world?
Art is a language connecting people. I see artists as creating windows with their work, a way for us to see both them and different ways of seeing and understanding the world. We often live closed off from each other, sometimes even fearful of our own neighbors, but art creates bridges that show we are all walking the common path after all. My own poetry and art express ideas and emotions I can't otherwise describe but hope will help other people.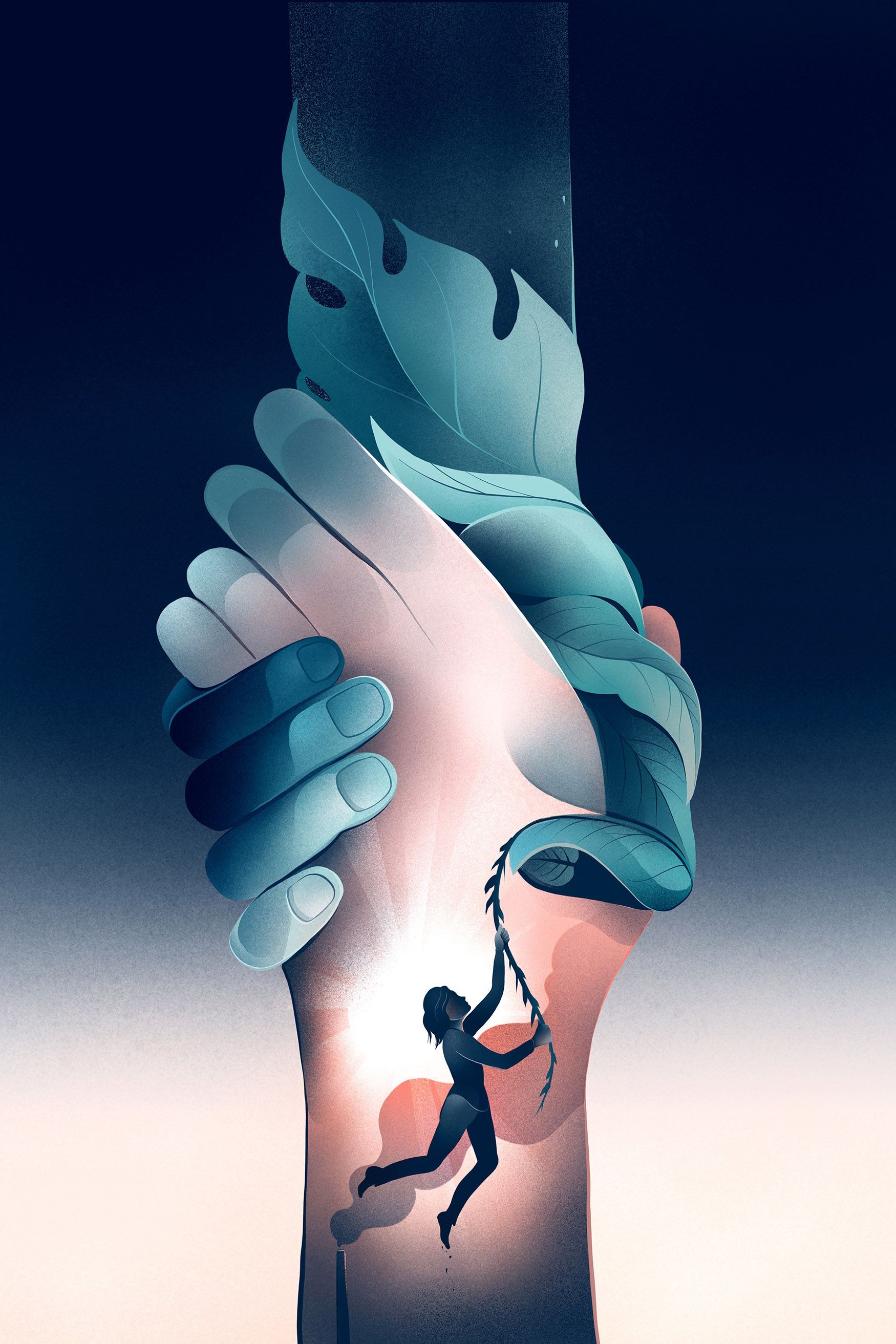 7. Where did you study?
My education began at the School for Creative and Performing Arts in Cincinnati, Ohio, where I spent six years studying traditional art and art history. From there I received a Bachelor of Science in Geography from Ohio University, a Master of Science in Environmental Studies from Ohio University, and a Master of Graphic Design from the Florence Institute of Design International.
8. Where do you see yourself in five years?
In five years I am working with an abundant range of environmental and social advocacy groups and companies creating art to support their missions. I'll be living nearly plastic-free, supporting renewable energy initiatives, volunteering on farms on a regular basis, and investing in the plan of my own homestead.
9. What about in ten?
In ten years I am living on my own self-sustainable homestead with a beautiful family including rescued animals, a small house made of reused and refurbished materials, including a wonderful studio with lots of light and a huge library full of rescued books. My art is published and reaching people in every country, in galleries, and I am continuing to work with awesome clients who also wish to create a healthy and peaceful society focused on nature.
10. What do you hope to achieve with your art?
I am not at all shy to say, I want to change the world with my art. I want to help people along with their transformations as we move into a more loving form of existence. That starts with developing our minds, replacing fossil fuels with safe and healthy options, investing in all the incredible technologies and science to support ecosystems rather than destroy them, improve our health, decrease waste, stop all animal killing and slavery, empower women, eradicate poverty and human injustice, and end wars. To name a few from my manifesto.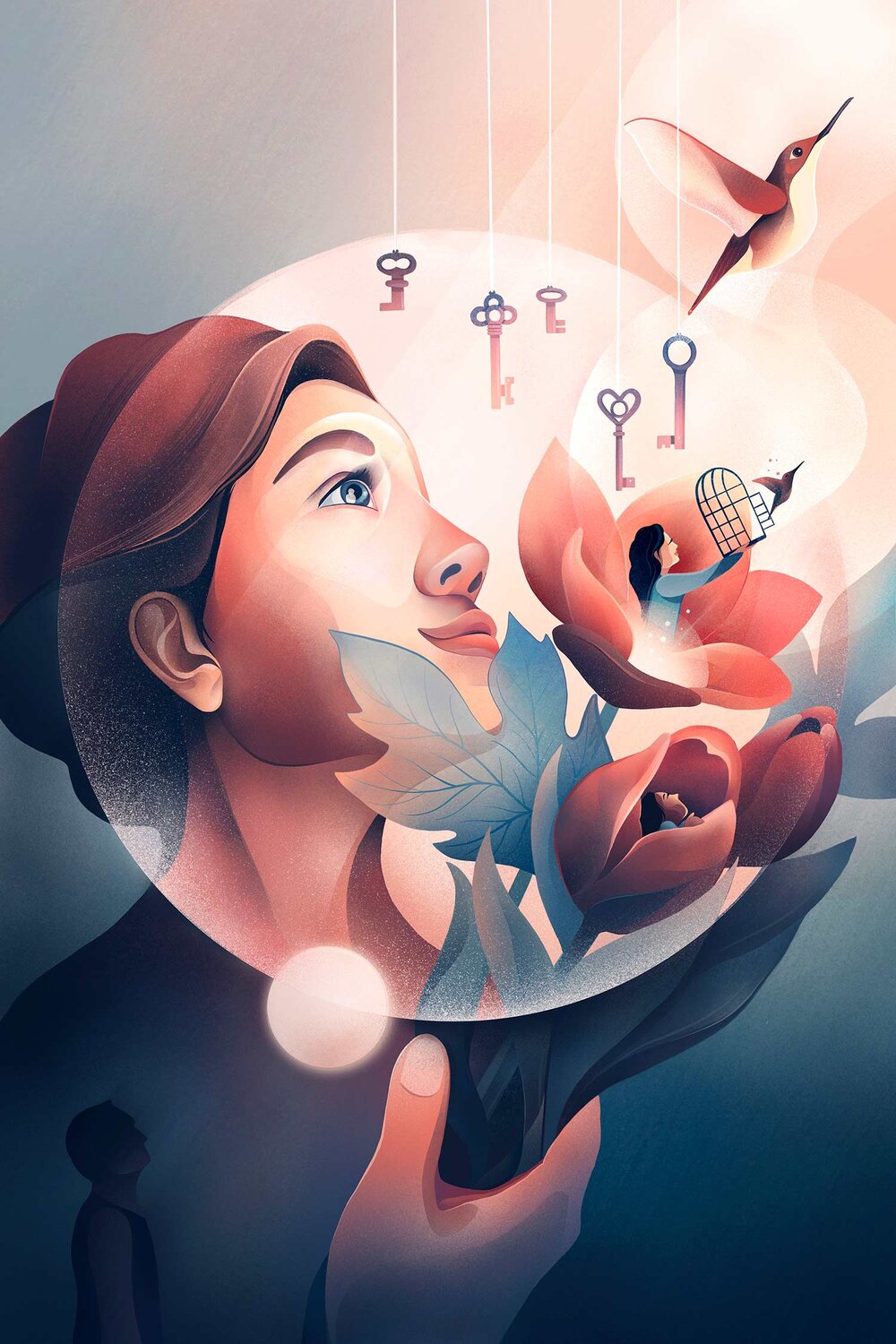 11. Now, tell us a little more about you as a person: what is your favourite food?
All vegan food! One of my favorites is so simple: freshly baked bread with olive oil, salt and garlic.
12. Favourite book?
So many! I'll name The Seven Spiritual Laws of Success as being one of the most influential so far.
13. Favourite genre of music?
So many, the piano is my favorite instrument and I love Ludovico Einaudi. I also love a genre of music that mixes traditional Latin American folk music with a modern electronic vibe, inspired primarily by nature. El Búho is an example of this. Huge fan of ethereal genres and classical music as well. Of course classic rock.
14. What are your hobbies?
I run almost every day, I'm currently training for my second marathon. Fitness in general, many forms of outdoor recreation like hiking and backpacking, getting my hands soiled in farm work, interacting with animals, playing piano, learning new crafts like sewing projects, and going to museums if they're available.
15. If you weren't an artist, what would you be?
A vegan organic farmer and create a refuge for rescued animals. I want to do that anyway!