Instagram:
@karljmountford
Twitter:
@karlj_mountford
1. What's your story? Where are you from?
I was born in Germany (my dad was in the military ) but when he was done doing that we moved back to England. We moved around a lot so 'where I'm from' is a question that stumps me a little as I don't feel like one place is home in the true sense of the word. I went to University of Wales, in a place dubbed 'the pretty shitty city' or as I know it, Swansea. It's a beaut of place and I met some of my favourite people there and it's where I really started my illustration career.t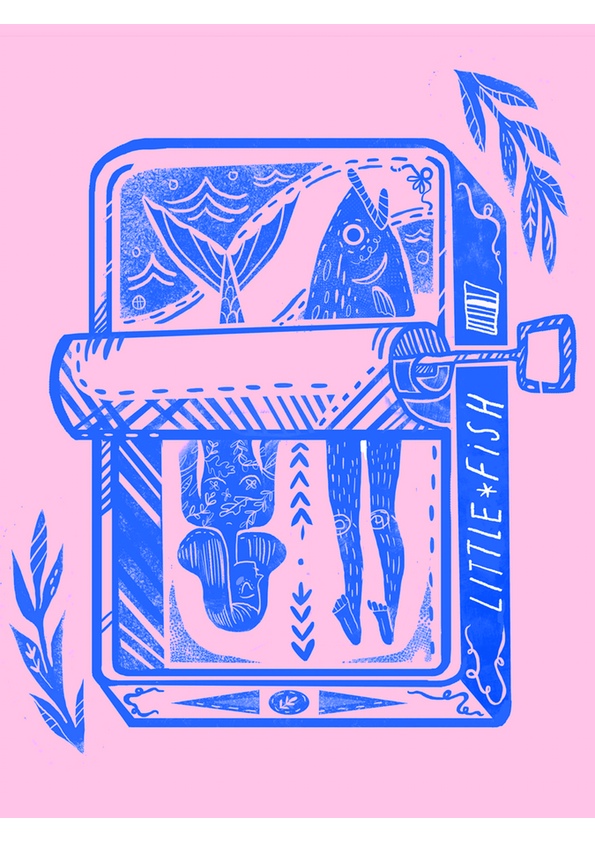 2. Tell us about your aesthetic.
Ah, this is a tough one, I find it a bit difficult to describe my 'aesthetic' it feels like it's a living thing. Depending on my mindset it changes its reflection. If that makes any sense? Also, I can't see the wood for the trees with my own work, it's all based on gut feeling ..although a client recently said that my work had 'a lot of humanity' about it which was really nice to hear. So I'm gonna go with that.
3. What is your favourite medium and why?
I love it all. Albeit a lot of my work looks heavy in digital, it's actually made up of a hybrid of mediums. I scan a lot of textures of paint or old paper and try and make the digital brushes a lot less clinical. But if I had to pick the trusty pencil and paper.
4. What is your artistic process like?
I have two. I have my ' professional' process where there is a somewhat order to how I make work. Getting a brief, studying said brief then rough sketches, final sketches to final medium work - it's often a collaboration with publishers and designers but when I'm making work for me it's really relaxing and there is no time frame lingering over my head or art direction from other people, so it feels more natural and it's usually where I think I make my best work - but that could just be because I get more time to think about how a certain illustration is going to end up.
5. Who and/or what inspires your work?
Everything and anything. film, music, people, different decades of time, everything is up for grabs when it comes to inspiration. I recently watched this 80's film ' Mermaids' with Winona Ryder in and the whole film has the 50's/60 American, small town vibe, so my brain has been ticking overtime on trying to do something with that idea in mind. In terms of ' who' inspires me I'm a MASSIVE fan of illustrator Shaun Tan his stories alone stand 10 feet tall and the artwork is just beautiful
6. What role does art play in your life? How does it change the way you view the world?
It's sort of the foundation for everything, I've kinda turned something I love to do, into a job. It's how I pay my rent but also how I (and I think other freelance illustrators) have a sort of voice (without sounding too cheesy) In terms of how I see the world, art's a great way to collectively understand the insane stuff that happens on the planet whether that's through visual humour or something so beautiful or poignant - it just stops folks in their tracks.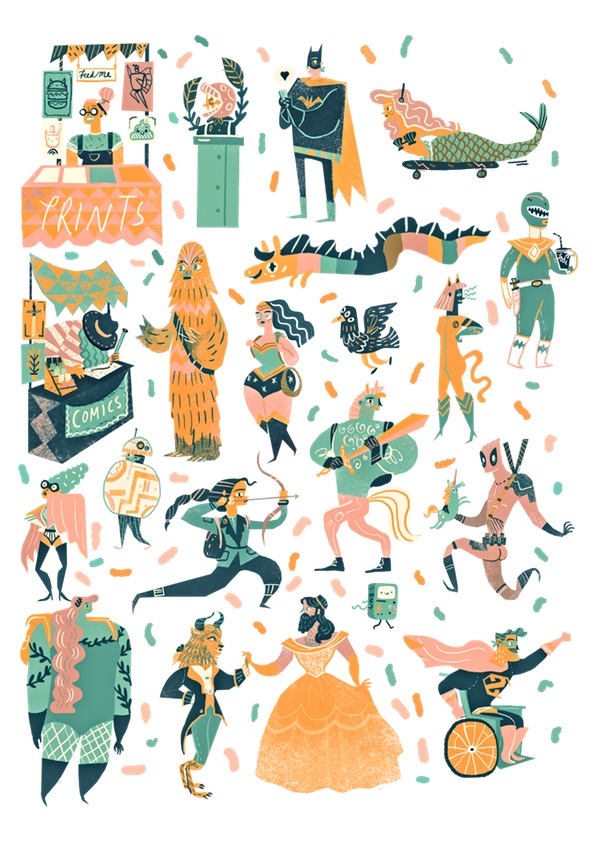 7. Where did you study?
I studied at a University in Wales (U.K) - when I was there it was called Swansea Metropolitan University but i think it's changed to Swansea college of Art now? Amazing little place to study.
8. Where do you see yourself in five years? Working in an agency?
Ah man, that's a whole lot of time to think about! I'm represented by the Bright agency, been with them just over a year now which has been great and a massive learning curve. So I think in 5 years time I'd like to be more settled as a 'grown up' and working on my own picture books. Fingers crossed aye?
9. What about in ten?
HAHA, even more time to think on….I'd like to hope that i'm still illustrating
10. What do you hope to achieve with your art?
It would be great to tell stories with it and not just stories that get put to one side after reading, something people will really care about. Easier said than done trying to hit that universal cord, but we'll see what happens.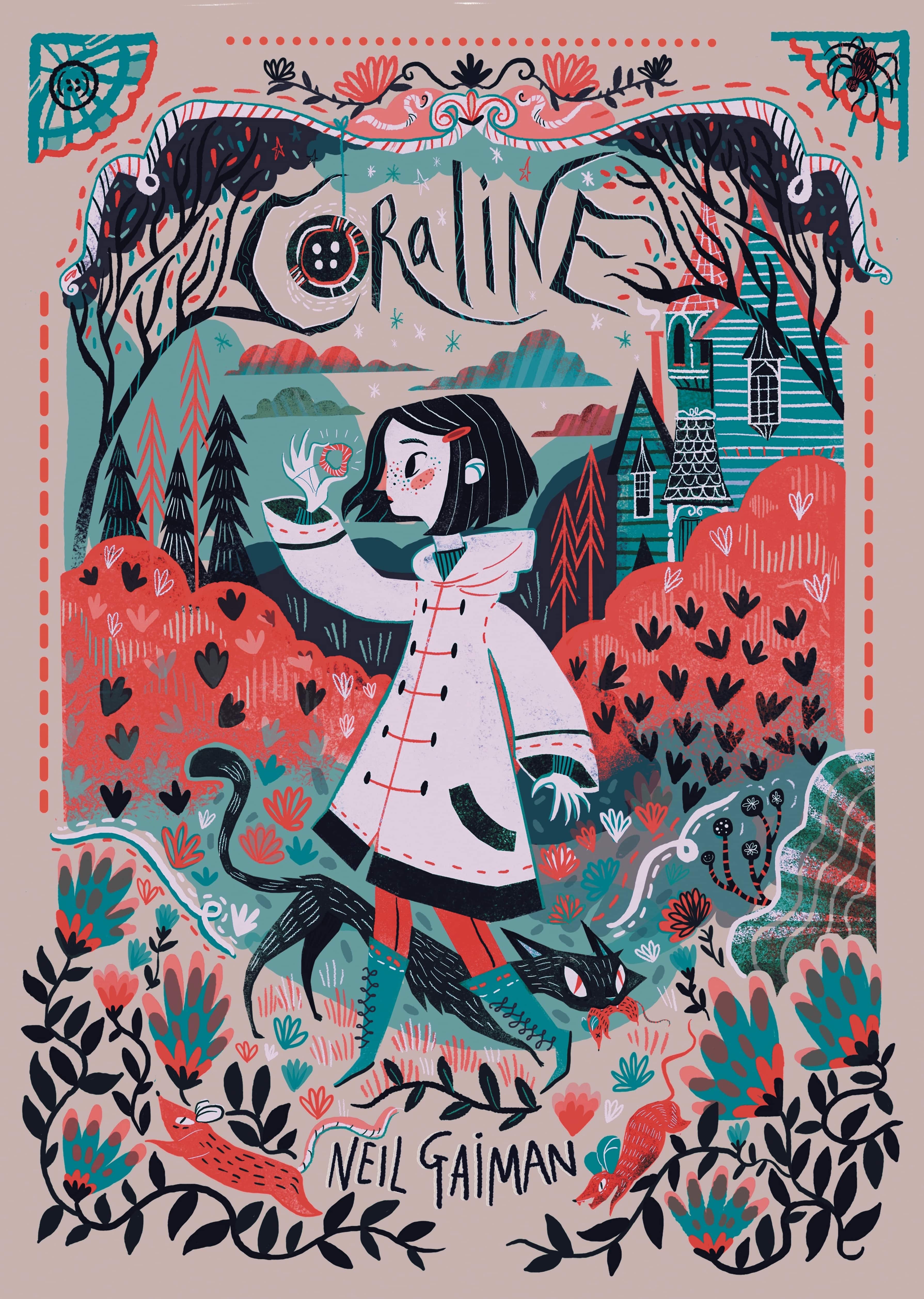 11. Now, tell us a little more about you as a person: what is your favourite food?
I'm a lazy food person. Honestly - picnic food is my favourite, if it doesn't require hours of cooking I'm all for it.
12. Favourite book?
Ah, this is the pretty tough question... I have so many. But one that I re-read a lot is 'The perks of being a wallflower' but favourite picture book..might have to be Shaun Tan's 'The Arrival' or ' The Red Tree' or Maurice Sendak's 'Where the wild things are' ..it's too tough to call
13. Favourite genre of music?
I don't really have a favourite genre, indie stuff I guess - I've been listening to a lot to 60's soul music recently though, that stuff is good for the heart.
14. What are your hobbies?
Haha- drawing, can't keep away from it! Erm reading, fixing things if that's a hobby? I did try running for a few months but I got paranoid about the way I run and my iPod kept falling out and Wales is usually cold or raining , god bless it- so I gave that a quick miss
15. If you weren't an artist, what would you be?
I reckon a vet..or someone who runs/looks after a rescue farm for badly treated animals OR I'd open a book shop and call it something terrible like ''The Page Turners', nah scrap that. That sounds a bit too culty or Christian rock band like. How about the ' The Bookaneers' - like buccaneers....wordplay. Alright - I'm gonna stick with the first answer, coming up with a name for a fictitious independent books shop has put me off the idea.