Instagram: @karwozniak
1. What's your story? Where are you from?
My name is Karolina Woźniak and I am an illustrator from Poland.
I have been drawing since I remember (so since I could hold a crayon or pencil in my hand at age 2). I've always wanted to do something related to illustration/handicraft. Creating gives me the greatest joy and satisfaction. At the beginning of my career I was working as a graphic designer ( in an advertising agency) but I knew it wasn't for me. For a few months now I have been working as a full-time illustrator in a clothing company.
Nazywam się Karolina Woźniak i jestem ilustratorką z Polski.
Rysuje odkąd tylko potrafiłam utrzymać w ręku kredkę czy ołówek. Od zawsze chciałam zajmować się czymś związanym z ilustracją i rękodziełem. Tworzenie sprawia mi największą radość i satysfakcję. Na początku mojej kariery zawodowej zajmowałam się głównie grafika (pracowałem w agencji reklamowej) ale wiedzialam ze to nie dla mnie. Od paru miesięcy jednak pracuje jako pełnowymiarowy ilustrator w firmie odzieżowej
2. Tell us about your aesthetic.
I love vibrant colors. I like to use a lot of patterns and textures.
Uwielbiam zdecydowane kolory i mocne połączenia. Lubię mieszać wzory, używać dużej ilości patternów i tekstur.
3. What is your favourite medium and why?
I like working on tablet using some graphic programs (mainly Procreate, sometimes Photoshop). You can always undo, move something or change the size. If you have the right brushes in the program, you can achieve effects very similar to traditional media like pencil, paint or crayon. It's also easier to overlap colors.
Some time ago I tried to draw something entirely on a piece of paper and it was very difficult for me.
Najbardziej odpowiada mi praca na ekranie w programie graficznym. Zawsze można cofnąć, coś przesunąć i zamienić. Jeśli ma się odpowiednie pędzle w programie to można uzyskać efekty bardzo podobne do tradycyjnych medium jak ołówek, farba czy kredka. Łatwiej się też nakłada na siebie kolory. Jakiś czas temu próbowałam narysować coś w całości na kartce papieru i było to dla mnie strasznie trudne.
4. What is your artistic process like?
When I have a topic for an illustration I like to search on Pinterest or google how others have dealt with it first. I also look at illustrations and photos that are not related to the topic I'm going to illustrate, just images which I simply like. This usually stimulates my imagination. I make quick pencil sketches on paper. I don't like sketching ideas on a tablet screen, I don't know why. I try not to look at the works of others while drawing to avoid unconscious plagiarism. Looking at other illustrations is only at the level of inventing a concept.
Gdy mam zadany temat na ilustracje lubię najpierw zobaczyć jak inni podeszli do tego tematu. Oglądam też ilustracje i zdjęcia niezwiązane z tematem, takie które mi się po prostu podobają. To zazwyczaj pobudza moja wyobraźnie. Robie szybkie szkice ołówkiem na papierze. Nie lubię szkicować pomysłów na ekranie tabletu, nie wiem czemu. Staram się podczas rysowania nie patrzeć na prace innych, żeby uniknąć nieświadomego plagiatu. Oglądanie innych ilustracji jest tylko na poziomie wymyślania koncepcji.
5. Who and/or what inspires your work?
I have many favorite artists. I observe many profiles with different themes: from photography, through ceramics to clothes.
Mam wiele ulubionych twórców, mniej lub bardziej znanych. Obserwuje wiele profili o różnorodnej tematyce: od fotografii, przez ceramikę po ubrania.
6. What role does art play in your life? How does it change the way you view the world?
I don't know exactly how it changed my view of the world, because art has always been with me. My mother "infected" me with it, showed me pictures of famous painters, gave me a lot of art books. Art was always present in my house.
I know that sometimes I can be more sensitive to how things or buildings look like. While talking with my boyfriend I often comment on the world around me or pay attention to something and then he says "oh really! I would never look at it that way".
Nie wiem dokładnie jak zmieniła moje postrzeganie świata, bo towarzyszy mi od zawsze. Moja mama mnie tym też trochę zaraziła, pokazywała mi obrazy sławnych malarzy, dawała książki. Zawsze ta sztuka była obecna w moim domu.
Wiem, że mogę czasem być bardziej wrażliwa na bodźce estetyczne, na to jak wyglądają jakieś rzeczy czy budowle. Często komentuje otaczający świat mojemu chłopakowi albo zwracam na coś uwagę i on wtedy mówi że "ooo faktycznie, w życiu bym na to tak nie spojrzał".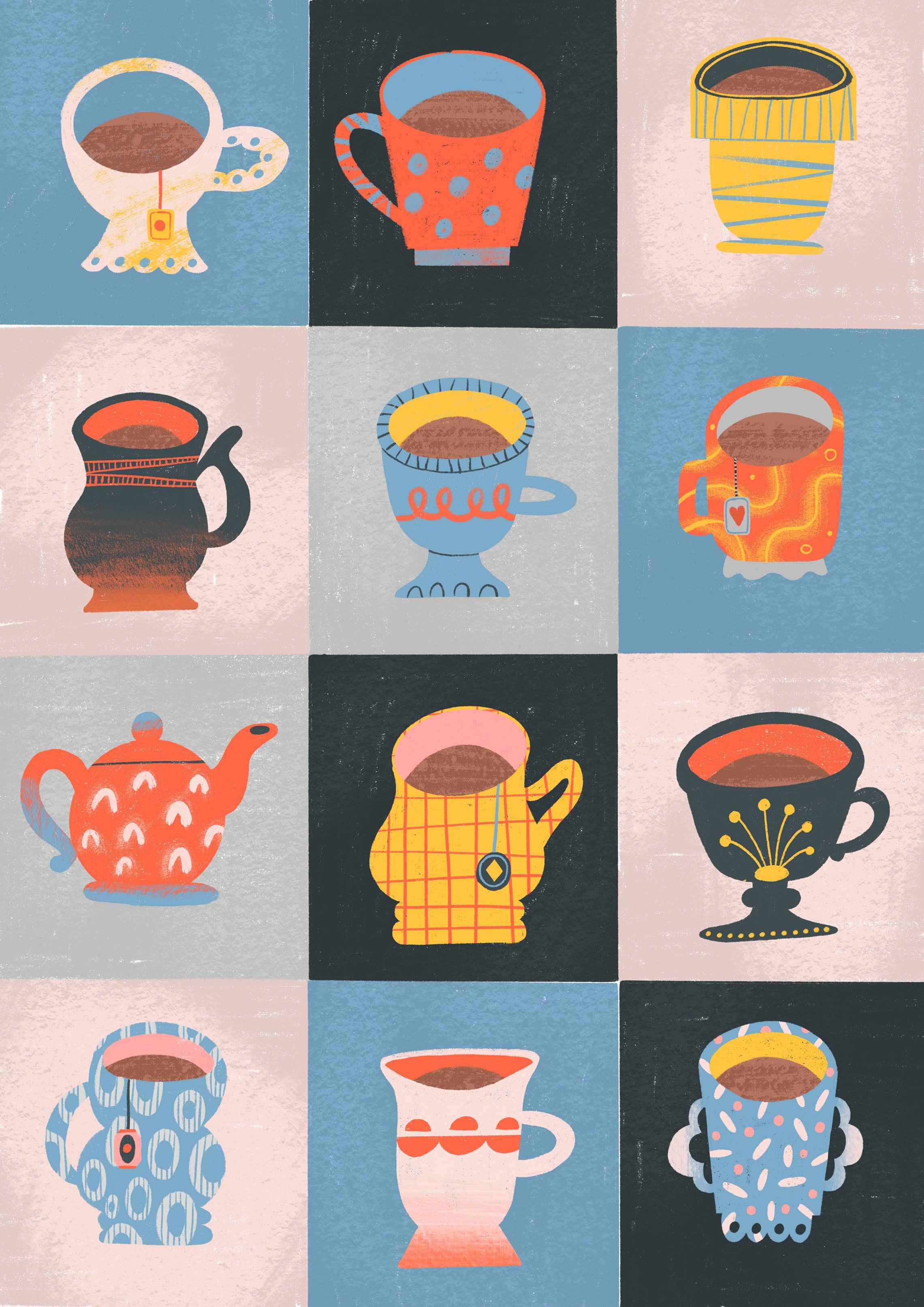 7. Where did you study?
My main university was the Lodz University of Technology (Poland), with a degree in Visual Communication and Printing Techniques.
But during 6 years at the university I had the opportunity to go on 4 student exchanges: in Turkey (Pamukkale), Bosnia (Sarajevo), Croatia (Zagreb) and Spain (Valencia). Each of these trips gave me a loooot of new skills, not only in professional field but also many life skills. I strongly encourage all the undecided to such trips. You will not regret it!
Moja główną uczelnią była Politechnika Łódzka, na kierunku Komunikacja wizualna i techniki druku. Ale w czasie 6 lat na uniwersytecie miałam okazję wyjechać na 4 wymiany studenckie: do Turcji (Pamukkale), Bośni (Sarajewo), Chorwacji (Zagrzeb) i Hiszpanii(Walencja). Każdy z tych wyjazdów dał mi baaaardzo dużo nowych umiejętności, nie tylko zawodowych ale także życiowych. Zdecydowanie zachęcam wszystkich niezdecydowanych do takich wyjazdów.
8. Where do you see yourself in five years?
Ohhhh, I have many plans. I'd like to finally start my own business and be my own boss. I'd also like to get more involved in charity - now I'm doing it more from time to time. I have more plans and ideas, but it's work in progress right now.
Ohhhh mam wiele planów. Chciałabym w końcu założyć swój biznes i być swoim własnym szefem. Chciałabym tez bardziej zaangażować się w działalność charytatywna- teraz robię to bardziej z doskoku co jakiś czas. Mam więcej planów i pomysłów ale one są na razie na etapie tworzenia.
9. What about in ten?
I think everything that I plan to bring to life in five years plus any new ideas - if I will have the time and energy to do so.
Myślę, że wszystko to co planuje wprowadzić w życie w ciągu pięciu lat plus ewentualne nowe pomysły o ile starczy mi na to czasu i energii.
10. What do you hope to achieve with your art?
I just simply want people to enjoy what I do. I also wish I could help others through my work. It's very important for me to organize fundraising or auctions that will help other people.
Chciałabym żeby po prostu to co robię sprawiało ludziom przyjemność. Chciałabym też móc pomagać innym dzięki mojej twórczości. Organizować zbiórki czy aukcje z których pieniądze pójdą na cele charytatywne - to dla mnie bardzo ważne.
11. Now, tell us a little more about you as a person: what is your favourite food?
I love to eat. I really like Middle Eastern cuisine. I'm eating a lot of Ramen and Indian food.
I love eating vegetables and fruits. I practically stopped eating meat, for ecological reasons. But there's no fanaticism in it - I'm more a flexitarian than a vegetarian.
Kocham jeść. Bardzo lubię kuchnię bliskiego wschodu. Nie pogardzę też nigdy kuchnia indyjska czy ramenem. Uwielbiam jeść warzywa i owoce. Mięso praktycznie odstawiłam, ze względów ekologicznych. Ale nie ma w tym fanatyzmu- jestem bardziej fleksitarianką niż wegetarianką.
12. Favourite book?
I don't have one favorite book. I like horrors and thrillers. My favorite writer is S. King.
I also like to read popular science books.
Nie mam jednej ulubionej książki. Lubię horrory i thrillery. Moim ulubionym pisarzem jest King.
Lubię też czytać książki popularnonaukowe.
13. Favourite genre of music?
It's hard to say because I listen to almost every type of music, depending on my mood and situation. So far my favourite bands are Glass Animals, Polo&Pan, LaFemme and Spanish band Estopa.
Ciężko powiedzieć bo słucham prawie każdego typu muzyki, w zależności od nastroju i sytuacji. Jak na razie moje ulubione zespoły to Glass Animals, Polo&Pan, LaFemme i hiszpański zespół Estopa.
14. What are your hobbies?
I think my biggest hobby is creating. I mostly draw, but lately I've been making little rugs on loom. In the past, I've done various things: braiding, making makeovers of clothes, making bead jewelry, sticking, knitting... Generally, hand made related. I also like to cook.
Myślę, że moim największym hobby jest tworzenie. Głównie rysuje ale ostatnio robię też dywaniki na krośnie. W przeszłości robiłam różne rzeczy: sutasz, przerabiałam ubrania, robiłam biżuterię z koralików, lepiłam, robiłam na drutach... Generalnie szeroko pojęte hand made. Lubię też gotować.
15. If you weren't an artist, what would you be?
I can't imagine life without art, but if art doesn't exist I would probably do something related to mathematics and physics. I'm extremely interested in science, I'm all the time looking for some interesting facts and new discoveries. I would probably be exploring space or something like that.
Nie wyobrażam sobie życia bez tworzenia, ale zakładając, że sztuka nie istnieje to pewnie robiłabym coś związanego z matematyka i fizyka. Nauka szalenie mnie interesuje, ciagle wyszukuje jakieś ciekawostki i nowe odkrycia. Pewnie badałabym kosmos albo cos w tym stylu.