Instagram:
@kate_costigan
Etsy:
www.etsy.com/uk/shop/KateCostiganDesign
Website:
www.katecostigan.com
1. What's your story? Where are you from?
I was born in Glasgow, in sunny Scotland, and for as long as I can remember I've wanted to be an artist of some kind. I was lucky enough to go to Glasgow School of Art, graduating in 2012 and I moved to London in 2013 to work at a design firm. Last year I stopped working full-time and am now a freelance illustrator/designer, with more time to spend on my first love - illustration!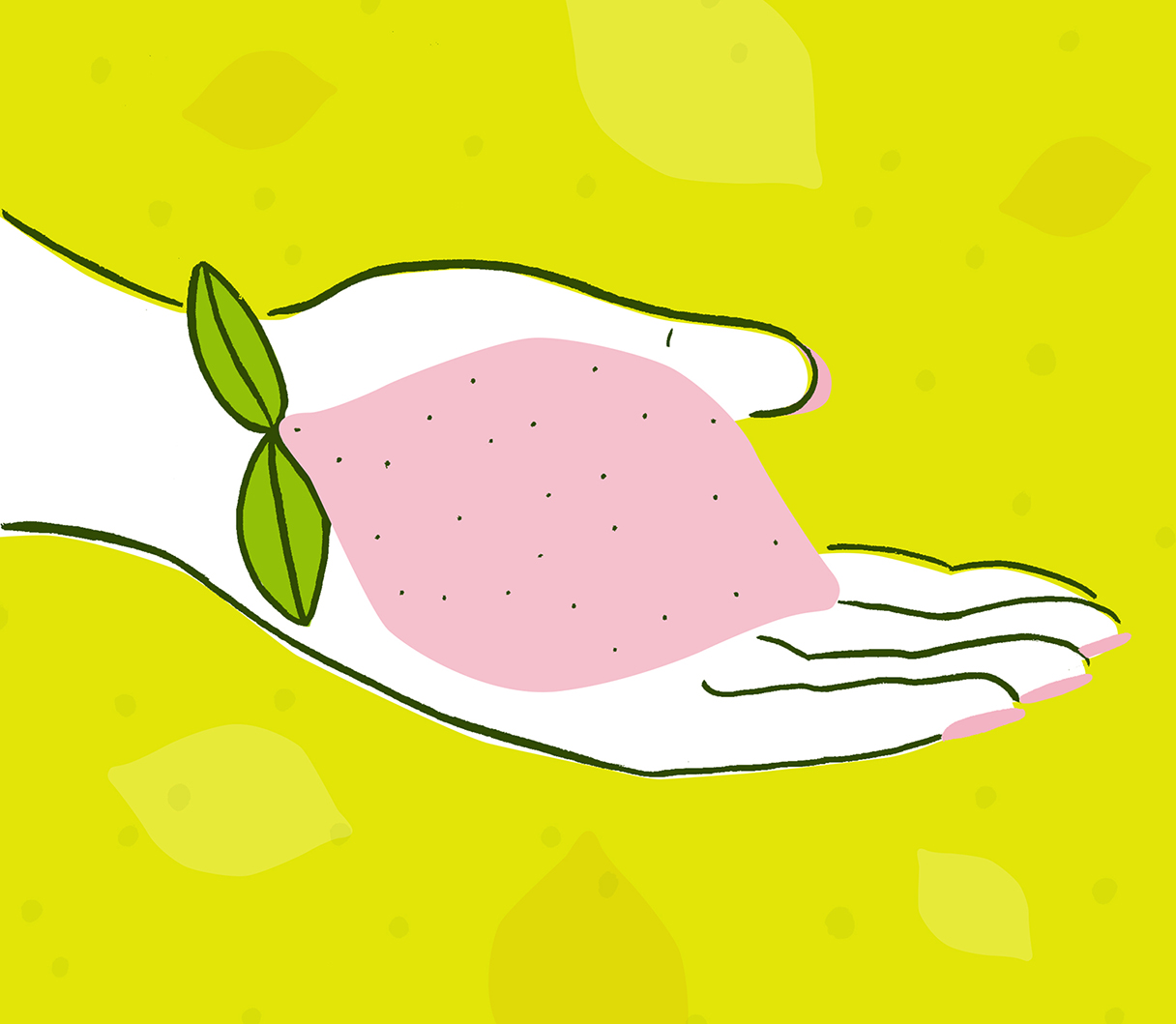 2. Tell us about your aesthetic.
My aesthetic is sort of simple line drawings, usually an appreciation of the female form with bright colour and pattern. It doesn't take itself too seriously. I'm hugely into the 50s and 60s, and like my own style, the girls in my drawings will usually have a mix of vintage and modern clothes and probably a retro hairstyle. I aim to give each of the characters in my illustrations their own unique personality and world. They're usually girls I want to be like, or wearing clothes I'd love to own, or in places I'd like to be! I'm living vicariously through them!
3. What is your favourite medium and why?
Ink and brush. Although I take my drawings into Photoshop to finish, to me there's nothing more satisfying than drawing something by hand. It feels more personal.
4. What is your artistic process like?
I do a quick pencil sketch to get a rough idea of composition, then I do another neater one, which I then draw over in ink with a small brush. Then I scan it into Photoshop and that's when I add colour. I like doing it that way because I change my mind a lot about what the colour scheme should be, so digitally colouring suits my indecisiveness! Sometimes if I'm not sure on what I want the final composition to look like, I will draw all the separate elements, then play about with them in Photoshop. One of the things I'm guilty of is I never know when to stop - I could go on tweaking forever!
5. Who and/or what inspires your work?
In terms of ideas and concepts, it's usually photography, or music. I'll be listening to the lyrics of a song and something will spark off an idea. Or I'll see a film or a fashion shoot in a magazine that has amazing outfits and I'll want to put one of my drawings in the clothes. I went through a period of being obsessed with Americana and faded glamour and was taking inspiration from William Eggleston's photos, and Stephen Shore. Sometimes if I'm having a bad day I'll draw what I'd rather be doing (sunbathing in the nude somewhere).
6. What role does art play in your life? How does it change the way you view the world?
I love language and words but there's something special about being able to tell a story without them. I'm quite shy, so I suppose drawing is a way of putting my personality or feelings out there without having to explain them to people, and the actual process of drawing helps me to unwind.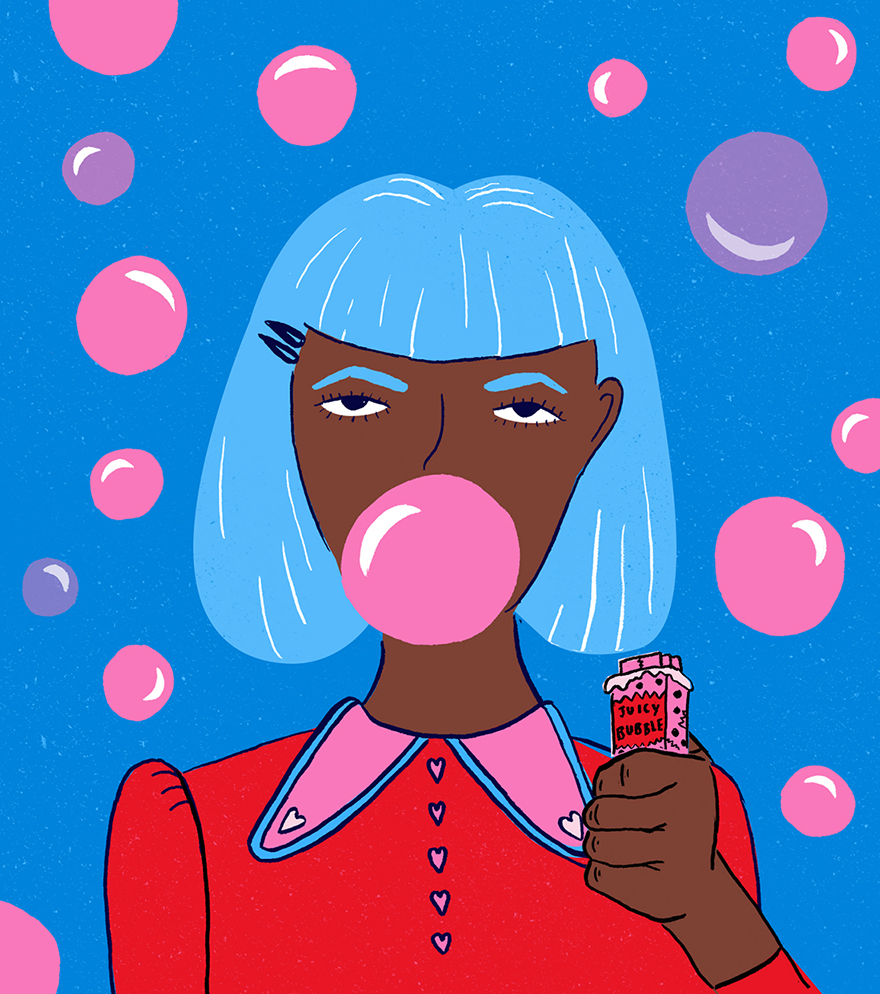 7. Where did you study?
I studied Visual Communication at Glasgow School of Art, the first 2 years of my course were a combination of Illustration / Graphic Design and Photography. I then specialised in Illustration for the last two years. I know that university isn't for everyone, but personally it was the best choice for me, teaching me about work ethic, deadlines and briefs - not to mention meeting some of my best friends there. That's actually one of the things I miss - working in a really laid back studio environment with other people to bounce ideas off, and have a laugh with.
8. Where do you see yourself in five years?
It's hard to say because I remember saying years ago - 'I would NEVER LIVE IN LONDON' and 'I could NEVER BE FREELANCE' and here I am now - freelancing in London - so who knows! Things change all the time, so I'm happy to let things develop naturally. I'm still getting to grips with the whole freelance thing because I'm pretty new to it, so hopefully in 5 years my career will a bit more stable with loads of regular clients and cool collaborators.
9. What about in ten?
Whatever I'm doing, I just want to be happy! I guess the eventual dream is to be full-time illustrating, and I do like the idea of having a little shop/cafe with an exhibition and studio space. Hopefully I'll be married with a dog (or two) by then too! And if it all takes place by the seaside, then even better.
10. What do you hope to achieve with your art?
I'd like it to make people smile, laugh, relate. If people love it enough to hang up in their home/wear it that's amazing!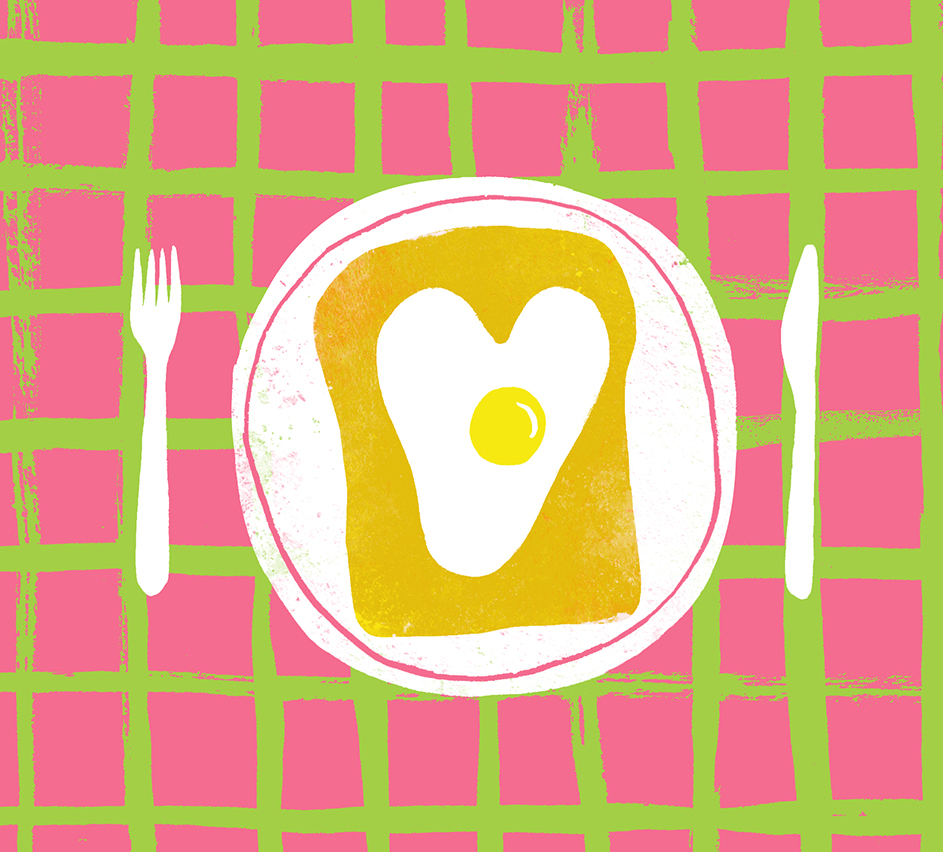 11. Now, tell us a little more about you as a person: what is your favourite food?
Probably pizza!
12. Favourite book?
I recently read 'The Bell Jar' by Sylvia Plath and loved it. That or 'The Orchard on Fire' by Shena Mackay.
13. Favourite genre of music?
It changes from time to time and I have favourite music for different things, for example I work to dreamy indie alternative stuff, but I dance to soul and disco, and like getting ready in the morning with some 60s Brazilian jazz! So it really depends what mood I'm in.
14. What are your hobbies?
My ideal weekend hobbies are seeing friends and my boyfriend, going for a nice dinner, drinking cocktails, walking around my favourite bits of London in the sunshine and dancing. When I go back home to Glasgow I love walking my dog too. Since moving to London I've fallen in love with the 1950s/60s scene, which Glasgow just doesn't have! So I'll usually meet up with my best friend and we'll find a gig or a DJ night to go to and get dressed up in our finery.
15. If you weren't an artist, what would you be?
I'm a bit obsessed with dogs - so maybe a dog walker. Or possibly something else creative like a writer. Or something simple like the owner of a cafe, or a shop with nice homewares.