Instagram:
@katiszi
Tumblr:
kicsi-kati.tumblr.com
Website:
www.katiszi.com
1. What's your story? Where are you from?
I grew up in a small town close to Frankfurt, not particularly pretty but with a good bit of nature around where we could ride our bikes, climb trees and play with my best friends dog. I really like that area and also Frankfurt, which can be a bit rough and cold at its first impression but is really diverse and full of the old and new, culture, business people and students, nature and skyscrapers, modern and old music, local Ebbelwoikneipen (Cider-pubs) and lovely cafes. But after some stops in Mainz and Stuttgart while studying I now live and work as a freelance illustrator in Berlin (just like every second creative person in Germany probably). Although its just as diverse, I still miss Frankfurt sometimes.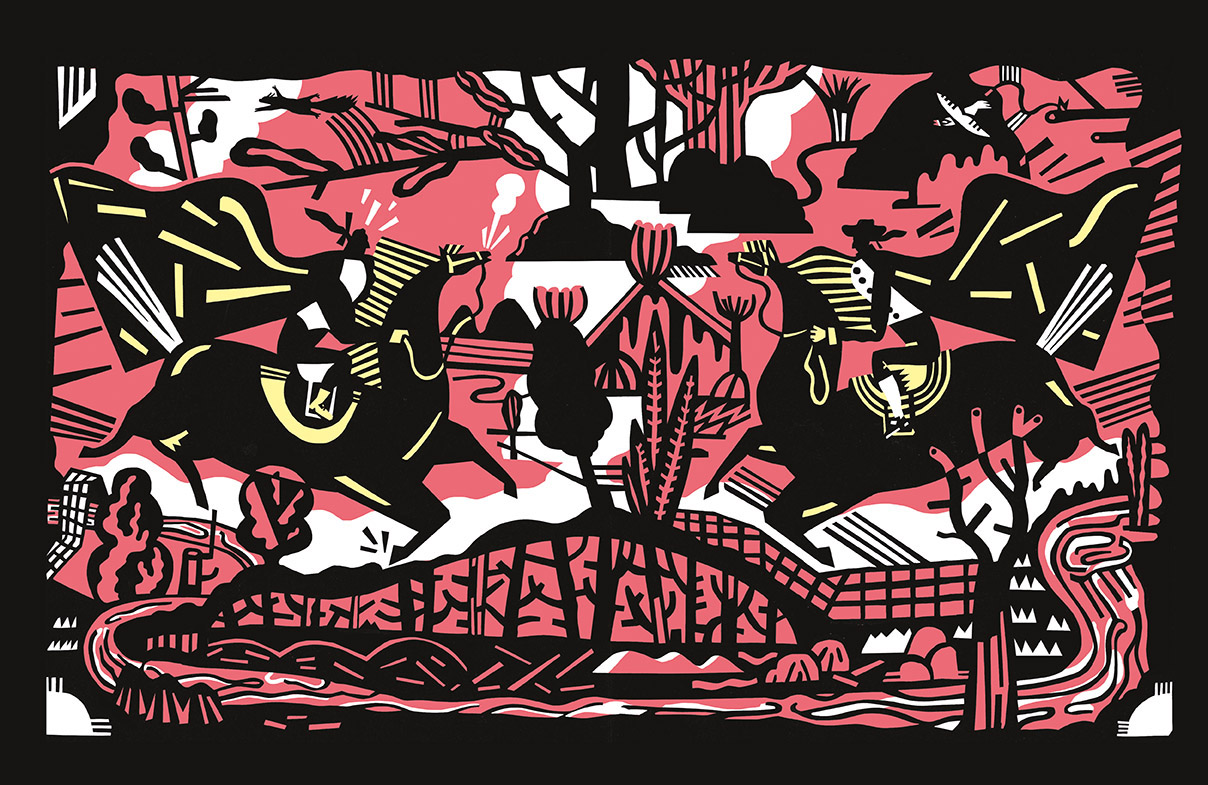 2. Tell us about your aesthetic.
I try not to restrict my style and aesthetics. I work both with pencil and cutout, then continue digitally. Therefor my work can vary from focus on lines and ductus as well as geometric forms and colours. I love interesting perspectives that lead the viewer through the picture. I guess my work is often narrative and figurative. Lately I use more and more colour, which I add on the computer, therefor also shapes change and both style seem to come together. Still I love an analogue touch and try to preserve that in my illustrations.
3. What is your favourite medium and why?
As mentioned I have two: pencil and cutout. Both allow a different outcome – while pencildrawings are often more detailed, cutouts are instantly bolder and create forms I'd never come up with by drawing. I haven't done much commercial work with cutouts and would love to explore that option more in the future.
4. What is your artistic process like?
I like to think about my work a lot beforehand and simultaneously doodle the ideas (for the client or myself), which tend to be very rough. The first scribbles don't look fancy at all and can sometimes only deciphered by me. When I start working on the final piece I often start digitally with rough shapes and composition, print it out and draw my lines by using a lighttable. When I only need lines, I start analogue. But the illustration will always end up on the computer, for colour changes and the final touch.
5. Who and/or what inspires your work?
Of course I get influenced by other peoples' work while I browse instagram, read magazines, stroll through zinefestivals and bookshops or look at websites that feature artists. Lately I try to take a screenshot or picture every time I like something by colour, shape, idea etc. For my diploma project where I used my different styles and techniques to create a collection of different publications, I also used pinterest a lot and saved everything, from architecture, art, filmstills, patterns to fashionphotography and so on.
6. What role does art play in your life? How does it change the way you view the world?
Art is a steady part of my everyday life, I guess I would only fully recognize the whole amount when gone. I couldn't imagine living somewhere where there's no freedom of speech, no freedom to express yourself, artistically or otherwise. Also, I can't divide my thoughts and feelings into only rational or emotional thoughts, it's a huge mixup and only makes sense combined and somewhere there is also art involved.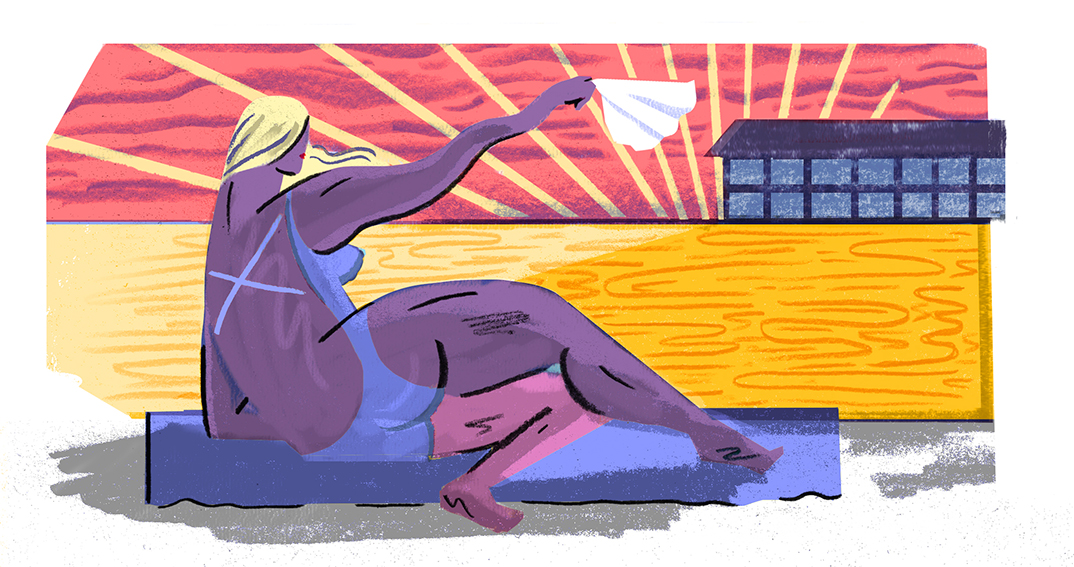 7. Where did you study?
I first studied in Mainz for a few years. There I met my incredible friends and fellow illustrators which whom I founded the Parallel Universe Collective. Together we were able to explore and experiment with illustration outside of university, had little exhibition and– til today – illustrate and publish zines. Later on I continued my communication design studies at the State Academy of Fine Arts in Stuttgart. As before I focused on illustration but was also quite influenced by graphic design of my colleagues there.
8. Where do you see yourself in five years? Working in an agency?
I'd rather still work as a freelancer but I'm really curious for new possibilies so I'm happy to say I really don't know where I'll be by then. Right now I also teach Drawing at the University of Applied Science in Würzburg, so maybe I'll continue teaching along with illustrating. Besides work maybe in five years I have a child, but who knows.
9. What about in ten?
By then I hopefully have my steady work as well as still be able to have time for own illustrative projects and experiments. If I could have one wish, I'd love that most of my close friends and me live in the same city and are able to enjoy fine nights with long talks, wine and midnightmunchies.
10. What do you hope to achieve with your art?
It's my goal to give another insight or comment to the story or topic I illustrate. Sometimes even great shapes and a certain mood can achieve that.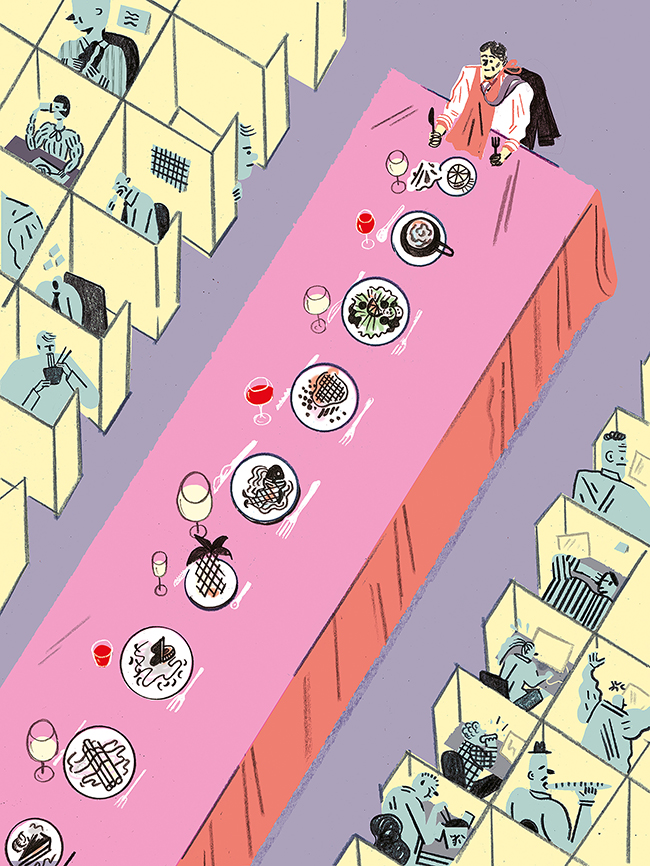 11. Now, tell us a little more about you as a person: what is your favourite food?
Anything with a really good jamon. Or just jamon.
12. Favourite book?
I wouldn't call any book my favourite but one that impressed me a lot is "Fabian" by Erich Kästner. Sometimes I feel it's very up-to-date although (or maybe: because) it's centred in 1920's Berlin.
13. Favourite genre of music?
Since my metal-obsession ended a few years ago I don't focus on one genre anymore, there's too much good music out there in all kinds of genres. I have different music for different moods. Running-music (pop/bad-taste mainly), driving-music(electro or sing-a-long-emotional stuff), concert-music(always: Bruce Springsteen), work-music(Jazz, classic, electro), emotional-music(I better not tell) etc.
14. What are your hobbies?
If my work-life-balance allows it, I love long walks, reading, binge-watching good shows, jogging, wine-evenings with the boyfriend or friends, cooking or simply sleeping. All very common "hobbies". If I really need to relax and have time on my hands, a big, ugly puzzle calms me the most.
15. If you weren't an artist, what would you be?
Organizing and making plans could actually be another hobby of mine, so maybe something that relates to that. Bookkeeping? I don't know. I romanticise traditional jobs with a love to detail. I.e. making individual shoes or instruments sounds fantastic but is probably just as hard as other jobs.