Instagram:
@katjweiss
Facebook:
www.facebook.com/katjweiss
Website:
www.katjweiss.com
1. What's your story? Where are you from?
I am a little bit of everything – I am German-Thai-Chinese, grew up in Hong Kong, and went to college in the US.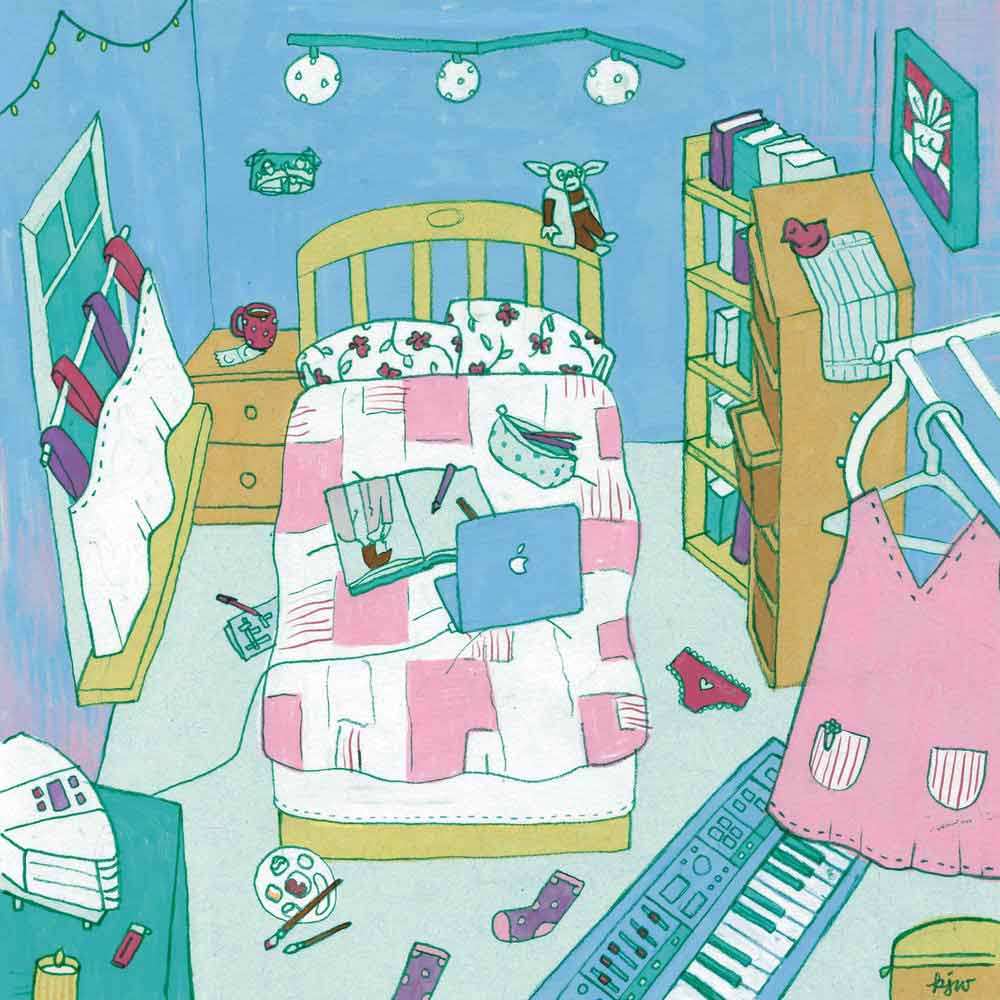 2. Tell us about your aesthetic.
I love creating patterns – I'm not sure where this comes from, maybe it's because I spent a lot of time in Thailand when I was younger, and Thai traditional art is very decorative. I think that applying patterns to your personal and household items adds joy to your every day life. Even when I'm creating an image that isn't a pattern, I want some elements to have a pattern-like quality, or for the whole image to read almost as flat and ornamental. I like an image to tread somewhere between dreams and reality, to be decorative but also to have a narrative.
3. What is your favourite medium and why?
I like to work with fine liner pens as they bring precision to your work but are also prone to "accidents," forcing you to either be more thoughtful with your mark-making from the get go, or to be happy with what you have, move on and make do with it somehow. Working in this way makes my art feel true to me.
4. What is your artistic process like?
First, I'll draw and takes notes about any of the ideas I might have – mostly it's just quick little doodles so I can get acquainted with everything that's floating around in my head. I don't like to work on a layout immediately, as I find it too restricting. Then I'll narrow down the imagery that I have and arrange them into a couple of different compositions. From there I choose the best one, and finalise it by making a careful pencil sketch, then inking it. I use Photoshop to refine the drawing even further, then colour it digitally, or if I want to use traditional media (like markers or water colours) I'll print out the image, then trace and ink it again. Sometimes I'll do this step repeatedly if I'm not happy with the outcome; it's a little bit like rehearsing music before going to the big show, the first few tries will sometimes not be so good. Any failed sketches I have I'll use for quick colour studies, before moving on to the final colouring stage.
5. Who and/or what inspires your work?
I am inspired by the bold, psychedelic illustrations of the 1960s in which figures partially blend into abstract shapes and patterns, and spatial dynamics disintegrate into pure fantasy. I'm drawn to this style as I think it reflects our messy inner worlds perfectly, and I myself have a bit of an active imagination (for better or worse). The 60s were also a great time for fashion illustration, and I love how these depict the bright, decorative trends of the time.
6. What role does art play in your life? How does it change the way you view the world?
I have been drawing since I was very young and have known for a long time that I wanted to be an artist. Art is a source of joy but also a source of frustration; it's almost like being in a long-term relationship, haha. I'm not sure if art changes my view in any special way, but I guess like many artists and designers I am very sensitive to aesthetic value. If something isn't pleasing to the eye (like a menu) I become judgemental of the entire institution behind it. Perhaps that's the reason why people find us so pretentious. The flip-side of that sensitivity is that I've always been rather empathetic towards other people's pain. I cry about everything. I'm just another peace- and nature-loving hippie vegan.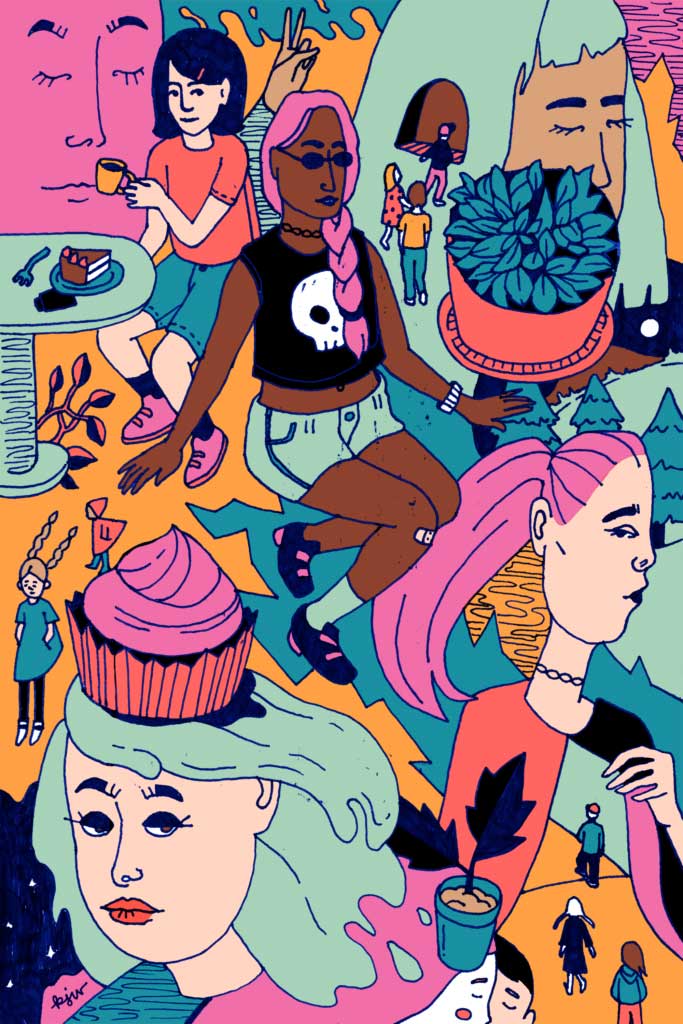 7. Where did you study?
I went to the Savannah College of Art and Design, partially in Hong Kong when it opened there in 2010, and then at its Savannah campus in the US.
8. Where do you see yourself in five years?
I want to do anything I can with my art and hopefully not burn out – I want to take commissions and at the same time sell merchandise online, like zines, pins, stickers, prints, and t-shirts, and exhibit at art galleries. For extra sustenance I wouldn't mind doing graphic design work on the side. Basically, I want to be able to pick and choose the work that I do and still be able to survive.
9. What about in ten?
Same as above, but like, the 2.0 version of it. I want to keep getting better and better at what I do. And maybe live somewhere in Europe or Asia (other than Hong Kong).
10. What do you hope to achieve with your art?
I hope I can inspire people to build their own fantasy worlds and find solace in art, whether it'd be for money or healing.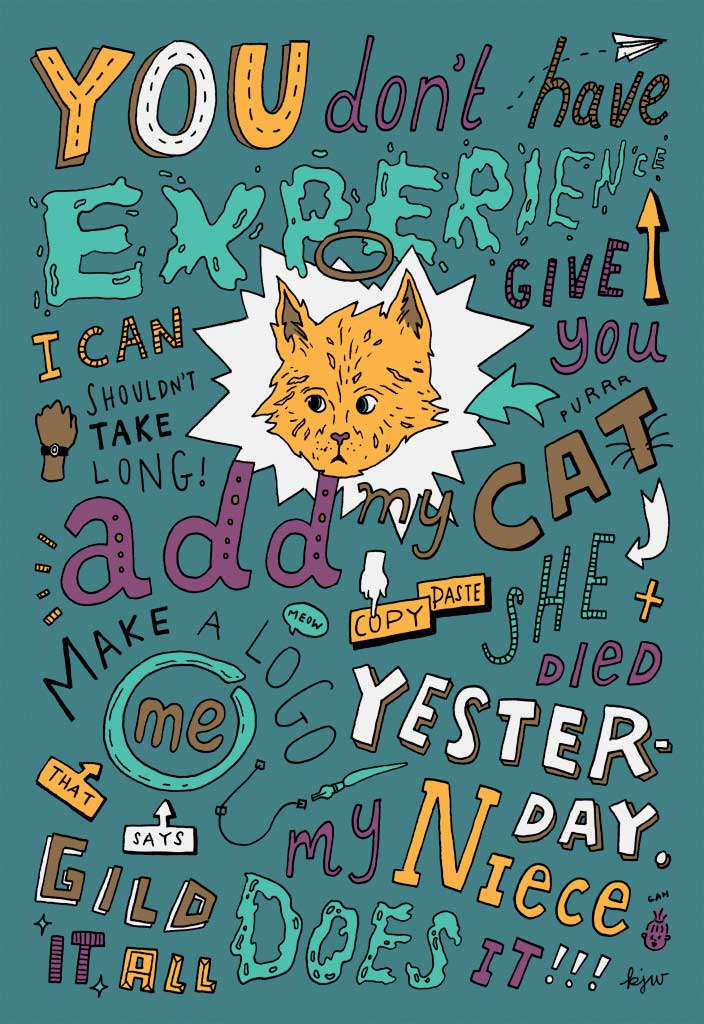 11. Now, tell us a little more about you as a person: what is your favourite food?
Pad See-Ew, which is a very basic Thai noodle stir-fry.
12. Favourite book?
Das Größere Wunder by Thomas Glavinic.
13. Favourite genre of music?
I'm open to anything, but one thing I always go back to is Motown… and old-school American folk music. The latter especially holds a dear place in my heart; I think the whole North-East of Thailand is probably addicted to American folk music. One time I was sitting in a car with my mum and my aunt, and when the Everly Brothers came on, they both started singing without missing any of the lyrics.
14. What are your hobbies?
I spend most of my time drawing… but I also like to crochet, cook, play board games, learn languages (I'm currently learning Cantonese), do yoga and meditate.
15. If you weren't an artist, what would you be?
When looking at which college to apply to, I very briefly considered pursuing environmental design in Australia. So maybe I'd be doing that, and trying to save the world (with an Aussie accent).