Instagram:
@kayra.handmade
Facebook:
www.facebook.com/kayrahandmade
Etsy:
kayrahandmade.etsy.com
1. What's your story? Where are you from?
I'm Ceren, the girl behind Kayra Handmade and I'm originally from Ankara, Turkey, but have been living in Eindhoven, the Netherlands with my husband and my son. I am a self-taught embroidery artist and a lawyer but not practicing law at the moment. I have a very energetic 2,5 years old son whom I adore spending time with and that is one of the reasons why I am not working on a full time job right now, which in a way helped me explore my passion. I have always been fascinated by all forms of art. As a kid, I was painting, writing poems and short stories, and had so many rewards, though I have no idea where they are at now:) I am a crafty person; we have all sorts of paintings and decorations hanging in our house made by me. But my interest in fiber arts started a few months back, when I was looking for something original for my son's room. I couldn't find the exact piece I was looking for, so I decided to do it myself. That's exactly how I started embroidery.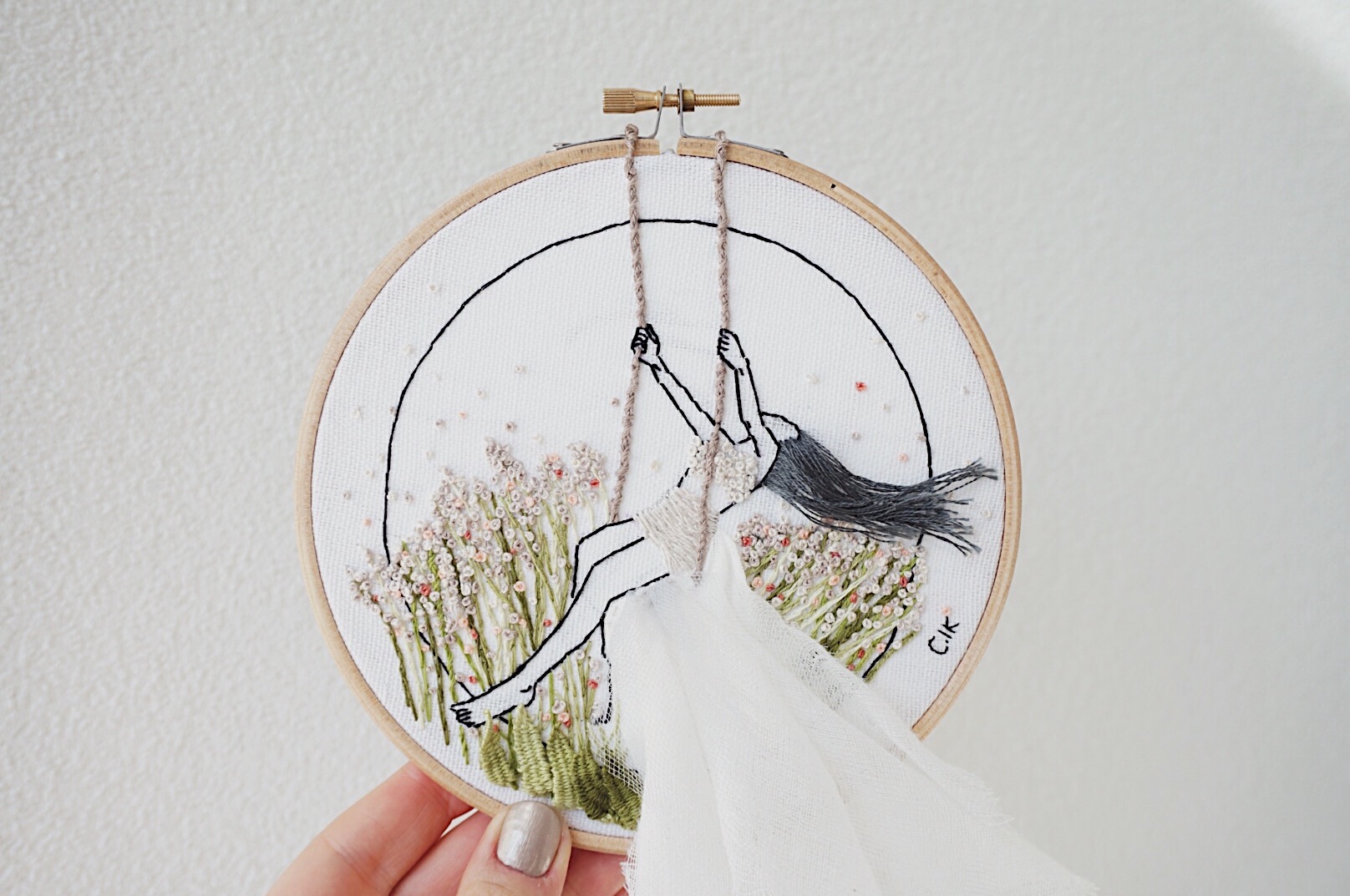 2. Tell us about your aesthetic.
I like to capture the beauty and elegance of female body in a warm and organic setting with 3d effects. I like to work with 3d textures and I would like the subjects on my hoops to not be limited by the boundaries. I want them to reach out to their audience, tell their own stories.
3. What is your favorite medium and why?
I like to mix different mediums. I paint with thread but I also like to use watercolor, acrylics, wool, beads and fabrics with cotton threads. By using mixed media, I'd like to achieve an organic, breezy, whimsical, ethereal but definitely an unconventional effect.
4. What is your artistic process like?
My artistic process usually starts with a vision, either from a memory, a photograph or a scene. If it is an abstract piece, then I try to imagine how that memory or scene makes me feel in colors and shapes. If it is a piece with a female subject in it, I add the female silhouette to the equation, I imagine a woman and her surroundings, Where is she?, What is she feeling?, Is she dreaming, missing someone, gathering her strength for a battle?. Once I have a slight vision of her and her surroundings/feelings, I started to sketch her body. After that everything flows freely. I never sketch the whole piece. I let my hand and imagination flow during the process.
5. Who and/or what inspires your work?
I am inspired by a lot of things. Strong female characters in my life, the elegance and beauty of the female body, nature, photography. Sometimes, even listening to a song and hearing its lyrics inspires me.
6. What role does art play in your life? How does it change the way you view the world?
It is like a therapy, a meditation to me. When I was working as a lawyer, although I love my profession, a creative side of me was a bit silenced and I was longing to do something creative but never somehow make spare time for it. Now that I have time to create, I feel more serene and colorful and I can find something to inspire me in everywhere I look.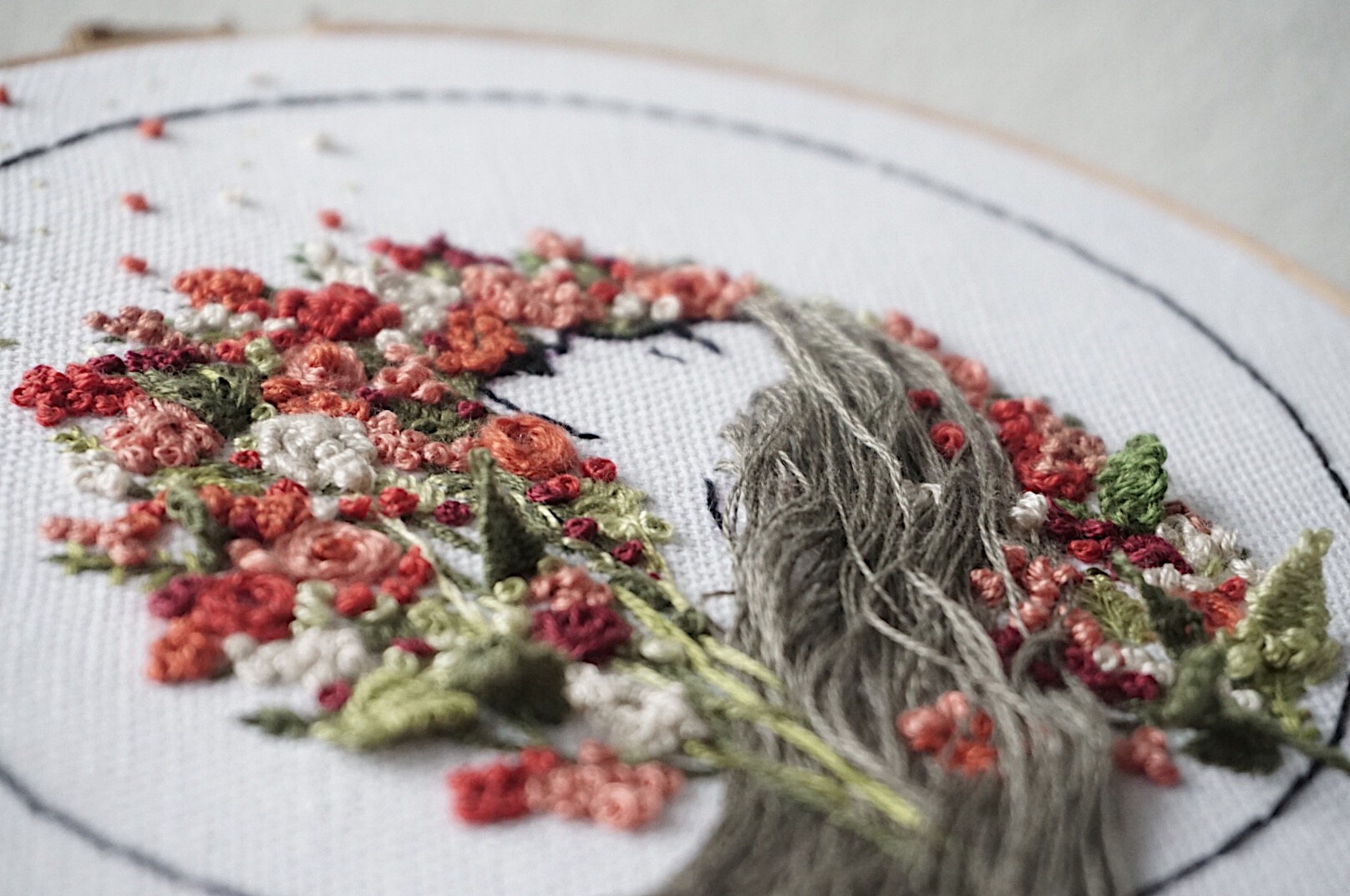 7. Where did you study?
I studied law at the University of Ankara (Turkey) and got my LLM in Law and Technology at Tilburg University (The Netherlands.) I don't have any artistic education.
8. Where do you see yourself in five years?
I hope to create more and become an established artist connecting with many creative and inspiring people. Working on fun projects, doing workshops. Even though it is not my main motivation, it also would be great to make a decent earning from what I create as it'd give me the economical freedom to comfortably open up to new challenges and adventures.
9. What about in ten?
It seems so far away, though with kids time flies by :) I don't have a specific plan but I hope to be happy, positive, creative, content and surrounded by good people.
10. What do you hope to achieve with your art?
I want my art pieces to be loved and cherished by their new owners, to touch their viewers' hearts, to tell their own stories, to let their new owners' imagination flow. I want them to remind their owners' a happy memory, a beautiful moment in their lives. I want them to be not just a beautiful wall art but also a storyteller.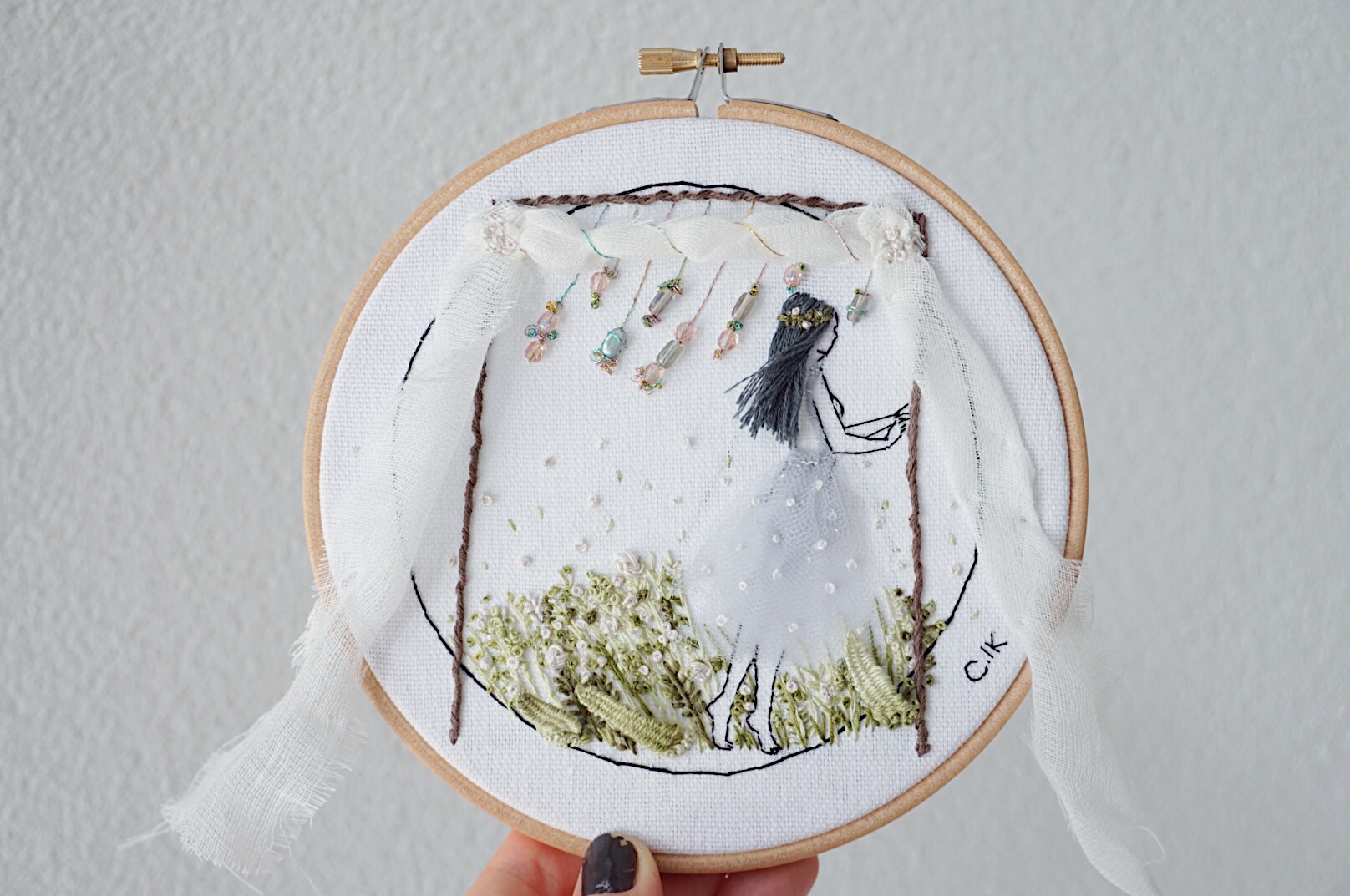 11. Now, tell us a little more about you as a person: what is your favourite food?
Oh, I am a real foodie. I love to cook and looove to eat. So I don't have a favorite food I just love a variety of foods :) But if I have to name a few; definitely Turkish food (especially manti, olive oil dishes, dolma), sushi and pasta with homemade sauce and cheese.
12. Favourite book?
Gabriel Garcia Marquez's One Hundred Years of Solitude. I also really love Haruki Murakami's work, especially 19Q4.
13. Favourite genre of music?
I am not sure if I have one. It really depends on my mood. I love rock, classical, metal, pop, 70's, 80's. I do enjoy some Turkish music from time to time. Fikret Kizilok and Cem Karaca are one of my favorites.
14. What are your hobbies?
Painting, photography, yoga. And if I am not in a rush – kind of like "What should I cook for dinner?" – experimental cooking.
15. If you weren't an artist, what would you be?
Well, I am in fact a lawyer and I have started embroidery just a few months ago. Creating something has been a long time dream of mine, so I can't say that I would like to be something else than a lawyer/artist :)