Instagram:
@kellryan
1. What's your story? Where are you from?
I'm from a cute, super small town in upstate New York!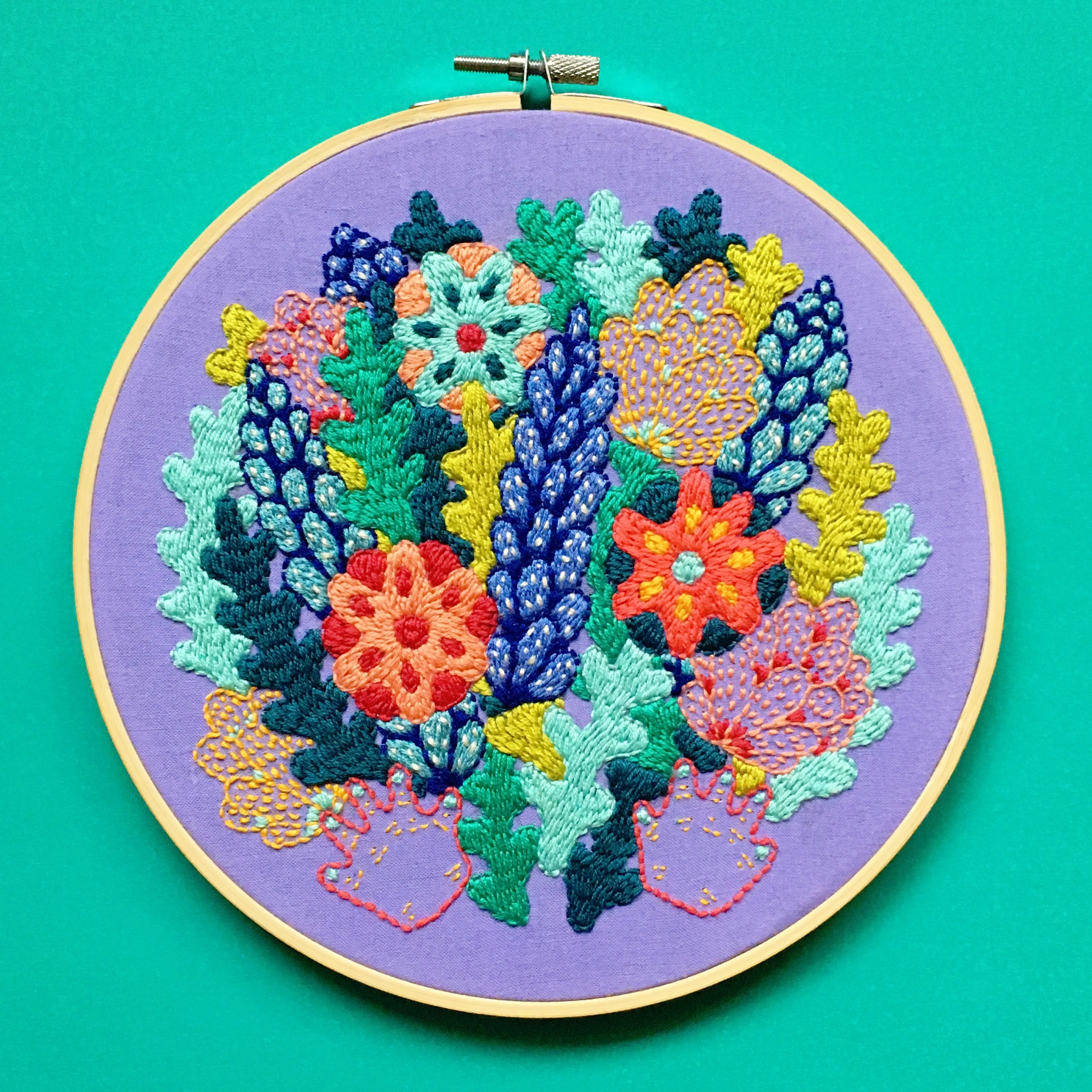 2. Tell us about your aesthetic.
Basically anything bright makes me happy, and I really like abstracting florals and aspects of nature in my work. I feel like now that I'm about to point it out it'll be super obvious, but I'm in LOVE with Matisse's cut-outs, those have contributed to my aesthetic a ton.
3. What is your favourite medium and why?
My favorite medium by far is embroidery; I love the tediousness of it. I'm so interested in how people are pulling away from traditional embroidery techniques and creating something totally new. I'm really excited to be a part of that!
4. What is your artistic process like?
Sometimes I sketch things out, but usually it's a super spur of the moment process for me. I have tons of different sized embroidery hoops laying around my house, I grab one of those (depending on how ambitious I feel) and a piece of colored fabric that I like and then just start drawing right onto it. I experiment with how different shapes can fit into the confines of an embroidery hoop and then I just start stitching. I love filling in large spaces of fabric with tiny stitches, it feels therapeutic to me.
5. Who and/or what inspires your work?
My work is very celebratory; I want everything to burst with color. I was originally inspired by confetti (I love it, but I've never had a confetti filled party unfortunately) and it kind of grew from there. After I graduated from school, I really felt like I hadn't found my style and just kind of fell into a slump where I wasn't making anything at all. I went through a period about a year ago where I felt super sad and defeated; beginning to make things really pulled me out of that. I started painting and embroidering every single day as almost a meditation process and I love looking back and seeing how I introduced more and more color into my work as I became happier and happier. That's kind of why I consider my work celebratory in that sense, it pulled me out of a rut. Besides confetti and color, I'm inspired by plants and nature, weird houses, childhood memories (most of my embroideries are based on painted rocks in sandboxes and gardens), etc.
6. What role does art play in your life? How does it change the way you view the world?
Art is truly everything to me; it really excites me every single day! I love seeing art in galleries but I think I'm more inspired by just regular things out in the world. I pass houses covered in flowers and rusty old cars in backyards and I can't believe that these things aren't considered art! I work with kids a lot and I'm so amazed by what they create, I think kid art is some of the best art. And like, old patchwork quilts? Don't even get me started!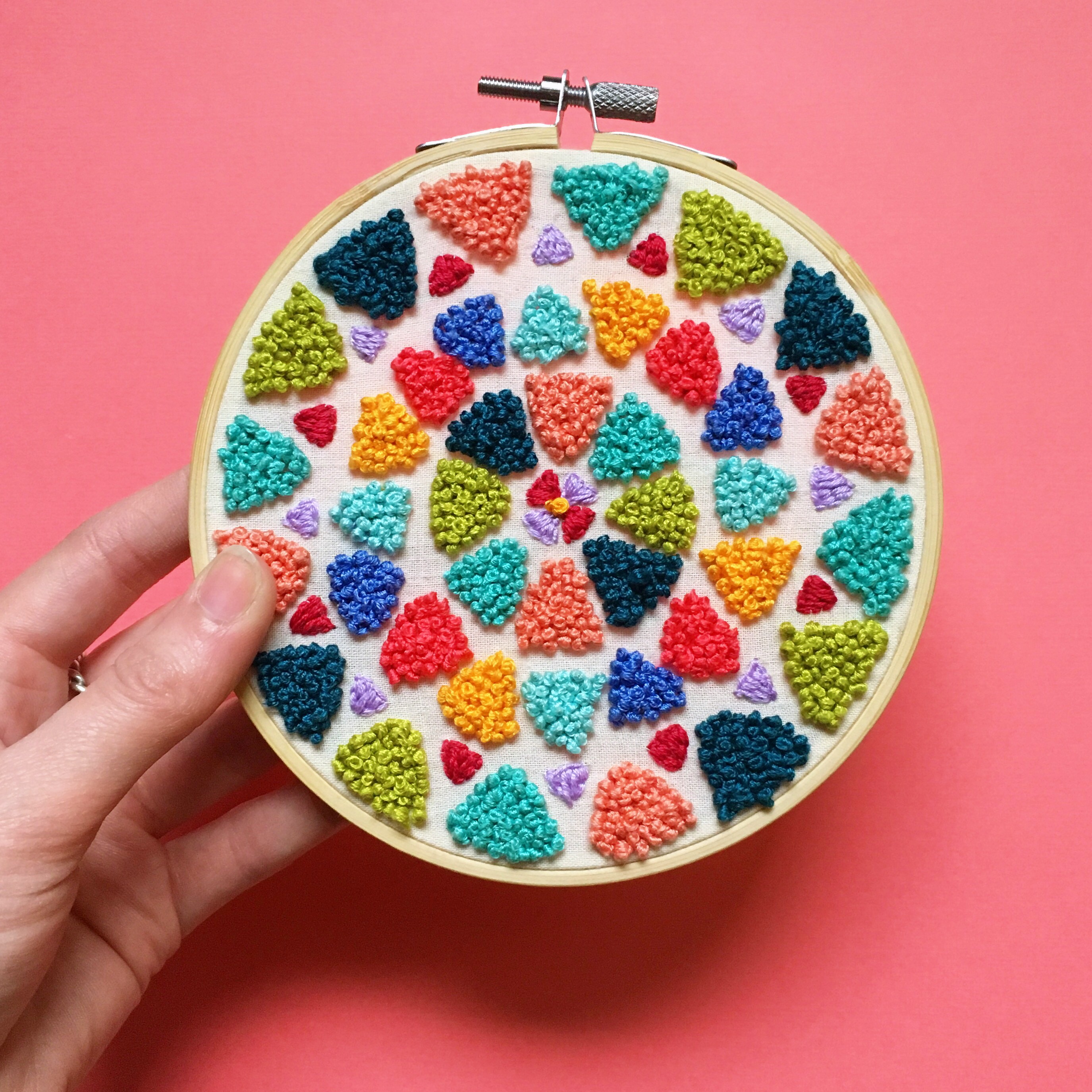 7. Where did you study?
I have a BFA in graphic design from SUNY Purchase.
8. Where do you see yourself in five years?
Hopefully still stitching away!
9. What about in ten?
Hopefully still stitching away, as long as my fingers allow me, and maybe living near the beach.
10. What do you hope to achieve with your art?
I just hope it makes others as happy as it does for me! I also just want to keep progressing with my work, making larger pieces. I hope one day I can fully support myself by selling my art (living the dream).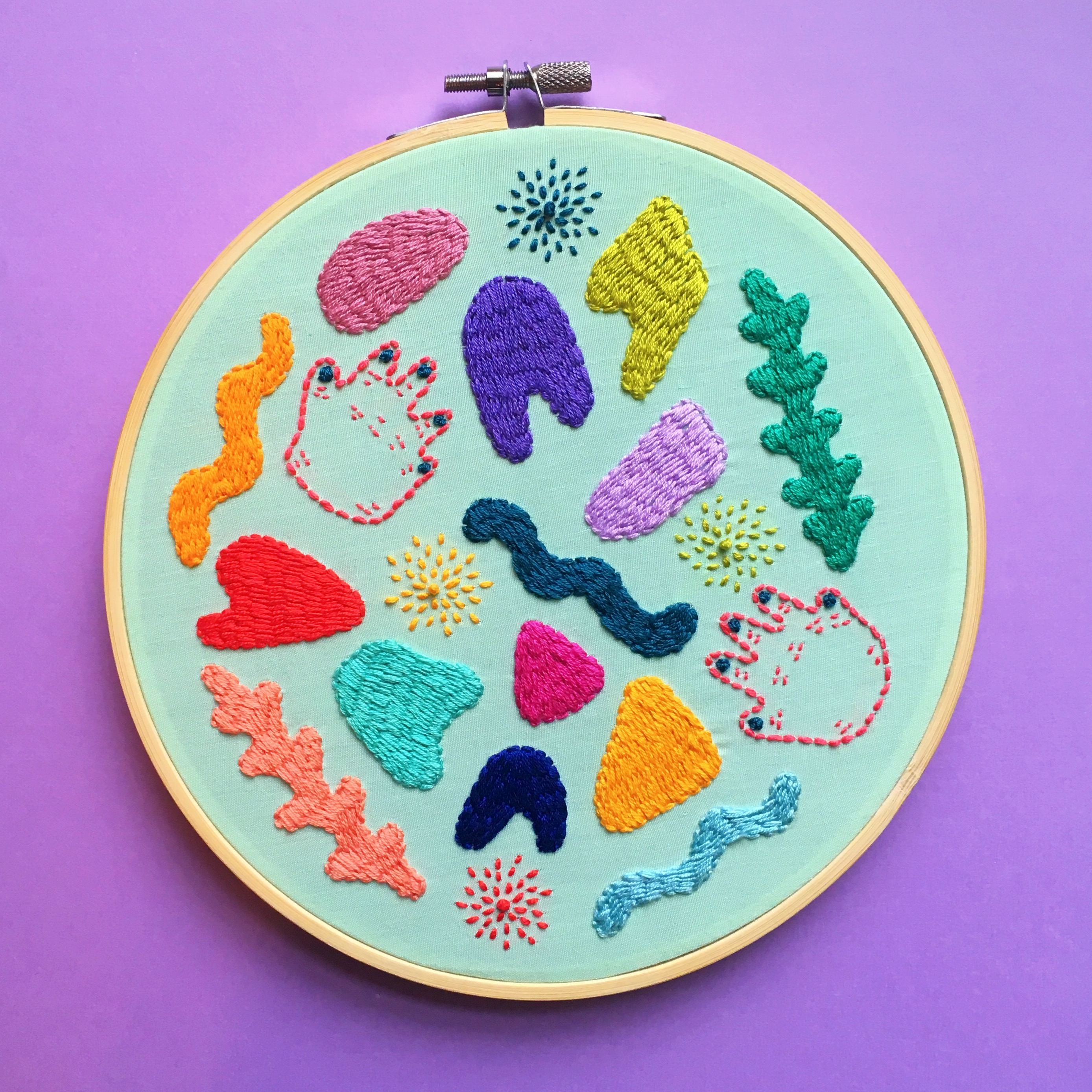 11. Now, tell us a little more about you as a person: what is your favourite food?
Oh what the heck this is the hardest question! Probably tacos I suppose.
12. Favourite book?
The Wind-Up Bird Chronicle by Haruki Murakami is my all time favorite. I've honestly been really into reading corny thriller books at the moment, I call them my "crime novels."
13. Favourite genre of music?
Hmm I suppose I like too many things; my favorite artists at the moment are The Districts, Adult Mom, Pinegrove, Courtney Barnett, and um Bruno Mars (I like him too much).
14. What are your hobbies?
I love doodling, crocheting, listening to My Favorite Murder (the only podcast I listen to), watching crime documentaries, and hanging out with my weird wiener dog named Walter.
15. If you weren't an artist, what would you be?
Honestly, probably an accountant or something math related.