Instagram:
@kelly_bjork
Website:
www.kellybjork.com
1. What's your story? Where are you from?
Heyo! I am Kelly Bjork, 32, freelance illustrator and half of the stationery & gift company, Pilgrim Paper Co. I was born and raised in the rainy state of Washington, where I will probably stay the rest of my life because I can't handle any other climate -- give me that gray, wet sky any day! My hometown was Tacoma before I moved to Bellingham for a decade, and ultimately set roots in Seattle with my partner, Joe and fur-baby, Heschke. This city has really held my hand as my career has developed, and I'm continuously thankful for the community and support I receive here.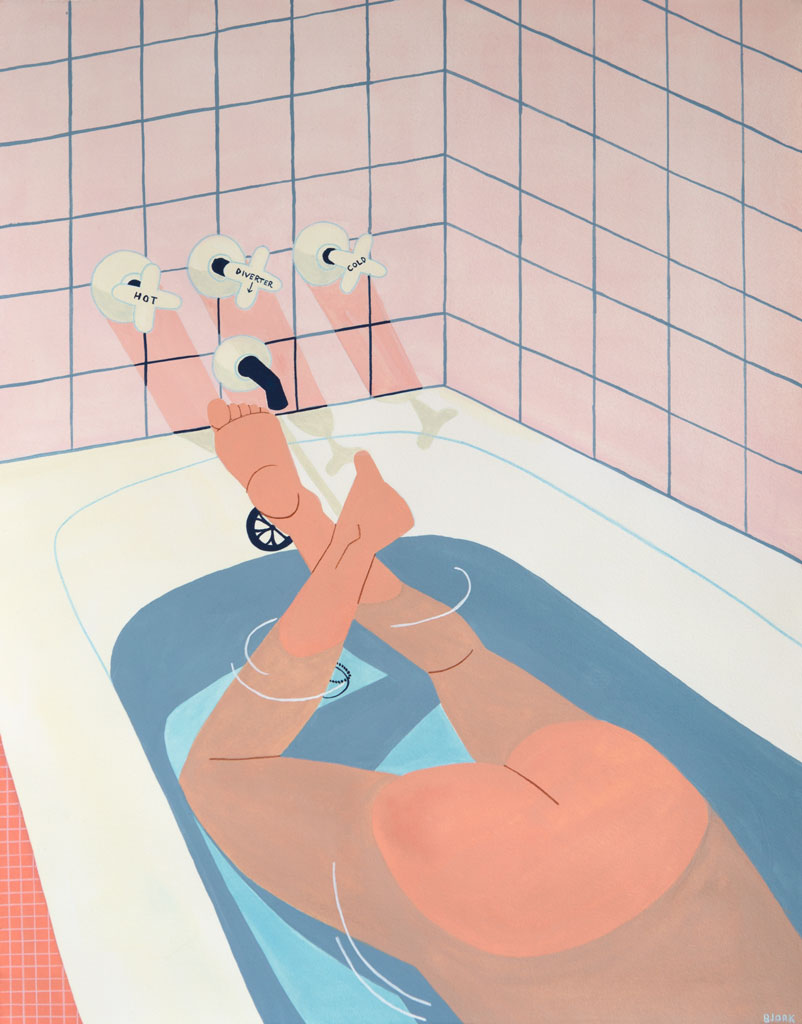 2. Tell us about your aesthetic.
I try to reduce things down to their basic elements. I find comfort in simplicity, which is seemingly harder and harder to find in real life. ​I work to balance simple elements with​ small areas of ​detail​. Simple and deliberate, when you get that balance just right you can really get lost in a moment. ​I like that, looking for the little joys are what matter to me in life.
3. What is your favourite medium and why?
Gouache forever! I love how flat and opaque it lays, and the fact that you can re-wet the medium for continuous use is a sweet bonus.
4. What is your artistic process like?
I'm an old school artist/illustrator meaning that I do almost all of my work by hand. I start almost every project​ with a cup of treat-tea (black tea, cream, honey)​.​ ​I crank up my pump-me-up music and work out my ideas by​ sketch​ing​ in colored pencil to figure out composition and palette. Once I'm happy with that, I move ​my work to​ the nice paper -- my printmaking background started my obsession with beautiful thick paper. I mark out my pieces​ with non-photo blue pencil and ​then dive into​​ ​my favorite part:​ ​PAINTING! I​ am a big fan of painting ​while​ listening to podcasts, news, or sometimes even watching ​aka listening to ​shows -- usually Seinfeld​, a classic​. At the end of my day, I like to go for a walk to get out of my head and stretch out the ol' gams.
5. Who and/or what inspires your work?
My work is inspired by my day-to-day interactions with fellow humans and animals. I want to show the sweetness that can be experienced in this world. With our current climate, I think it's important to have these moments, to remember they exist. It helps keep me sane, knowing that there is good out there.
6. What role does art play in your life? How does it change the way you view the world?
I think to live an artistic life, you make the active choice to be consumed by it​​. ​I work ​freelance illustrating, ​do ​portrait commissions, personal paintings, stationery designing​ and ​even the side-hustle​ art​ gigs to make ends meet​: ​art modeling and ​assisting different artists in town​. ​​I​​ look at the world as if anything could be a painting. I'm quick to snap a photo if inspiration strikes; I keep a file of reference photos for when I'm ready to dig in. I love going on walks and simply looking at all of my surroundings -- details on buildings, beauty in parks, surprises in nature! But mostly, I think my favorite things to witness in the wild are moments between humans.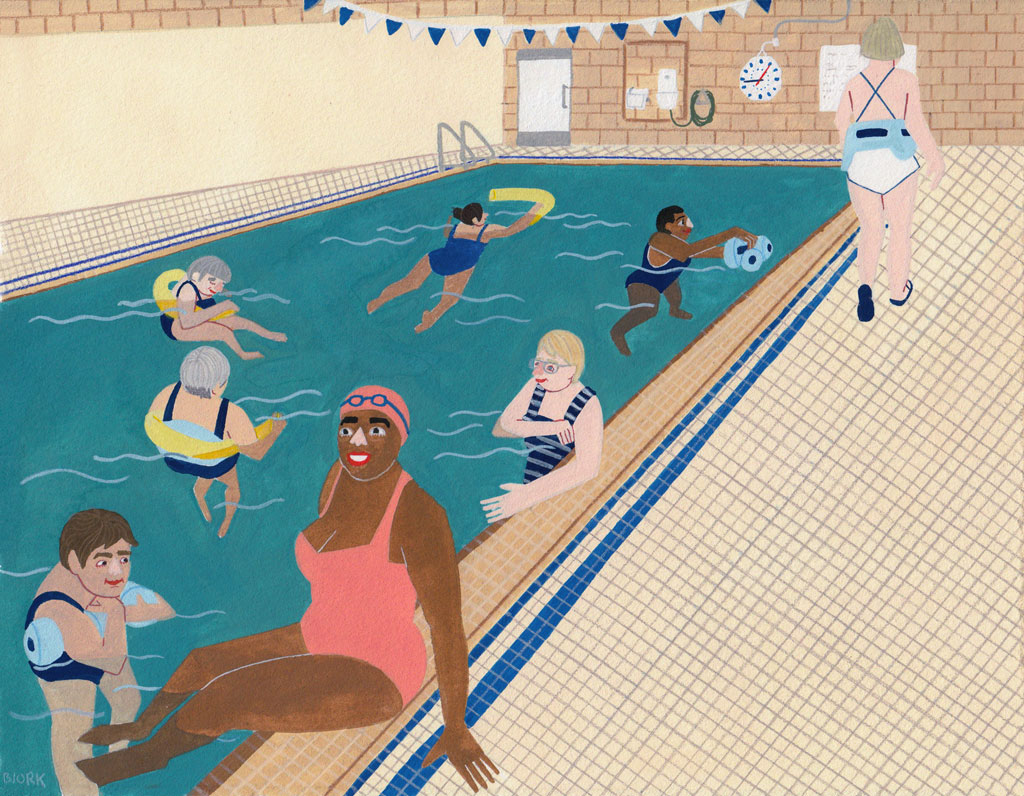 7. Where did you study?
I got ​a Bachelor of Fine Arts​ from Western Washington University ​with a concentration in ​drawing and printmaking.
8. Where do you see yourself in five years? Working in an agency?
No, no agency, I like being a free agent. In five-years I hope to have a little shop and studio with my business partner and fellow illustrator, Teressa Grasseschi. ​Together we run​ Pilgrim Paper Co. -- a stationery and paper goods company. We create small collectible sets of cards and prints focusing on intention, heart and humor. We really believe that exceptional illustrations should be affordable and functional. We work pretty hard to make sure every piece is worthy of collecting and friendly to the environment. Right now our work can be found in some of our favorite retail shops and on our online retail platform. We have some major skills setting up our pop-up shops and have a good lineup for the summer! Ultimately, we have schemes of growing into a joint work space where Teresa and I will work side by side on our freelance work, develop and pack Pilgrim orders and have a small attached storefront filled with our favorite brands.
9. What about in ten?
Rocking that little Pilgrim Paper Co. store! ​I hope to have ​some gallery representation going at the same time. I've recently found that I get big satisfaction out of creating and showing the paintings I do for my personal work​, and I would love to have a consistent outlet to share them in. ​
10. What do you hope to achieve with your art?
Connecting people. I want people to look at my work and feel the connections they can share with others.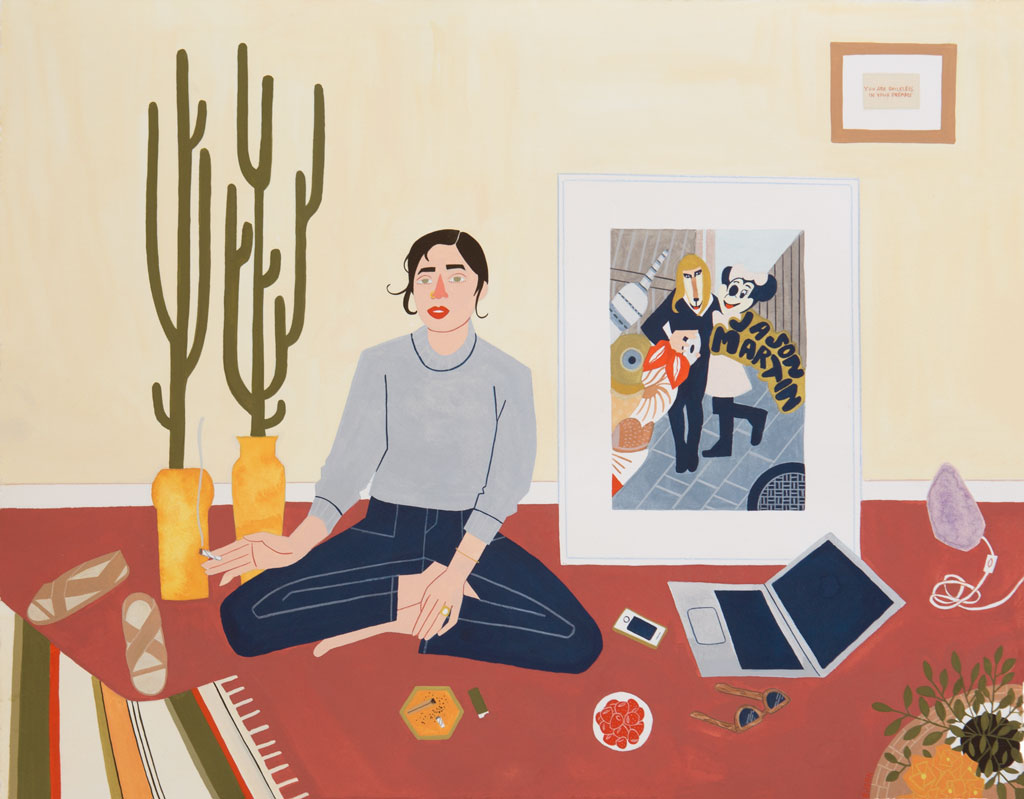 11. Now, tell us a little more about you as a person: what is your favourite food?
Cheeseburgers and fries! I like to consider myself a burger-connoisseur. I say that the shittier a building looks, the better that burger is going to be! Classic deluxes all the way! My favorite non-traditional burger would be Katsu Burger -- their nori fries are delicious!
12. Favourite book?
I'd have to say that my favourite book of all time would be Sex For One: The Joy of Self-Loving by Betty Dodson. That book taught me how to have an orgasm -- I OWE SO MUCH TO THAT BOOK! For me, being a woman, I didn't understand my own body for way too long. This book opened my mind and taught a young​ ​Kelly so much.
13. Favourite genre of music?
Oh boy do I love disco and house. I usually stand alone in my love for these two genres, but I blast it loud and proud!
14. What are your hobbies?
I sure am lucky to ​live where I do because hiking is high up on my list of hobbies. Thanks to my Grandpa Jack, I have a strong love for cribbage and use​ to compete in tournaments regularly​ (nerd alert​!​). Lately, I play with my partner whenever we can fit a game in.
15. If you weren't an artist, what would you be?
I love animals and would​ most likely​ be working ​in a realm in which I got to interact with them on the daily!​