Instagram:
@kellyromanaldi
Website:
www.kellyromanaldi.com
1. What's your story? Where are you from?
I'm Kelly Romanaldi, an illustrator and graphic designer from Vicenza, Italy. I attended an artistic school, where I learned traditional art. Then I bought my first digital tablet: at first, it was difficult, but over time I managed (finally) to find my style. Sono Kelly Romanaldi, un illustratrice e grafica di Vicenza, italia. Ho frequentato il liceo artistico, dove ho imparato l'arte tradizionale. Successivamente ho comprato la mia prima tavoletta digitale e mi sono lanciata in un mondo tutto nuovo: all'inizio era faticoso, ma con il tempo sono riuscita (finalmente) a trovare il mio stile.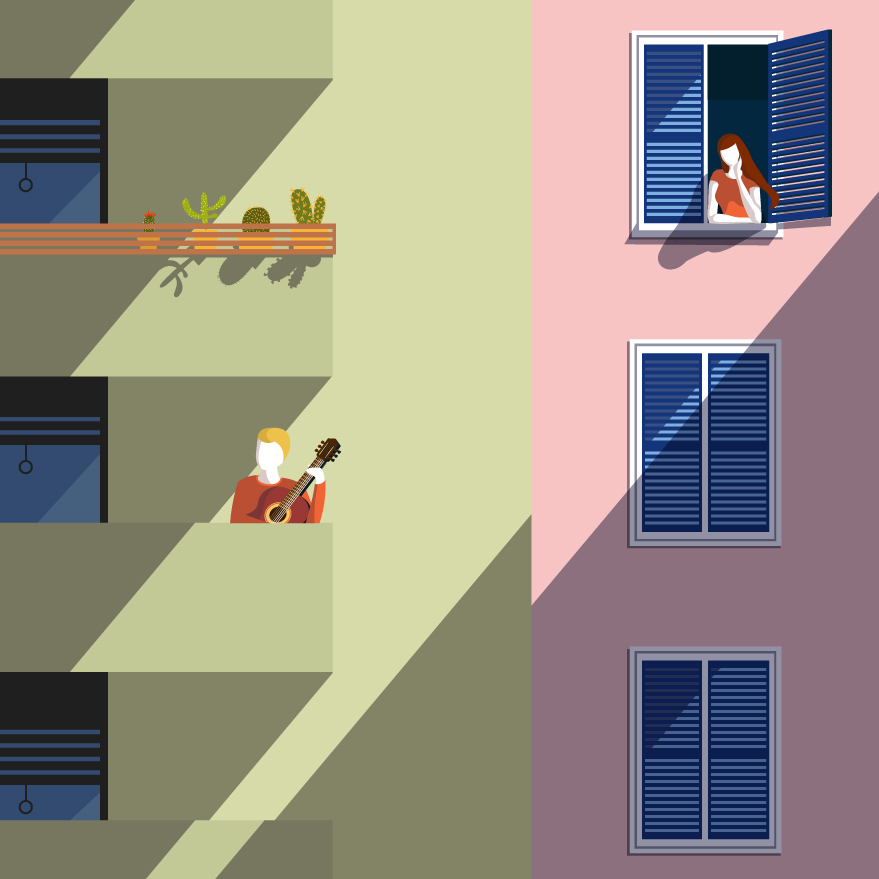 2. Tell us about your aesthetic.
My works are very minimal, marked by sharp and often neat cuts. I love drawing architectural figures, which is strange because I hated architecture in school! Perhaps because it was just traditional and not digital. Sometimes, depending on the subject, I add a particular grain at the end of the work. It makes them perfect for editorials. I miei lavori sono molto minimal, contraddistinti da tagli netti e spesso decisi. Amo molto disegnare figure architettoniche, il che è strano in quanto a scuola odiavo architettura! Forse perchè era solo tradizionale e non digitale. A volte, dipende dal soggetto, aggiungo una grana particolare alla fine dell'opera. Le rende più adatte all'editoria.
3. What is your favourite medium and why?
I work only in digital. Thanks to it I was able to find my style and honestly, I do not know if I would be able to return completely to traditional drawing. I use mainly Illustrator and then Photoshop to give a special touch to my drawings. Lavoro solo in digitale. Grazie ad esso ho potuto trovare il mio stile e onestamente non so se riuscirei a ritornare interamente al disegno tradizionale. Utilizzo principalmente Illustrator e successivamente Photoshop per dare un tocco in più ai miei disegni.
4. What is your artistic process like?
I often try to gather as much information as possible about the project. After an initial brief, I decide on the color palette and I make small sketches to focus my ideas. Later I digitally realize them in Illustrator. If I'm not satisfied yet, I switch to Photoshop and add grits and special effects using brushes. I must say that it's much longer to look for winning ideas than the realization of the illustration itself. Spesso cerco di raccogliere più informazioni possibili riguardo al progetto. Dopo un brief iniziale, decido la palette colori da usare e faccio dei piccoli schizzi per mettere a fuoco le mie idee. Successivamente le realizzo digitalmente in Illustrator. Se non sono ancora soddisfatta, passo a Photoshop e aggiungo grane ed effetti speciali usando i pennelli. Devo dire che è molto più lungo cercare delle idee vincenti che non la realizzazione dell'illustrazione.
5. Who and/or what inspires your work?
I had a period of my life in which I was drawing only emotions from listening to certain songs. Now I try to find inspiration from the chaos around me: objects that I live every day or that I like. Maybe that's why I'm becoming more conceptual. Ho avuto un periodo della mia vita in cui disegnavo solo quello che mi trasmettevano determinate canzoni. Ora cerco di trovare ispirazione dalle caos attorno a me: oggetti che vivo quotidianamente o che mi piacciono. Forse è per questo che sto diventando più concettuale.
6. What role does art play in your life? How does it change the way you view the world?
For me, art is everything. Art has always influenced me in music, in fashion, in editorials, in movies, in design ... I don't know what a person I would be without art. Perhaps very sad! A little interesting fact: since I became a graphic designer I can't look at fonts with the same eyes as before! They are so important and so underestimated by people. Per me l'arte è in tutto. L'arte mi ha sempre condizionata nella musica, nel modo di vestire, nei libri, nei film, nella casa... non so che persona sarei senza arte. Forse molto triste! Un piccolo fatto interessante: da quando sono diventata grafica non riesco più a guardare i font con gli stessi occhi di prima! Sono così importanti e così sottovalutati dalle persone.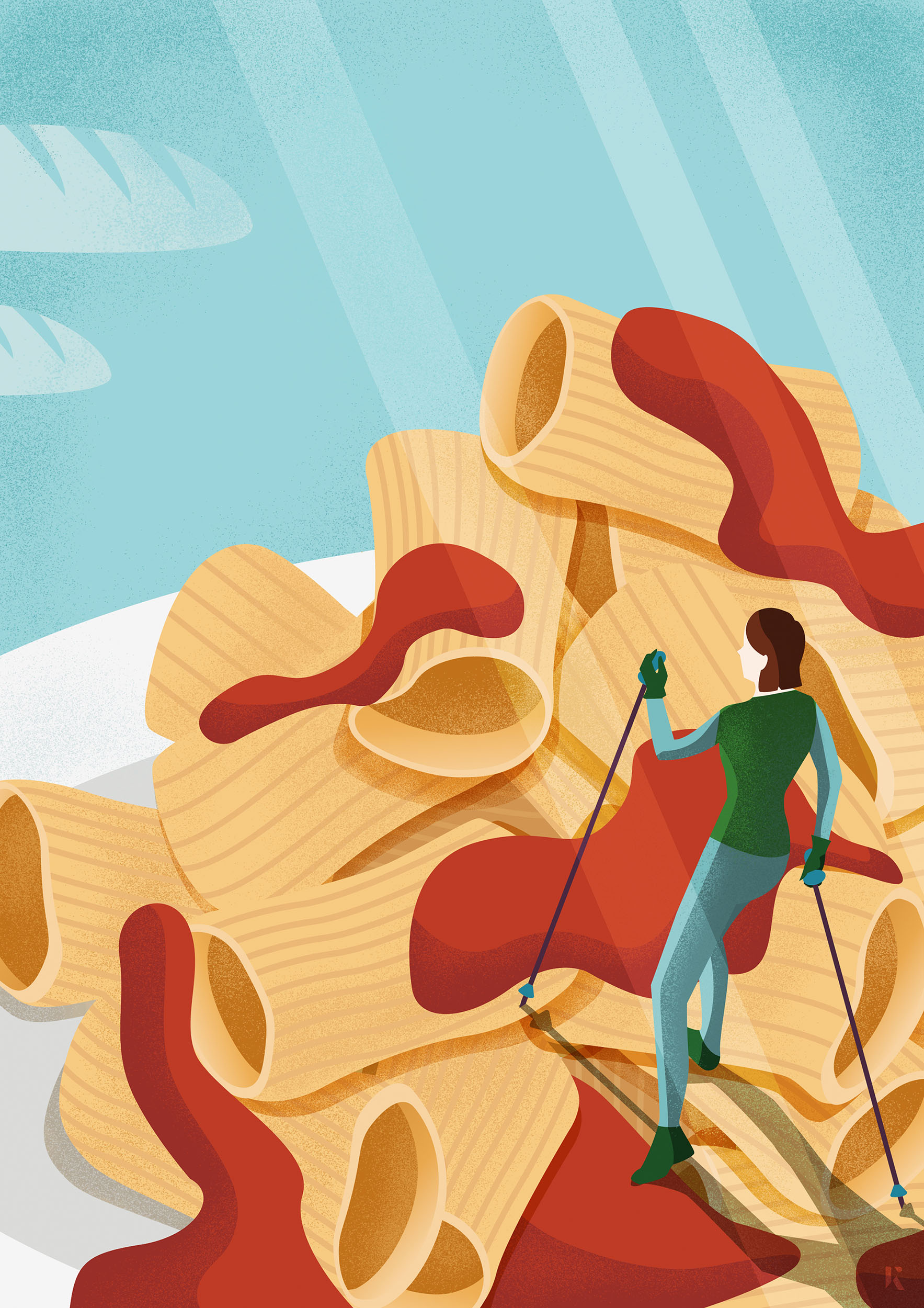 7. Where did you study?
I attended an artistic high school in my city. Later I attended the University of cultural heritage in Verona, but it was not for me. I did not draw anymore. So I gave up and looked for a job. I found a place as an illustrator in an amusement park abroad. This helped me to develop my love for graphic design and I started using design programs as an autodidact. I also attended a course in graphic design but honestly, it did not help me much: I had already learned a good part by myself. What really helped me was finding a job in a graphic studio. This helped me to become a professional and to undertake the hard road of freelance. Ho frequentato il Liceo artistico della mia città. Successivamente ho frequentato l'università di beni culturali a Verona, ma non era fatta per me. Non disegnavo più. Così abbandonai e cercai lavoro. Trovai un posto come illustratrice in un parco divertimenti all'estero e da li ripresi in mano fogli e matita. Questo mi aiutò a svillupare il mio amore per la grafica e cominciai ad usare i programmi da autodidatta. Frequentai anche un corso di grafica ma onestamente non mi servì a molto: avevo già imparato buona parte da sola. Quello che mi aiutò veramente fu trovare un lavoro in uno studio grafico. Mi aiutò a formarmi professionalmente e ad intraprendere la dura strada del freelance.
8. Where do you see yourself in five years?
I want to succeed as an illustrator and perfecting my art. My dream is to become an editorial illustrator: making covers of books, magazines and newspaper inserts. Voglio riuscire ad eccellere come illustratrice e perfezionare la mia arte. Il mio sogno è di diventare un'illustratrice editoriale: creare copertine di libri, magazine e inserti di giornale.
9. What about in ten?
I'd like to open a graphic design studio in my city. I want to do, experiment, be 100% independent with a space on my own. Vorrei aprire uno studio grafico nella mia città. Ho voglia di fare, sperimentare, essere independete al 100% con uno spazio tutto mio.
10. What do you hope to achieve with your art?
I would like people to identify with my art, to feel the same things I want to represent. Only in this way will I be able to become someone. Vorrei che le persone riuscissero ad immedesimarsi nella mia arte, a provare le stesse cose che voglio rappresentare. Solo così riuscirò a diventare grande.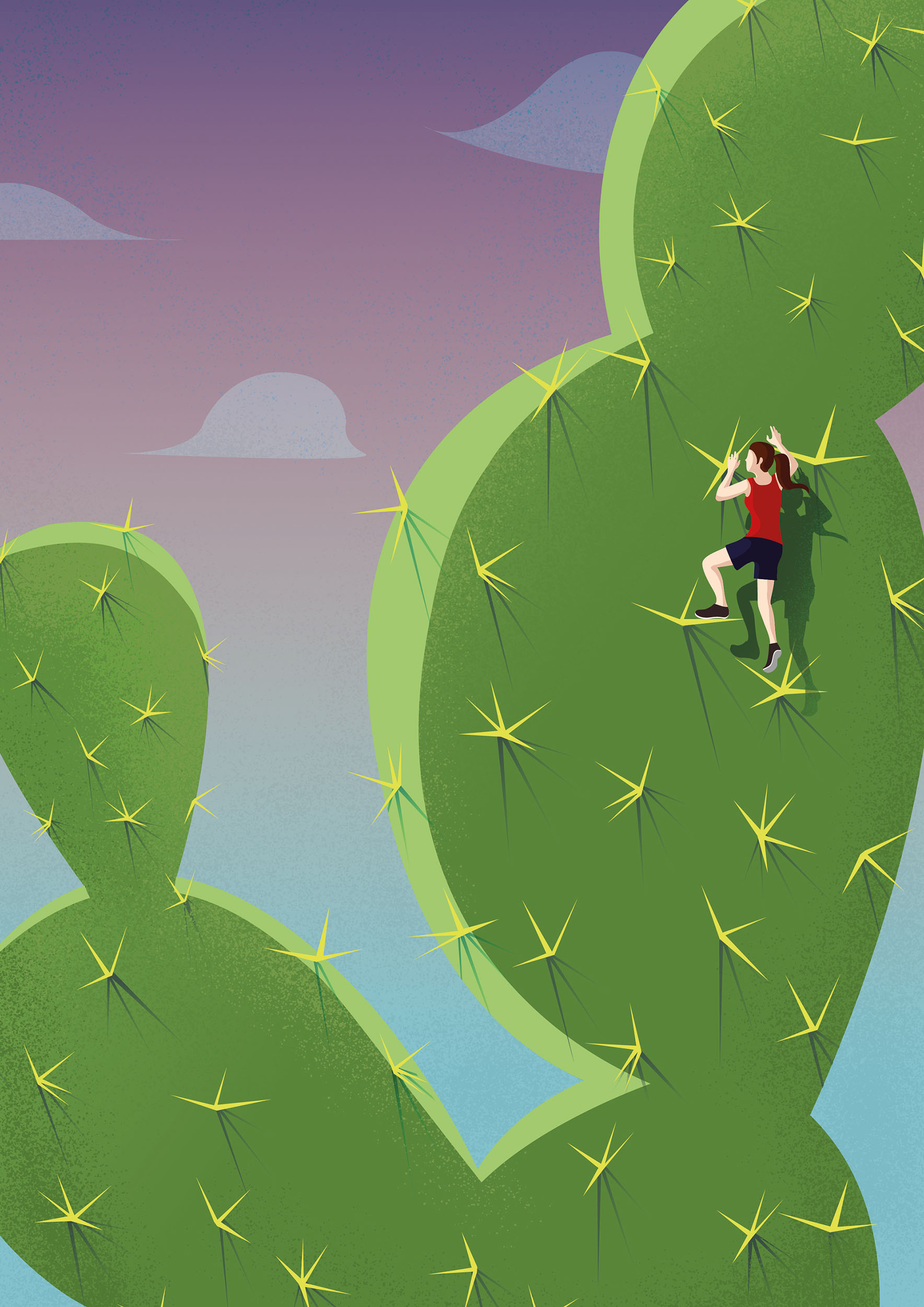 11. Now, tell us a little more about you as a person: what is your favourite food?
I'm a food lover! I love (of course) all Italian, Spanish, Chinese and Indian food. Pizza has a special place in my heart. Sono una mangiona, amo il cibo in generale. Adoro (ovviamente) tutto il cibo italiano, spagnolo, cinese e indiano. La pizza ha un posto speciale nel mio cuore.
12. Favourite book?
My favorite book is Novecento by Alessandro Baricco. I read it at 17 years old and it deeply impressed me, I felt lost and caged like the character of the story. Il mio libro preferito è Novecento di Alessandro Baricco. L'ho letto a 17 anni e mi ha profondamente colpita, mi sentivo persa e ingabbiata come il personaggio della storia.
13. Favourite genre of music?
I love rock, punk and classical music. I love collecting vinyls from my favorite bands like: The police, The Smiths, Queen, R.E.M, Arctic Monkeys, Tchaikovsky... Adoro il rock, punk e musica classica. Amo collezionare vinili dei miei gruppi preferiti come: The police, The Smiths, Queen, R.E.M, Arctic Monkeys, Tchaikovsky...
14. What are your hobbies?
My hobbies have become my job. I practically became a workaholic: I always draw. I love watching movies and playing board games with friends. I miei hobby sono diventati il mio lavoro. Sono praticamente diventata una stacanovista: disegno sempre. Adoro guardare film e giocare a giochi da tavolo con gli amici.
15. If you weren't an artist, what would you be?
I would probably always work in the arts, maybe in a museum or as an art consultant. Honestly, I can't imagine my life without it. Probabilmente lavorerei sempre nel campo artistico, magari in un museo o come consulente d'arte. Onestamente non riesco ad immaginare la mia vita senza di essa.