Instagram:
@kerinjo_lyons
Twitter:
@kerinjo
Behance:
www.behance.net/andrewlyons
Website:
www.lyonsa.com
1. What's your story? Where are you from?
Hi there! I'm originally from a town called Basingstoke in the south of England, I studied at Cardiff University and did a few office jobs before moving to France in 2005. I've been illustrating now since around 2012, I had a go at graphic design but found I just enjoyed drawing more. I'm represented by the agency Handsome Frank.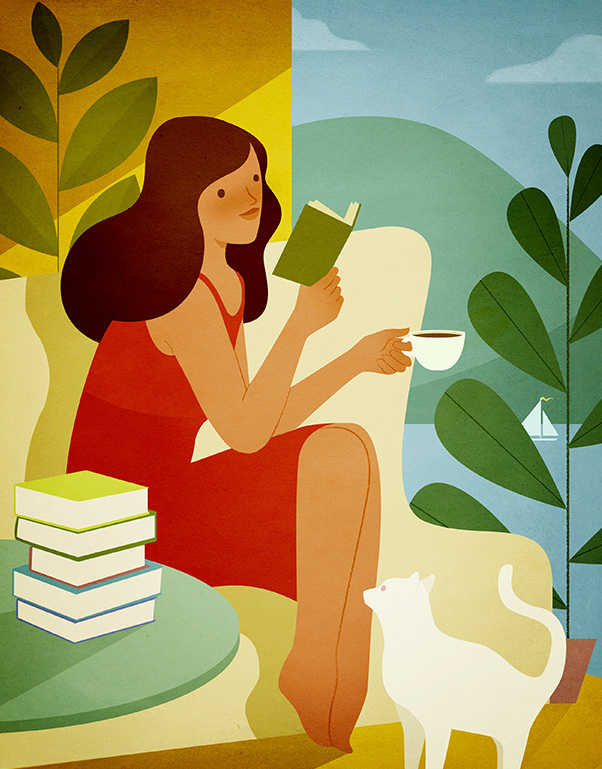 2. Tell us about your aesthetic.
I'm interested in flat, hard-edged abstract shapes, comic book style characters, and textures. I'm heavily influenced by both mid-century American abstract art and Franco-Belge comic books.
3. What is your favourite medium and why?
I work in Photoshop and although I used to paint in acrylics years ago everything I do is on my computer now. Even sketches are drawn directly on my computer screen. I love that I can manipulate everything and make changes in the blink of an eye, especially useful when it comes to experimenting and trying out new ideas, and ideal for working with clients. Also I'm discovering new processes all the time.
4. What is your artistic process like?
When I get an illustration brief from the client I have a read through then I leave it (if I have time) a day or too, and think about it throughout the day, while I'm out shopping or in the bath. Usually by this time some visual ideas have popped into my head so I sit down and start sketching. If I get stuck I write down the key words from the text, and make a spider diagram with word association, flick through a thesaurus, until I join up some ideas. Once the sketches okayed I colour in Photoshop.
5. Who and/or what inspires your work?
Initially, I was inspired by the paintings that influenced me when I studied painting, works by painters such as Ben Nicholson, Ellsworth Kelly and Frank Stella. Then When I moved to France and was learning French I read a lot of Tintin books (as they were easier to read at first) and fell in love with the artwork, which led me to other 'Ligne Claire' artists such as Yves Chaland and Joost Swarte. But day to day I'm inspired by music and walking around Dijon.
6. What role does art play in your life? How does it change the way you view the world?
It's a major part of my life, really intertwined with how I live. I'm thinking about my work a lot of the day. I think that the sheer variety of artistic styles is fascinating as each style is a sum of the artist's background and things they love. They way that different artists see the world comes through in their work, like looking into their imaginations in a way. I'm very optimistic and generally happy person and I think that comes through in my work, as they scenes I like to draw are very positive generally. Doing the job I do has made me look more, taking the time to notice things around me, I think that anyone who draws or writes or takes photographs would say the same.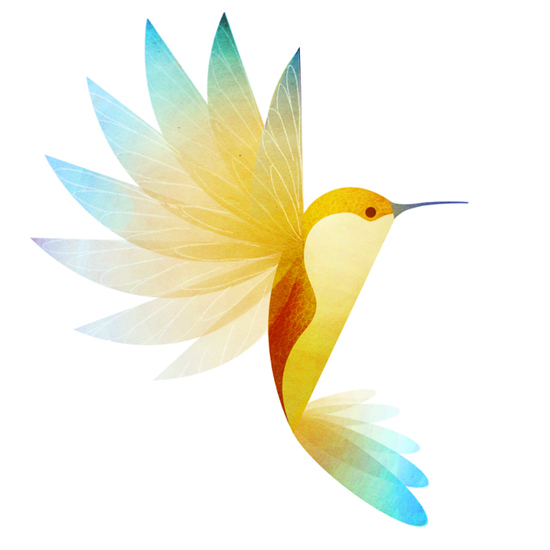 7. Where did you study?
I studied Art and Design in my hometown college after school, and then afterwards I studied fine Fine Art at Cardiff University, where I specialised in Painting from my second year. At that time I painted large abstract/geometric painting on canvas, inspired by buildings and film noir movies.
8. Where do you see yourself in five years?
I hope I'll be illustrating in freelance still but with more skills!
9. What about in ten?
Same again!
10. What do you hope to achieve with your art?
My primary goal that I hope to achieve is to be able to put forth ideas in a visual way that is incredibly simple and direct but beautiful at the same time. I'm never satisfied with my work over the long term, I'll like a piece for a few weeks and then start to see things I could have done better, so I'm still learning and searching all the time.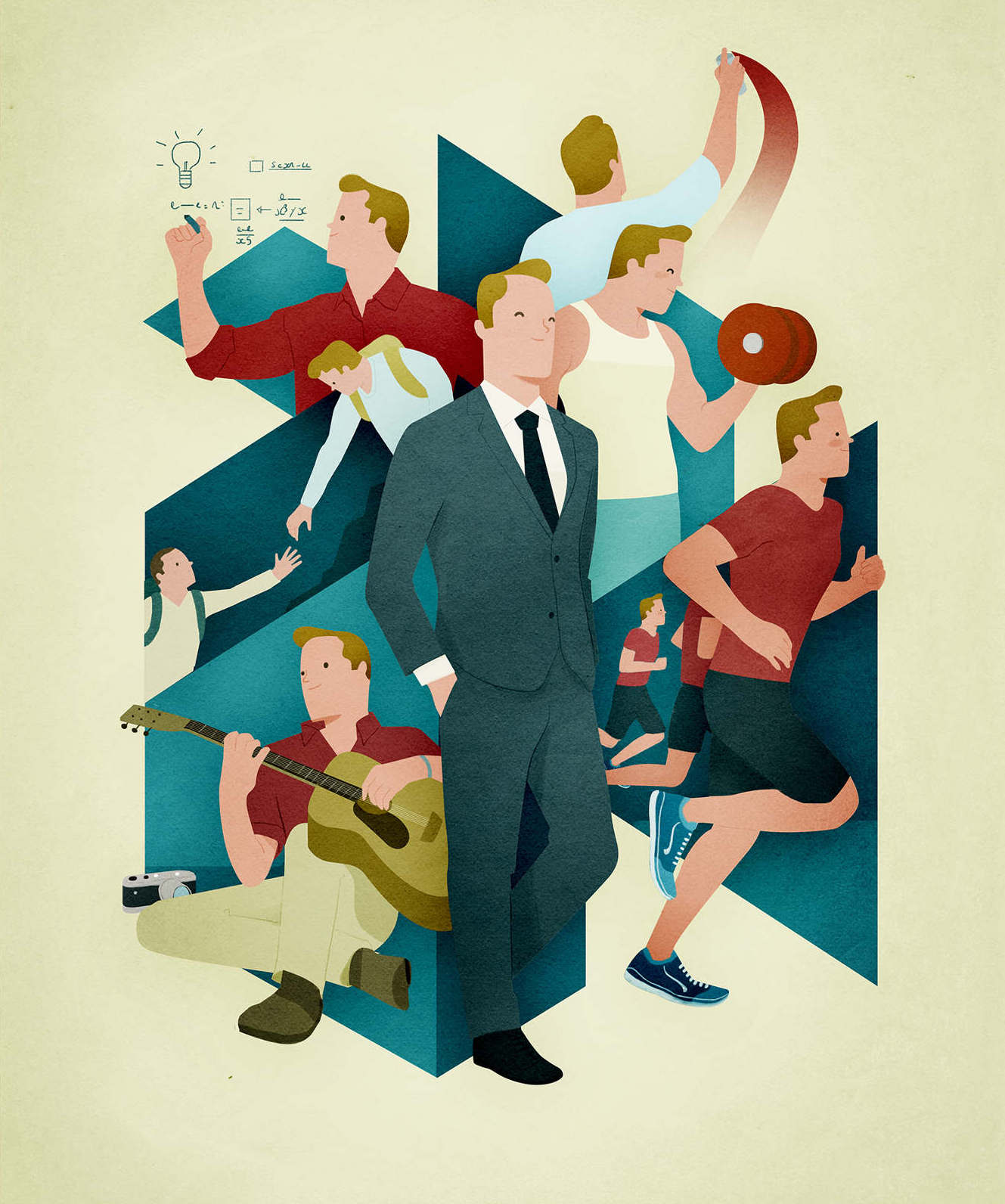 11. Now, tell us a little more about you as a person: what is your favourite food?
I love a French food called 'Tartiflette' which is basically and oven dish with boiled potatoes and ham covered with melted reblochon cheese and cream. I love anything with potatoes and ham, which reminds me of holidays with family in Ireland when I was young.
12. Favourite book?
Oh so difficult to pick one I have so many! My apartment has books everywhere. I'd have to choose 'The heart is a lonely hunter' by Carson McCullers.
13. Favourite genre of music?
Irish traditional music (I play banjo and mandolin) and trad jazz.
14. What are your hobbies?
Playing music, I play on my own or with friends, a bit of guitar and lots of Irish music on my mandolin, my neighbours somehow don't complain with the noise I make. I also like to read a lot, I spend a lot of time in my local park reading and sketching in a notebook. Oh and going to the pub! Is that a hobby?
15. If you weren't an artist, what would you be?
I'd love to have been a luthier, building stringed instruments.