Instagram: @kinopidi
1. What's your story? Where are you from?
Hi! I am Jinju. I am from South Korea and currently live in New York City. I studied Film and Video in college and grad school. I made a couple of short documentaries and experimental videos in school. After graduation, I made a feature documentary film about a photographer. My artistic medium has been a real-life image for a long time. However, I've also been interested in making animated films since college time. In order to pursue that dream, I started learning animation and digital illustration in my spare time while working as a video editor. Since the pandemic happened in 2020, I had lots of time to draw and started sharing my creativity as an illustrator on Instagram.
안녕하세요 제 이름은 이진주 입니다. 저는 현재 미국 뉴욕에서 지내고 있고요. 대학과 대학원에서 영화와 비디오를 전공했고, 몇편의 단편 다큐멘터리와 실험영화들을 만들었습니다. 대학원 졸업 후에는 사진가에 관한 장편 다큐멘터리를 제작하기도 했고요. 오랫동안 영화 영상 관련 일을 해오긴 했지만, 대학시절부터 항상 애니메이션 영화를 만들어보고 싶은 꿈이 있었습니다. 그래서 비디오 에디터로 일하면서 틈틈히 애니메이션과 일러스트를 따로 공부해 왔어요. 그러다 2020년에 코로나 바이러스 대유행이 일어나면서, 부득이하게 그림을 그릴 수 있는 여유 시간이 더욱 많이 생겼습니다. 제 일러스트들을 인스타그램에 꾸준히 공유하면서 일러스트레이터로서의 작업들을 계속 해오고 있어요.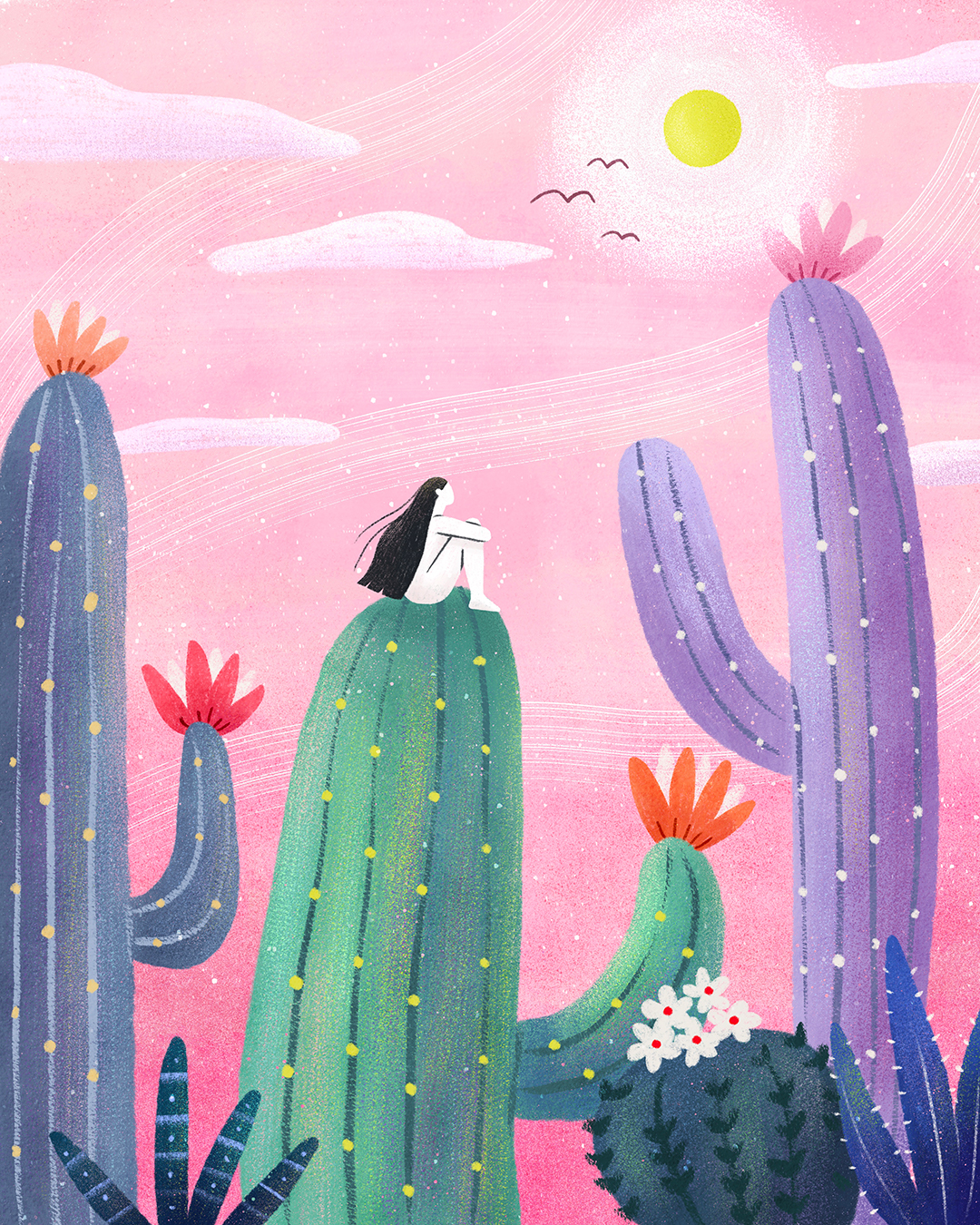 2. Tell us about your aesthetic.
My major inspiration and subject matter is nature and female energy. I love using the objects like the moon, stars, and flowers in my drawings. I like to create some magical or meditative atmosphere in my work. I am also interested in telling stories with images.
제 주된 영감과 주제는 자연과 여성 에너지 입니다. 제 그림에 달, 별, 꽃 같은 오브젝트를 그리길 좋아하고요. 마법적이고 명상적인 분위기를 좋아합니다. 이미지를 통해 이야기를 전하는 것에 흥미가 있습니다.
3. What is your favourite medium and why?
Digital illustration is how I started illustration. I like to keep things simple in life in general, and digital drawing really fits my purpose. I love its convenience. I used to use Photoshop and Wacom tablet, but I only use Procreate on iPad these days. I like to keep the work process as simple as possible.
제가 일러스트를 배운게 디지털 작업을 통해서였습니다. 삶 전반적으로 모든 걸 심플하게 유지하는 걸 좋아하기 때문에 디지털 작업 방식은 제 라이프 스타일에 딱 맞는 것 같아요. 그 편리함이 좋습니다. 전에는 포토샵과 와콤 타블렛으로 작업을 하다가 이제는 아이패드와 프로크리에이트로만 작업하고 있습니다.
4. What is your artistic process like?
Once I have some ideas in my mind, I gather reference images from Pinterest and Instagram. I make rough and fine sketches as I make sure the composition looking good. Then, I test the color palette that I am going to use, and I start applying colors, textures, and details.
머릿속에 아이디어가 떠오르면 일단 핀터레스트나 인스타그램에서 참조할 만한 이미지들을 모읍니다. 그런다음 제 마음에 드는 구성이 나올 때까지 스케치를 반복합니다. 그 후에는 사용할 컬러들을 테스트해봅니다. 컬러가 확정되면 컬러링과 텍스쳐, 디테일 작업을 합니다.
5. Who and/or what inspires your work?
I constantly get inspired by works of artists; illustrations, animations, traditional paintings, sculptures, installations, films, photography, books, and music. Also, nature is a huge inspiration for me. All the beautiful memories I had in nature affect my imagination.
모든 분야의 아티스트 작업들이 저에게 영감을 줍니다. 일러스트, 애니메이션, 전통회화, 조각, 설치, 영화, 사진, 책, 음악. 또한 자연은 저에게 가장 큰 영감의 원천입니다. 자연 속에서 충만했던 기억들이 제 상상력에 지대한 영향을 미칩니다.
6. What role does art play in your life? How does it change the way you view the world?
Art makes me more sensitive to the world. What I experience in life can be more interesting because I've been developing artistic sensitivity.
예술은 제가 세상에 대해 좀 더 예민할 수 있게 만들어 줍니다. 예술적 감수성을 길러온 덕분에 삶을 좀 더 흥미롭게 경험할 수 있다고 생각해요.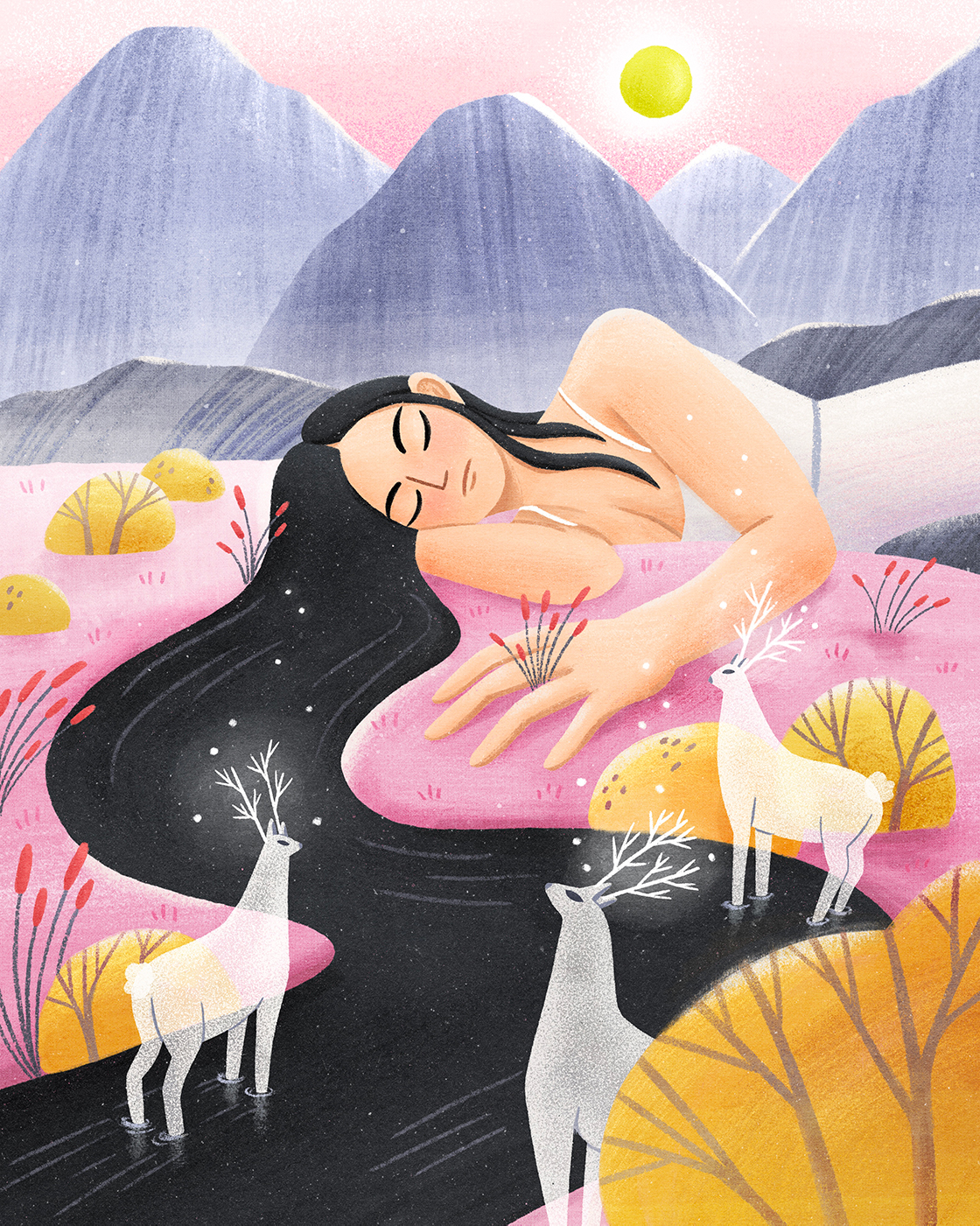 7. Where did you study?
I went to a university in Seoul, South Korea. I did MFA at the School of Visual Arts in New York.
서울에서 대학을 나왔고 뉴욕의 School of Visual Arts 에서 대학원 과정을 졸업했습니다.
8. Where do you see yourself in five years?
I'll make illustration books of my own stories. I am also studying herbs right now because I want to live close to nature. What I am dreaming of now is working on the farm and art, half and half.
제가 직접 만든 이야기로 일러스트레이션 책을 만들거예요. 또한 자연에서 농사를 지으며 살고 싶어서 현재 허브 공부를 하고 있어요. 농사일과 예술 활동을 반반씩 하면서 지내는 것이 제 꿈입니다.
9. What about in ten?
I'll make animated films and keep working and living on the farm.
계속해서 농사를 지으면서 애니메이션 영화를 만들고 싶어요.
10. What do you hope to achieve with your art?
I will be so happy if my work stays with a viewer for a moment and warm his/her heart.
제 작업이 보는 사람의 마음에 잠깐 머물며 따뜻하게 해줄 수 있다면 그걸로 충분해요.
11. Now, tell us a little more about you as a person: what is your favourite food?
I love all kinds of food. Since I live in New York City, I am exposed to various cultures and food. I have no problem with strange food unless it's made of weird animals or poisonous stuff.
뉴욕에 살면서 다양한 다른 문화의 음식들을 접할 수 있었어요. 그러다보니 낯선 음식에 대한 거부감이 별로 없어요. 괴상한 동물이나 해로운 재료로 만든 음식만 아니면 아무거나 다 맛있게 먹어요.
12. Favourite book?
One Hundred Years of Solitude by Gabriel García Márquez
Narcissus and Goldmund by Hermann Hesse
Hard-Boiled Wonderland and the End of the World by Haruki Murakami
가브리엘 가르시아 마르케스의 '백년동안의 고독'
헤르만 헤세의 '나르시스와 골드문트'
무라카미 하루키의 '세상의 끝과 하드보일드 원더랜드'
13. Favourite genre of music?
I love Jazz music. My favorite Jazz musicians are Tord Gustavsen and Pat Metheny. I also used to listen to ambient music quite a lot.
재즈 음악을 좋아해요. Tord Gustavsen 이나 Pat Metheny 같은 류의 재즈 뮤지션을 좋아합니다. 예전엔 한동안 앰비언트 뮤직을 즐겨 들었었어요.
14. What are your hobbies?
For now, I can say drawing is my hobby since I am so obsessed with it. Also, I like to watch shows when I take a break from drawing or studying.
현재 취미라 하면, 그림 그리기라 할 수 있어요. 그림 그리고 공부하는 시간 외에는 드라마나 시리즈물을 보면서 머리를 식혀요.
15. If you weren't an artist, what would you be?
I would be a national park ranger or a farmer.
국립공원 관리자, 농부, 또는 스님이 되었을 것 같아요.