Instagram: @kiwii.pastek
Website: www.kiwii-illustration.fr
1. What's your story? Where are you from?
My name is Camille, I'm 31 years old and I'm a graphic designer in a communication agency and a freelance illustrator. I live in Le Mans, France.
Je m'appelle Camille, j'ai 31 ans et demi et je suis graphiste dans une agence de communication et illustratrice free-lance. Je vis au Mans, en France.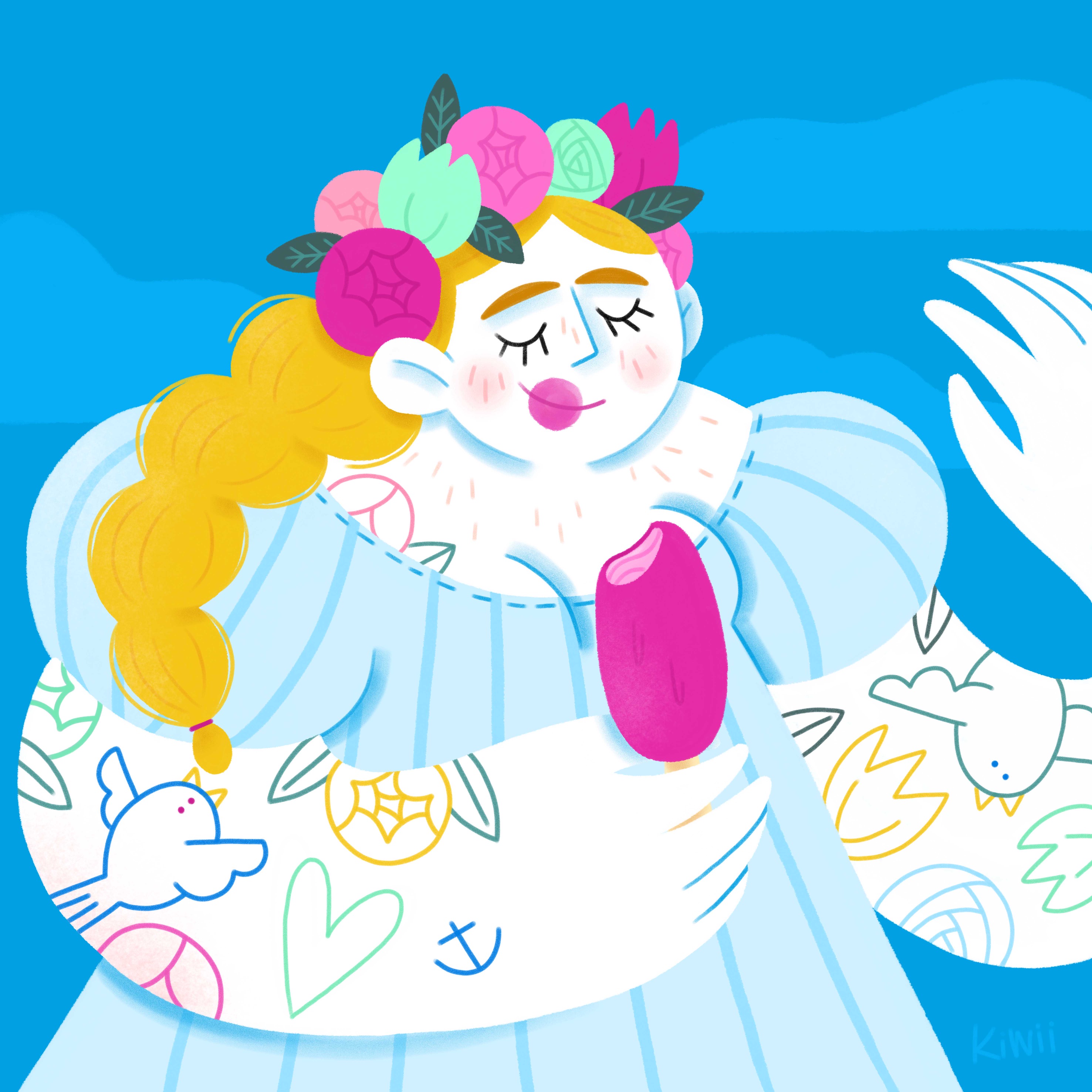 2. Tell us about your aesthetic.
I like to mix humor and poetry in very colorful illustrations. Although it took me a long time to find my style and tried a lot of different themes, I finally found my voice. Today, I like to draw different bodies: big bodies, tattooed or not, marked by life, non-binary, etc.

J'aime bien mêler humour et poésie dans des illustrations très colorées. Si j'ai mis du temps à trouver mon style et me suis essayée à pas mal de thématiques différentes, j'ai enfin trouvé ma voix/voie. Aujourd'hui, j'aime dessiner des corps différents : des corps gros, tatoués ou non, marqués par la vie, non-binaires, etc.
3. What is your favourite medium and why?
I only work digitally. I've been working like this for over 10 years and I must admit that I feel more comfortable with a graphics tablet than a pad of paper! That doesn't prevent me from taking a pencil from time to time to scribble in a notebook. For the past 9 months, I have been working on Adobe Fresco, an application that I find very intuitive for digital painting.
Je ne travaille qu'en numérique. Ça fait plus de 10 ans que je travaille comme ça et j'avoue que je me sens plus à l'aise avec une tablette graphique qu'avec un bloc de papier ! Cela ne m'empêche pas de prendre de temps en temps un crayon pour gribouiller dans un carnet. Depuis 9 mois, je travaille sur l'application Fresco d'Adobe, une application que je trouve très intuitive pour la peinture numérique.
4. What is your artistic process like?
I start most of the time with a sketch, which I do directly on the tablet. Sometimes I have a very precise idea in mind of what I'm going to draw. Other times, I let myself be carried away by inspiration, without any real goal.
Once the sketch is finished, I move on to color. Again, the result varies according to the mood of the moment. The colors in my latest illustrations are very bright and saturated, whereas before, they were much softer.
Je commence la majeur partie du temps par un croquis, que je fais directement à la tablette. Parfois, j'ai une idée très précise en tête de ce que je vais dessiner. D'autres fois, je me laisse porter par l'inspiration, sans réel but.
Une fois le croquis terminé, je passe à la couleur. Là aussi, le résultat varie selon l'humeur du moment. Les couleurs de mes dernières illustrations sont très vives et très saturés, alors qu'avant, elles étaient beaucoup plus douces.
5. Who and/or what inspires your work?
The artists who inspire me are contemporary illustrators. I love the richness of the styles and universes they create. That's why Instagram is a real treasure chest! I can spend hours in it, from account to account, to discover new profiles.
Les artistes qui m'inspirent sont les illustrateurs.rices contemporains. J'adore la richesse des styles et des univers qu'ils créent. Pour ça, Instagram est une vraie malle aux trésors ! Je peux y passer des heures à passer de compte en compte, pour découvrir de nouveaux profils.
6. What role does art play in your life? How does it change the way you view the world?
For me, illustration is both a way to breathe and to express myself. When I draw, I am completely absorbed by what I do. The world could collapse around me that I would still be with my pencil in my hand. And through my drawings, I talk about subjects that are close to my heart: grossophobia, body shaming, gender issues, etc. Drawing allows me to say more effectively what I feel, even more than words.
What I love about sharing my artwork on social networks like Instagram is that it opens a dialogue with the world. Sometimes I get messages from people who have been touched by one of my drawings because they recognize themselves in them. It makes me super happy because I tell myself that what I'm doing, what I'm creating has a meaning.
Pour moi, l'illustration est à la fois un moyen de respirer et de m'exprimer. Lorsque je dessine, je suis complètement absorbée par ce que je fais. Le monde pourrait s'écrouler autour de moi que je serais encore avec mon crayon à la main. Et par mes dessins, je parle de sujets qui me tiennent à cœur : la grossophobie, le body shaming, les problématiques de genre, etc. Le dessin me permet de dire plus efficacement ce que je ressens, encore plus que les mots.
Ce que j'adore avec le fait de partager mes illustrations sur des réseaux sociaux comme Instagram, c'est que cela permet d'ouvrir un dialogue avec le monde. Par moment, je reçois des messages de personnes qui ont été touchées par un de mes dessins, parce qu'elles se reconnaissent en eux. Ça me rend super heureuse car je me dis que ce que je fais, ce que je crée à un sens.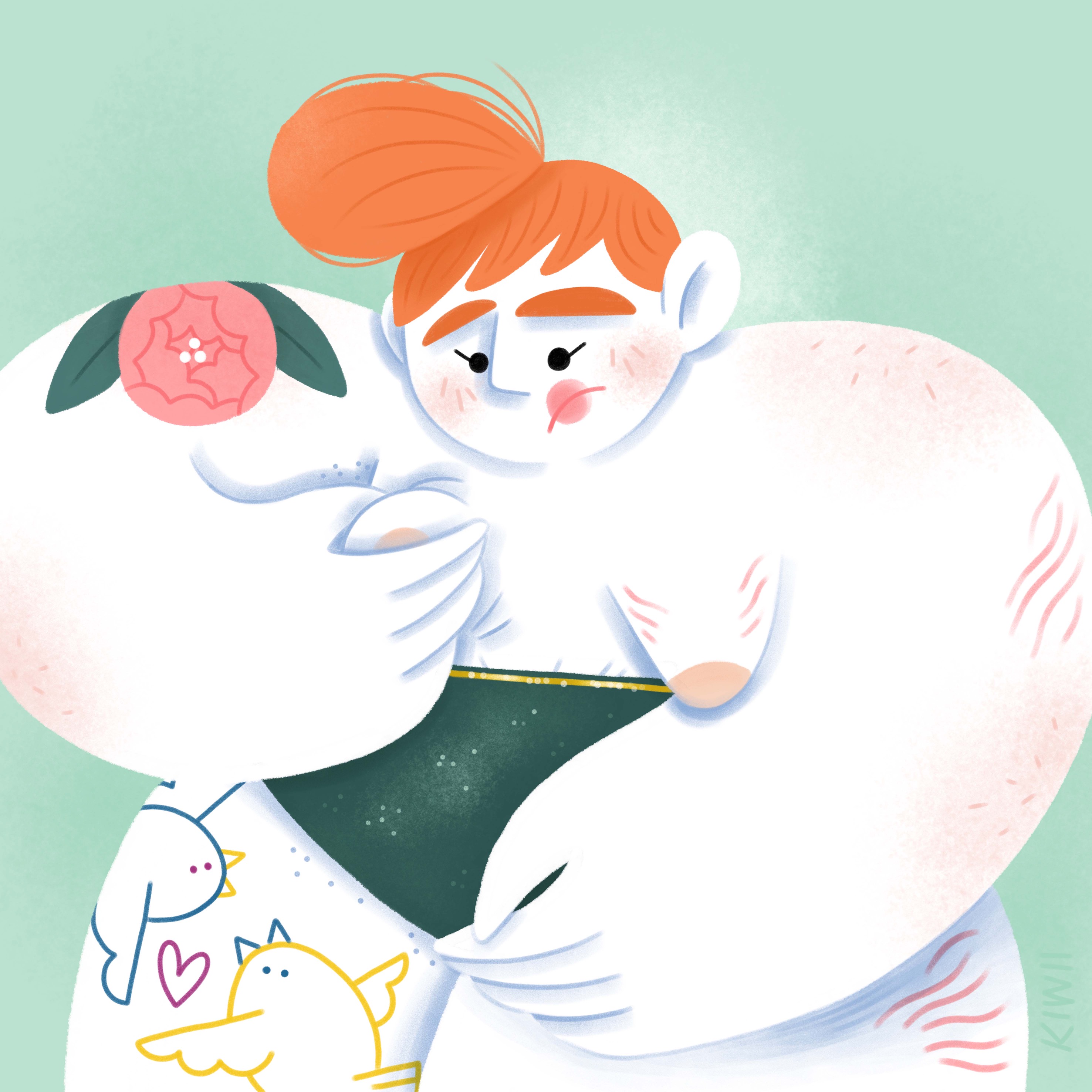 7. Where did you study?
I am largely self-taught. I started drawing at a very young age (yes, it's a cliché). After reorienting myself quite a few times in my studies, I did a HTD in graphic design, specializing in print. That's when I fell in love with editorial design.
Je suis en grande partie autodidacte. J'ai commencé à dessiner très jeune (oui, c'est un cliché). Après m'être réorientée un bon nombre de fois dans mes études, j'ai fait un BTS de design graphique, spécialisé dans le print. C'est à ce moment là que je suis tombée amoureuse du design éditorial.
8. Where do you see yourself in five years?
I see myself living only from illustration, by illustrating books and press articles (I hope so!).
Je me vois vivre uniquement de l'illustration, en illustrant des livres et des articles de presse (je l'espère !).
9. What about in ten?
Still an illustrator, with in addition a gallery in which I will expose and sell the works of illustrators that I love.
Toujours illustratrice, avec en plus une galerie dans laquelle j'exposerai et vendrai des œuvres d'illustrateurs.rices que j'aime.
10. What do you hope to achieve with your art?
I hope to fulfill myself, both as a human being and as a woman. I hope to bring some happiness to the world with my drawings and my round characters.
J'espère m'accomplir, à la fois en tant qu'être humain et en tant que femme. J'espère apporter un peu de bonheur au monde avec mes dessins et mes bonhommes tout ronds.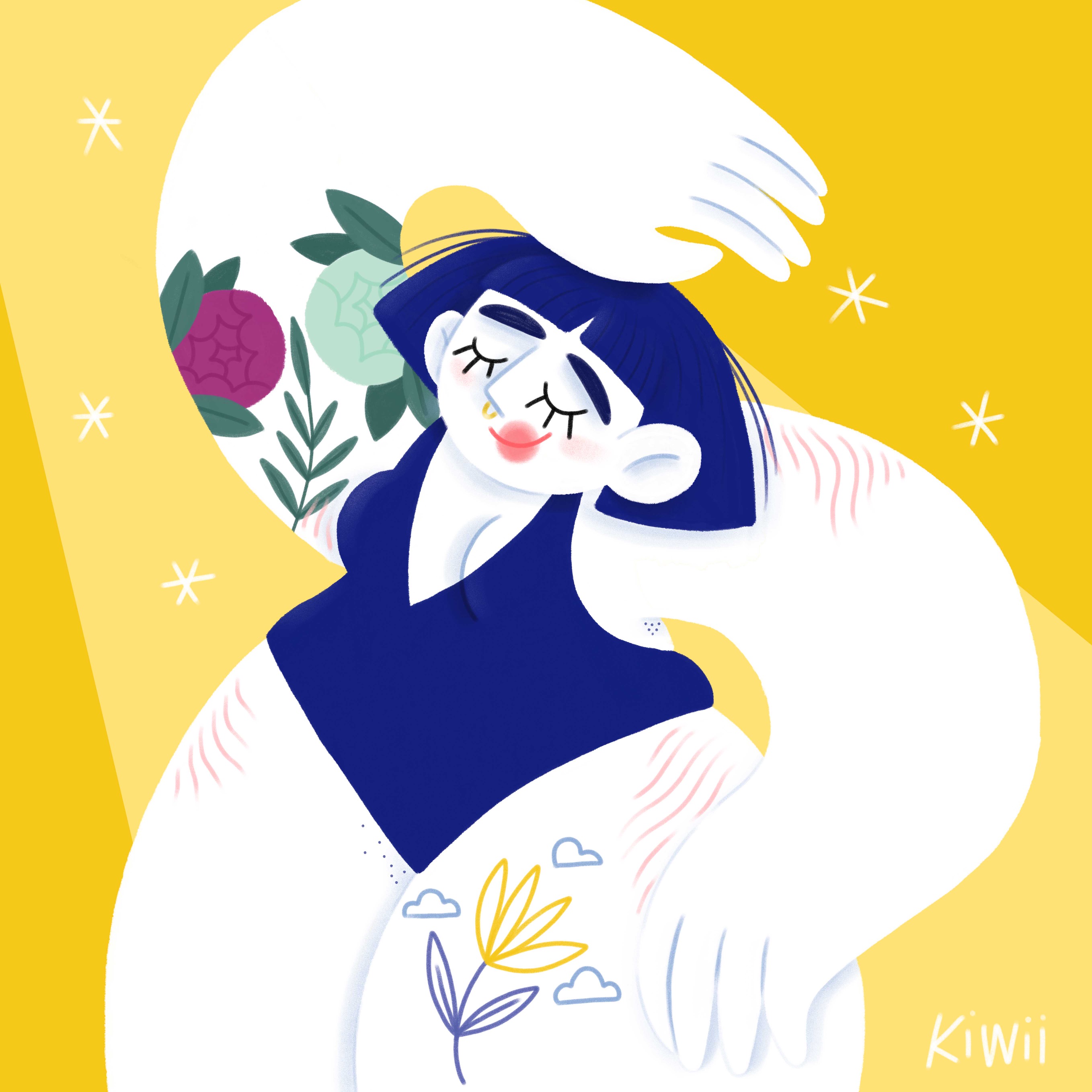 11. Now, tell us a little more about you as a person: what is your favourite food?
The trick question! I love so many things! I think that japanese cooking is still my favorite food.
La question piège ! J'aime tellement de choses ! Je pense que la cuisine japonaise reste ma cuisine préférée.
12. Favourite book?
Another trick question! My house is full of books, everywhere, in every room, on every wall! I'm rather going to say the last book that gave me a slap in the face: King Kong Théorie by Virginie Despentes. An uncompromising feminist essay with necessary violence.
Encore une question piège ! Ma maison est remplie de livres, partout, dans toutes les pièces, sur tous les murs ! Je vais plutôt dire le dernier bouquin qui m'a mis une claque : King Kong théorie de Virginie Despentes. Un essai féministe sans concession, d'une violence nécessaire.
13. Favourite genre of music?
It depends on my mood. Right now, I'm listening a lot to the classics of the French band Indochine and the album Cut the World by Antony & The Johnsons.
Cela dépend de mon humeur. En ce moment, j'écoute beaucoup les classiques du groupe français Indochine et l'album Cut the World de Antony & The Johnsons.
14. What are your hobbies?
When I don't draw, I cook!
Quand je ne dessine pas, je cuisine !
15. If you weren't an artist, what would you be?
I think I would have done a work related to the books. Or a vegetable merchant (but that's because I still have 4 years in my head and I like to play merchant).
Je pense que j'aurais fait un travail en rapport avec les livres. Ou alors marchande de légumes (mais ça, c'est parce que j'ai encore 4 ans dans ma tête et que j'aime jouer à la marchande).