Instagram: @kjm.illustrations
1. What's your story? Where are you from?
Hi! My name is Kim, I'm 28 and I am a German Digital Graphic Designer currently living in Hannover, Germany. :)
I grew up in a very artistic and creative household and was always encouraged to draw and create. In high school, I took 3 art classes simultaneously in my final years and graduated with a major in Art, German and English. I drew every single day!
After high school, however, I was not accepted into the University of Art and Design that I applied for. I was young and felt like I disappointed my parents, art teachers and everyone that had always told me that I would become an artist. So I put down my pen for a whooping 10 years, unable to be content and happy about what I created.
Throughout that time I focused on my second passion: Travelling! I lived and worked in 5 countries: Germany, South Africa, England, the Netherlands and now Romania. This year in January I took some of my savings and bought myself an iPad, hoping to revive my past passionate self. Luckily it worked! I was able to draw again! In July, I started my Instagram account thanks to the #funwithfaces challenge by @CharlyClements and now here I am.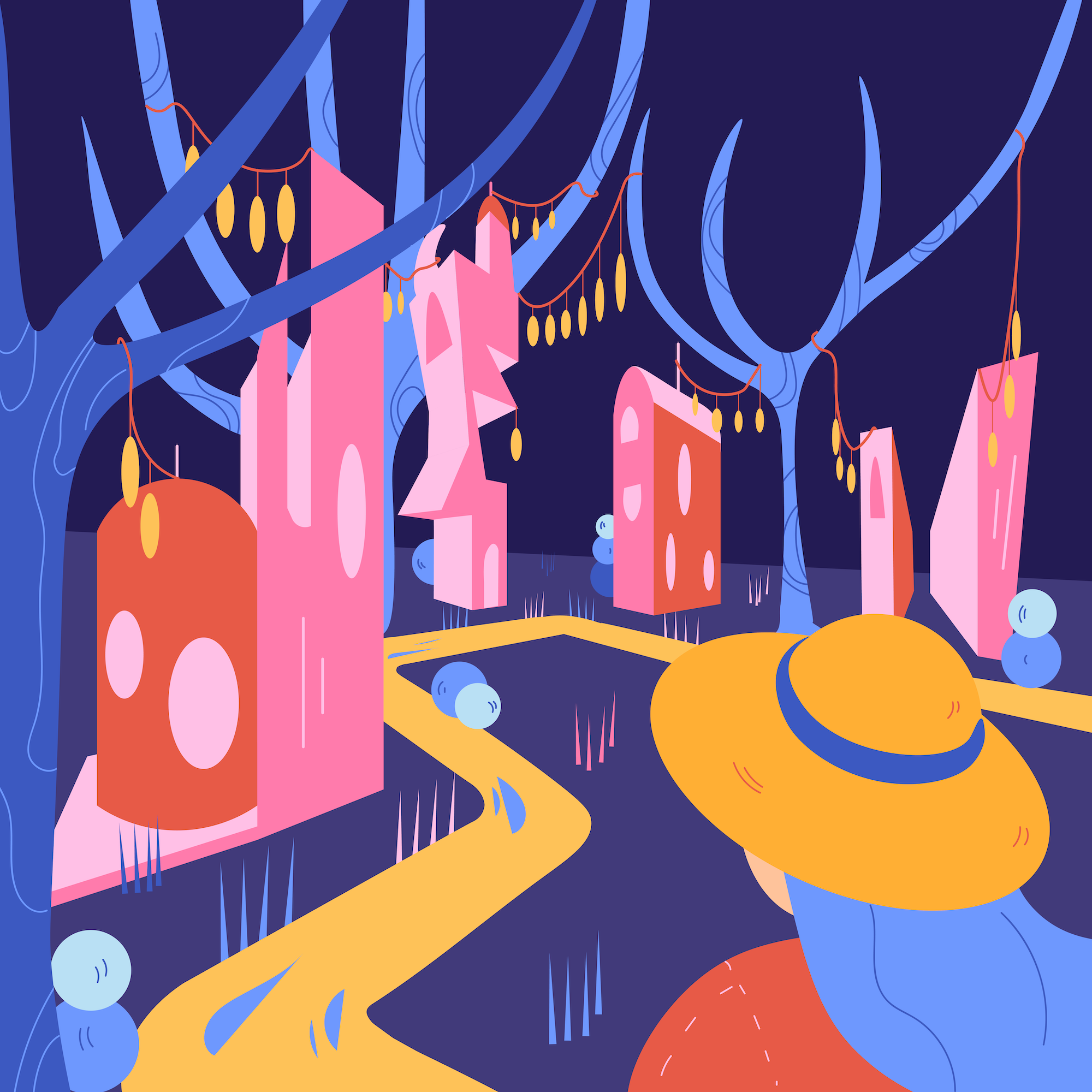 2. Tell us about your aesthetic.
When I started out digitally in January, I still had a lot to learn, so my drawings looked a bit washed out and the characters that I drew all seemed a bit sad - I guess I was in one of those moods.
Luckily, when I newly explored vector art in Adobe Illustrator and Adobe After Effects in July, I chose a set colour palette (originally for my portfolio only) that was bright and colourful. I also pushed myself out of my comfort zone and drew more dynamic poses and elaborate scenes, so now I have a very vibrant, happy and sometimes fantastical aesthetic with very round facial features and lots of plants and flowers too!
In vector art, I love solid flat illustrations. In Procreate, I am all about textures and noise.
3. What is your favourite medium and why?
Since going digital at the beginning of the year, I don't think I will be going back to traditional any time soon. It is definitely about convenience and print results for me.
4. What is your artistic process like?
Most of the time, I just have an idea and start sketching very loosely in Procreate. On other occasions, I find inspiration after scrolling through Pinterest - then I pull that visual, further references and fitting elements into a mood board to work with.
If I am planning on turning it into a flat illustration or motion graphic, I drop my loose sketch into Adobe Illustrator and then use the pencil tool to define the shapes. With Procreate, I define the sketch first into clean line art, then add the flat colours before finishing it with lots and lots of textures!
5. Who and/or what inspires your work?
I get inspired by a lot of things: Dreams, everyday life, existing art and photography as well as prompts and challenges.
6. What role does art play in your life? How does it change the way you view the world?
When I was young, I wouldn't go a day without creating and drawing. It was very therapeutic in challenging times.
Now that I have incorporated art back into my life, I am much happier. There is something so wonderful about creating your own pieces and about looking out of the window or across the street and thinking: that would be a cute scene to draw.
Other artists also have a huge impact on my life. Scrolling through gorgeous images online, seeing animations, movies, plays, games and more - art is everywhere and I always loved being surrounded by it!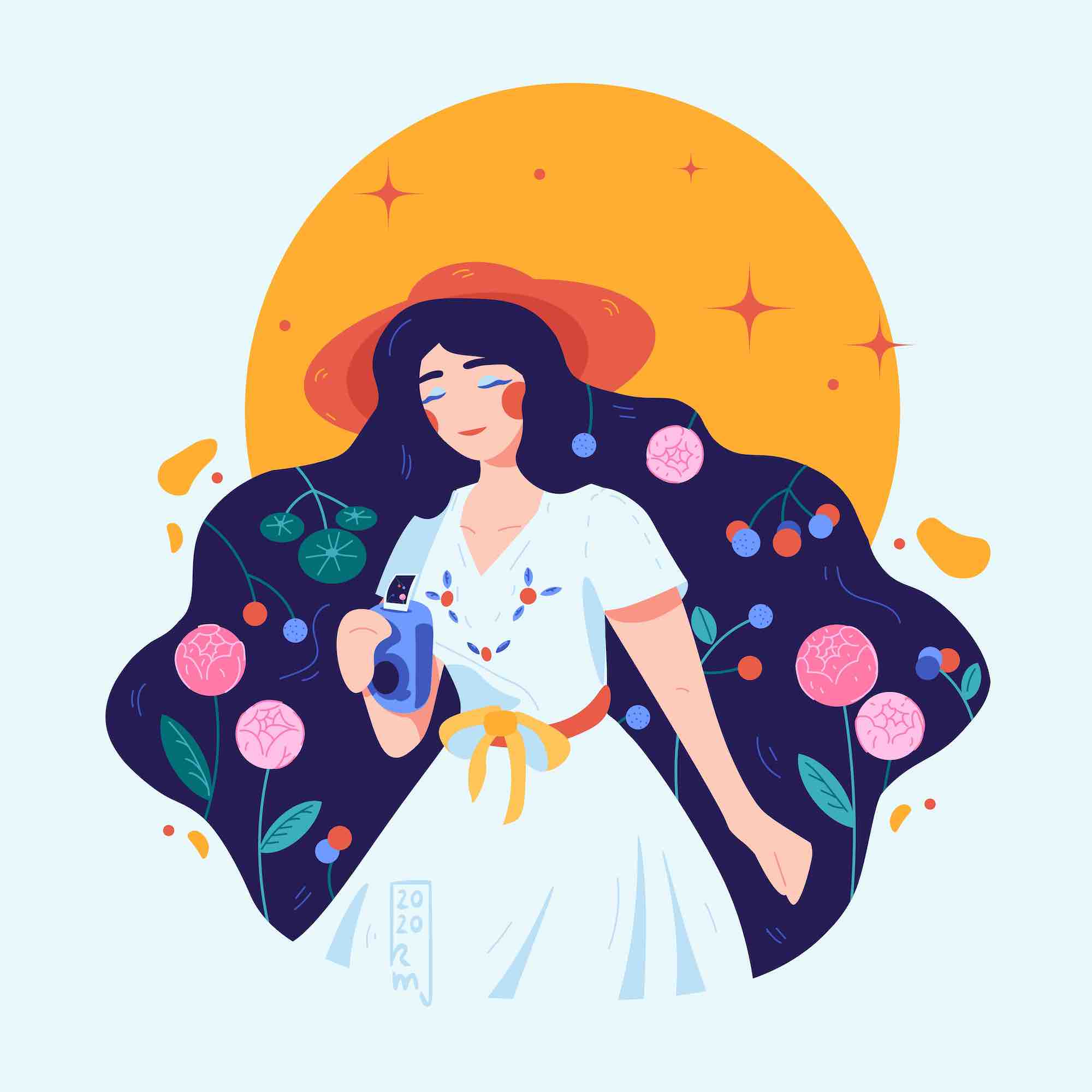 7. Where did you study?
I actually have three marketing degrees.
My career path is pretty parallel to my artistic one. I started out in marketing after being rejected by the art school, but then I found my way into more and more design related roles until I educated myself enough to become a Digital Graphic Designer in the travel industry, at which point I was lucky enough to get a creative day job after all.
Degree Details:
Fachakademie Dr. Buhmann, Hannover, Germany: Business Assistant in Foreign Languages, Correspondence, Int. Marketing & Management
University of Lincoln, England: BA (Hons) in Advertising and Marketing (one year top up degree)
Coventry University, England: MSc in International Marketing
8. Where do you see yourself in five years?
I see myself as an artist that is so much stronger and has learned so much more! Possibly being a freelance illustrator/designer or having my own little business and selling my art and putting smiles on people's faces! I guess I would like to finally reach the goal that I dreamt of when I was a teenager. :)
COVID-19 has sadly cost me my job, so I am curious what will happen next in this stage of my life!
9. What about in ten?
In 10 years, I will be 38. I guess on a private level, I would really like to be married and possibly settled down (but with travel opportunities still). I still see myself doing art - hopefully a lot of it! I see myself living near the ocean and being at peace with my abilities and my art journey.
10. What do you hope to achieve with your art?
I hope to inspire people and other artists as well as make them wonder about the content and intentions behind my art pieces. What are these characters talking about? What is the mystery behind this fantasy town?
Sometimes, I also want to evoke emotions - calmness, wonder, happiness and more!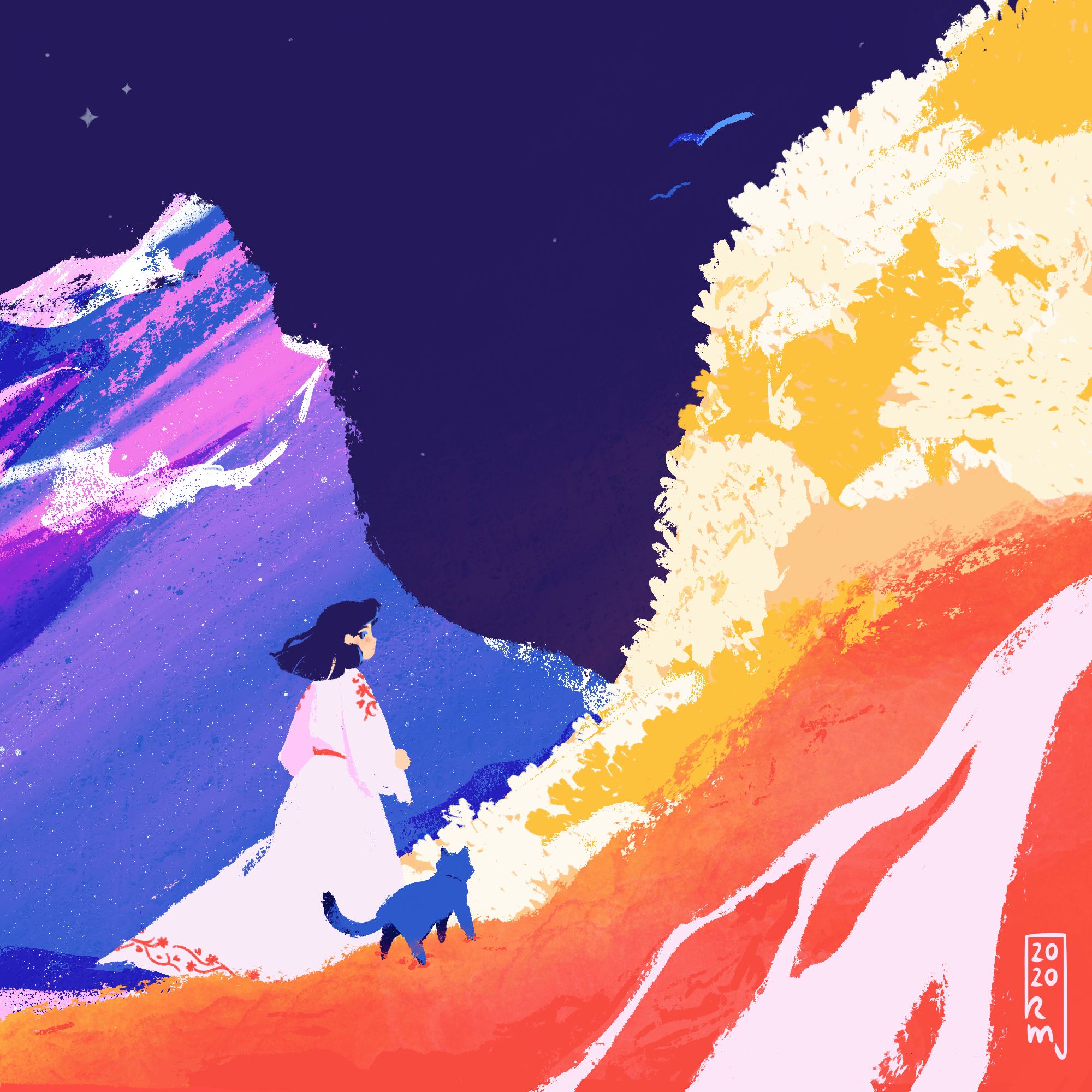 11. Now, tell us a little more about you as a person: what is your favourite food?
I eat pretty much anything and everything which is a good quality to have when you are staying over at friends :D. But I think my favorites are: Stuffed peppers, pizza, chocolate and ice cream. A very "healthy" selection.
12. Favourite book?
When I was a child, I would read a lot and was a bookworm in my teens. However, I have not really been reading much since - so I would have to go with some of my teenage and childhood favorites:
Die drei ??? (The Three Investigators)
The Harry Potter series
Sherlock Holmes - The complete collection
13. Favourite genre of music?
My favorite genre of music is actually 80s music - mostly pop and rock!
14. What are your hobbies?
My hobbies, besides drawing, are travelling and video games!
Red Dead Redemption 2, Final Fantasy X and VII (the original) and Horizon Zero Dawn are my favorites! :D
15. If you weren't an artist, what would you be?
I had to ask myself this question when I gave up on art 10 years ago. And the answer is -I had no idea haha. A family friend recommended I should check out this traineeship in the next big city since it had studying abroad opportunities.
I joined the marketing course without even knowing what marketing was -I guess I felt lost without art. But I found my way through three marketing degrees back to design and illustration and learned to love marketing on the way as well.
So I guess the answer would be Graphic Designer! If that is still too art related then I would probably work in a wild animal centre or be an assistant in a vet clinic. I used to do that as a teenager during every summer -I love animals and I would have loved to help them in any way as part of my career :)