Instagram:
@kristenboydstun
Website:
www.kristenboydstun.com
1. What's your story? Where are you from?
I'm an American illustrator currently living in Munich, Germany. I'm originally from Ohio and have also lived in Montreal and Los Angeles. Growing up I liked thinking about how the world works in terms of things like light, shadows, and colors, so I decided to study physics. Years later I realized that I wanted to go in a more visually creative direction. About a year ago I finally discovered illustration, which immediately felt a natural fit.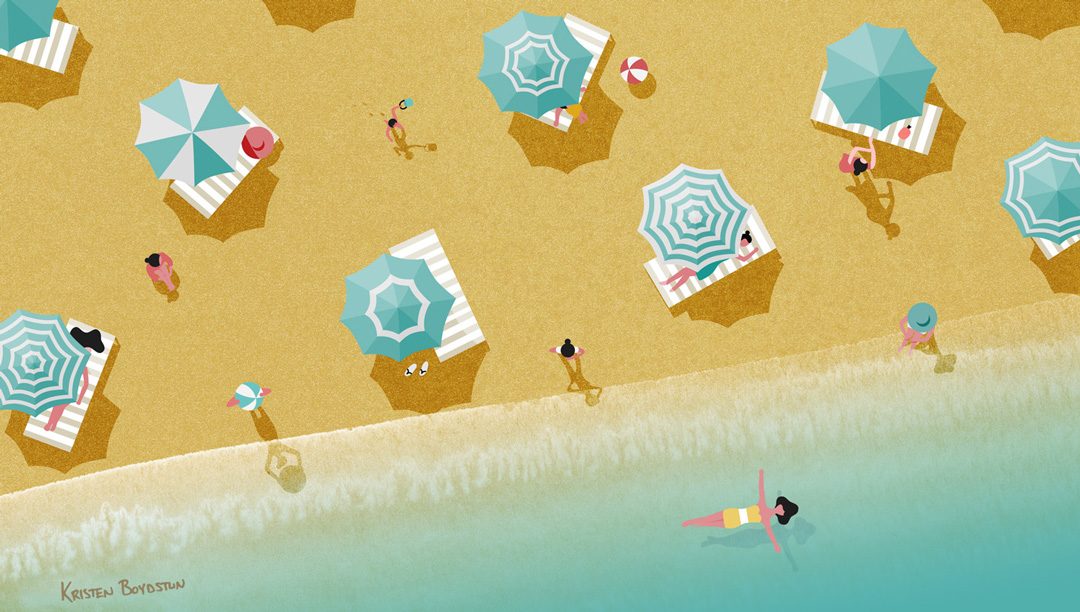 2. Tell us about your aesthetic.
I try to create a warm, vaguely vintage atmosphere. I'm drawn to the perfect geometry of urban spaces and love playing with the contrast between the ideal world of shapes and the real, imperfect world of textures.
3. What is your favourite medium and why?
I work digitally because of the flexibility it gives me to experiment and easily make changes. At the same time, I like to incorporate handmade textures into my work, which I make using watercolor and ink.
4. What is your artistic process like?
My process involves a lot of sketching and planning out the composition on paper before bringing the final sketch into Photoshop as a reference. From there I build up the illustration, playing with textures and colors, guided by the overall feeling I'm aiming for.
5. Who and/or what inspires your work?
A lot of my inspiration comes from places I've been to Italy, France, and Germany. I'm also inspired by the atmosphere of the French New Wave films and photography from that period. In terms of contemporary illustrators, I admire the work of Tom Haugomat, Ryo Takemasa, Thomas Danthony, Malika Favre and many others.
6. What role does art play in your life? How does it change the way you view the world?
Art plays an important role in my life - not because it changes the way I view the world, but because it makes me feel justified in being so interested in simple things like light and color.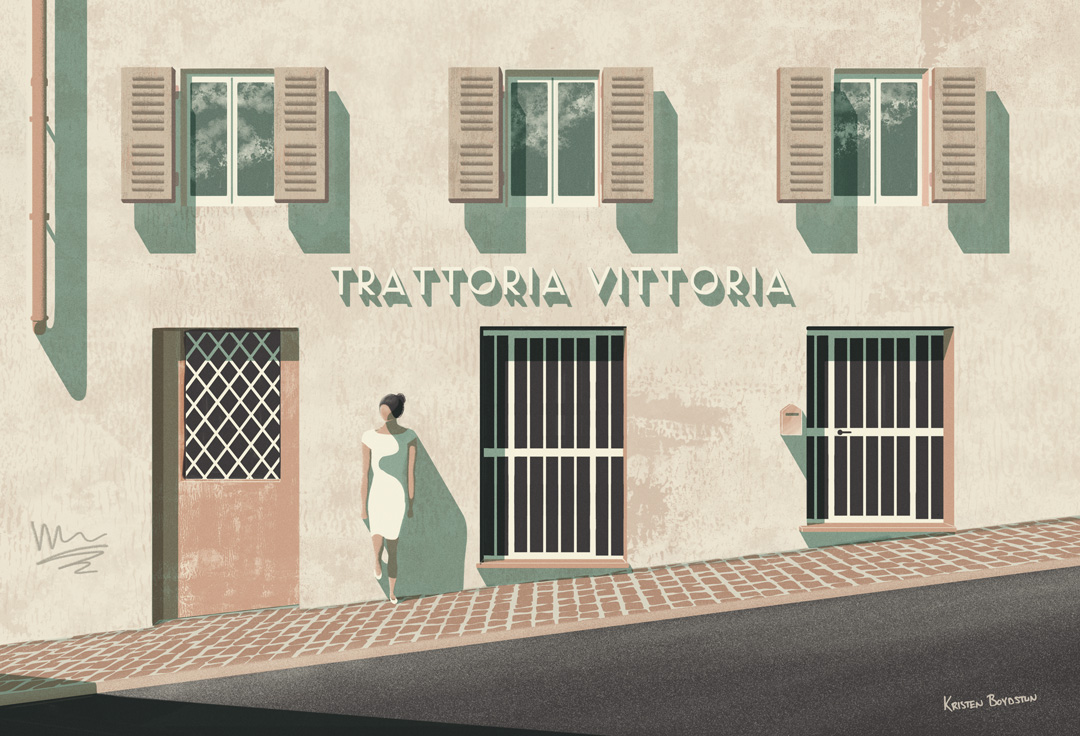 7. Where did you study?
I have a bachelor's and a master's degree in physics. Last year I discovered illustration through a short online course on combining analogue and digital media taught by Canadian illustrator Tom Froese, and beyond that I am self-taught. Although I don't have a formal education in art, I've found my background in physics helpful for thinking about things such as geometry and lighting.
8. Where do you see yourself in five years? Working in an agency?
I hope to still be working as a freelance illustrator.
9. What about in ten?
Too early to say!
10. What do you hope to achieve with your art?
I just hope to make something beautiful.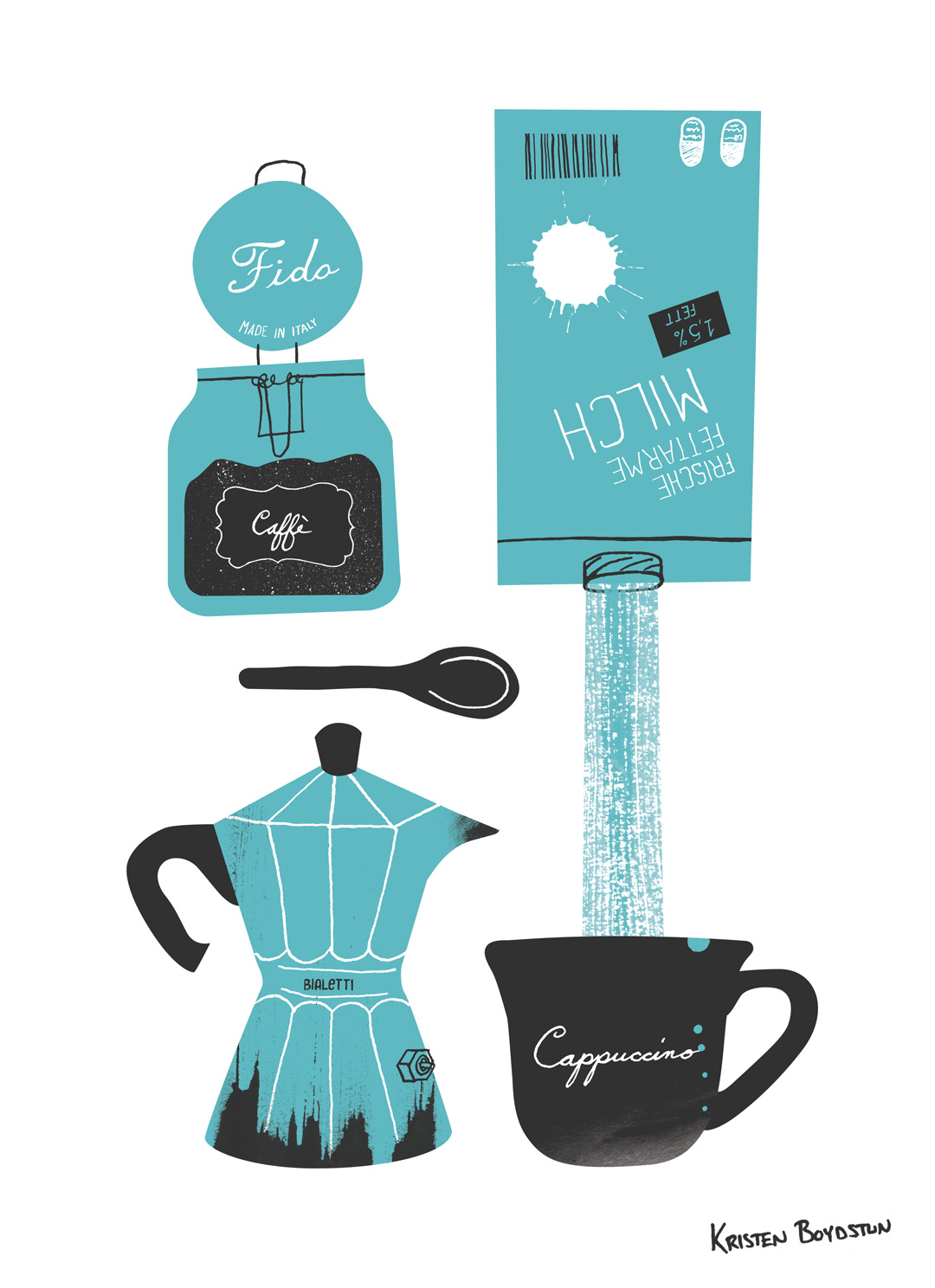 11. Now, tell us a little more about you as a person: what is your favourite food?
Since I moved to Europe I feel like I discover a new favorite food every other day. My current obsessions are the fried, stuffed olives from central Italy and a Bavarian cheese spread called Obatzda.
12. Favourite book?
When I was growing up in the suburbs in Ohio, I really loved The Little Prince. At the time I was studying French, watching French movies, listening to French music, and dreaming of living in Europe one day.
13. Favourite genre of music?
I like a lot of things - right now I'm into Alt-J, The National, and Asaf Avidan.
14. What are your hobbies?
Cooking and learning new languages
15. If you weren't an artist, what would you be?
I guess I could put all that physics education to use and actually be a physicist.