Instagram:
@kristiminchin
Website:
www.kristiminchin.co.uk
1. What's your story? Where are you from?
I'm originally from Gloucester, in the West of England, so am a bit of a country bumpkin, but have now settled in London. The pace of this City is fab and there is so much to do and see all the time. I have a full-time job and do all my making from home, it gets pretty chaotic!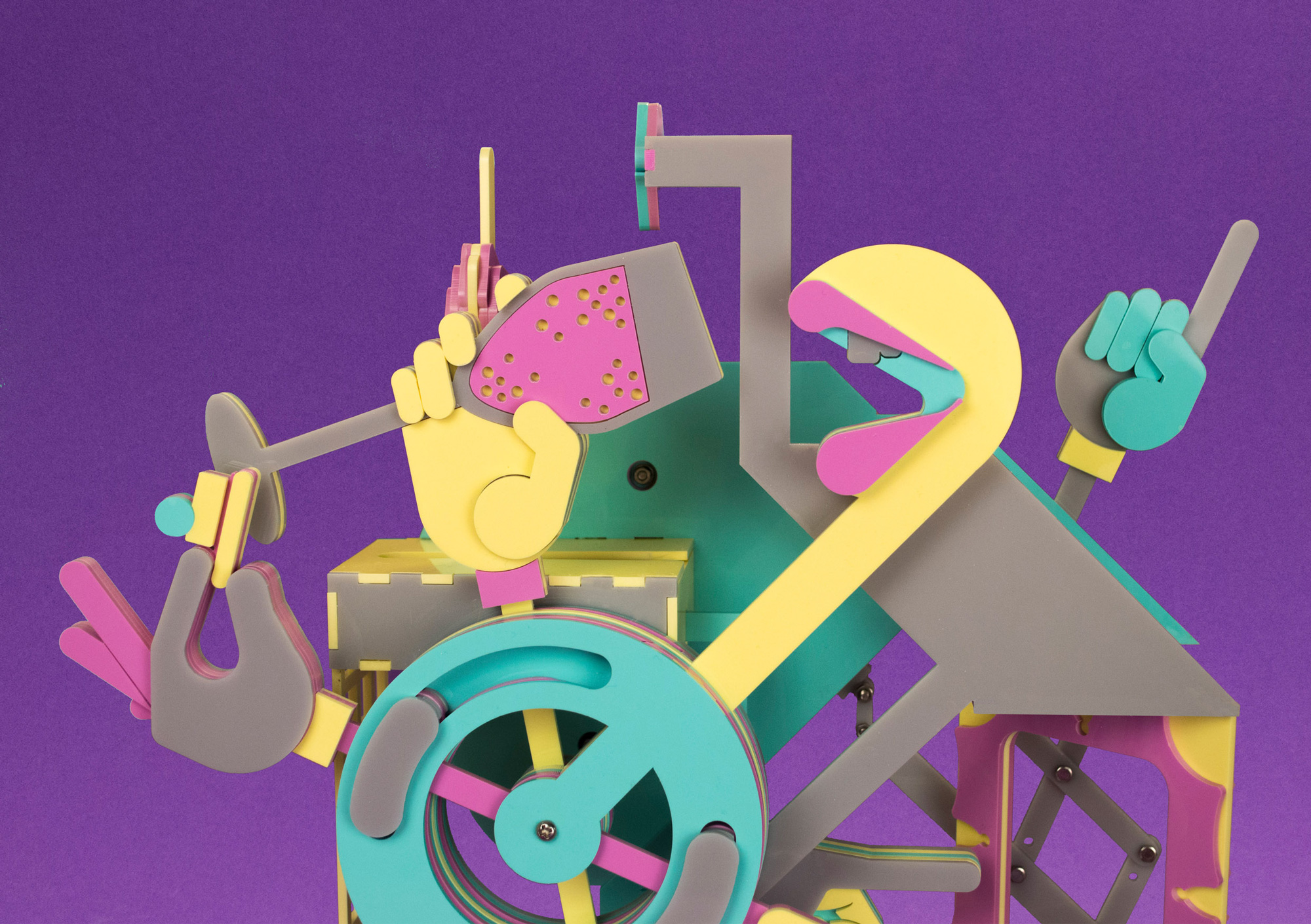 2. Tell us about your aesthetic.
I keep it simple with my choice of shapes and patterns but am always bold with my choice of colour. I make a mix of interactive and static pieces depending on the requirements of the project, but even if the pieces do not move they have a suggested functionality, there is always a story behind the work. Focusing on the functionality while designing makes for interesting compositions and juxtapositions, but the main focus is always to create something fun and playful.
3. What is your favourite medium and why?
It's a toss up between plastic and wood. When I work with plastic it's generally for smaller more detailed works and therefore is very fiddly. The design has to be perfect before it is laser cut which is a challenge I really enjoy. Whereas, when working in wood, I use a mix of CNC cut and hand cut shapes, which allows more room for mistakes and experimentation and therefore, by comparison, is more organic.
4. What is your artistic process like?
After a quick brainstorm of ideas, I'll start by sketching where I'll experiment with different layouts and the key elements that I want to include before taking the sketches into illustrator to create a digital drawing. Once I've got a digital copy I can experiment with colour palettes and produce to-scale visuals. If the final piece includes moving elements then this is the stage where I'll produce prototypes so I can iron out any technical difficulties. Once I'm happy with the final drawing the files will either be sent off for laser or CNC cutting, or I'll draw them onto wood and hand cut the pieces. The rest is just glue, screws, painting and patience.
5. Who and/or what inspires your work?
Key inspirations for me are Wallace and Gromit, The Science Museum, Morag Myerscough, The Memphis Group, toys. I'm definitely influenced by the toys of my 90's childhood, last year I made a life sized Polly Pocket set with my friends and fellow artists Philip Bailey and Matt Sharp, so that was a bit of a dream come true. Oh and maths of course, Pythagoras is pretty cool.
6. What role does art play in your life? How does it change the way you view the world?
Art and design feeds into all parts of my life. I work at an artist studios therefore I spend most my work and social time with other creative. Creatives have such a brilliant outlook on the world because they see beauty in everything around them; I like that I can appreciate a naturally appearing colour palette or some patterned shadows on the street, it makes walking around a lot more fun!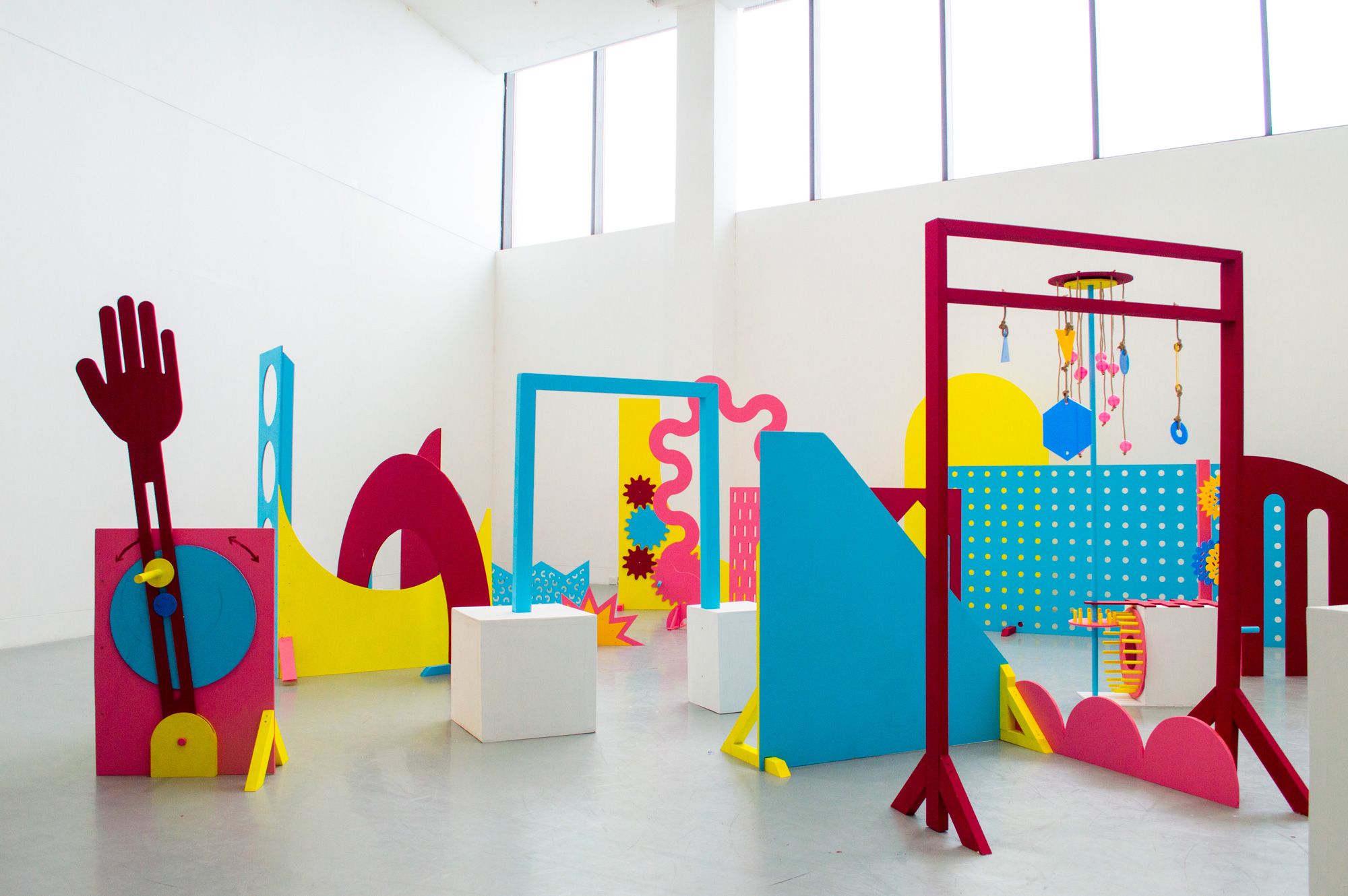 7. Where did you study?
I studied illustration at the Arts University Bournemouth. The tutors there are fantastic and are incredibly supportive of bringing illustration off the page and into different mediums. Originally my work was based in paper craft but in 3rd year it moved into working with plastics; if they hadn't supported that development into a material that is unconventional for the illustration industry I wouldn't be working in the mediums I am working in today.
8. Where do you see yourself in five years?
Comfortably working as a fulltime freelance maker and sharing a studio with some of my fabulous, and equally talented, friends.
9. What about in ten?
If I'm dreaming big, I'd like to be travelling the world and making lots of fun things along the way for project ranging from set and festival design to exhibition and gallery based artworks. I'd love to do a stage for Tomorrowland, that would be insane!
10. What do you hope to achieve with your art?
I love creating work that is playful and encourages interaction, it breaks down the formality of traditional gallery based artwork and I think that's key in making art accessible for everyone. I hope I can make a small dent in the art and design world push my aesthetic into lots of different medias and collaborations. But mainly I just want to make as many people smile as possible.
11. Now, tell us a little more about you as a person: what is your favourite food?
Pizza, any will do but ideally, sourdough pizza.
12. Favourite book?
How to Be a Woman by Caitlin Moran. She's so honest and the whole book is very relatable.
13. Favourite genre of music?
Soul, because, for me, it's at the top of the pyramid that contains all my other fav genres of music, such as, disco, jazz, funk, R&B, folk and blues.
14. What are your hobbies?
Am I allowed to say drinking gin?! I work full-time and make things in the evenings and weekends so there isn't a massive amount of time left over for hobbies. As well as working I try to make time for socialising, exhibitions, London wanders, watching RuPaul's Drag Race and sleep, but most weeks there isn't time for everything.
15. If you weren't an artist, what would you be?
Probably an accountant, which I'm not necessarily proud of! When I was at school I was very good at maths and a lot of my teachers advised I went to university to pursue it but I just wanted to be a silly art kid. I think I made the right choice in the end.